Cycle through rural Spain exploring on a pilgrimage from León to Santiago de Compostela
Cycle part of the Camino de Santiago route in Northern Spain on this guided bike tour. Take part in a century's old tradition… slightly modified for the modern era and using bikes!
The Camino de Santiago (The Way of St. James) is a pilgrimage to the Galician Cathedral of Santiago de Compostela. For centuries pilgrims have traveled many paths to reach it, but the most popular has become known as The French Way (Camino Frances). You won't quite be the average pilgrim as you embark on this guided cycling adventure covering the last 332 km of The French Way (Camiño Francés in Galician), but you'll get to combine your love of cycling with the satisfaction of completing this historic pilgrimage.
Enjoy the magnificent views as you pedal through vineyards, farmland, foothills, and forests traveling from León to Santiago de Compostela. Eat and drink the local fare at each stop along the way and immerse yourself in the architecture and culture of a truly ancient place. Don't miss getting up close and personal with Galicia and the countryside of northern Spain on this cycling tour and pilgrimage.
Highlights Of Cycling The French Camino From León To Santiago Tour
Experience the beautiful vistas and quaint pastoral landscapes of Northern Spain on a cycling journey from village to village.
Join in the centuries-old traditional pilgrimage of Camino de Santiago (The Way of St. James) as you cycle your way through León and the Galician countryside.
Taste your way across the countryside as you sample the delicious food and drink of Northern Spain and Galicia in particular.
Explore the magnificent medieval architecture as you discover ancient bridges, buildings, and cathedrals from a time long past.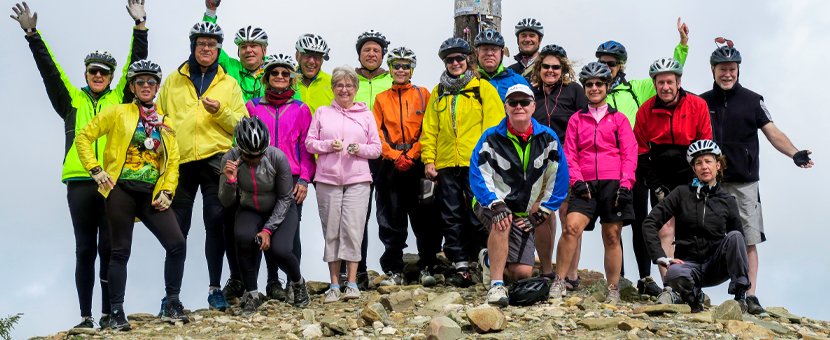 Cycling the French Camino from León to Santiago Tour Itinerary
Day 1

Arrival in León

You'll arrive today in León and join your cycling tour group. You'll have some free time to explore the city founded over two millennia ago by the Roman Empire, maybe even stopping by the gothic cathedral to get your first stamp in the Pilgrim's Passport. Join the group in the city center for tapas and get to know everyone.
Overnight Location: Hotel in León
Distance: None
Meals: None
Day 2

Cycle to Astorga

Today your guided cycling pilgrimage on the Camino Frances begins by traversing the beautiful Spanish countryside and over the Castilla plains. You'll ride through farmland and picturesque hamlets filled with adobe homes and cavernous wine cellars. You'll stop for lunch in Hospital del Orbigo where you'll discover a restored medieval bridge. The villagers had destroyed it back in the 19th century to slow down Napoleon's advance into Spain. From there, you'll head out on the last 15 km to Astorga, a lovely walled town boasting panoramic views of the mountains of León.
Overnight Location: Hotel in Astorga
Distance: 58 km
Meals: Breakfast
Day 3

Stunning ride to Molinaseca

As you pedal off toward Molinaseca, you'll be surrounded by gorgeous vistas as you leave the Castillian plains and head uphill into the mountains of León. You'll reach a height of 1505m as you come to Monte de la Cruz de Ferro. Along the journey you'll ride through the village Castrillo de los Polvazares which is famous for its buildings made of orange stone. From there, you'll cycle on through another mountain village called Acebo and then down into Molinaseca, drinking in the views of the valley all the way down.
Overnight Location: Hotel in Molinaseca
Distance: 51 km
Meals: Breakfast
Day 4

Ride to Herrerías

Today your guided bike tour on the Camino Frances begins with a nice and easy ride for the first 25 km. After that, you'll begin the short uphill climb to Villafranca, where you'll want to check out the monuments and the quaint town square. Once you're finished, you'll ride along the lush Valcarce valley and into the foothills of Monte de O'Cebreiro where you'll reach the village of Herrerías.
Overnight Location: Hotel in Herrerias
Distance: 51 km
Meals: Breakfast
Day 5

Entering Galicia Cycling to Sarria

As you reach the mountaintop, where sits the village of O'Cebreiro, you have now entered Galicia. Pause among the slate-roofed houses and take in the gorgeous valleys spreading out beneath you. From there you'll ride down further into Galicia and the countryside changes into farmland and traditional agricultural villages. Here family farmers tend their own land, and you'll see them hard at work in the fields as you go. Galicia has a unique culture and a special way with culinary delights. Using high-quality ingredients, simply prepared, the locals are known for their delectable creations. Along the way you'll stop in Samos, where you'll see one of the most ancient monasteries in all of Spain before pedaling on through forests of chestnut trees to reach Sarria.
Overnight Location: Hotel in Sarria
Distance: 57 km
Meals: Breakfast
Day 6

Cycle to Melide

The views of the Galician countryside won't disappoint as you pedal through quaint farmland and down paths lined by trees to reach Portomarin for lunch. The town was relocated and rebuilt in the nineteen-sixties as they needed the original site for a reservoir. From there you'll head uphill for 13 km, and then enjoy a downhill coast for 12 more kilometers into Palas del Rey and then head straight for Melide, enjoying the views all the way. In Melide, make sure to check out one of the famous bars or restaurants where you can sample the delicious Galician-style octopus.
Overnight Location: Hotel in Melide
Distance: 63 km
Meals: Breakfast
Day 7

The final leg – Bike to Santiago de Compostela

Today you'll be completing your Camino Frances and cycling through the beautiful Spanish countryside and forested byways until you reach Monte do Gozo. There, you'll catch your first glimpse of the towers of the Cathedral of Santiago de Compostela. From there, ride the 5 km to finish your pilgrimage in the Plaza del Obradoiro where, for centuries, pilgrims have traditionally celebrated the completion of their sacred journey. Take in the imposing facade of the Cathedral and the ancient buildings that surround you. When you're ready to move on, you'll go pick up your Compostelana, the certificate of your pilgrimage. Then prepare yourself for a celebration as you gather with your group for a special seafood dinner and explore the exciting city of Santiago.
Overnight Location: Hotel in Santiago
Distance: 52 km
Meals: Breakfast
Day 8

Departure

Enjoy one more breakfast, and then your guided cycling tour is concluded. Feel free to explore the city at your leisure or book additional nights in Santiago.
Overnight Location: None
Distance: None
Meals: Breakfast

Book Now
Cycling the French Camino from León to Santiago Tour Price and Dates
This guided tour in Spain is run as a fixed-departure tour where you'd be joining a group, however, custom private tours can be organized for those willing to travel with their group only (please contact us with your preferred date and the number of people in your group and we will create the itinerary just for you).

Prices below are per person:
Accommodation on Cycling the French Camino from León to Santiago Tour
This tour is based in 2-3-star hotels and offer modern conveniences that can make this trip more pleasant. Rooms are double occupancy, and single travelers will pay a supplement.
In some cases, accommodation listed below may need to be substituted for other, comparable accommodations.
Single Rooms and Solo Travelers
You can pay a supplement of $175 USD to have a private room in a hotel. Contact us and we can try and match single travelers up, where possible.
Hotels on Standard Tour
What's included in Cycling the French Camino from León to Santiago Tour?
Meals
7 breakfasts are included.
Accommodations
Accommodations for 7 nights along the tour are included.
Transportation during the Tour
Transport for you, your luggage and your bike is included during the tour. Airport transfers are not included.
Also Included
English and Spanish speaking guide throughout
Support vehicle
Pilgrim Passport
Not included
Anything not listed as included.
Getting to the starting point of the tour
Insurance
Personal expenses
Tips
Lunches and dinners
Bike rental
Optional Extras
Extra night in León before the tour
Extra night in Santiago after the tour
Bike rental (pannier included) - $125 USD
E-bike rental (pannier included) - $225 USD
Frequently Asked Questions about Cycling the French Camino from León to Santiago
Cumbres Travel has been offering guided tours in Spain and Portugal since 2008. Their focus on is sharing the best of Spain and Portugal cycling and walking routes with visitors wanting to discover the best of Spain and Portugal.
Learn More
Is this tour for me?
We rate this tour as a 3 / 5. You will be riding on hilly terrain up to 63 km daily. You should have experience riding these distances already.
Ask a Question
Got any questions regarding the tour? Interested in promotions for groups or want to customize this tour to fit your needs? We are here to help you!
Ask a question