Challenge yourself on this epic 14-day guided cycling tour of Vietnam and Laos
Are you looking for an epic cycling challenge? Want to explore a beautiful part of Vietnam and Laos? This may be the bike tour for you.
Cycling is a fantastic way to explore Northern Vietnam and Laos. The roads are mostly tarmac, and you're just as likely to pass a herd of buffalo as you are a vehicle. This guided cycling tour takes you through some of the most stunning scenery of Vietnam and Laos, with plenty of challenging rides along the way. You'll appreciate having transfers some days to shorten distances and/or remove some of the less spectacular parts of the ride.
You'll bike up to high mountain passes, down to fertile valleys and through tribal villages. You'll explore rural areas that few tourists reach, and get a real sense of what life is like in these remote places. Meet local people, enjoy fantastic food, and welcoming homestays, and round the whole trip off in style in one of Asia's most magical destinations, Luang Prabang.
Highlights of Cycling from Hanoi to Luang Prabang Tour
Ride a route that takes in some of the best rides between Hanoi and Luang Prabang in Laos.
Cycle through the photogenic rice terraces and limestone hills of Northern Vietnam
Explore off-the-beaten-path in rural Laos, stopping in tiny villages and the peaceful backpacker haven of Nong Khiaw
Visit the serene and beautiful city of Luang Prabang, with its ornate temples, palaces and colonial architecture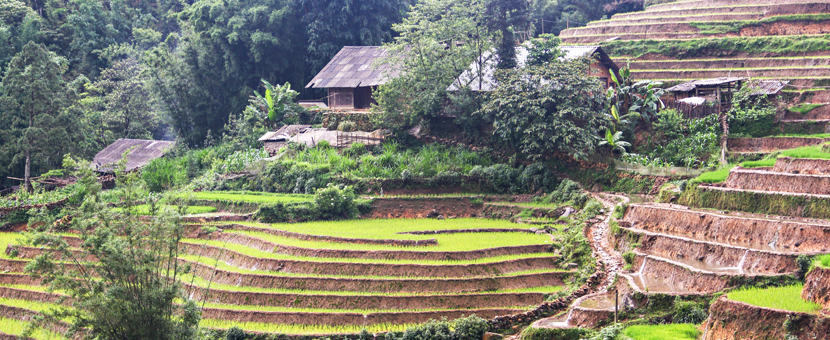 Cycling from Hanoi to Luang Prabang Tour Itinerary
Day 1

Hanoi

Today is the first day of your guided cycling tour through Northern Vietnam and Laos. You'll be met at the airport by your guide and driver and transferred to your hotel in Hanoi. Relax, meet your fellow riders and prepare for the first ride of the trip tomorrow.
Overnight Location: Hotel in Hanoi
Distance: None
Meals: None
Day 2

Ride to Nghia Lo

This morning you'll be driven west from Hanoi to Son Tay for a look around the Duong Lam Ancient Village, one of the oldest villages in Hanoi, where traditional buildings and ways of life have been preserved. At Deo Khe, you'll begin your first ride of the day, 30 km downhill along winding roads that will give you your first views of the lush mountain scenery of rural North Vietnam. The village of Ba Khe is your first rest stop, where you'll have lunch. In the afternoon you'll cycle a further 30 km through tea plantations and rice paddy fields to the town of Nghia Lo.
Overnight Location: Hotel in Nghia Lo
Distance: 45-70 km
Meals: Breakfast, Lunch, Dinner
Day 3

Bike to Tu Le

The photographers among you will be delighted today as you explore Tu Le, home of the Hmong people, which is known for its beautiful rice terraces. First, you'll cycle from Nghia Lo to Tu Le, a distance of around 50 km. The small hills will prepare you for some of the more mountainous routes you will tackle later in the trip. Enjoy the wonderful scenery of villages, rice fields and distant mountains. After lunch, the route takes you on a loop around the Tu Le Valley, passing through Hmong villages along the way. Look forward to a stop at a local hot spring towards the end of the day, where you can soak any aching muscles. You will spend the night in a local guesthouse in Tu Le.
Overnight Location: Guesthouse in Tu Le
Distance: 40-50 km
Meals: Breakfast, Lunch, Dinner
Day 4

Ride to Mu Cang Chai

This morning things get a little tougher as you tackle a climb up to Khau Pha Pass, one of several beautiful mountain passes in North Vietnam. This is a challenging climb along winding roads to an elevation of 1500 m, but well worth it for the views of the whole mountain range blanketed in cloud. After descending to Nga Ba Kim, you will continue along a scenic single-lane road past a patchwork of rice terraces and the small villages of La Pan Tan, and Che Cu Nha, to Mu Cang Chai where you will stay overnight in a homestay with a local family.
Overnight Location: Homestay in Mu Cang Chai
Distance: 30-50 km
Meals: Breakfast, Lunch, Dinner
Day 5

Downhill ride to Than Uyen

Day 5 is a lot less strenuous as you sail gently downhill along the well-surfaced road from Mu Cang Chai to Muong Kim. The second leg takes you to Than Uyen. Along this stretch, you'll have views of the iconic cone-shaped limestone karsts this area is so famous for as well as multi-hued rice terraces stretching up the mountainside. Once you arrive in Than Uyen, you can have a leisurely cycle around the small town, before settling into your guesthouse for the night. Tomorrow there's a lot of cycling!
Overnight Location: Guesthouse in Than Uyen
Distance: 50 km
Meals: Breakfast, Lunch, Dinner
Day 6

Long bike ride to Tuan Giao

You'll need plenty of energy today as you embark on the longest cycle of the trip. You'll cover lots of ground and get to see some of the most scenic parts of this region. After an early start, you'll cycle out of Than Uyen to the nearby Ban Chat Reservoir, a vast body of water created by the Ban Chat hydroelectric dam and power plant. The area is very tranquil with many traditional houses along the water's edge. After crossing by boat to Ta Hua village, you'll bike another 20 km to Muong Gion. The next leg of the journey takes you another 25 km to the Da River and the 100 m high Pa Uon Bridge. There are stunning views of this majestic river with craggy mountains in the distance. The final leg of the day is mostly downhill another 50 km to Tuan Giao, a small town where you'll spend the night in a guesthouse.
Overnight Location: Guesthouse in Tuan Giao
Distance: 30-120 km
Meals: Breakfast, Lunch, Dinner
Day 7

Ride over Tang Quai Pass to Dien Bien Phu

Start the day with an easy morning cycle out of Tuan Giao on a well-maintained road, passing through a village of the ethnic White Thai tribe. The next stage is a meandering climb up to the Tang Quai Pass, at an elevation of 1700 m. Have your camera ready because the views are amazing – you'll feel like you are standing above the clouds. Today's final leg takes you to Dien Bien Phu, through quiet villages that see few tourists. Dien Bien Phu was the location of a historic battle where the French were defeated by the Vietnamese, an event that contributed to the ending of French colonial rule in Vietnam. You'll spend the night here at a local hotel.
Overnight Location: Hotel in Dien Bien Phu
Distance: 30-78 km
Meals: Breakfast, Lunch, Dinner
Day 8

Exploring Dien Bien Phu

Today you can relax and explore some of the sights around Dien Bien Phu. Cycle to the location of the famous battle and have a look at a bunker where the French commander Colonel de Castries tried to shelter from the Vietnamese. You can also explore the military museum which tells the story of the battle. There are several other interesting monuments and memorials around the town. Or just relax and enjoy cycling around this rural part of Vietnam far from the tourist trail.
Overnight Location: Hotel in Dien Bien Phu
Distance: None
Meals: Breakfast, Lunch, Dinner
Day 9

Cycle into Laos

Now that you've had a rest, it's time for another epic day of cycling! Today, you'll get properly off-the-beaten-path visiting places most tourists never see. Set off from Dien Bien and cycle uphill 35 km to Tay Trang which is the border crossing into Laos. Cross into Laos, after which the journey gets a bit easier, with a 30 km downhill cycle along a well-maintained road to the town of Muang Mai where you'll stop for lunch. This is a region of mountains, forests and rivers, with tribal villages built on the river banks and you'll begin to feel that you're seeing authentic Laos. In the afternoon, it's another 40 km through an ethnic Hmong village to Muang Khoua, on the banks of the Nam Phak River, where you'll spend the night.
Overnight Location: Guesthouse in Muang Khoua
Distance: 50-105 km
Meals: Breakfast, Lunch, Dinner
Day 10

Ride to Udomxai

Deep in rural Laos, you'll follow a winding road along the banks of the Nam Phak River, a tributary of the Nam Ou, one of the most important rivers in Laos. You'll pass small towns and tribal villages along the river banks. This area is home to more than 12 different ethnic groups. In the afternoon, the road climbs to an elevation of 750 m before descending again to the town of Udomxai.
Overnight Location: Guesthouse in Udomxai
Distance: 30-100 km
Meals: Breakfast, Lunch, Dinner
Day 11

Bike to Nong Khiaw

Today is a chance to challenge yourself as you tackle several ascents and descents on the mountain roads between Udomxai and Nong Khiaw. The morning begins with a scenic 6 km ride out of the town. The first ascent takes you past rustic villages, waterfalls and rainforest to an elevation of 1200 m. Then, get your breath back as you descend for 10 km. The second climb is through Hmong villages to an elevation of 1290 m. The road then descends again through lush vegetation to Pak Mong, after which you continue another 30 km to Nong Kiaw. Nong Khiaw is an authentic, town and haven for travelers on the Nam Ou River, and is the perfect stopping point. Your accommodation for the night is in a guesthouse overlooking the tranquil river.
Overnight Location: Resort in Nong Khiaw
Distance: 30-110 km
Meals: Breakfast, Lunch, Dinner
Day 12

Exploring Nong Kiaw

Enjoy a free day, have a rest and explore Nong Khiaw. You can visit Tham Pha Thok, a nearby cave system, or enjoy a boat excursion down the river. If you're feeling energetic, you can hike to one of two the mountaintop viewpoints outside the town which offer breathtaking views of the town and river below. Or, simply relax and have a wander around the town where you can even indulge in a spa treatment.
Overnight Location: Resort in Nong Khiaw
Distance: None
Meals: Breakfast
Day 13

Cycle to Luang Prabang

After a short road transfer, this morning's cycle follows the Nam Ou river to the Nam Ou Bridge. This is where the Nam Ou meets the Mekong River, and you'll stop to visit the Pak Ou Cave, a group of ancient limestone caves sacred to local people, which are full of thousands of Buddha statues. You'll have lunch on the banks of the Mekong. In the afternoon, the final ride of the trip is along the riverbank and into Luang Prabang. There could not be a better place to end the trip than this wonderful UNESCO-protected city of temples, palaces and colonial buildings. Enjoy your final evening exploring atmospheric Luang Prabang.
Overnight Location: Maison Vongprachan in Luang Prabang
Distance: 50-70 km
Meals: Breakfast, Lunch, Dinner
Day 14

Luang Prabang Departure

It's time to say your farewells and transfer to the airport.
Overnight Location: None
Distance: None
Meals: Breakfast

Book Now
Cycling from Hanoi to Luang Prabang Tour Prices and Dates
This guided biking tour in Vietnam and Laos is always run as a custom tour for your group only and the price depends on the size of your group.
The best time to travel to Vietnam and Laos for this tour is between September and April.
Prices of Guided Cycling from Hanoi to Luang Prabang Tour
Have your own private tour with just your group! Prices below are per person:
Guided Groups of 2-3: $3,395 USD per person
Guided Groups of 4-5: $2,200 USD per person
Guided Groups of 6-7: $1,900 USD per person
Book Now
Accommodation on Cycling from Hanoi to Luang Prabang Tour
This tour includes a good balance between comfortable 2-3* hotels, guesthouses, and homestays. Hotels are well located, with comfortable amenities. Homestays are basic accommodation. They allow you to learn about local culture by staying with an ethnic minority family and living and dining in the traditional way.
In some cases, the accommodation listed below may need to be substituted for other, comparable accommodations.
Single Rooms and Solo Travelers
You can pay a supplement of $400 USD to have a private room in a hotel. Contact us and we can try and match single travelers up, where possible.
Hotels on Standard Tour
Hanoi Boutique Hotel in Hanoi
Centrally located hotel in the heart of the old town with Wi-Fi, air-conditioned rooms, laundry facilities, restaurant, spa, and health club.
Stay in a comfortable hotel in a beautiful Nghia Lo town.
Pho Nui Guesthouse in Tu Le
Spacious guesthouse with Wi-Fi and a restaurant is in a convenient location with beautiful views of Tu Le.
Guesthouses and homestays
The accommodations in Mu Chang Chai, Than Uyen and Tuan Giao are basic but full of atmosphere and homey feeling.
A1 Hill Hotel in Dien Bien Phu
Stay in a modern hotel in a central location of Dien Bien Phu that offers nice views and complimentary Wi-Fi.
Chalensuk Guesthouse in Muang Khoua
Local guesthouse with WiFi and air conditioning, overlooking the river.
Villa Keoseumsack in Udomxai
Beautiful traditional style villa with spacious rooms and air conditioning is a great choice for your stay in Udomxai.
Pha Xang Riverside Resort in Nong Khiaw
Hotel in a pleasant location on the banks of the river with a restaurant, complimentary WiFi and friendly staff.
Maison Vongprachan in Luang Prabang
Central hotel with stylish rooms and traditional furnishings. The rooms are clean and comfortable and the staff is always ready to help!
What's included in the Cycling from Hanoi to Luang Prabang Tour?
Meals
13 breakfasts, 11 lunches, 11 dinners are included.
Accommodations
Accommodation for 13 nights along the tour.
Transportation during the Tour
Transportation is included for you and your luggage. Airport pick-ups and drop-offs are included too.
Also Included
English speaking tour guide
Entrance fees
Bike and helmet rental
Water and snacks
Not included
Visa fees
Insurance
Personal expenses and tips
Anything not stated as 'included'
International flights
Optional Extras
Additional night in Hanoi before the tour
Additional night in Luang Prabang after the tour
Frequently Asked Questions about Cycling from Hanoi to Luang Prabang
Footprint Vietnam is a boutique tour operator running adventure-based tours in Vietnam, Laos and Cambodia.  Footprint have been showing the best of adventure, culture and food since 2001, and have been featured in Frommers, Lonely Planet and Footprint Guides.
Learn More
Is this tour for me?
We rate this tour 4/5, as you have consistent rides in hilly country. You can make this a very challenging tour by doing the full distance each day. You should have some experience biking longer distances and be reasonably fit.
Ask a Question
Got any questions regarding the tour? Interested in promotions for groups or want to customize this tour to fit your needs? We are here to help you!
Ask a question
SALE! Well, not yet.
Let me know when this trip goes on sale.
Notify me