Spend 7 days cycling the last 200 km of the Camino Frances to Santiago de Compostela
Make like a "bicigrino" and cycle the last 200 km of the French Way on this rewarding 7-day bicycle pilgrimage. The Camino Frances is the main pilgrimage route to Compostela, and doing it on a bike is a perfect way to cover more distance then on foot.
This self-guided tour takes in the last week of the Camino Frances. You'll gear up and ride out from the medieval town of Ponferrada in northwest Spain to complete the last 200 km of the Camino Francés (French Way), where you'll receive the much-sought-after Compostelana (your pilgrimage certificate).
Along the way, you'll overnight in quaint villages like O Cebreiro, Sarria, and Portomarín, dine on local cuisine, make lasting memories with fellow pilgrims, and ride through stunning Galician countryside. Schedule your Cycling the French Way tour today for your own rewarding adventure!
Highlights Of Cycling the Last Week of the Camino Frances Tour
Get your Pilgrim's Passport stamped from charming pastoral locales en route to Santiago de Compostela.
Soak in the Spanish countryside of bucolic Galicia from medieval hamlets and wooded glens to the peaks of the Sierra de Ligonde.
Spend time sampling regional fare, including Melide's pulpo a feira (octopus!) and Arzúa's local cheeses.
Celebrate your pilgrimage with fellow "bicigrinos" in Santiago de Compostela's famous Praza do Obradoiro.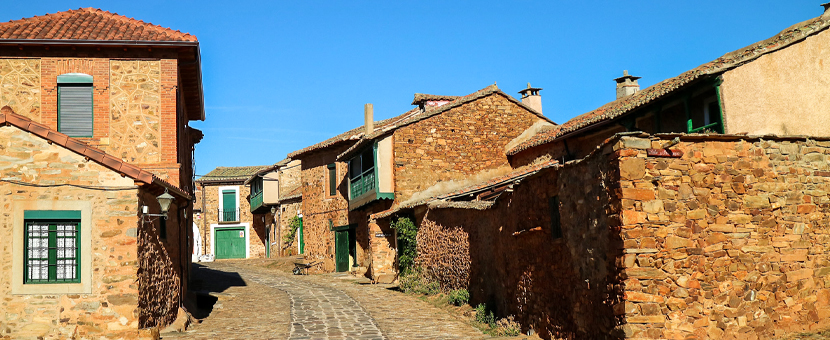 Self-guided Cycling the Last Week of the Camino Frances Tour Itinerary
Day 1

Arrive in Ponferrada

Welcome to Spain! Arrive in the medieval town of Ponferrada and check into your hotel before venturing out to explore your surroundings. The start of the last 200 km of the Camino Frances or "French Way," you'll likely see a lot of bicigrinos, pilgrims who choose to cycle the Camino.
Overnight Location: Hotel in Ponferrada
Distance: None
Meals: None
Day 2

Cycle to O Cebreiro

After a hearty breakfast, you'll gear up and set out to begin the last 200 km of the French Way, considered one of the most challenging sections of the Camino. Be ready for the strenuous incline toward O Cebreiro, though there is the option to split the day into two where you can overnight in Villafranca del Bierzo.
Overnight Location: Hotel in O Cebreiro
Distance: 52 km
Meals: Breakfast, dinner
Day 3

Cycle to Sarria

Saying farewell to O Cebreiro, you'll continue along the Camino through the mountains of Galicia, stopping as you like to take in the sweeping vistas of the rugged landscape. En route, stop at the Monasterio de Samos, one of the jewels of the French Way.
From here, pedal on to Sarria, the starting point for many pilgrims who choose to walk the Camino de Santiago. Sarria marks the beginning of the last 100 km of the French Way
Overnight Location: Hotel in Sarria
Distance: 40 km
Meals: Breakfast, dinner
Day 4

Cycle to Portomarín

Rest the legs today with a shorter ride as you share the path with walking pilgrims, passing by small woods, hamlets, and the rural Galician countryside. Finally, you will arrive in Portomarín, one of the most popular spots of the French Way for its underwater ruins of a medieval town it overlooks.
Overnight Location: Hotel in Portomarín
Distance: 23 km
Meals: Breakfast, dinner
Day 5

Cycle from to Melide

Most walking pilgrims will complete the section from Portomarín to Palas de Rei, but if you're on a bike, you'll have the pleasure of riding to Melide! This portion of the route will lead you through the Sierra de Ligonde, where you'll get a chance to climb a series of hills and mountains. Once in Melide, be sure to try the traditional dish: pulpo a feira (octopus).
Overnight Location: Hotel in Melide
Distance: 38 km
Meals: Breakfast, dinner
Day 6

Cycle to Santiago de Compostela

Leaving Melide behind, you'll pedal alongside quiet wooded areas and quaint pastoral villages to Arzúa. Spend a little time here to taste the local cheese before completing the last leg of the French Way to arrive at your final destination of Santiago de Compostela.

Celebrate with strangers and friends alike in Praza do Obradoiro—where pilgrims commemorate the end of their expedition—and pick up your Compostelana (certificate of completing the pilgrimage).
Depending on your travel plans, other notable stops worth your time include the 18th-century chapel in Santa Irena (near the Atlantic coast), as well as the hamlets of A Rúa (south of O Cebreiro) and O Amenal (just east of Santiago de Compostela)
Overnight Location: Hotel in Santiago de Compostela
Distance: 55 km
Meals: Breakfast
Day 7

Depart

Take the morning to enjoy your last day in Santiago de Compostela before it's time to check out and continue your journey home.
Overnight Location: None
Distance: None
Meals: Breakfast

Book Now
Self-guided Cycling the Last Week of the Camino Frances Tour Price and Dates
This self-guided biking tour to Santiago de Compostela is always run as a private tour for your group only. The price always depends on the number of people sharing a room.

Prices below are per person:
Price per person staying in single room: $925 USD
Price per person staying in double room: $775 USD
Price per person staying in triple room: $695 USD
Book Now
Accommodation on Cycling the Last Week of the Camino Frances Tour
This tour is based in 2 and 3-star hotels and offer modern conveniences that can make this trip more pleasant. Rooms are double occupancy, and single travelers will pay a supplement.
In some cases, accommodation listed below may need to be substituted for other, comparable accommodations.
Single Rooms and Solo Travelers
You book a single room. To find prices check the Dates & Prices tab. Contact us and we can try and match single travelers up, where possible.
Hotels on Standard Tour
What's included in the Cycling the Last Week of the Camino Frances Tour?
Meals
6 breakfasts and 4 dinners are included.
Accommodations
The accommodation for 6 days along the tour is included.
Transportation during the Tour
This tour includes luggage transfers only.
Also Included
Bike rental
Saddlebags and helmet rental
Luggage transfer
24/7 phone assistance
Pilgrim Passport
Walking notes and maps
Extra accommodation charge for arriving to Santiago one night before St. James Day (July 25th)
Not included
Anything not listed as included
Guide services
Insurance
Personal expenses
Transport
Optional Extras
Extra night in Ponferrada before the tour
Extra night in Santiago de Compostela after the tour
Airport transfers
Pilgrim massage in Santiago de Compostela
Frequently Asked Questions about Cycling the Last Week of the Camino Frances
Galiwonders is a specialist tour operator, focusing on pilgrimages along the Camino de Santiago in Spain and Portugal as well as the Via Francigena in Italy. They offer adaptable tours to suit a variety of client needs and focus on truly taking care of their guests.
The tour guides are local experts, living and working right along the Camino. They have visited each hotel and restaurant they recommend, ensuring each is up to standard.
Galiwonders offers constant contact with their guests, ensuring all concerns or questions are addressed immediately so you can relax and enjoy your trip.
Learn More
Is this tour for me?
We rate this tour 3/5. You will be biking up to 55 km daily. In the peak of summer, the days can be quite hot and this distance can feel longer due to the heat.
Local Guide
Ask a Question
Got any questions regarding the tour? Interested in promotions for groups or want to customize this tour to fit your needs? We are here to help you!
Ask a question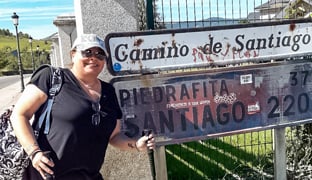 Margot
Santiago de Compostela, Spain
Margot is a new guide with Galiwonders, and loves sharing her pride in her home region of Galicia with visitors. She enjoys sharing the history, stories, legends, and unknown information with tourists to connect them deeply with the region they're in.
Q & A
Q:

What is your favourite trip to lead and why?

A:

Any trip around Galicia. Fortunately, I have had the chance to travel far and wide, I've visited many counties, many cities, all beautiful and with something special, but I guess the saying "the heart is where home is" is applicable to me.

Q:

What are guests most surprised about in visiting your country?

A:

Tourists usually have a preconceived idea of what Spain is like, and when they are here they are surprised to see that how they thought it was had no similarity to that notion. I find this is especially true with Galicia. The most common ide they have is that it's all Flamenco, bulls and polka dot dresses. That is just in Andalucia, and in Madrid, for tourists. Each region has its own unique traditions and folk culture.

Q:

What is one experience anybody visiting your country should do?

A:

El Camino de Santiago. It does not matter what religion you belong to. It is the sentiment, the relaxation, the feeling of wholeness one senses while on the Way. It's the goal of accomplishing a pilgrimage for whatever the reason one may have, reaching the end of the road where all roads meet. Along the way you make friends with people from all over the world, the group gets larger and larger, some speak Spanish, others French, others English, even Chinese. It's a wonderful multiracial group, and once you all reach Plaza do Obradoiro in Santiago de Compostela, you all embrace. Everyone's jumping and laughing with sore, bruised feet and sweaty clothes for having accomplished the challenge, feeling so good and wondering why the rest of the world does not embrace this experience.