Trek Jordan's natural landscapes and experience its rich culture on this 9-day adventure
Adventure awaits you in Jordan on this guided Dana to Petra Trek that takes in some of the highlights of the Middle East.  Start by trekking through the Dana Biosphere Reserve, and marvel at the wonders of this remote natural area. Camp comfortably in the wilderness as you make your way from Dana. Trek to Petra through unique ecosystems. Arriving in Petra, discover why this "Red Rose City" is one of the 7 Wonders of the World. You'll also follow in the footsteps of Lawrence of Arabia as you explore the deserts of Wadi Rum in a 4x4 Jeep. Conclude your adventure tour of Jordan with a float in the Dead Sea.
Enjoy authentic Bedouin hospitality and culture when you spend the night in Bedouin camps, under a spectacularly starry sky in the desert. All the best of Jordan's nature, history, and culture is packed into this exciting 9-day adventure tour.
Highlights of the Guided Dana to Petra Trek
Hike through remote areas of Jordan's largest nature reserve, the Dana Biosphere Reserve, and observe the vegetation and wildlife that call this region home.
Explore the "Red Rose City" of Petra and the Nabataean ruins at little Petra for an astounding glimpse of Jordan's ancient history.
Float in the Dead Sea, the lowest place on Earth, where the salt content is so high you cannot sink.
Stay in Bedouin camps to experience their culture and hospitality firsthand.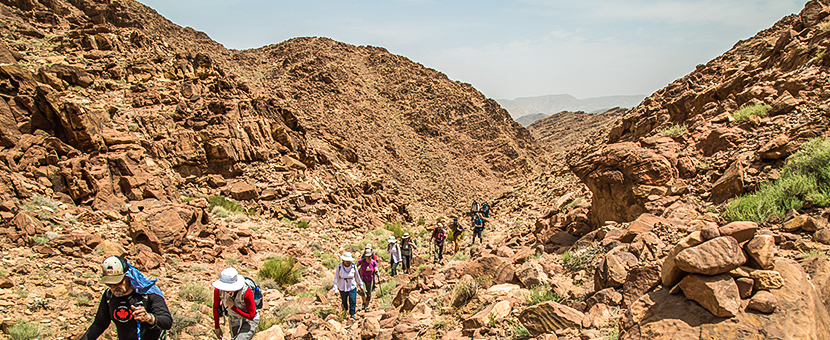 Dana to Petra Trek Itinerary
Day 1

Amman Airport to Rum Al-Waleed Hotel, Amman

Welcome to Jordan! Fly to Amman's Queen Alia Airport and make your way to your hotel. If your flight arrives early enough, enjoy some free time to explore Jordan's capital city. Amman has been inhabited since the Bronze Age, making it one of the world's oldest cities. As it has grown into a more modern city, it has retained its history and ancient character.
Overnight Location: Rum Al-Waleed Hotel, Amman
Distance: None
Meals: None 
Day 2

Amman – Dana Village – Wadi Ghuweir

Be ready to leave the hotel at 7:00 AM to begin the 2.5-hour drive to Wadi Dana. Your hike begins in Dana Village (1,200 m / 3,937 ft), following your guide westward into the Dana Valley. Though the trail is initially a very steep descent, it soon levels out and descends more gradually. The Dana Biosphere Reserve is Jordan's largest, protecting four distinct bio-geographical zones. As you hike, observe the amazing diversity of vegetation and wildlife that call Dana home. Watch specifically for griffin vultures, small mammals called hyrax, and copper-blue lizards sunning themselves on rocks. You may even see signs of desert foxes, ibex, or wolves. Camp for the night in this incredible environment at Wadi Ghuweir.
Overnight Location: Wadi Ghuweir (wilderness camping)
Distance: 16 km, 280 m elevation gain, 1,420 m elevation loss
Meals: Breakfast, Lunch, Dinner
Day 3

Wadi Ghuweir – Furon

Today's hike is challenging but well worth the effort. Leaving Wadi Ghuweir, the trail climbs up into the mountains. It is often very steep but be sure to turn around to appreciate the incredible views behind you. You will be captivated by views of the Wadi Araba desert as you continue to ascend up through this dramatic valley. By afternoon, you'll come to the campsite at Furon which the crew has made fully ready for you. Enjoy a great night's rest in the Furon wilderness camp.
Overnight Location: Furon (wilderness camping)
Distance: 16.4 km, 1,320 m elevation gain, 390 m elevation loss
Meals: Breakfast, Lunch, Dinner
Day 4

Furon – Ghbour Whedat

Today's hike overlooks some of Jordan's most remote areas and offers spectacular views. Leave Furon and begin hiking toward Ghbour Whedat. You will pass Ras Al-Feid as you follow the contours of the Sharah Mountains. Borrowing the trails of Bedouin shepherds, look up to the black mountain peaks and down into precipitous canyons. The views are breathtaking all along the way, continuing as you climb to reveal more of the desert that lies below you. When you reach Ghbour Whedat, you'll find your campsite for the night.
Overnight Location: Ghbour Whedat (wilderness camping)
Distance: 17.1 km, 750 m elevation gain, 920 m elevation loss
Meals: Breakfast, Lunch, Dinner
Day 5

Ghbour Whedat – Little Petra

Begin returning to civilization today after the previous day's hike through remote areas. The closer you come to Little Petra, the more you will notice signs of human habitation, both past and present. You will pass camps belonging to Bedouins, including pens for their sheep and small plots for growing crops. You will also encounter Nabatean ruins, including aqueducts and what are believed to have been presses for wine and olives. Take time to explore Little Petra, which archaeologists believe was like a suburb of Petra. It was probably at stop along the Silk Road, offering housing to traders traveling between Africa and Arabia, Asia, and Europe. Notice the buildings with carved facades that have been carved directly into the sandstone walls of the canyon. Enjoy authentic Bedouin hospitality tonight as you stay in the Seven Wonders camp in Little Petra.
Overnight Location:  Seven Wonders Camp, Little Petra
Distance: 14 km, 610 m elevation gain, 560 m elevation loss
Meals: Breakfast, Lunch, Dinner
Day 6

Little Petra – Petra

After breakfast, begin the trek to Petra - the "red rose city". You will approach Petra along a pleasant trail down through Wadi Ghurab where sandstone mountains guard the entrance to the city. Few tourists enter Petra from this direction, so you will easily avoid the crowds. The ancient Nabataean route has been improved for safety, but the path along the natural rock terrace is still narrow. When you reach a hidden plateau, pause to appreciate the view down over Wadi Siyyagh. You will soon be able to see the structure known as "the Monastery" of Petra, carved into the face of the cliff. Refreshments are available from a Bedouin cafe here, then a set of ancient Nabataean steps lead you down into the city of Petra. There will be more opportunities to explore Petra tomorrow, so for now continue through Wadi Muthlim, if weather permits, and on to Wadi Musa to find your hotel for the night in Petra.
Overnight Location:  La Maison Petra Hotel
Distance:  14 km, 496 m elevation gain, 519 m elevation loss
Meals: Breakfast, Lunch, Dinner
Day 7

Petra – Wadi Rum

Get an early start today to allow time to explore Petra, which is one of the 7 Wonders of the World. Enter the city this time through the narrow gorge known as the "Siq". This passageway is about 1 km long, surrounded by cliffs that are 80 m tall. Marvel at the amazing colors and unique formations of the rocks before suddenly the gorge opens to reveal the incredible structure known as the "Treasury". Explore this massive World Heritage site, which contains amphitheatres, temples, altars, colonnaded streets, and hundreds of tombs cut into the rock.

After your tour of Petra, the adventure continues in Wadi Rum. Take a Jeep tour of the incredible Wadi Rum, exploring its valleys and canyons. Follow in Lawrence of Arabia's footsteps as you climb sand dunes, discover inscriptions in the rock, and marvel over the awe-inspiring views. Spend the night in Wadi Rum, once again enjoying the hospitality of a Bedouin camp.
Overnight Location: Milky Way Camp, Wadi Rum
Distance: ~5km
Meals: Breakfast, Lunch, Dinner
Day 8

Wadi Rum – Dead Sea – Amman

Leave the incredible natural environment of Wadi Rum to experience another of natures wonders: the Dead Sea. Experience floating in the Dead Sea, where the high salt content of the water makes it impossible to sink, or even to swim very well. Here at the lowest point on earth, 415 m below sea level, you can relax in the sun, lather yourself with the famous Dead Sea mud, or indulge in a spa treatment. It is the perfect way to end your tour of Jordan. In the late afternoon, a bus will take you back to Amman in preparation for your departure.
Overnight Location: Rum Al-Waleed Hotel, Amman
Distance: ~2km
Meals: Breakfast, Lunch, Dinner
Day 9

Amman – Amman Airport

Sadly, your tour has come to an end. Make your way to the Amman Airport for your return flight. It is recommended to arrive at the airport at least 4 hours earlier than your flight's departure time.
Overnight Location: N/A
Distance: None
Meals: Breakfast

Book Now
Prices for Dana to Petra Hiking Tour
This tour in Jordan is run as a fixed-departure tour where you'd be joining the group and the price per person is fixed.

The prices below are per person, sharing a double or a triple room:
Book Now
Accommodation on Dana to Petra Trekking tour
Accommodations on the Dana to Petra Trekking tour consist of 3 nights of wilderness camping along the hike, 2 nights in Bedouin camps, and 3 nights in hotels. Note that specific accommodation may vary based on availability but will be substituted with accommodations of a similar standard.
Single Rooms and Solo Travelers
You can pay a $200 USD supplement to have private rooms in hotels. Solo travelers not wishing to pay extra will be matched with another solo traveler or added as a third person in another room.
Hotels on Standard Tour
A simple, no-frills hotel that offers a comfortable night's stay in a location that's convenient to a major shopping area and also to the airport.
Wilderness camping in Dana Reserve ★
Arrive after a full day of hiking as local Bedouins will welcome you with tea as you wait for the delicious meal they have prepared for you. Sleep in 1- or 2-person tents with foam mattresses and sheets.
Experience Bedouin culture and hospitality when you stay in this camp. The camp is authentic but comfortable, and the view of the stars out in the desert is incredible.
La Maison Petra Hotel ★★★
This hotel offers modern amenities in a recently-renovated building which is located an easy walking distance to the entrance of Petra. With friendly, helpful staff and delicious food, what more could you ask for?
Learn more about the Bedouin way of life at the Milky Way camp, where you'll stay in a clean, private tent that offers all the essentials plus fantastic desert views.
A simple, no-frills hotel that offers a comfortable night's stay in a location that's convenient to a major shopping area and also to the airport.
What's included in Dana to Petra trek
Meals
8 breakfasts, 7 lunches, and 7 dinners are included in this tour, as described in the itinerary. Snacks are also included.
Accommodations
Accommodations for 8 nights along the tour are included as described in Accommodations.
Transportation during the Tour
Transportation as described in the itinerary is included, in an air-conditioned vehicle with an English-speaking driver.
Also Included
Entrance fees to all of the sites in the trip plan.
Transportation as per itinerary in a private vehicle.
English-speaking, licensed guide on days 2-8.
Local hiking guide with a donkey for safety measures on days 2-4.
Lunch boxes and water on hiking days.
Mattress and blankets provided for the nights in the wilderness. (Note: due to hygiene reasons we don't provide sleeping bags).
Luggage transfer.
Not included
Transportation between the airport and your hotel in Amman.
Visa for entry into Jordan
Tips for service providers (drivers, guides, biking crew, hotel staff). Recommended estimate is $17 (USD) per person per day
Travel Insurance.
Personal expenses.
Exit tax from Jordan (10 JD / $15 pp at land borders). Airport tax is usually included on air-tickets. Taxes subject to change with no notice.
Hiking gear.
Air travel to and from Amman.
Anything not described as included in the tour.
Optional extras for guided Dana to Petra hiking tour
Additional hotel night in Amman, before or after the tour ($75 USD per night)
Airport arrival assistance and pick up ($65 USD per person)
Airport transportation for departure ($40 USD per person)
Frequently Asked Questions about Guided Dana to Petra Trek
Experience Jordan Adventures is a leading tour operator in Jordan.  They have won a Gold Medal at the 2018 Travel and Tourism awards as well as being a member of the TripAdvisor Hall of Fame for receiving the Certificate of Excellence for five straight years from 2015 to 2019.
Learn More
Is this tour for me?
We rate this tour as a 3 / 5.  Be prepared to hike between 14-17 km per day for several days.
Ask a Question
Got any questions regarding the tour? Interested in promotions for groups or want to customize this tour to fit your needs? We are here to help you!
Ask a question