Spend 4 days discovering sparkling lakes and native forests on this guided hiking adventure
This guided hiking tour from Huaraz is great for people that don't want to camp, are short on time or want to acclimatize for a high-altitude trek in Cordillera Blanca or Cordillera Huayhuash? Prepare for your trek with this 3-day guided hiking tour that allows you to better acclimatize to the altitude.
These guided day-hikes from Huaraz are a great way to explore and experience the rich natural world of the region surrounding the city of Huaraz, including the Cordillera Blanca. This tour is perfect for anyone who wants to see more of the region but still return to a comfortable guesthouse every night.
We recommend this tour to anybody coming to Peru to do a longer trek at altitude. This series of day hikes will increase your chances of having a successful trek while minimizing the impact of altitude for many. Enjoy a gentle pace and beautiful nature on these guided day trips from Huaraz.
Highlights of the Day hiking from Huaraz
Prepare for a high-altitude trek with this series of day hikes based out of Huaraz.
Hike through a forest of quenual and quisuar trees, native to the Cordillera Blanca region.
Enjoy the clear, reflective waters of several mountain lakes, including the renowned twin lakes of Uruscocha.
Return each night to a comfortable guesthouse for a good night's rest.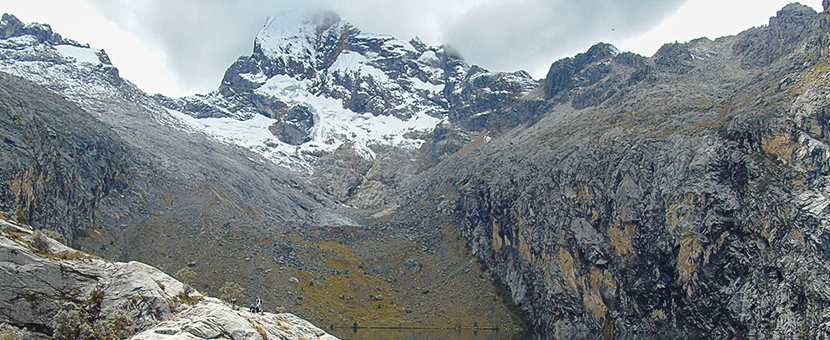 Day hiking from Huaraz Itinerary
Day 1

Arrival day in Huaraz

Arrive in Huaraz and check into your guesthouse. Enjoy exploring Huaraz on foot as you get used to the altitude.
You can also arrange bus travel from Lima to Huaraz in the booking process.
Overnight Location: Morales Guesthouse
Distance: None
Meals: None
Day 2

Hike to Wilcacocha Lake (3,750m)

After breakfast, meet the van at your hotel and ride north to the village of Santa Cruz (3,350 m / 10,991 ft). Hike from Santa Cruz up into the hills of the Cordillera Negra mountain range, to Wilcacocha Lake (3,750 m / 12,303 ft). Enjoy beautiful views of rugged peaks in the Cordillera Blanca mountain chain and take time to explore the area around Wilcacocha Lake. Then take the same trail back to Santa Cruz where a waiting vehicle will take you back to Huaraz. Altogether the trip takes about 5 hours.
Overnight Location: Morales Guesthouse, Huaraz
Distance: 5 hours, 400 m ascent, 400 m descent
Meals: Breakfast, Lunch
Day 3

Hike to Uruscocha Lake (4,300m)

Today after breakfast, you will be picked up at your hotel for a one-hour drive to Pashpa Village (3,600 m / 11,811 ft). From Pashpa, hike for about 3 hours along a trail through a forest of native quenual and quisuar trees that are common in the Cordillera Blanca. Near the base of Urus Mountain (5,450 m / 17,880 ft) you will visit the beautiful twin lakes known as Uruscocha Lake (4,300 m / 14,104 ft). From beside the sparking, blue-green waters of the first lake, you will have a fantastic view of the peaks of the Cordillera Blanca. A short, 10-minute walk from there brings you to the second lake that is surrounded by trees. Take time to explore this beautiful and unique area, rest, eat lunch, and take plenty of pictures. Later, return to Pashpa by the same trail where a van awaits you. You can plan to return to Huaraz by around 4:00 PM.
Overnight Location: Morales Guesthouse, Huaraz
Distance: 6 hours, 700 m ascent, 700 m descent
Meals: Breakfast, Lunch
Day 4

Hike to Churup Lake (4,450m)

Meet at about 7:30 AM today for a transfer to Pitec (3,900 m / 12,795 ft) at the boundary of Huascaran National Park in the Cordillera Blanca mountain chain. Hike from here for about 2.5 hours up to Churup Lake (4,450 m / 14,600 ft). Explore the area surrounding the lake and stop to appreciate the marvellous view of Churup Mountain, from which the lake gets its name. Return to Pitec by the same trail where a vehicle will be waiting to take you back to Huaraz. Most guests book a longer trek after this tour, though you can add another night in a hotel during the booking process, or else organize a bus back to Lima.
Overnight Location: Not included
Distance: 5 hours, 550 m ascent, 550 m descent
Meals: Breakfast, Lunch

Book Now
Dates and Prices for day-hiking tour from Huaraz
These guided day-hikes tours from Huaraz are typically run from April through September. This hiking tour is always run as a custom tour for you and your group. Please contact us with your preferred starting date and group size so we can help you make incredible memories on this private group tour.
The prices below are per person sharing a double or a triple room:
Guided groups of 1-2: on request
Guided groups of 3: $425 USD per person
Guided groups of 4-7: $365 USD per person
Guided groups of 8-12: $295 USD per person
Book Now
Accommodation on Day hiking from Huaraz Tour
You will be staying in a hotel in Huarez for the 3-nights of this hiking tour from Huarez. Prices are based on double occupancy for each room.
Single Rooms and Solo Travelers
You can pay a $125 USD supplement to have a private room in a hotel. In some cases we can also get triple rooms for groups.
Hotels on Standard Tour
This pleasant hotel is located is a popular base pre and post-trekking. Located a 5-10 minute walk to the central plaza, this hotel has wonderful views of the Cordillera Blanca.
What's included in the Day hiking from Huaraz Tour?
Meals
3 Breakfast and 3 lunches. You will be responsible for your own dinners.
Accommodations
Accommodations in Huaraz during the three-day tour are included, as well as the night before the first day of hiking.
Transportation during the tour
This tour includes transportation each day from your hotel in Huaraz to the trailhead, and back to the hotel after the hike.
You can also arrange transport from Lima to Huaraz (8 hour bus trip) during the booking process, though the bus trip is an additional cost.
Also Included
English-speaking guide throughout the trip
Hotel taxes and service charges in Huaraz
Park fee entrances
First Aid Kit
All logistics
Not included
Anything not listed as included
Flights to Peru
Transit to Huarez. First class bus ticket (bed seat) from Lima to Huaraz:

$30 USD

per person. Transfer from the airport to the bus station in Lima:

$9 USD

-

$15 USD

per person, depending on group size.
Personal trekking gear
Any food or beverages not listed
Personal clothing and equipment
Incidental personal expenditures, including any travel insurance, emergency evacuations and medical expenditures
Travel, personal, and medical insurance
Optional Extras
Bus Transfer from Lima:

$30 USD

per Person
Additional night in Huaraz:

$85 USD

per double room
Frequently Asked Questions about Day hiking from Huaraz
Go2Andes is a family-operated tour operator whose owners were raised in a small Peruvian village called Llamac, located in the iconic Cordillera Huayhuash in the Andes.
Nearly all of Go2Andes' guides are from the villages of the Cordillera Blanca and the Cordillera Huayhuash, and they use this deep familiarity to their advantage.
Go2Andes has led clients from over 30 different countries and they aim to become friends with each client before returning them home.
Learn More
Is this tour for me?
This tour is rated as a 3 out of 5 for difficulty, largely due to the altitude of this area. These day hikes are a perfect way to acclimate to the altitude in preparation for a longer, more difficult trek.
Local Guide
Ask a Question
Got any questions regarding the tour? Interested in promotions for groups or want to customize this tour to fit your needs? We are here to help you!
Ask a question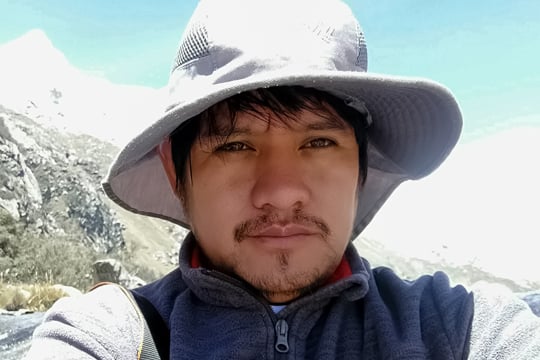 Christian is incredibly familiar with the intricacies of creating an unforgettable adventure tour and never gets tired of leading new groups on their adventures. He's particularly fond of the mountains and loves trekking tours.
Q & A
Q:

What is your favourite trip to do and why?

A:

I consider the Cordillera Huayhuash to be my favourite, because it is the place where I was born. When I accompany groups there I love to show off its beauty, and it is considered by some guides to be among the 10 best hikes in the world.

Q:

What is an experience that anyone visiting Peru should have?

A:

Visit an archeological site (Machu Picchu, Caral, or Chavin de Huantar), take a trekking circuit in the Cordillera Blanca or Huayhuash, and eat traditional dishes (pachamanca, ceviche, or picante de cuy).

Q:

What has been the most challenging adventure you've had?

A:

Climbing a snow-covered peak of 6000m.