Take the trip of a lifetime dog sledding across East Greenland
The Dog Sledding in East Greenland Tour invites you into the unique lifestyle of dog sledding between isolated communities in East Greenland. Greenland has few roads and none that connect the villages, so dog sleds, snowmobiles, boats, and helicopters transport travellers around this icy land. This adventure tour reels you into the traditional way of life. While travelling by dog sled across vast snowy lands, you'll witness Inuit traditions, visit isolated communities, and very likely get to see the northern lights. The dog team will get a rest mid-week while you will explore the Sermilik Coast on snowshoes. Take this tour as an opportunity to unplug from your connected world—there's no cell signal out here.
East Greenland fascinates visitors as soon as they land, and the Dog Sledding in East Greenland Tour is your ticket to this enchanting place. With expert local guides operating each 2-person dog sled, you can admire the untouched wilderness around you while holding on tight. Each night, you'll be welcomed into small mountain huts or guesthouses and all of your meals will be lovingly prepared for you. This once-in-a-lifetime experience hits your reset button. Unforgettable!
Highlights of the Dog Sledding in East Greenland Tour
Dog sled across pristine snowfields between peaks and glaciers stretching to the horizon.
Take advantage of the remote location and disconnect from Wi-Fi—immerse in the white wilderness!
Spend two nights in a cozy cabin with a view of the magnificent Sermilik Icefjord.
Learn about Inuit traditions and how these remote communities survive the arctic year-round.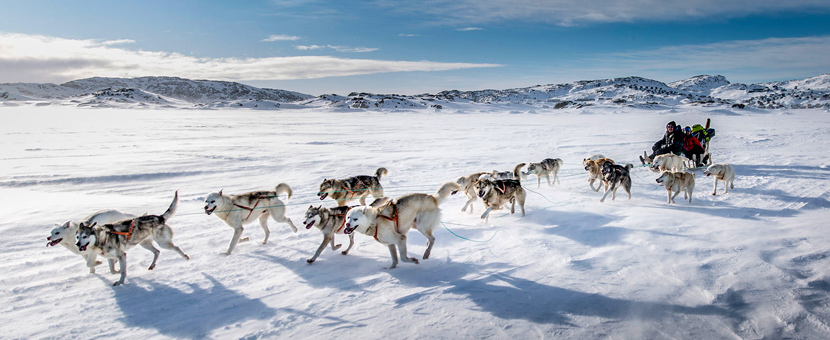 Dog Sledding in East Greenland Tour Itinerary
Day 1

Travel to Tasiilaq

Welcome! The tour begins with a bit of travel to reach your destination in East Greenland. From Reykjavík Airport in Iceland, you will depart for Kulusuk, Greenland, then hop in a helicopter transfer to reach Ammassalik Island. The local guide meets you here and accompanies you to the guesthouse for the night. Enjoy a traditional dinner prepared by a local chef and get acquainted with your group of like-minded adventurers. Your guide will provide a short orientation on the days ahead and go over any necessary gear required for the journey. Get a good night's sleep in the cozy guesthouse.
Overnight Location: Guesthouse in Tasiilaq
Distance: None
Meals: Dinner
Day 2

Dog Sled Tasiilaq to the Sermilik Coast

Enjoy a hearty breakfast and prepare for today's big adventure. You'll be driven to meet the dog team on the outskirts of Tasiilaq. After a short lesson on dog sledding basics, depart north on your two-person sleds. You will pass by incredible fjords and reach the big and beautiful Lake Qordlortoq. Midday, you'll reach "the coffee shop," which is actually just a few small huts for those on dog sleds or snowmobiles to fuel up with a cup of coffee and a snack. Continue on the snowy hills overlooking the impressive Sermilik Icefjord, then descend to a riverbed to your accommodation for the next two nights.
Overnight Location: Mountain hut
Distance: Dog sledding: 6 hours
Meals: Breakfast, lunch, dinner
Day 3

Snowshoe the Sermilik Coast

Rise and shine for a lovely breakfast in the shared dining cabin and get ready for a day of exploring on snowshoes. Follow your guide across remote, pristine, snow-covered land, attempting to reach a few select peaks to gain unparalleled views of the Sermilik Icefjord. The immense Greenland Icecap stretches to the horizon. The distance of today's adventure will depend on snow conditions—you can trust your experienced guide to decide on the appropriate route. Return to the same mountain hut as last night and gather for a warm meal before heading to bed.
Overnight Location: Mountain hut
Distance: 4–6 hours
Meals: Breakfast, lunch, dinner
Day 4

Dog Sled to Tiniteqilaaq

After breakfast, it's time to get back on the dog sleds. Heading north along the coast for about 4 hours, you will land in the small, isolated Inuit village of Tiniteqilaaq, with a population of 125. You'll arrive in the early afternoon and have the opportunity to explore the village and learn about Inuit traditions. Find out how they survive and thrive in harsh arctic conditions. Spend the night in a local house with basic amenities.
Overnight Location: Guesthouse
Distance: Dog sledding: 4 hours
Meals: Breakfast, lunch, dinner
Day 5

Dog Sled to Pitserpaajik

Once you've filled up on breakfast, you'll get back on the dog sleds to start the return journey south. Your dog team will carry you across the snow-covered land and ride amid some of the most beautiful scenery in the area. The landscape here consists of peaks, glaciers, and fjords, which will fill your view until reaching Pitserpaajik peninsula to find your hut accommodation for the night.
Overnight Location: Mountain hut
Distance: Dog sledding: 6 hours
Meals: Breakfast, lunch, dinner
Day 6

Dog Sled to Tasiilaq

Enjoy breakfast with your crew and prepare for your last day on the dog sled. Complete the loop around Ammassalik Island over bright white snowfields until arriving at the small town of Tasiilaq. You'll bid farewell to your dog team here, which may be a little heart-wrenching after spending almost a week with them. Your guide will lead you to your guesthouse accommodation for the night in Tasiilaq.
Overnight Location: Guesthouse
Distance: Dog sledding: 6 hours
Meals: Breakfast, lunch, dinner
Day 7

Explore Tasiilaq

Have a leisurely breakfast, indulging in your last full day of the tour. You have free time to explore Tasiilaq, which is the administrative heart of East Greenland. Check out some shops and the museum. If you feel up for some more activity, take the optional snowshoe tour to the Valley of Flowers, gaining a view overlooking the town once you reach the summit. Return to your guesthouse to gather for a final dinner with your group.
Overnight Location: Guesthouse
Distance: None
Meals: Breakfast, lunch, dinner
Day 8

Return to Reykjavík and Farewell

After breakfast, the group will take a helicopter transfer to Kulusuk to board the return flight to Reykjavík. Say your goodbyes at the airport and continue to the next stretch of your trip. Head home or keep travelling!
Overnight Location: None
Distance: None
Meals: Breakfast

Book Now
Dog Sledding in East Greenland Tour Price and Dates
This guided tour in Greenland is always run as a group tour on fixed departure dates and the price is fixed.

Prices below are per person:
Group of 2-10: $3,750 USD per person

Important note: This tour is not available in 2022. Please contact us for availability of 2023.

Book Now
Accommodation on the Dog Sledding in East Greenland Tour
This tour is based in traditional mountain huts and guesthouses. The huts are basic but do provide running water, flushable toilets or outhouses, and fully equipped kitchens. You can choose to bring your own sleeping bag or rent one from the tour company. The huts are divided into dormitories with single and twin beds.
In some cases, the accommodation listed below may need to be substituted for other comparable accommodations.
Single Rooms and Solo Travelers
Single rooms are not available on this tour as mountain huts only have shared dormitories.
Hotels on Standard Tour
Enjoy a night in a hostel with shared dormitories, a large kitchen, a living room, toilets, and a warm shower. Make sure to check out the view from the balcony.
Camp Qatoo on the Sermilik Icefjord
Five 2-person cabins and a shared dining cabin with a fully-equipped kitchen sit adjacent to the Sermilik Icefjord. Enjoy a cozy stay with a view!
Mountain huts in Greenland
Stay in a shared mountain hut. You'll have access to basic amenities and shared dormitories for a comfortable night in the wilderness.
Enjoy a night in a hostel with shared dormitories, a large kitchen, a living room, toilets, and a warm shower. Make sure to check out the view from the balcony.
What's Included in the Dog Sledding in East Greenland Tour?
Meals
All 7 breakfasts, 6 lunches, and 7 dinners are included.
Accommodations
Accommodation for 7 nights is included on the tour.
Transportation during the Tour
Helicopter transfers to and from Kulusuk to Tasiilaq are included. On the dog sled, you can bring 10 kg of personal belongings—if you have more, you can leave it in the guesthouse in Tasiilaq. Return flights from Reykjavík to Kulusuk are not included and you should budget around 600 Euros + taxes for these flights. You are allowed to check 20 kg of luggage and 6 kg of hand luggage on the plane.
Also Included
English-speaking dog sled guide
Snowshoe guide
Snowshoe rental
Not included
Sleeping bag (available to rent)
Flights to/from Kulusuk
Personal equipment
Personal expenses and gratuities
Travel insurance
Flights
Anything not mentioned as "included"
Optional Extras
Sleeping bag rental
Extra nights in Reykjavík before or after the tour
Snowshoe hike on day 7
Frequently Asked Questions about Dog Sledding in East Greenland Tour
Icelandic Mountain Guides are a boutique adventure tour company that has been sharing the best of Iceland's beautiful wilderness since 1994. Their passion for nature and adventure drives them to provide quality, fun and educational experiences for their guests. They are also committed to the environment, carbon neutralizing all of their day tours.
Learn More
Is this tour for me?
We rate this tour as a 3 / 5. You should be comfortable on a dog sled for up to 6 hours and snowshoeing for up to 6 hours.
Ask a Question
Got any questions regarding the tour? Interested in promotions for groups or want to customize this tour to fit your needs? We are here to help you!
Ask a question