Twist and turn your way through the tri-country area in the Alps
This 8-day tour offers a sensational experience—it will appeal to foodies, adventurers, bike enthusiasts, history buffs, and xenophiles alike! You start and end in Italy, but along the way, you'll cross the border into Austria and Slovenia, creating a well-rounded adventure tour. From the Dolomites to the Adriatic Sea, the Dolomites to Trieste Bike Tour is filled with mountain views, medieval architecture, stunning towns, turquoise rivers, and warm lakes. On top of that, you'll ride through vineyards in Italy and be spoilt for choice when it's time to choose your lunch and dinner restaurants.
This tour is rated as moderately difficult because you will encounter some elevation gain and have long days of riding. If you love the sound of this tour but don't want the cardio challenge, you can rent an e-bike and make the hills a bit easier. You'll spend each night in a different city, so be prepared for a new experience every single day. Any way you slice it, the Dolomites to Trieste Bike Tour has so much packed into 8 days, you may want to do it twice!
Highlights of the Dolomites to Trieste Bike Tour
Take hundreds of pictures of the fairytale castle in the middle of Lake Bled, Slovenia.
Ride alongside turquoise rivers, among rocky peaks, and across pastoral scenes.
Savour locally-made wine in the Friuli region of Italy with your delicious meals.
Take a boat ride among the canals of Trieste, Italy, on the Adriatic seashore.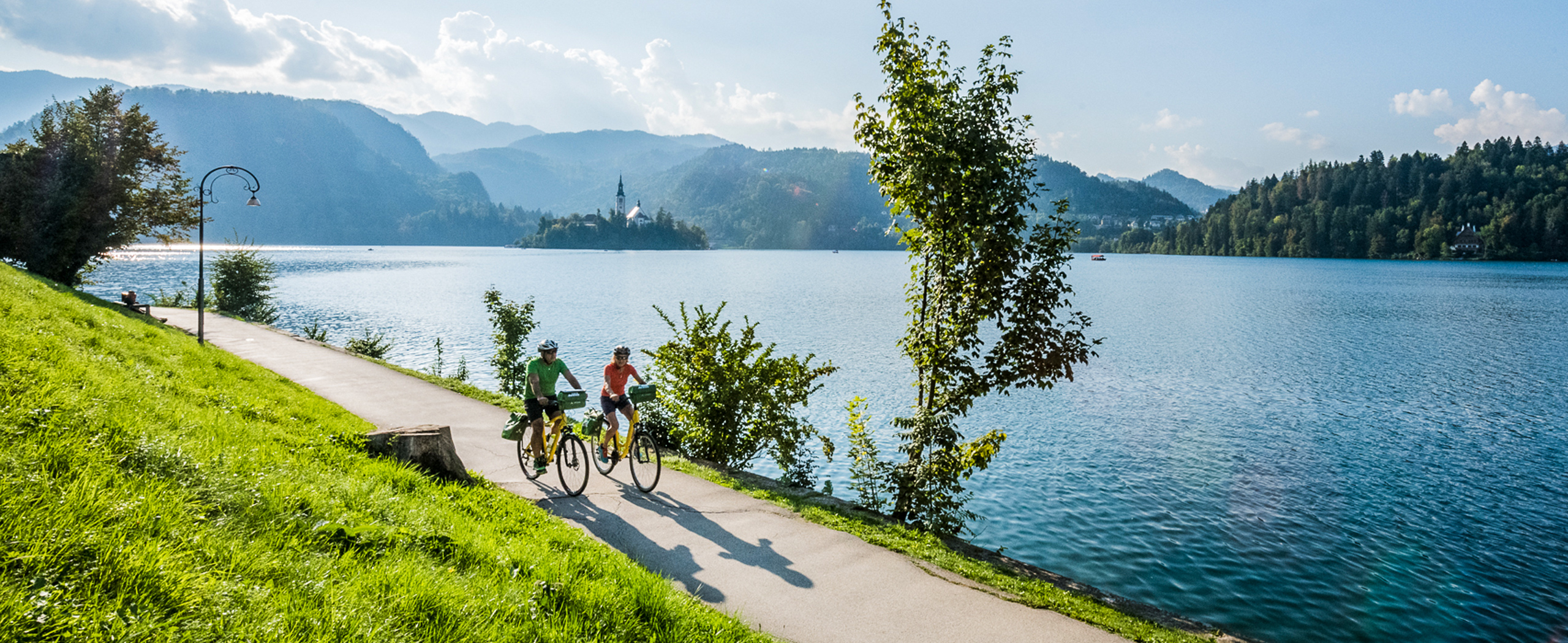 Dolomites to Trieste Bike Tour Itinerary
Day 1

Arrive in Hochpustertal

Arrive in Hochpusteral, Italy on your own to check-in to your hotel. Depending on how much spare time you have, explore the town this evening. It's well worth visiting the rope course in the adventure park!
Overnight Location: Hotel in Hochpustertal
Distance: None
Meals: None
Day 2

Ride to Lienz, Austria

Your first full day of riding will blow your mind—you'll ride alongside the Dolomites with their massive rocky peaks jutting out of the grassy terrain.

Enjoy river views as you cruise through Tyrol, cross the border into Austria, and reach sunny Lienz in time to find a tavern for a pint after a long ride.
Overnight Location: Hotel in Lienz
Distance: 7–8 hours, 70–75km
Meals: Breakfast
Day 3

Descend from Gailbergpass

After breakfast, you'll have a short riding break with a minibus transfer to Gailbergpass (avoiding a big cardio challenge). Hop out and savour an easy descent to a small mountain village, Kötschach-Mauthen, then continue along the foothills of immense ridges.

Before reaching your destination tonight, take a welcome break at Lake Pressegg, a stunning emerald gem among mountains. Finally, push on to Feistritz for the night.
Overnight Location: Hotel in Feistritz an der Gail
Distance: 6.5 hours, 65km + minibus transfer
Meals: Breakfast
Day 4

Cycle to Bled, Slovenia

Say auf wiedersehen to Austria after breakfast. Today you'll ride through three countries in one day! Shortly after you depart your hotel, you cross into Italy, then make a sharp left and cross the Slovenian border. Cycle through the remote northeastern countryside until the crown jewel of Lake Bled comes into view. This town is famous for its castle built on an island in the lake—and you spend the night here and have the whole evening to gaze at its glory.

Not that you can choose to stay two nights here and skip tomorrow's route, then take a train and bike to Gradisca d'Isonzo on Day 6. Please ask for details at booking.
Overnight Location: Hotel in Bled
Distance: 5.5–6.5 hours, 55–65km
Meals: Breakfast
Day 5

Ride to Cividale del Friuli

In the morning, you take a train transfer to shorten the bike journey back into Italy. Arrive in the Soca Valley, a popular place for water sports with its sparkling turquoise river. You'll ride along this spectacular river, cross the border into Italy once more, and land in Cividale del Friuli in the late afternoon.

Indulge in some local cuisine and wine before bed.
Overnight Location: Hotel in Cividale del Friuli
Distance: 5 hours, 50km + train transfer
Meals: Breakfast
Day 6

Pedal to Gradisca d'Isonzo

You have two options to reach your destination today: one goes through the Friuli wine-producing area, where you can stop as you please and do tastings at different wineries, or you can choose an extended option through Udine, a stunning Roman town perfect for an espresso refuel. Either way, you eventually arrive in Gradisca d'Isonzo, a 15th-century village much closer to sea level.
Overnight Location: Hotel in Gradisca d'Isonzo
Distance: 3.5–6.5 hours, 35–65km
Meals: Breakfast
Day 7

Ride to Trieste on the Adriatic Sea

Rise and shine for your last day! With the mountains still in view for the first part of today's route, you'll draw nearer to the Adriatic Sea. Keep your eyes out for castles along the way before reaching the old Habsburg town of Trieste. This city sits on a narrow strip of Italian land between the Adriatic Sea and Slovenia.

Locate a lovely restaurant on the promenade and celebrate your accomplishment of the last week.
Overnight Location: Hotel in Trieste
Distance: 4 hours, 40km
Meals: Breakfast
Day 8

Departure

Enjoy your final breakfast, pack up, and check out. Organize your own transportation to the next part of your journey, or ask at booking to extend your stay here.
Overnight Location: None
Distance: None
Meals: Breakfast

Book Now
Dolomites to Trieste Bike Tour Price and Dates
This self-guided tour in Italy, Austria, and Slovenia is run as a custom tour for your group only and the price depends on the time of year in which you choose to travel and the kind of room you prefer.
The best time to travel to the Alps for biking is during the spring, summer, and early fall. This tour is available from May to October.
Private Self-guided Dolomites to Trieste Bike Tour
Have your own private tour with just your group! Prices below are per person.
Important note: The departures are available on Fridays and Saturdays only, however, during the high season the departures are also available on Sundays. In some cases, it's available to arrange the departures on different weekdays for groups of 5 and more (please enquire).

Low season (from May 1st to June 17th and from September 12th to September 30rd):
Price per person staying in a single room: $1,025 USD per person
Price per person staying in a double room (min 2 travellers): $825 USD per person
High season (from June 18th to September 11th):
Price per person staying in a single room: $1,095 USD per person
Price per person staying in a double room (min 2 travellers): $925 USD per person
Book Now
Accommodation on the Dolomites to Trieste Bike Tour
This tour is based in 3 and 4-star hotels. Tourist tax, if requested at the hotel, is not included and will have to be paid on the spot. This is normally no more than $25 USD per person.
In some cases, the accommodation listed below may need to be substituted for other comparable accommodations.
Single Rooms and Solo Travellers
Rooms are double occupancy. If you prefer a single room where possible, the required supplement is included in the listed price.
Hotels on Standard Tour
Stay in this breathtaking town tucked in the Alps in the Puster Valley. Enjoy a comfortable room and wake up to the soft sounds of nature.
Wander the streets of this charming medieval town in Tyrol, Austria. Flanked by mountains, you'll have stunning backdrops in this town during your stay.
Hotel in Feistritz an der Gail
Relax in this tranquil and charming town. You'll be surrounded by greenery with views of the mountains as a constant backdrop.
This iconic town is a must-visit for anyone travelling to Slovenia. Lake Bled has a stunning castle built on a lush island. Get your camera out!
Hotel in Cividale del Friuli
The quaint village of Cividale del Friuli awaits. Make sure to walk around town and get the idyllic view of the Devil's Bridge over the green Natisone River.
Hotel in Gradisca d'Isonzo
Immerse in this 15th-century town with a few walls of its old fortress remaining. It's charming and offers wonderful strolling opportunities.
This seaport town is full of classic images of Italy with its canals, bridges, and boats lining the docks. It's a romantic town that has inspired many famous Italian writers.
What's included in the Dolomites to Trieste Bike Tour?
Meals
7 breakfasts are included.
Accommodations
Accommodation for 7 nights is included in the tour. You can add additional nights before or after the tour as a supplement.
Transportation during the Tour
While you cycle between hotels, transportation for your luggage is included. Transfers mentioned in the itinerary are included (minibus on Day 3 and train on Day 5). Arrival and departure transfers are not included but can be requested at booking.
Also Included
Tour information in English
Well-planned routes
Detail route descriptions
Detailed maps
24-hour telephone assistance
Not included
Flights and public transportation
Guide services
Bike rental
Lunches, dinners, drinks, or other meals not previously mentioned
Travel insurance and tourism tax
Arrival and departure transfers
Anything not mentioned as included
Entrance fees of any kind
Tourist tax
Optional Extras
Extra nights Villabassa or Dobbiaco:

$75 USD per person per night sharing a double room (low season)
$95 USD per person per night sharing a double room (high season)
$95 USD per person per night in a single room (low season)
$125 USD per person per night in a single room (high season)

Bike rental:

Hybrid bike: $95 USD
Premium hybrid bike: $125 USD
E-bike: $175 USD
Frequently Asked Questions about Dolomites to Trieste Bike Tour
FunActive Tours operates adventure tours in the heart of the Italian Dolomites. Thanks to the ideal
location of FunActive headquarters right in the Dolomites and branch offices in Venice Mestre and
Trieste, FunActive Tours can offer excellent walking and cycling tours not only in the mountains, but
also towards Austria, Slovenia, and Istria.
FunActive offers efficient, high-quality service to clients from all over the world, making it one of the
best choices for those seeking an experienced local provider. Attention is given down to the smallest
details, and the tours are designed to suit travellers of many abilities according to how adventurous
they wish to be. FunActive can find you an incredible tour regardless of age, skill level, or time of
year. Come discover Italy and beyond!
Learn More
Is this tour for me?
We rate this tour as a 3/5. You should be physically fit and comfortable cycling 3.5–8 hours daily. The elevation gain is moderate, and you will have comfortable accommodation to recuperate. The bike path is well-maintained.
Ask a Question
Got any questions regarding the tour? Interested in promotions for groups or want to customize this tour to fit your needs? We are here to help you!
Ask a question