Hike, bike, raft, and more in the beautiful and diverse landscapes of Ecuador
The 8-day guided Ecuadorian Andes and Amazon Adventure tour will take you on the adventure of a lifetime. With a range of exciting activities on deck, there's never a dull moment on this tour! Explore the volcanic mountains and rainforests of Ecuador on hikes and bike rides. Then, your guides will take you to hidden crater lakes, powerful waterfalls, and majestic canyons.
Between hikes and bike rides, you'll go white water rafting, canyoneering, and explore the jungle. This tour is packed with exciting activities in beautiful places, but you'll also get to know the indigenous people of the area and learn about their way of life. Take a breather from the adrenaline by visiting a hummingbird habitat and learning about local chocolate! You'll finish your tour with everyone's favourite, a visit to the volcanic hot springs. This guided tour has everything an adventurous traveller could want in Ecuador!
Highlights of the Andes and Amazon Adventure
Dive into the beautiful outdoors while you hike, bike, and raft in the spectacular mountains and rainforests of Ecuador.
Spend time with local indigenous people and learn about their traditions and culture.
Stay deep in the Amazon and witness the natural beauty and wildlife of this incredible rainforest.
Soak your cares away in the natural volcanic hot springs in Papallacta.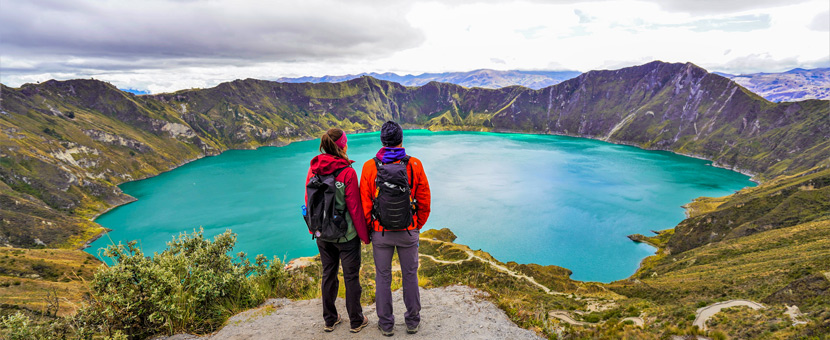 Andes and Amazon Adventure Tour Itinerary
Day 1

Arrive in Quito

Feel free to explore Quito on your own today. Your tour starts in the evening with a welcome meeting in the hotel lobby. This is when you'll meet your tour guide and the rest of your group. You'll have a chance to ask any questions you might have as you learn all about the adventure that awaits you!
Overnight Location: Hotel in Quito (2,850m / 9,350')
Distance: None
Meals: None
Day 2

Hike to the Crater Lake in Quilotoa

The day will start with a three-hour drive into the Andes along the Avenue of the Volcanoes. You'll arrive in Quilotoa, where you'll hike into the crater to discover the gorgeous blue Crater Lake at the bottom. You can choose to rent a kayak and go for a paddle to take in the incredible views, or just relax and soak in the scenery.

Hike back out of the crater, or rent a mule or horse to take you back up to the crater rim. You'll have lunch at the top and then visit a local artisan market.
Overnight Location: B&B in Lasso (3,050m / 10,000')
Distance: About 3 hours of hiking and optional 1-hour paddle
Meals: Breakfast, lunch
Day 3

Hike to the Cotopaxi Glacier

Today will be a hike up to the Cotopaxi Glacier. The trail starts at about 4500m above sea level, and you'll be climbing all the way up to 5200m. Your guides will help you with some tips and tricks to handle the thin air at such high altitudes. The trail is quite steep, so the climb will take about 2 hours. It's going to be well worth it at the top, though!

In the afternoon, you'll head to charming Baños de Agua Santa. This town is surrounded by mountain ridges and a waterfall. Besides being very pretty, Baños has great restaurants and nightlife, making it the perfect place to spend the evening.
Overnight Location: Hotel in Baños (1,820m / 5,970')
Distance: About 3 hours of hiking
Meals: Breakfast
Day 4

Bike Ride in Llanganates National Park

This morning you'll be driven to the Llanganates National Park for a bike ride. You'll only be riding gently uphill for about an hour before the trail starts zipping downwards. Enjoy the fresh mountain air and the spectacular views, including the active Tungurahua Volcano.

After the bike ride, the group will go to the Casa de Arbol, which is famous for its "swing at the end of the world". Take a swing if you're feeling brave! Time permitting, there may be an option to do some zip lining as well.
Overnight Location: Hotel in Baños (1,820m / 5,970')
Distance: About 3 hours of biking
Meals: Breakfast
Day 5

Discover the Amazon Basin

Before driving to the Amazon, you'll make a stop to see the incredible Pailon del Diablo waterfall. Enjoy the scenic drive into the beautiful Amazon basin.

After a traditional lunch, you'll go canyoneering in the spectacular canyons. Your day will end with a sweet treat as you learn how to make traditional chocolate fondue from the local cacao.
Overnight Location: Wilderness lodge in the Amazon
Distance: About 3 hours of hiking and canyoneering
Meals: Lunch, dinner
Day 6

Raft on the Jatunyacu River

Today will be a trip highlight as you'll be rafting down the Jatunyacu River! This river is sourced from the Llanganates Mountains and has Class III rapids. Hold on tight!

After your exciting morning on the river, have a nice lunch and return to the lodge to relax or go for a swim. Tonight you can take a nocturnal stroll to discover all the insects and amphibians who only come out at night.
Overnight Location: Wilderness lodge in the Amazon
Distance: About 3 hours of rafting
Meals: Breakfast, lunch, dinner
Day 7

Explore the Jungle and Visit the Hot Springs

Start your day with a hike through the jungle to learn about the medicinal uses of the local plants and the importance of them for the indigenous people.

After your exploration, you'll start heading back towards the highlands. On your way, you'll stop in the Guango forest reserve to visit hummingbirds in their natural habitat.

The next stop is Papallacta Hot Springs. These natural volcanic hot springs are known to have healing properties. Relax in the different pools and unwind in nature's spa, or if you'd like to add a spa treatment, massages and facials can be arranged. Your day will finish back in Quito, joining the rest of your group for a farewell celebration at a local brewery.
Overnight Location: Hotel in Quito (2,850m / 9,350')
Distance: Flexible
Meals: Breakfast
Day 8

Farewell!

Your tour has come to an end, and it's time to return home or continue on the next leg of your journey.
Overnight Location: None
Distance: None
Meals: Breakfast

Book Now
Ecuadorian Andes and Amazon Adventure Price and Dates
This guided adventure tour in Ecuador is run either as a group tour or a private tour. The prices below are per person sharing a double or a triple room and those willing to have single rooms will have to pay a supplement:
Private tour: $1,760 USD per person -

Now $1,225 USD per person
Prices to join a group tour:
Day of Week
Price per Person *
* Single Supplement may apply
Accommodation on the Ecuadorian Andes and Amazon Adventure
This tour is based in 3-star hotels, B&Bs, and ecolodges. The hotels offer comfortable rooms with great locations. The lodges in the Amazon are more rustic. Rooms are double occupancy and single travellers will pay a supplement.
In some cases, the accommodation listed below may need to be substituted for other, comparable accommodations.
Single Rooms and Solo Travelers
You can pay a supplement to have a private room in a hotel (please contact us to find out the pricing).
Hotels on Standard Tour
Hotel Dann Carlton in Quito ★★★★
This Quito hotel has lovely welcoming rooms, but you'll want to spend all your time at the indoor pool, fully equipped gym, or the charming garden.
La Cienega Hacienda in Lasso ★★★
At 325 years old, this is one of the oldest colonial properties in the country. You'll love the warm service and historical charm of this hacienda.
Alisamay Hotel in Banos ★★★
This hotel offers cozy rooms and incredible views of the surrounding mountains. Spend time relaxing in the garden or at the outdoor swimming pool.
Basic wilderness lodge in the Amazon Basin
The lodges are rustic, wilderness accommodations, but the experience of staying right in the Amazon basin will outweigh the rugged amenities.
Hotel Dann Carlton in Quito ★★★★
This Quito hotel has lovely welcoming rooms, but you'll want to spend all your time at the indoor pool, fully equipped gym, or the charming garden.
What's Included in the Ecuadorian Andes and Amazon Adventure?
Meals
6 breakfasts, 3 lunches, 2 dinners, water, and snacks are included.
Accommodations
Accommodations for 7 nights are included. Accommodations before and after the tour in Quito are not included but can be added as a supplement.
Transportation during the Tour
Transport for you and your luggage is included as outlined in the itinerary. Airport transfers are not included.
Also Included
Experienced English-speaking guide
Bike (quality hybrid bikes), certified helmets and gloves
Hiking poles
NRS rafts, paddles and helmets for whitewater rafting
Canyoneering equipment, harnesses, helmets, ropes, and rubber boots
Water bottle
All fees for reserves and museums
Not included
Travel insurance
Flights to or from Ecuador
Airport transfers
Lunches and dinners not previously mentioned
Tourist taxes if applicable
Visas if required
Optional activities
Personal equipment
Fees not mentioned as 'included'
Gratuities for tour guides and drivers
Frequently Asked Questions about Andes and Amazon Adventure
The creation of Activexpedition is to inspire adventure travelers to explore our world from a different perspective. At Activexpedition they prioritize eco-friendly activities in every destination they go, as well as support local people and traditions through sustainability efforts.
Activexpedition's mission is to deliver educational experiences of a lifetime with stellar service and provide human powered holidays that go beyond typical adventure travel.
Learn More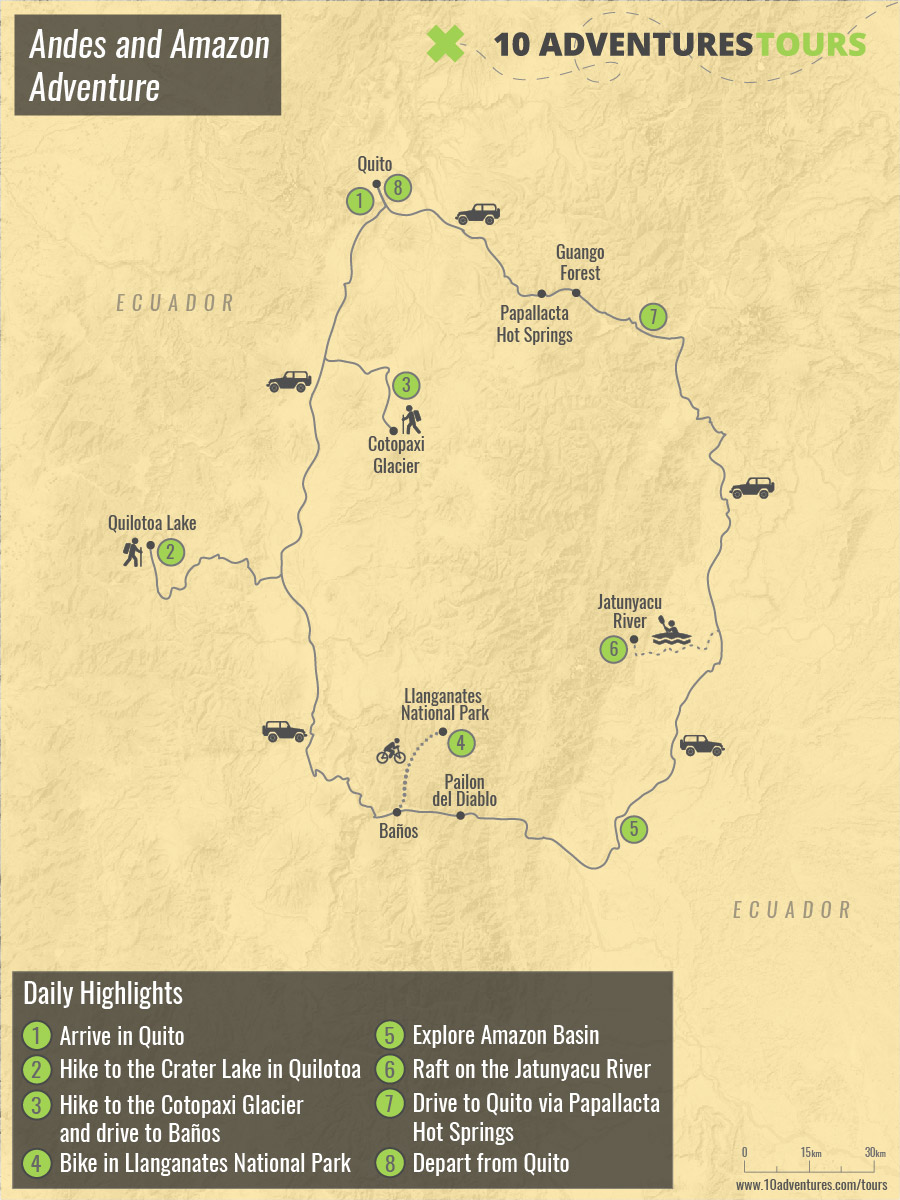 Is this tour for me?
We rate this tour as a 4/5. This tour has a high difficulty rating because it includes two hikes at high elevations in addition to other demanding physical activities. No experience is required for rafting or canyoneering, but travellers should be adventurous and fairly fit to get the most out of this tour.
Local Guide
Ask a Question
Got any questions regarding the tour? Interested in promotions for groups or want to customize this tour to fit your needs? We are here to help you!
Ask a question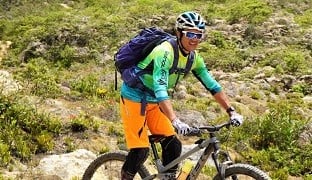 Cesar Romero
Quito, Ecuador
Q&A
Q: What is the best part of guiding tourists in your country?
A: Very difficult question, but Mountain Biking along the Andes is my favourite part of my country.
Q: What are guests most surprised about when visiting Ecuador?
A: The people, how friendly we are, the biodiversity that Ecuador has. Here you can have breakfast on the coast then have lunch in the mountains and finally have dinner in the Amazon basin.
Q: What is one experience anybody visiting your country should do?
Galapagos is the main highlight, but all of the visitors have to do the mainland multisport because this is an active tour where we mix with local gastronomy and the most important thing we share with local people.
Q: What is your most unforgettable moment when guiding?
A: When your guests don't tell you anything, but you can see how excited they are in their faces.
Q: What is one local dish or drink that tourists must try on a visit to your country and why?
A: I love our local food, well the first dish fritada with tortillas that is fried pork with potato patties then empanadas.
Q: Where would you want to go on holiday?
A: Utah to ride the Whole Enchilada!
Q: What is the most challenging adventure you've ever done?
A: When I finished high school, I took my bike and rode it through Ecuador for 1 year, and I climbed almost all of our snowcap mountains along the way.
Q: What do your guests say is best about the trips you lead?
A: The diversity of our country and how the people are. They say also that the activities that we have are the best option to learn about our country.