Experience the magnificent scenery of El Altar as you trek this Ecuadorian volcano
Discover the incredible beauty of the Ecuadorian Andes on this 5-day guided trekking tour of El Altar. Leave busy Quito behind as you're transported to another world in Sangay National Park. This tour will allow you to challenge yourself as you trek into the wilderness of the volcano and discover places of natural beauty few people will ever see.
Your trip will begin with a night in La Candelaria, where you'll prepare for your trek and enjoy the warm Ecuadorian hospitality. Then you'll spend the rest of your time sleeping on the mountainside and trekking to hidden lagoons and exploring the paramos. Your last hike will be over the crater itself and will reward you with spectacular views of the surrounding peaks. Book the Ecuadorian Andes Volcano Trek for thrilling hikes and spectacular scenery that will stay with you for a lifetime!
Highlights of the Ecuadorian Andes Volcano Trek
Travel the Route of Volcanoes and experience incredible views as you travel to Riobamba.
Enjoy local cuisine and a warm welcome in the charming mountain town La Candelaria.
Discover the stunning natural beauty of the Ecuadorian paramo as you complete daily hikes from Altar base camp.
Fall asleep to the sounds of the mountainside while you camp under the stars.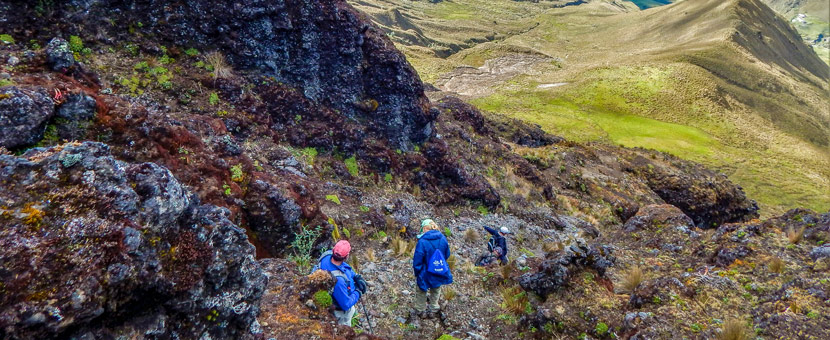 Ecuadorian Andes Volcano Trek Itinerary
Day 1

Travel the Route of Volcanoes to La Candelaria

Your tour begins in the morning with an early pickup from your Quito hotel. The four-hour drive along the Route of Volcanoes is full of spectacular views of the surrounding peaks, so make sure you have your camera ready!

You'll arrive in the charming little town of La Candelaria, which is the gateway to some of the most challenging summits in the region. Spend the afternoon preparing for your trek and exploring La Candelaria.
Overnight Location: Mountain hut near La Candelaria (2,450m / 8,038')
Distance: None
Meals: Lunch, dinner
Day 2

Trek to Altar Basecamp

This morning your adventure truly begins! You'll trek down a horse path through the alpine plateau, known as a paramo. This beautiful ecosystem exists just below the alpine snow line and, in stark contrast to the peaks, is lush green and full of wildlife and colourful flowers.

You'll need to have your rain boots on, as your trail will be muddy and a little challenging. You'll hike past mountain streams and dense foliage and may even run into Zuko, the local dog who likes to greet hikers. Your bags will be brought up to basecamp for you on horses or mules.
Overnight Location: Camping on El Altar (3,800m / 12,467')
Distance: 5 to 6 hours
Meals: Breakfast, lunch, dinner
Day 3

Hike to the Mandur and Azur Lagoons

Today you'll hike up the foothills of El Altar, the extinct volcano that has been on your horizon since your arrival yesterday. You'll be trekking to Mandur Lagoon, which reflects the stunning mountain peaks.

On your way to the next lagoon, you'll be watching for whitetail deer, cara-caras, Andean lapwins, eagles, hawks, and other species of bird that live on the paramo. You'll know where Azur Lagoon gets its name when you reach its bright blue waters. Enjoy the view while you eat your picnic lunch before hiking back to camp.
Overnight Location: Camping on El Altar (4,530m / 14,862')
Distance: 5 to 6 hours
Meals: Breakfast, lunch, dinner
Day 4

Crater Trek

Your path today begins as you climb up into the crater of the Altar Volcano. You'll continue hiking to the Laguna Amarila where you'll enjoy breathtaking views of the seven peaks that form the "Altar" and gave the mountain its name.

If you're feeling bold, take a dip in the ice-cold lagoon! Locals say that swimmers brave enough to enter the water are blessed by the volcano. After lunch at the lagoon, you'll have time to explore before hiking back to camp.
Overnight Location: Camping on El Altar (4,530m / 14,862')
Distance: 5 to 6 hours
Meals: Breakfast, lunch, dinner
Day 5

Return to Quito

This morning you'll trek out of the reserve and meet your driver, who'll take you back to Quito. Safe travels!
Overnight Location: None
Distance: 5 to 6 hours
Meals: Breakfast, lunch

Book Now
Ecuadorian Andes Volcano Trek Price and Dates
This guided tour of El Altar is run either as a group tour or a private tour. The prices below are per person sharing a double or a triple room:
Private tour: $1,125 USD per person -

Now $925 USD per person

Group tour: $1,000 USD per person -

Now $775 USD per person
Important Notes
You can book extra nights in Quito before or after the tour for an extra charge (please enquire about the pricing)
Single room supplements will apply to single rooms required
Book Now
Accommodation on the Ecuadorian Andes Volcano Trek
On this tour, you will stay in mountain huts and camp. The lodges offer rustic dormitory-style rooms and incredible views. Prices are based on double occupancy and single travellers will pay a supplement.
In some cases, the accommodation listed below may need to be substituted for other comparable accommodations.
Single Rooms and Solo Travelers
You can pay a supplement to have a private room in a hotel (please inquire for the pricing). We can try and match single travellers up where possible.
Hotels on Standard Tour
Hacienda Releche in La Candelaria
This rustic mountain lodge has shared accommodations and is surrounded by beautiful mountain scenery.
Campsite, El Altar Basecamp
Sleep out on the slopes of El Altar Volcano. The conditions may be rustic but you'll have epic views!
What's Included in the Ecuadorian Andes Volcano Trek?
Meals
4 breakfasts, 5 lunches, 4 dinners, snacks, and water are included.
Accommodations
Accommodations for 4 nights are included. Accommodations before and after the tour in Quito are not included.
Transportation during the Tour
Transport for you and your luggage is included as per the itinerary. Your bags will be transferred for you to and from the Altar Basecamp. Airport transfers are not included, but you will be driven from Quito to La Candelaria and back.
Also Included
Experienced English-speaking guide
Private transportation
Sleeping bag
Trekking poles
Not included
Travel insurance
Flights to and from Ecuador
Airport transfers
Lunches and dinners not previously mentioned
Tourist taxes if applicable
Visas if required
Personal equipment
Fees not mentioned as 'included''
Gratuities for tour guides and drivers
Frequently Asked Questions about Ecuadorian Andes Volcano Trek
The creation of Activexpedition is to inspire adventure travelers to explore our world from a different perspective. At Activexpedition they prioritize eco-friendly activities in every destination they go, as well as support local people and traditions through sustainability efforts.
Activexpedition's mission is to deliver educational experiences of a lifetime with stellar service and provide human powered holidays that go beyond typical adventure travel.
Learn More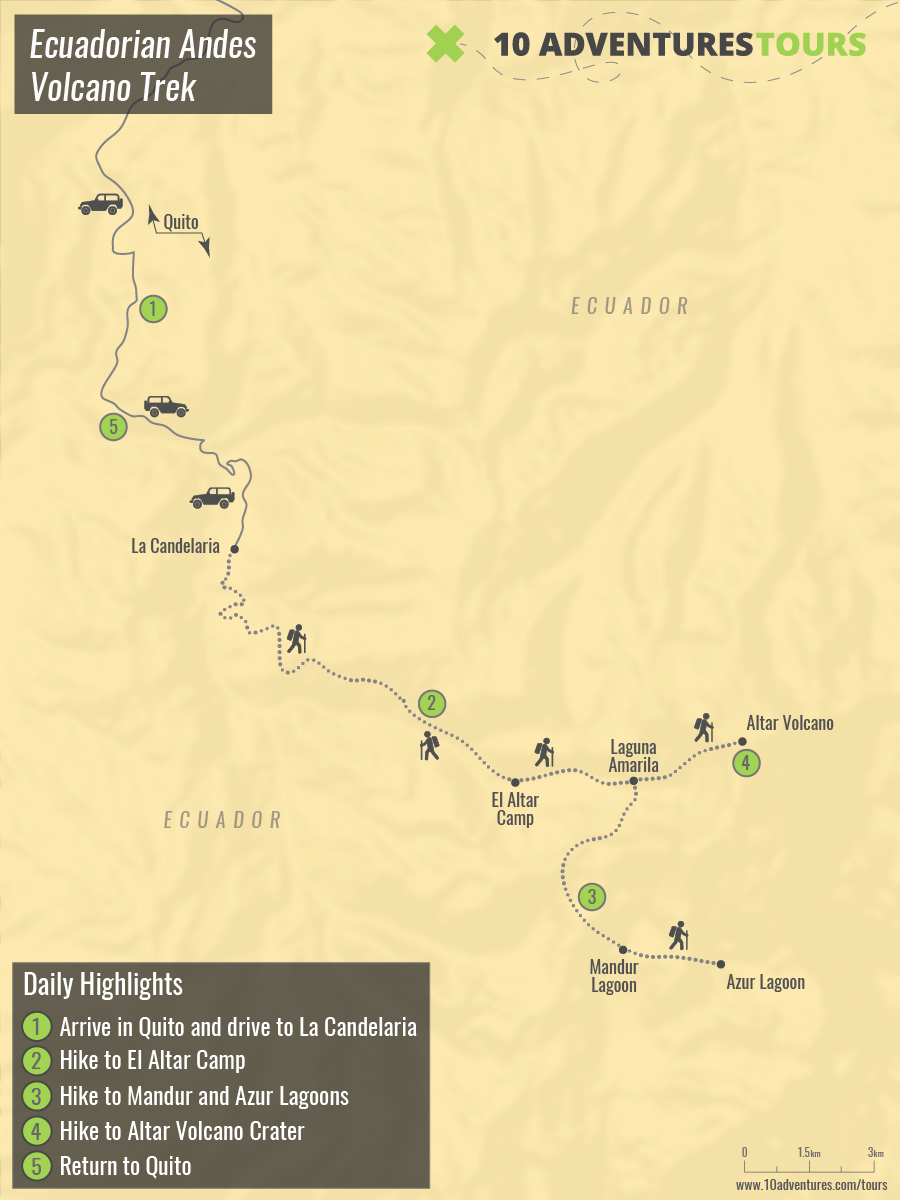 Is this tour for me?
We rate this tour as a 4/5. The hiking on this trip doesn't require any technical climbing skills. However, the trails are challenging, and the altitude is over 4000m, which can make hiking and breathing difficult. You will also be camping in rustic conditions for a few nights. Fit hikers will be able to get the most out of this tour.
Local Guide
Ask a Question
Got any questions regarding the tour? Interested in promotions for groups or want to customize this tour to fit your needs? We are here to help you!
Ask a question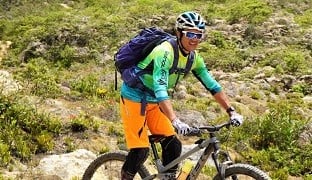 Cesar Romero
Quito, Ecuador
Q&A
Q: What is the best part of guiding tourists in your country?
A: Very difficult question, but Mountain Biking along the Andes is my favourite part of my country.
Q: What are guests most surprised about when visiting Ecuador?
A: The people, how friendly we are, the biodiversity that Ecuador has. Here you can have breakfast on the coast then have lunch in the mountains and finally have dinner in the Amazon basin.
Q: What is one experience anybody visiting your country should do?
Galapagos is the main highlight, but all of the visitors have to do the mainland multisport because this is an active tour where we mix with local gastronomy and the most important thing we share with local people.
Q: What is your most unforgettable moment when guiding?
A: When your guests don't tell you anything, but you can see how excited they are in their faces.
Q: What is one local dish or drink that tourists must try on a visit to your country and why?
A: I love our local food, well the first dish fritada with tortillas that is fried pork with potato patties then empanadas.
Q: Where would you want to go on holiday?
A: Utah to ride the Whole Enchilada!
Q: What is the most challenging adventure you've ever done?
A: When I finished high school, I took my bike and rode it through Ecuador for 1 year, and I climbed almost all of our snowcap mountains along the way.
Q: What do your guests say is best about the trips you lead?
A: The diversity of our country and how the people are. They say also that the activities that we have are the best option to learn about our country.