Get your heart pumping on this 10-day ride from Austria to the Adriatic Sea
Picture this: you pick up a bike in the mountainous region of Austria, then spend 10 days riding south to reach the Adriatic Sea on the Italian coast. Yes, please! On the 10-day Salzburg to Grado by Bike in 10 Days tour, you'll cycle a well-mapped route, staying in a new town or city each night. You'll encounter some more challenging days as you have to cover 355–400km! The ever-evolving landscapes will be enough inspiration to hop back in the saddle each day.
From small mountain towns in the Alps to the coastal fishing village of Grado, you'll have new incredible sights to soak up each day of your riding. Keep the momentum going with delectable fare and conversations with your local hotel hosts. The Salzburg to Grado by Bike in 10 Days gives you the chance to see a great stretch of land but enough time to recuperate and absorb all that you learn and see. To top it off, on the last day, you get to relax on the beach!
Highlights of the Salzburg to Grado by Bike in 10 Days
Indulge in various cuisines from mountain villages to the coastal fishing village of Grado.
Practice your Austrian and Italian with the locals along the way. Hint: Danke ("thank you" in Austrian) and Saluti ("cheers" in Italian).
Spend a few days in Carinthia, Austria's lake province, and stop for a sunset swim when you reach Villach.
Wander the cobblestone streets of historical cities like Salzburg, the birthplace of Mozart.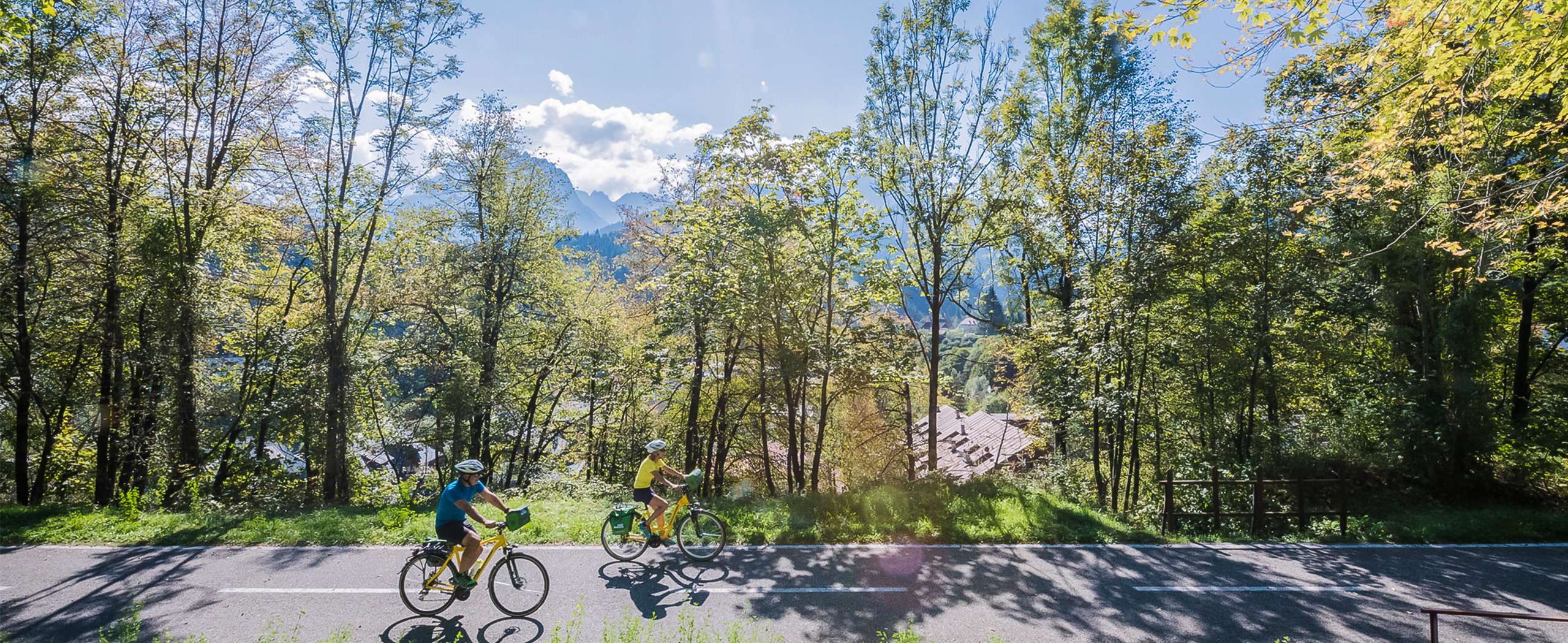 Salzburg to Grado by Bike in 10 Days Itinerary
Day 1

Arrive in Salzburg

Begin the tour in Salzburg, Austria, the birthplace of Mozart and a truly Baroque city. Spend the evening wandering the cobbled streets in the Old Town before heading to bed.
Overnight Location: Hotel in Salzburg
Distance: None
Meals: None
Day 2

Ride to Golling

After breakfast, you'll collect your bike and head south into incredible landscapes full of mountains, lakes, and waterfalls. Your luggage will be transferred for you so you can ride unencumbered during the tour. When you arrive in Golling, you'll have plenty of time to stroll the streets and soak in the Alp-village vibes.

Find some local delicacies and head to your hotel to get a good night's sleep.
Overnight Location: Hotel in Golling
Distance: 3.5 hours, 35km
Meals: Breakfast
Day 3

Bike to St. Johann

Leaving Golling behind, continue through the mountains as the larger peaks draw nearer. Enjoy a pleasant ride along the Salzach River, then continue to a village tucked in the green mountains. You're in nature now.

You'll be wowed by an impressive waterfall where you can stop for a quick splash before ascending to St. Johann, a recreation town with a ski resort.
Overnight Location: Hotel in St. Johann
Distance: 3.5 hours, 35km
Meals: Breakfast
Day 4

Bike Gastein Valley and Train to Mallnitz

Fuel up on breakfast, then ride along an undulating path through the quiet Gastein Valley, where you'll start recognizing iconic Alps scenery. Mountains surround you as you cycle alongside a river, eventually reaching the Gastein Waterfall—a spot that has inspired artists for years.

Take a short break from riding in the afternoon when you hop on a train in Böckstein to shorten the trip to Mölltal/Mallnitz. At the local station, you'll have a downhill ride into town to find your hotel.
Overnight Location: Hotel in Mölltal/Mallnitz
Distance: 5.5 hours, 55km
Meals: Breakfast
Day 5

Cycle to Spittal an der Drau

Your route continues along the rivers, which flow all over Austria. You'll continue next to another mighty river today, the Möll River, which cuts through forested mountains.

You'll ride into Spittal an der Drau, known for its remarkable castle. Find an enticing menu at a local restaurant and head to bed with a full stomach.
Overnight Location: Hotel in Spittal an der Drau
Distance: 4 hours, 40km
Meals: Breakfast
Day 6

Ride the Countryside to Villach

After breakfast, you'll leave the mountains behind (for now) and enter more pastoral landscapes. Pedal into Carinthia province, which you'll soon notice is a lake lover's dream.

Arrive in Villach with extra time to ride to a nearby lake for a sunset swim.
Overnight Location: Hotel in Villach
Distance: 3.5 hours, 35km
Meals: Breakfast
Day 7

Cross into Italy

Have your last breakfast in Austria—you're headed for Italy! Cycling along a river (yes, another one!), you'll soon enter Italy close to the three-country corner of Austria, Italy, and Slovenia, all of which share the Alps. Pedal through an immense valley of verdant greenery, inhaling cool mountain air as you ride into Italy.

To shorten today's trip, you can take a train for a section (ticket not included), or you can ride the whole way. Either way, you'll end up in Moggio Udinese, Tolmezzo, or Venzone (depending on availability) for the night.
Overnight Location: Hotel in Moggio Udinese, Tolmezzo, or Venzone
Distance: 8.5–9 hours or 4–6 hours + train, 85–90km or 40–60km + train
Meals: Breakfast
Day 8

Cycle through the Alps to Udine

Waking up in a pleasant Italian village and having fresh espresso with breakfast is a heck of a way to start your day. Leave your hotel and ride through the Alps, stopping in your choice of villages to refuel with as many espressos as you can handle.

In the afternoon, you'll cycle through a vineyard area—why not stop and have a taste? Arrive in Udine for the night, an enchanting town of Gothic and Renaissance architecture, with a piazza awaiting your arrival tomorrow morning for an espresso. Hey, while in Italy, right?
Overnight Location: Hotel in Udine
Distance: 6 hours, 60km
Meals: Breakfast
Day 9

Arrive at the Adriatic Sea

After your early morning coffee in the piazza, mount your bike for your last full day. As you leave the Alps behind, the landscapes will start to flatten, turning into canals and marshlands. Grado, a historic fishing village on the coast, is your final destination. You'll arrive early enough to revel in a few relaxing hours on the beach—perhaps a welcome break from your mountainous adventure through the Alps.

Spoil yourself with a local seafood feast to celebrate your accomplishments!
Overnight Location: Hotel in Grado
Distance: 5.5 hours, 55km
Meals: Breakfast
Day 10

Departure

Your tour ends after breakfast and check-out. You'll have to organize your own transportation to the next part of your journey.
Overnight Location: None
Distance: None
Meals: Breakfast

Book Now
Salzburg to Grado by Bike in 10 Days Tour Price and Dates
This self-guided tour in Austria and Italy is always run as a custom tour for your group and the price per person depends on your travelling dates and room types.
The best time to travel to Austria and Italy for biking is during the spring, summer, and early fall, from about May through September.
Private Guided Salzburg to Grado by Bike in 10 Days Tour
Have your own private tour with just your group! Prices below are per person.
Important note: this tour begins every Wednesday between May 4th and September 21st. Please note that alternative departure days are available on request for groups of 5 and more.

Low season (from May 30th to June 3rdand from September 12th to September 21st):
Price per person staying in a single room: $1,295 USD per person
Price per person staying in a double room (min 2 travellers): $1,050 USD per person
High season (from June 4th to September 11th):
Price per person staying in a single room: $1,395 USD per person
Price per person staying in a double room (min 2 travellers): $1,175 USD per person
Book Now
Accommodation on the Salzburg to Grado by Bike in 10 Days Tour
This tour is based in 3 and 4-star hotels. Tourist tax, if requested at the hotel, is not included and will have to be paid upon arrival (normally this amounts to less than $25 USD per person).
In some cases, the accommodation listed below may need to be substituted for other comparable accommodations.
Single Rooms and Solo Travellers
Rooms are double occupancy. You can pay a supplement of $250 USD to have a single room where possible (included in the single traveller prices listed).
Hotels on Standard Tour
Sleep in one of the most romantic cities in Austria, known for its baroque architecture and recognized by UNESCO. Gaze out your window at the birthplace of Mozart!
At the confluence of two mighty rivers sits Golling, an Austrian market town nestled among the Alps. Stroll the charming streets or visit the nearby waterfall.
Relax in this little mountain town that turns into a busy ski resort every winter. During the rest of the year, enjoy the lush valley scenery of the Austrian Alps.
Hotel in Mölltal/Mallnitz
Spend a wonderful night in this charming village enveloped by the Austrian Alps. You'll think you stumbled into a picture book here.
Hotel in Spittal an der Drau
Get a taste of the big city in Carinthia province. Don't miss the Porcia Castle, an iconic relic of renaissance architecture.
Stroll the streets of the seventh-largest city in Austria and absorb the almost-eastern European vibes. Settle into your hotel for a good night's sleep.
Hotel in Moggio Udinese/Tolmezzo/Venzone
Put your feet up in a superb hotel in a small Italian village tucked away in the Alps. Wake up surrounded by the Alps and breathe the fresh mountain air.
Sense a unique ambiance in this city that blends Italian, Austrian, and Slovene cultures. Take a tour of the piazza and sample all kinds of gourmet offerings.
Grado, an old fishing town built on a lagoon, consists of canals, delectable restaurants, impressive architecture, and a sandy beach.
What's Included in the Salzburg to Grado by Bike in 10 Days Tour?
Meals
9 breakfasts are included.
Accommodations
Accommodation for 9 nights is included in the tour. Accommodations before and after the tour are not included but can be added as a supplement.
Transportation during the Tour
While you cycle between hotels, transportation for your luggage is included. The train ride between Böckstein and Mallnitz for you and your bike is included, but if you choose to take the train in Italy on Day 7, the ticket is not included. Airport transfers are not included.
Also Included
Tour information in English
Well-planned routes
Detail route descriptions
Detailed maps
24-hour telephone assistance
Not included
Flights
Travel insurance and tourism tax
Guide service
Meals, drinks, or snacks not previously mentioned
Arrival and departure transfers
Visas if required
Entrance fees of any kind
Anything not mentioned as included
Optional Extras
Extra nights in any accommodation
Bike rental:

21-gear hybrid bike: $95 USD
E-bike (unisex bike, 500 W battery with range up to 100 km): $225 USD

Single occupancy upgrades
Frequently Asked Questions about Salzburg to Grado by Bike in 10 Days
FunActive Tours operates adventure tours in the heart of the Italian Dolomites. Thanks to the ideal
location of FunActive headquarters right in the Dolomites and branch offices in Venice Mestre and
Trieste, FunActive Tours can offer excellent walking and cycling tours not only in the mountains, but
also towards Austria, Slovenia, and Istria.
FunActive offers efficient, high-quality service to clients from all over the world, making it one of the
best choices for those seeking an experienced local provider. Attention is given down to the smallest
details, and the tours are designed to suit travellers of many abilities according to how adventurous
they wish to be. FunActive can find you an incredible tour regardless of age, skill level, or time of
year. Come discover Italy and beyond!
Learn More
Is this tour for me?
We rate this tour as a 3/5. You should be physically fit and comfortable cycling 3.5–6 hours daily, plus one extra-long day up to 9 hours (or you can purchase a train ticket and cut the ride down to 6 hours). The elevation gain is moderate, and you will have comfortable accommodation to recuperate in.
Ask a Question
Got any questions regarding the tour? Interested in promotions for groups or want to customize this tour to fit your needs? We are here to help you!
Ask a question