Explore Northern Ireland with the whole family on this exciting 7-day guided adventure
The famous Causeway Coast has been inspiring stories and legends since time immemorial. From C.S. Lewis' Narnia to the modern TV show Game of Thrones, this iconic Irish locale continues to capture the human imagination. Come take a family adventure in Northern Ireland and explore this area on foot, by kayak, and by boat.
This family-friendly adventure is designed for children 6 and older and you'll get to explore the ancient Dunluce Castle, kayak along the stunning Causeway coastline, hike the Giant's Causeway, explore an island hideaway, journey the Gobbins Path, and of course sample the local food, drink, and music.
Highlights Of Family Adventure: Giants, Myths and Legends Tour
Explore the ancient ruins of Dunluce Castle, inspiration for modern fantasy stories as well as legends and ghost tales of old.
Bask in the natural beauty of the Causeway Coast as you travel by kayak. Pause for a picnic on the shore before heading back to the quaint town of Bushmills for a whiskey tasting.
Trek along the Cliffside Gobbins Path, climbing stairs hewn from solid rock, crossing stunning bridges amid crashing waves.
Hike to the world famous Giant's Causeway and take in the jaw-dropping formations said to have been built by ancient giants.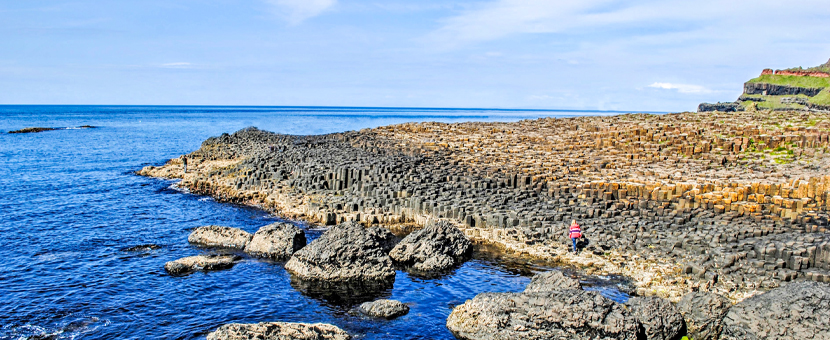 Family Adventure: Giants, Myths and Legends Tour Itinerary
Day 1

Arrival and Legendary Castle Exploration

After your arrival in Belfast, you'll depart for the legendary land of Narnia! The ruins of Dunluce Castle gave C.S. Lewis his inspiration for the fictional Castle of Cair Paravel. Even more recently, the ruins provided the setting for Pyke and the Iron Isles on the TV series, Game of Thrones. Today you'll get to explore the majestic clifftop ruins and learn the secret lore of the castle, from battles to sorcery to tales of ghosts that haunt there still.
Overnight Location: Causeway Hotel in Giant's Causeway
Meals: Dinner
Day 2

Explore the Causeway Coast by Kayak

Your first true Northern Ireland adventure begins today with a kayaking expedition down the Causeway Coast. Perfect for all members of your family, and tailored to match everyone's ability, this all-day adventure will be unforgettable. Along the way, you'll stop for a delicious picnic lunch in the heart of magnificent coastal scenery. Then it will be time to head to a local distillery for a special treat. There will be soft-drinks for the kids, while the adults get to enjoy a special whiskey-tasting.
Overnight Location: Causeway Hotel in Giant's Causeway
Meals: Breakfast, Lunch
Day 3

Giant's Causeway Hiking Tour

Your hiking adventure will take you to the site of the massive basalt columns built long eons past by giants. Or so the story goes. Today the Giant's Causeway is designated a World Heritage Site and your Causeway Coast adventure will take you on a hike along rocky cliffs to see this fascinating natural wonder. You'll enjoy lunch overlooking the quaint little harbor you may recognize from Game of Thrones and then it's off to board the boat for your Island Retreat.
Overnight Location: The Manor House in Rathlin Island
Meals: Breakfast, Lunch, Dinner
Day 4

Expedition on Rathlin Island

You'll rise to the salty smell of the sea, the sounds of waves crashing on rocky beaches, and the bark and keening of seals and birds. This is Rathlin Island. Steeped in history and legend, the craggy shores are home to the largest colony of seabirds in the North of Ireland. Here you'll have a chance to do some serious bird watching. Keep an eye out for the local favorite: the puffin. Later you'll get to see a strange "upside-down" lighthouse and explore a seaweed farm.
Overnight Location: The Manor House in Rathlin Island
Meals: Breakfast, Lunch
Day 5

Gobbins Path Adventure

Prepare to hike the Gobbins Path! This is one of the most dramatic hikes in Europe and takes you along a small, winding path pressed into the side of a cliff. You'll traverse stunning bridges with the crash of waves all around, journey through hidden undersea tunnels, hike up staircases carved into living rock, and slip through smugglers' caves. This exciting adventure may be a bit too difficult for some family members, so they'll have a chance to choose a gentler hike along the coast.
Overnight Location: Ten Square Hotel, Belfast
Meals: Breakfast, Lunch
Day 6

Explore Belfast and the Titanic

The Titanic was built in Belfast, and on this final day of your guided family adventure you'll have the opportunity to visit the interactive visitor center honoring that legendary ship. The exhibits bring to life the sights and sounds of that time and place, while simultaneously weaving together the stories of the past. You'll learn about the city and the people who brought about the construction of the largest ship of her time. At the end of your exploration, you'll enjoy a high tea amidst the opulent decor of The Merchant Hotel.
Overnight Location: Ten Square Hotel, Belfast
Meals: Breakfast, Lunch, Dinner
Day 7

Departure

Your tour will be over after breakfast and staff will bring you and your luggage back to the Belfast train station or airport.
Overnight Location: None
Meals: Breakfast

Book Now
Family Adventure: Giants, Myths and Legends Tour Price and Dates
This wonderful tour to Northern Island is only run as a custom tour for your group only. As a custom tour, the price depends on the number of the people in your group and acc.
Prices of Private Guided Family Adventure: Giants, Myths and Legends Tour
Have your own private tour with just your group! The prices vary on family-to-family basis, please enquire with the number of people in your group and the number of rooms you would like to share. The prices below are based on group of 2 adults and 2 children staying in one room:
Adult in guided group of 4: $2,950 USD per person
Child* in guided group of 4: $2,350 USD per person
*These prices apply to children from 2 to 12 years old. For other age groups prices may vary.
Book Now
Accommodation on Northern Ireland Family Adventure Tour
This Northern Ireland Family Adventure will include three accommodations located near your destinations on the Giant's Causeway, Belfast, and Rathlin Island. They are also chosen because of their great service and comfortable amenities.
Each of these hand-picked hotels are family-friendly and full of personality and offer many activities and services for children and adults alike.
Single Rooms and Solo Travelers
You can pay a supplement of $325 USD to have a member of your group have a private room in a hotel.
Hotels on Standard Tour
Causeway Hotel in Giant's Causeway
The Causeway Hotel offers a quaint style with many modern amenities. Located just 2.1 miles from the Giant's Causeway it is ideal for visitors looking to explore the local landmarks.
The Manor House in Rathlin Island
The Manor House is a picturesque property from the late Georgian period and overlooks the Church Bay harbor. Travelers looking for a hub from which to explore the island, look no farther.
Ten Square Hotel, Belfast
The Ten Square Hotel is a historic landmark right in the heart of Belfast. It features a restaurant and a luxurious bar on the 7th floor.
What's included in the Family Adventure: Giants, Myths and Legends Tour?
Meals
6 breakfasts, 5 lunches, 3 dinners, snacks along the route each day.
Accommodations
Accommodations for 6 nights along the tour. The accommodation in Belfast before and after the tour is not included.
Transportation during the Tour
Transport for you and your luggage is included from the start of the tour.
Also Included
The services of the experienced guide / driver from day 1 to day 6
Activities included in the tour:

Paddling
Titanic Experience
Boat trips
Other entries to objects stated in itinerary
Not included
Getting to and from Belfast before and after the tour
Insurance
Personal expenses
Anything not stated as 'included'
Optional Extras
Extra night in Belfast before and after the tour
Frequently Asked Questions about Family Adventure: Giants, Myths and Legends Tour
At Wilderness Ireland, you can find an inspiring range of small-group and tailor-made tours, journeys, and wilderness experiences. The tours explore Ireland's most remote and beautiful regions, from the wild Atlantic Way to the Ancient East and everything in between.
Wilderness Ireland is run by a passionate team of local guides and expert trip designers who work together to create unforgettable active adventure holidays. They focus not only on Ireland's top sights, but also in rural, remote corners of the beautiful country.
Every tour focuses on a personalized approach with high-quality customer service for each tour. They hand-pick beautiful accommodations, authentic local experiences, and standout wilderness locations. Their guides know Ireland inside and out and have years of experience in offering you an unforgettable trip.
Learn More
Is this tour for me?
We rate this tour as a 1 / 5. The itinerary is fit for families with children from 6 years old and can always be adjusted to fit your needs.
Local Guide
Ask a Question
Got any questions regarding the tour? Interested in promotions for groups or want to customize this tour to fit your needs? We are here to help you!
Ask a question
SALE! Well, not yet.
Let me know when this trip goes on sale.
Notify me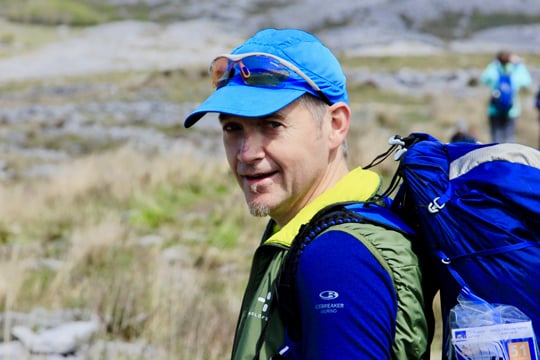 Paul has been guiding professionally for 4 years, but unofficially guiding friends and family for 20 years. He loves making friends out of strangers and seeing the excitement in their faces as they kayak, cycle, walk, and explore. He never gets tired of the abundant mountain and sea views.
Q & A
Q:

What is your favourite tour to lead?

A:

Whichever one I'm doing that day! In all seriousness though, go west. My favourite trip is Island Hopping on Ireland's West Coast, since you really have the chance to see Ireland at its most amazing - 4 incredible islands as well as Connemara and Burren national parks. It's nearly too good to be true.

Q:

What are guests most amazed about when visiting Ireland?

A:

No doubt everyone is amazed by the scenery- the empty white beaches, lush green mountains, the abundance of castles and the ancient graves older than the pyramids of Giza. The Burren has 27 kinds of orchids alone, and that's just the start of the incredible flora and fauna!

Q:

What has been your most unforgettable moment while guiding?

A:

Helping someone who swore they couldn't get to the top of Croagh Patrick Mountain and seeing their pride at the top! I also love when you're at ancient structures like Poulenabrone and you're explaining the history and myths of the place while you're actually standing right there. It's as amazing for me as for them!