Follow the ancient Finisterre Way from Santiago de Compostela to Cape Fisterra
While most of the historic Camino trails end in Santiago de Compostela, the Finisterre Way (Camino de Fisterra) begins there and makes its pilgrimage to the coastal town of Finisterre and Cape Fisterra, at one point believed to be the Edge of the known world.
The ancient Finisterre Way route predates the other Camino pilgrimages as it was a part of Roman and Celtic traditions. As you walk, you'll understand why these cultures considered this location to be the end of the earth, which is how Finisterre got its name.
Enjoy the scenic beauty of the rural countryside, and the spectacular cliffs and beaches along the coast. Don't miss the sunsets from the promenade in Cee and the lighthouse at Finisterre. This self-guided walking tour on the Finisterre Way in Spain will leave you with memories for a lifetime, so don't miss this tour!
Highlights of the Finisterre Way Tour
Complete the Finisterre Way (Camino de Fisterra) from the city of Santiago de Compostela to Finisterre on Cape Fisterra.
Discover the spectacular landscapes and beautiful scenery of rural Galicia in northern Spain
Experience the rich history and culture of this region that has drawn pilgrims for centuries.
Watch the sun set over the Atlantic from the promenade in Cee and the Finisterre lighthouse.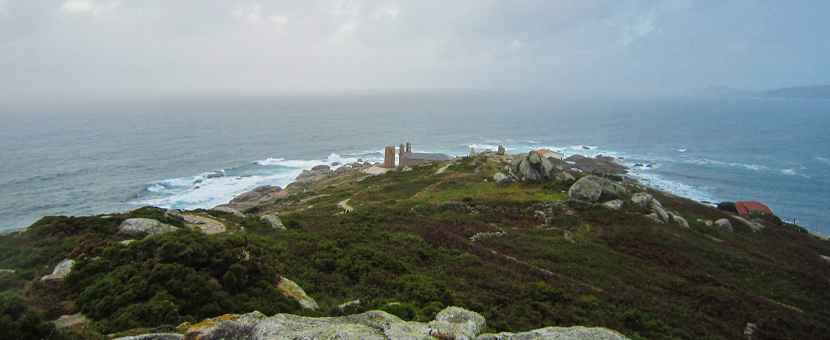 Finisterre Way Tour Itinerary
Day 1

Arrive in Santiago

Welcome to the historic city of Santiago de Compostela. Arrive today and check in to your hotel to prepare to begin your walk on the Finisterre Way. If time permits, explore this fantastic city on your own.
Overnight Location: Hotel in Santiago
Distance: None
Meals: None
Day 2

Walk to Negreira

Warm-up today with one of the least strenuous routes of the tour. As you make your way from Santiago de Compostela to the town of Negreira, you'll walk through forests of eucalyptus and pine trees. You'll also see a number of small villages and ancient roman bridges along the way.
Overnight Location: Hotel in Negreira
Distance: 21 km
Meals: Breakfast, dinner
Day 3

Walk to Olveiroa

Hopefully, your first day on the trail helped you warm up well because this second day is the longest day of the tour. Optional transfers are available if the distance proves to be too much for you.
As you leave Negreira, notice the Pazo do Cotón fortress from the 14th Century that once formed part of the city wall. Walk today through the wild Serra de Castelo mountains and enjoy the view from the peak of Monte Aro.
Overnight Location: Hotel in Olveiroa
Distance: 32 km
Meals: Breakfast, dinner
Day 4

Walk to Cee

Walkthrough beautiful and remote rural areas today as you approach the coast and a delightful fishing village called Cee. Pause along the way to admire your first views of the Atlantic. On a clear day, you can see all the way to Cape Finisterre. When you arrive in Cee, you may enjoy watching the sun set from the promenade.
Overnight Location: Hotel in Cee
Distance: 18 km
Meals: Breakfast, dinner
Day 5

Walk to Finisterre

Complete your journey today, following the coast from Cee to Finisterre. This rugged coastline is full of stunning cliffs and natural beaches, and the views all along the trail are inspiring. The name Finisterre (also called Fisterra in the local dialect) means "the end of the earth" and the dramatic landscapes are fitting. Visit the Finisterre lighthouse for a memorable final view of your journey. Don't forget to show your Pilgrim Passport to receive your "Finisterrana" pilgrim certificate.
Overnight Location: Hotel in Finisterre
Distance: 15 km
Meals: Breakfast, dinner
Day 6

Departure Day

Sadly, your journey on the Finisterre Way has come to an end. Check out of your hotel after breakfast and begin your onward travels. Have a great trip!
Overnight Location: None
Distance: None
Meals: Breakfast

Book Now
Finisterre Way Tour Price and Dates
This self-guided walking tour to Santiago de Compostela is always run as a private tour for your group only. The price always depends on the number of people sharing a room.

Price per person staying in single room: $575 USD
Price per person staying in double room: $450 USD
Price per person staying in triple room: $395 USD
Book Now
Accommodation on Finisterre Way Tour
This tour is based in 2 and 3-star hotels that offer modern conveniences. Rooms are double occupancy, and single travelers will pay a supplement.
In some cases, accommodation listed below may need to be substituted for other, comparable accommodations.
Single Rooms and Solo Travelers
You can pay a supplement of $175 USD to have a private room in a hotel. Contact us and we can try and match single travelers up, where possible.
Hotels on Standard Tour
What's included in the Finisterre Way Tour?
Meals
5 breakfasts and 4 dinners are included.
Accommodations
The accommodation for 5 days along the tour is included.
Transportation during the Tour
This tour includes luggage transfers only.
Also Included
24/7 phone assistance
Pilgrim passport
Walking notes and maps
Not included
Transportation
Guide services
Insurance
Personal expenses
Extra accommodation charge for arriving to Santiago before St. James Day (July 25th)
Optional Extras
Extra night in Santiago before the tour
Extra night in Finisterre after the tour
Frequently Asked Questions about Finisterre Way Tour
Galiwonders is a specialist tour operator, focusing on pilgrimages along the Camino de Santiago in Spain and Portugal as well as the Via Francigena in Italy. They offer adaptable tours to suit a variety of client needs and focus on truly taking care of their guests.
The tour guides are local experts, living and working right along the Camino. They have visited each hotel and restaurant they recommend, ensuring each is up to standard.
Galiwonders offers constant contact with their guests, ensuring all concerns or questions are addressed immediately so you can relax and enjoy your trip.
Learn More
Is this tour for me?
We rate this tour as a 4 / 5. This route is well marked and of good quality. There is one very long day of 32 km long, which is why this is rated a 4/5.
Local Guide
Ask a Question
Got any questions regarding the tour? Interested in promotions for groups or want to customize this tour to fit your needs? We are here to help you!
Ask a question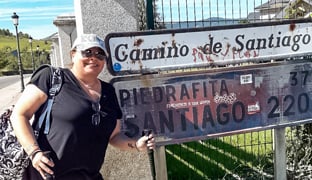 Margot
Santiago de Compostela, Spain
Margot is a new guide with Galiwonders, and loves sharing her pride in her home region of Galicia with visitors. She enjoys sharing the history, stories, legends, and unknown information with tourists to connect them deeply with the region they're in.
Q & A
Q:

What is your favourite trip to lead and why?

A:

Any trip around Galicia. Fortunately, I have had the chance to travel far and wide, I've visited many counties, many cities, all beautiful and with something special, but I guess the saying "the heart is where home is" is applicable to me.

Q:

What are guests most surprised about in visiting your country?

A:

Tourists usually have a preconceived idea of what Spain is like, and when they are here they are surprised to see that how they thought it was had no similarity to that notion. I find this is especially true with Galicia. The most common ide they have is that it's all Flamenco, bulls and polka dot dresses. That is just in Andalucia, and in Madrid, for tourists. Each region has its own unique traditions and folk culture.

Q:

What is one experience anybody visiting your country should do?

A:

El Camino de Santiago. It does not matter what religion you belong to. It is the sentiment, the relaxation, the feeling of wholeness one senses while on the Way. It's the goal of accomplishing a pilgrimage for whatever the reason one may have, reaching the end of the road where all roads meet. Along the way you make friends with people from all over the world, the group gets larger and larger, some speak Spanish, others French, others English, even Chinese. It's a wonderful multiracial group, and once you all reach Plaza do Obradoiro in Santiago de Compostela, you all embrace. Everyone's jumping and laughing with sore, bruised feet and sweaty clothes for having accomplished the challenge, feeling so good and wondering why the rest of the world does not embrace this experience.