Embark on a 7-day self-guided trek from Vizzavona to Bavella on the island of Corsica
The GR20 trail in Corsica is widely considered to be one of the best treks in the world. This self-guided trekking tour takes you through the southern half of the trail, from Vizzavona to Bavella. Along the way, you'll encounter the stunning landscape of this rugged and scenic Mediterranean island.
Climb mountain passes and follow ridge lines with breathtaking views at every turn. Hike through valleys and cross streams, enjoying the cool shade of Corsica's distinctive forests. All practical details, such as meals, overnight accommodations, and luggage transfers, are provided for you, leaving you free to fully enjoy this amazing trek. The GR20 South self-guided trek is a tour you do not want to miss.
Highlights of the GR20 South Trek
Marvel at the incredible views along the hike each day, overlooking lakes, rivers, and the sea.
Pause to rest and take a refreshing dip in the stream at the I Spiazzi footbridge.
Discover Corsica's unique plant and animal life.
Trek up rugged peaks and ridges, including Mount Incudine, Bocca di l'Usciolu, and Palmente pass.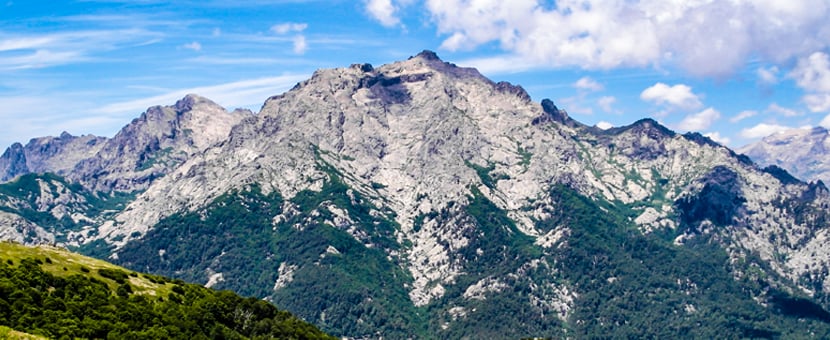 GR20 South Trek Itinerary
Day 1

Arrival in Vizzavona

Welcome to Corsica! Make your way to Vizzavona where you will enjoy dinner and a night in a dormitory-style gite.
Overnight Location: Monte d'Oro, Vizzavona
Distance: None
Meals: Dinner
Day 2

Trek to Capanelle

Begin your walk in a grove of beech trees in the forest of Vizzavona. Then climb to the Palmente Pass where you'll find incredible views overlooking the Diana and Urbino Lakes. Continue along the eastern slope and you'll come to a shepherd's hut at Alzeta. Follow a traditional mule path to reach Capanelle and your gite for the night.
Overnight Location: U Fugone, Capanelle
Distance: 5 hours, 14 km, 1,155 m of ascent, 715 m of departure
Meals: Breakfast, Lunch, Dinner
Day 3

Trek to the Col de Verde

Leaving Capanelle in the morning, continue your hike to the sheepfolds of Traghjete. From here, trek to the Ghialgone plateau. When you reach the I Spiazzi footbridge, you can choose to stop to take a refreshing dip in the stream before continuing through the Marmano forest. In Col de Verde (Corsican Bocca di Verde), you'll stop for dinner and a good night's rest in a gite.
Overnight Location: Relais San Petru di Verdi
Distance: 5 hours, 12 km, 600 m of ascent, 900 m of descent
Meals: Breakfast, Lunch, Dinner
Day 4

Trek to Cozzano

Climb to the Bocca d'Oro pass then cross the alpine fields of the Prato plateau. This ridgeline offers an amazing view of the beautiful Taravo River and the sparkling Tyrrhenian Sea to the east. Continue your hike to Cozzano via the forest of St. Antoine. Eat dinner and spend the night in a gite in Cozzano.
Overnight Location: Bella Vista, Cozzano
Distance: 8 hours, 18 km, 750 m of ascent, 1,300 m of descent
Meals: Breakfast, Lunch, Dinner
Day 5

Trek to Basseta

Get an early start today and begin your hike by climbing the Bocca di l'Usciolu. Follow the ridgeline and notice how the wind has sculpted the rocks to create a dreamlike landscape. Descend again through an ancient forest of alder trees, most of which are more than 100 years old. The vegetation begins to change as you approach the Cuscione plateau. When you reach Basseta, where there is a shepherd's hut, you'll eat dinner and spend the night in a gite.
Overnight Location: Bergeries, Basseta
Distance: 6.5 hours, 12 km, 910 m of ascent, 505 m of descent
Meals: Breakfast, Lunch
Day 6

Trek to Bavella

As you continue to cross the Cuscione plateau, you'll find the landscape gentler and full of grassy grazing lands and pozzines. Leaving this, you'll climb up Mount Incudine (2,134 m / 7,001'), then descend again through the Asinao Valley. Here you'll find the distinctive granite peaks known as the Needles of Bavella. Spend the night here in Bavella.
Overnight Location: Auberge du Col, Bavella
Distance: 9 hours, 23.5 km, 982 m of ascent, 1,100 m of descent
Meals: Breakfast, Lunch, Dinner
Day 7

Departure Day

Sadly, your GR20 South trekking tour comes to an end after breakfast. Airport transfers can be arranged for an additional fee. Have a pleasant journey!
Overnight Location: N/A
Distance: N/A
Meals: Breakfast

Book Now
GR20 South Trek Price and Dates
Pricing for this self-guided walking tour in Corsica depends on your group size.The best time to travel to Corsica for this trek is between early June and mid-September.
Prices of Private Self-guided GR20 South Trek
Have your own private tour with just your group! Prices below are per person:
Self-guided groups of 2-3: $875 USD per person
Self-guided groups of 4-6: $725 USD per person
Self-guided groups of 7+: $650 USD per person
Book Now
Accommodation on the GR20 North Trek
This tour is based in mountain gites (dormitory-style). Nights 1 and 6 can be upgraded to a double occupancy hotel room for an additional fee.
In some cases, accommodation listed below may need to be substituted for other, comparable accommodations.
Single Rooms and Solo Travelers
As this is a dormitory style trip, single rooms are not available.
Hotels on Standard Tour
Monte d'Oro, Vizzavona (Dormitory)
Enjoy great service, wonderful meals, and the camaraderie of other GR20 hikers at this popular trail stop. Great atmosphere!
U Fugone, Capanelle (Dormitory)
Basic but clean and sufficient accommodations with dormitory-style rooms and shared bathrooms. Everything you need with a great view.
Col de Verde, San Petru (Dormitory)
Stay in this cozy gite for the night at San Petru. Dormitory rooms are quite basic, but the atmosphere here is lovely.
Bella Vista, Cozzano (Dormitory)
This gite with dormitory-style rooms offers an accommodation near Cozzano. Enjoy the lovely surrounding views and the company of fellow hikers!
Bergeries, Basseta (Dormitory)
A simple hostel offering a restaurant and a comfortable place to sleep to GR20 hikers.
Auberge du Col, Bavella (Dormitory)
A small and basic trekking lodge that's big on hospitality. A great way to end your trip!
What's included in the GR20 South Trek?
Meals
5 breakfasts, 5 lunches, and 6 dinners are included in this tour.
Accommodations
Accommodations for 6 nights along the tour as described. Spend each night in dormitory-style accommodations. The first and last dormitory nights can be upgraded to double-occupancy hotel rooms for an additional fee.
Transportation during the Tour
Taxi transfer from Calvi to Calenzana on day 2 is included.
Also Included
Luggage transfers
Local assistance as needed
Information packet including printed maps and route notes
Not included
Transportation to or from the island of Corsica
Airport transfers and any other transportation
Meals not listed as included
Beverages
Admission to tourist attractions
Optional activities
Personal expenses
Travel insurance
Optional Extras
Upgrade dormitories to hotels on night 1 or 6
Airport transfers (prices below are per one-way trip):

Ajaccio Airport to Vizzavona: $225 USD (+ $75 USD on Sundays/holidays)
Bavella to Ajaccio Airport: $275 USD (+ $75 USD on Sundays/holidays)
Bavella to Figari Airport: $250 USD (+ $75 USD on Sundays/holidays)
Frequently Asked Questions about GR20 South Trek
Europe Active Corsican adventure tour company. This family business started in 2005 and is based in a small village south of Bastia, though operating all over Corsica. Europe Active is focused on sharing the best of Corsica's outdoors with an international community of adventure travellers.
Learn More
Is this tour for me?
We rate this tour as a 4 / 5. You should be able to walk for up to 9 hours per day on rocky and uneven terrain. The trails are well-marked but can be challenging. Previous hiking experience required.
Ask a Question
Got any questions regarding the tour? Interested in promotions for groups or want to customize this tour to fit your needs? We are here to help you!
Ask a question
SALE! Well, not yet.
Let me know when this trip goes on sale.
Notify me