Hike across the picturesque landscapes of Yosemite on this 8-day tour
Get ready for an epic 8-day adventure tour through the iconic and most-photographed regions of Yosemite National Park. The scenery is absolutely breathtaking, and to boot, you'll have pack mules doing most of the heavy lifting for you, leaving you free to appreciate your surroundings without struggling under the weight of your pack.
Spend the first night in a hotel before venturing out to camp in the backcountry for the next six nights. Once you embark from the trailhead, you'll have 80 glorious kilometres ahead of you, traversing through iconic spots of this magnificent park. Hike alongside clear rivers, summit peaks, and climb over high-mountain passes overlooking the expanse of Yosemite with crests and valleys extending to the horizon. Those who know the history of National Parks in the US will recognize the name of the John Muir Trail. You'll connect along this trail and spend one night next to the slice-of-paradise Cathedral Lake.
Epic sunrises and sunsets abound on this tour. It's a moderately challenging 8-day journey, but with pack mule support and exceptional meals along the way, you're sure to enjoy every moment of it.
Please check out this blog to find out more about the COVID-19 precautions during the tour.
Highlights of the Yosemite Grand Traverse Tour with Horsepack Support
Experience nature unburdened by your pack weight—you don't have to carry it!
Climb to incredible heights over Isberg Pass (3,200 m / 10,500 ft) that marks the border of Yosemite.
Hike through remote and iconic areas of the park and see first-hand what all the fuss is about.
Relish in having gourmet backcountry meals prepared for you as you chill in the wilderness.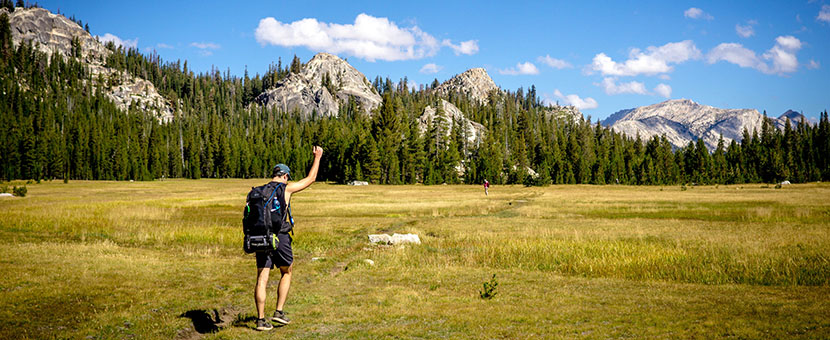 Yosemite Grand Traverse Tour with Horsepack Support Itinerary
Day 1

Arrival in Fresno

Welcome to California! Find your own transportation to the hotel in Fresno to check-in after 4pm. Your guide will meet you and the rest of the group in the lobby at 6pm for an orientation on the adventure ahead. Have dinner at the hotel and get some sleep to prepare for this grand traverse.
Overnight Location: Hotel in Fresno
Distance: None
Meals: None
Day 2

Hike to Knoblock Meadow

Meet a private shuttle at 7am in the lobby to head to the trailhead about 3 hours away. Start the first leg of this journey entering the wilderness towards Knoblock Meadow. Once you reach the camp, your guide will prepare dinner, and you can sink into camp life under the stars.
Overnight Location: Camping
Distance: 6 mi, 1800 ft of ascent, 300 ft of descent
Meals: Breakfast, Lunch, Dinner
Day 3

Climb Isberg Pass (3,200 m)

You have a challenging day ahead, so fill up on breakfast prepared by your guide. In the morning, you'll begin the ascent to Isberg Pass, reaching 3,200 m / 10,500 ft, and cross into Yosemite National Park. From the top of this pass, your efforts will be rewarded with mountain views extending to the horizon. Descend towards Merced River, where you'll set up camp next to the lake marking the river's headwaters. Huddle around the campfire admiring the lake and the several peaks surrounding it.
Overnight Location: Camping
Distance: 8 mi, 2300 ft of ascent, 800 ft of descent
Meals: Breakfast, Lunch, Dinner
Day 4

Walk Along the Merced River

Rise early and watch the sunrise over the glorious peaks around you. Enjoy breakfast, and begin today's journey, which will be mostly downhill—a nice break from the uphill battle yesterday. Pass by several creeks, waterfalls, and inviting swimming holes all branching off of the Merced River. Walk among fragrant alpine meadows, eventually leading down to set up camp next to the river.
Overnight Location: Camping
Distance: 6.8 mi, 150 ft of ascent, 2300 ft of descent
Meals: Breakfast, Lunch, Dinner
Day 5

Hike Echo Valley + Sunrise Creek

After breakfast, you'll continue hiking along the Merced River into Echo Valley. This will be the longest hiking effort of the tour with equal amounts of elevation gain as loss. Hike along stunning granite ridges that offer an expansive view of Little Yosemite Valley. Set up camp for the night near Sunrise Creek, which is adjacent to tomorrow's route to summit Cloud's Rest.
Overnight Location: Camping
Distance: 10.5 mi, 1565 ft of ascent, 1385 ft of descent
Meals: Breakfast, Lunch, Dinner
Day 6

Summit Cloud's Rest + Hike to Sunrise Lakes

Get an early start today for a big climb right off the bat. Just off the main trail, you'll head to the top of Cloud's Rest at 3,025 m / 9,926 ft, where epic panoramic views await. Descend onto the primary trail hiking through Tenaya Canyon during the afternoon. Reach Sunrise Lakes, a sparkling alpine pool surrounded by pines and rocky peaks. After a few nights in the wilderness, you'll feel right at home as you have dinner around and watch the alpine glow of sunset illuminate nature's magic.
Overnight Location: Camping
Distance: 8-8.5 mi, 2746 ft of ascent, 1591 ft of descent
Meals: Breakfast, Lunch, Dinner
Day 7

Trek John Muir Trail to Cathedral Lake

Have breakfast with your group, then join up with the John Muir Trail, named after the naturalist known as the "Father of the National Parks." Follow this trail through incredible wildflower meadows and alongside treed peaks to reach the idyllic Cathedral Lake. This high alpine lake has had millions of photos taken of it, so what's a couple more? You'll arrive at the lake in the afternoon with plenty of time to explore, relax, swim, or just admire the view before setting up camp and watching an epic sunset before bed.
Overnight Location: Camping
Distance: 6 mi, 1322 ft of ascent, 896 ft of descent
Meals: Breakfast, Lunch, Dinner
Day 8

Hike Out to Northern Yosemite + Transfer to Fresno

Enjoy your last morning in the mountains, and begin the descent to the trailhead. You'll walk through the picturesque Tuolumne Meadows, where you'll feel like you're walking through a Yosemite National Park postcard. At the trailhead in Northern Yosemite, a private transfer will meet you to bring you back to Fresno around 5–6pm. Say goodbye to your Grand Traverse crew. On to the next leg of your journey!
Overnight Location: None
Distance: 3.7 mi, 230 ft of ascent, 1293 ft of descent
Meals: Breakfast, Lunch

Book Now
Yosemite Grand Traverse Tour with Horsepack Support Price and Dates
This guided tour in the Sierra Nevada is always run as a fixed-departure tour where you would be joining a group, therefore the price is fixed and only depends on the number of people sharing the room or a tent.

The prices below are per person:
Accommodation on the Yosemite Grand Traverse Tour with Horsepack Support
The hotel on this trip is 3-star. You will also camp in the wilderness for 6 nights in a high-quality tent with gear like sleeping bags and pads provided. Rooms are double occupancy, and single travelers will pay a supplement.
In some cases, the accommodation listed below may need to be substituted for other comparable accommodations.
Single Rooms and Solo Travelers
You can pay a supplement of $110 USD to have a private room in a hotel. Contact us and we can try and match single travelers up, where possible. However, if there are no options, solo travellers will pay a supplement of $55 USD.
Hotels on Standard Tour
Wyndham Garden Hotel in Fresno ★★★
Enjoy this newly renovated and sparkling clean hotel in Fresno. Relax by the indoor and outdoor pools or admire the courtyard from your balcony.
Spend the night in a high-quality tent with comfy sleeping pads. Fall asleep under the stars and wake up amid pristine nature.
What's included in the Yosemite Grand Traverse Tour with Horsepack Support?
Meals
7 breakfasts, 7 lunches, and 6 dinners are included.
Accommodations
Accommodation for 7 nights is included in the tour.
Transportation during the Tour
Transportation for your camping gear is included during this tour with pack mule support. You will receive a private shuttle transfer to and from Fresno and the trailheads.
Also Included
English-speaking guide services
Group gear: stove, cookware, water filters, first aid kit
Personal gear available: backpack, sleeping bag, sleeping pad, trekking poles
Tent
Backcountry camping permits
Trail snacks
Pack mules to carry camping gear, and personal items of up to 15 lbs per person
Not included
Personal expenses + gratuities (recommended 10-20% for excellent service for guides and 3-5% for packers)
Trip insurance
Flights
Voluntary or involuntary evacuations
Anything not mentioned as "Included"
Optional Extras
Frequently Asked Questions about Yosemite Grand Traverse Tour with Horsepack Support
SYMG was started in 1991 by three friends offering hiking trips into California's mountains in hopes of more closely meshing lifestyle with work. The combination proved successful and SYMG has become a leader in the active travel and mountain guiding world, providing carefully planned and executed trips in the most spectacular wilderness areas of California and beyond. Now, 30 years later, we've shown thousands of people the beauty of Yosemite and the High Sierra and have been named one of the "Best Outfitters on Earth" by National Geographic Adventure Magazine.
Learn More
Is this tour for me?
We rate this tour as a 3 / 5. You should be comfortable hiking for a week on moderate elevation gain for up to 17 km. Please note, that the pack animals will be carrying your personal items, up to 15 lbs per person.
Ask a Question
Got any questions regarding the tour? Interested in promotions for groups or want to customize this tour to fit your needs? We are here to help you!
Ask a question