Spend 8 days exploring Tanzania's highlights on this classic safari adventure with a guide
Step back in time on this Great Migration Safari tour. Take in some of Tanzania's highlights like the Serengeti and Ngorongoro crater, and also discover less-frequented gems, including Lake Eyasa and its Datoga and Hadzabe tribes.
Beginning and ending in Arusha, you'll visit three of the country's popular national parks, including Tarangire, Lake Manyara, and Serengeti, as well as spend time uncovering the delights of stunning Ngorongoro Crater.
Spot animals drinking from the Tarangire River, venture through the lands of The Great Migration of the Serengeti, and stay the night in an exclusive camp at the edge of the world-famous Ngorongoro Crater. Cap off the African adventure with a night at Lake Eyasa, untouched by time and civilization, and enjoy a morning visit with the last remaining tribes of Africa's bushmen, the Datoga and Hadzabe.
Don't delay and book your Great Migration Safari tour now!
Highlights of The Great Migration Classic Safari Tour
See large herds of elephants and other game animals drink (and hunt) amid the baobab trees of the Tarangire riverbank.
Venture onto Maasai lands and go on an afternoon safari to Lake Manyara for a chance sighting of hunting carnivores.
Spend a morning encountering the Datoga and Hadzabe bushmen near Lake Eyasi and learn what it takes to survive in the surrounding savanna.
Relax in rustic accommodation, from well-stocked high-ceilinged tents to luxury lodges, each offering stunning African panoramas.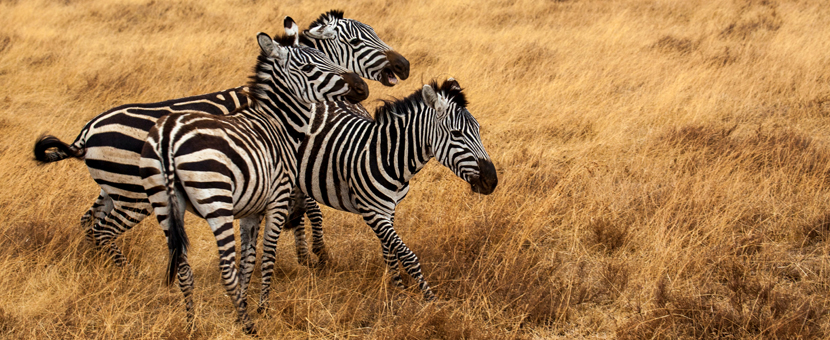 The Great Migration Safari Tour Itinerary
Day 1

Arrive in Arusha

Karibu (welcome)! Transfer from the airport to your hotel in Arusha to check in and rest for the start of your Great Migration Classic Safari tour starting tomorrow.
Overnight Location: Hotel in Arusha
Distance: None
Meals: Dinner
Day 2

Tarangire National Park

This morning you'll venture southwest to Tarangire National Park, a must-see known for its baobab trees. The Tarangire River is the primary water source for the park giving it a vibrant quality many African landscapes lack. Outside of the Serengeti and during the dry season, Tarangire National Park hosts the highest concentration of animals, providing the perfect conditions for you to seek them out. See large herds of elephants and other game amid the mixed vegetation of palm and baobab trees along the Tarangire riverbank.

What's more, it's possible to see lions, giraffes, buffalo, leopards, cheetahs, impalas, zebras, and less common species like the minor kudi, oryx, and even the sable antelope due to the ideal (hotter) climate of the lowlands. From the vantage of the Tarangire Safari Lodge and a safari tour, you'll be able to see a wide variety of animals.
Overnight Location: Lodge in Tarangire National Park
Distance: None
Meals: Breakfast, Lunch, Dinner
Day 3

Lake Manyara National Park

After enjoying this majestic park, you'll continue to Lake Manyara National Park and onto Maasai lands where you might encounter these ancient nomadic tribes. The Maasai have inhabited this area for thousands of years and continue to uphold their traditions.

One of Tanzania's most unique gems, Lake Manyara National Park is small (only 330 square km) and is mostly occupied by its namesake lake of which stretches for over 50 km and dramatically transforms throughout the rainy and dry seasons each year. You can expect to find more than 400 species of birds, including colorful flocks of flamingo, as well as big game mammals (giraffes, leopards, lions, and hippos). Here you'll have the opportunity to go on safari to Lake Manyara in the afternoon for a chance sighting of hunting carnivores.
Overnight Location: Lodge in Lake Manyara National Park
Distance: None
Meals: Breakfast, Lunch, Dinner
Day 4

Serengeti National Park

Say goodbye to Lake Manyara after a sunrise safari and head toward the legendary Serengeti National Park, the natural extension of Kenya's Masai Mara National Reserve. From the months of July to October of each year, approximately 1.5 million wildebeest, 250,000 zebra, and 500,000 gazelles, followed by the lions and hyenas on the hunt, herd between these parks on what is famously known as The Great Migration.

After your afternoon game drive, you'll relax in a fresh-drawn bath at your new accommodation in the park, in time for a traditional meal under the stars.
Overnight Location: Luxury Camp in Serengeti National Park
Distance: None
Meals: Breakfast, Lunch, Dinner
Day 5

Serengeti National Park

Rise with the sun for your second day in Serengeti National Park, taking full advantage of your luxury camp's exclusive location in the middle of Seronera. As wildlife is most active at sunrise and sundown, you'll have an early start to the day to seek out the "big 5" (lions, buffalo, elephants, rhinoceros, and leopards) as well as a second outing in the late afternoon.

In between safaris, relax at camp, set in the middle of the unending plain that evokes a typical African landscape complete with infinite skies and innumerable stars.
Overnight Location: Luxury Camp in Serengeti National Park
Distance: None
Meals: Breakfast, Lunch, Dinner
Day 6

Maasai village & Ngorongoro

Enjoy an early morning game drive on the way to Ngorongoro Conservation Area where you'll get to visit another singularity of the Serengeti, the kopjes (islands of rock in a sea of grass where lions, leopards and cheetahs love to rest). Leaving behind the endless plain, and if time allows, you'll have the option to visit the Olduvai Gorge, home to numerous fossils and artifacts of early hominids, before carrying on to a Maasai boma (Maasai village). Here you'll experience the Maasai's ancestral traditions and then continue to the day's final destination, Pakulala Safari Camp.

Perched on the rim of the famous Ngorongoro Crater, Pakulala Safari Camp offers visitors sweeping vistas over the African landscape as well as a look into its relationship to the Maasai and flora and fauna through its sustainable tourism practices.
Overnight Location: Camp in Ngorongoro Conservation Area
Distance: None
Meals: Breakfast, Lunch, Dinner
Day 7

Ngorongoro Crater & Lake Eyasi

At sunrise, you'll climb into your 4x4 vehicle to venture into the Ngorongoro Crater for your game drive and to take a closer look at the magnificent landscape. A volcanic caldera 600 meters in depth and more than 20 kilometers in diameter, Ngorongoro Crater sustains the highest permanent concentration of African wildlife, including thousands of wildebeest, zebra, buffalo, gazelles, and lions, which, unlike the Serengeti, do not migrate because of the continuous presence of water. The crater is also home to over 40,000 Maasai shepherds and is dominated by the Rift Valley and nine volcanoes, each well over four million years old.

After spending time in the "Volcano of Eden" you'll make your way to Lake Eyasi. Marvel at the landscape, untouched by time and civilization, and home to the last remaining tribes of Africa's bushmen, like the Datoga and Hadzabe tribes.
Overnight Location: Camp in Lake Eyasi
Distance: None
Meals: Breakfast, Lunch, Dinner
Day 8

Datoga and Hadzabe tribe visit; Return to Arusha

Getting a very early start this morning, you'll walk among the acacias and majestic baobabs to encounter the Datoga and Hadzabe tribespeople to learn about their cultural practices. Dressed in minimal tanned skins and adorned with necklaces made of fruit seeds, the bushmen will greet you with genuine curiosity speaking in their unique tongue-clicking language. Here you'll spend some time learning of the Hadzabe's hunting practice where you'll walk with them in the savanna surrounding Lake Eyasi and understand what it takes to survive.

In the afternoon, you'll transfer to the airport in Arusha in time for your evening flight.
Overnight Location: None
Distance: None
Meals: Breakfast

Book Now
The Great Migration Safari Tour Prices and Dates
Pricing for this guided Great Migration Classic Safari tour from Arusha depends on whether you choose to join an existing group on a specific date or if you prefer a custom tour for your group.
This tour in Tanzania is available throughout the year.
Prices of Private Guided Great Migration Safari Tour
Have your own private tour with just your group! This tour can be customized to fit the needs of your group and the price will depend on the length of the tour and the number of people sharing a vehicle. Please note, that the maximum number of travelers per vehicle is 6 and groups of more than 6 will have two vehicles.
2 people: $4,025 USD per person
3 people in a triple room: $3,750 USD per person
4 people: $3,575 USD per person
5 people (double + triple room): $3,495 USD per person
6+ people: $3,475 USD per person
For your custom tour, you can also shorten the number of days, The first night of the custom tour is always at Arusha. Please do not hesitate to contact us if you want a shorter trip.
Join a Group Tour on The Great Migration Safari Tour
Make new friends and join a group tour in Kenya and Tanzania. The prices below are per person, sharing a double room:
Day of Week
Price per Person *
* Single Supplement may apply
Accommodation on The Great Migration Safari Tour
This tour is based in hotels and tented upscale camps and booked in advance for the entirety of the trip (not on a day-by-day basis). The accommodation on this tour offers modern conveniences that can make this trip more pleasant.
In some cases, accommodation listed below may need to be substituted for other, comparable accommodations.
Single Rooms and Solo Travelers
You can pay a supplement of $1,475 USD to have a private room in a hotel and camps while traveling with a group. Please note that this price might be different for custom tours.
Hotels on Standard Tour
What's included in The Great Migration Safari Tour?
Meals
7 breakfasts, 6 lunches, 7 dinners are included.
Accommodations
Accommodations for 7 nights along the tour.
Transportation during the Tour
Transportation is included for you and your luggage. Airport transfers are included too.
Also Included
English-speaking guide throughout the safari
Transportation in 4x4 Land Cruiser vehicle for safari throughout the tour
All 4x4 safaris
Meal at the banana plantation in Lake Manyara
Bottled water during all safari activities within the parks
Entry to National Parks and Reserves
Activities mentioned in itinerary
Accommodation fees within Parks and National Reserves
Not included
Getting to and from start and end points of the tour
Tanzanian visa
Optional activities
Personal expenses and tips
Anything not stated as 'included'
Soft drinks and alcoholic beverages in lodges, hotels or tented camps
Optional Extras
Additional night in Arusha before and after the tour - $149 USD per person in double room
Fly-camping as an optional experience
Frequently Asked Questions about Great Migration Safari
East Africa Camps is a boutique safari operator with their own camps and lodges, who have been featured in National Geographic Traveller. Their focus is providing showing the best of East Africa with family-focused safari's in luxury camps and lodges.
Learn More
Is this tour for me?
We rate this tour 2/5. It's beginner friendly, but being reasonably fit is ideal.
Ask a Question
Got any questions regarding the tour? Interested in promotions for groups or want to customize this tour to fit your needs? We are here to help you!
Ask a question