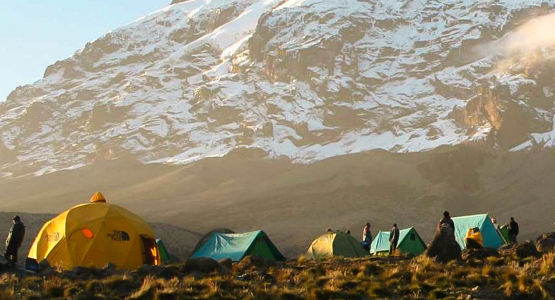 Tanzania tours leave adventure travelers with a variety of experiences you won't be able to get in such close proximity anywhere else.
Climb Kilimanjaro, the tallest mountain in Africa, a dormant volcano covered in glaciers. Pedal through mountain villages, stopping to visit with the friendly, colorful tribes who have lived off the land for centuries. Track gorillas through mountainous rainforest and continue your wildlife safari through Serengeti National Park and the massive Ngorongoro Crater. Book a boat tour to Zanzibar, a beautiful tropical island in the Indian Ocean full of significant history. No matter what you do in Tanzania, booking a guided tour in this spectacular country will leave you with memories you'll have forever.
Booking a trip to Tanzania is on most adventurers' bucket list. Where else can you climb the highest mountain in Africa (at almost 20,000 ft) and then follow that up with a safari in the Serengeti or Ngorongoro Crater? What are you waiting for? Check out the guided and self-guided tours we have for Tanzania today!
Tanzania Trekking Tours
You're going to have so many great options when looking at Tanzania trekking tours. This beautiful country has a lot to offer, and seeing it on foot, with a local guide, will force you to slow down and appreciate all of it.
While most adventurers opt for trekking tours of Mt. Kilimanjaro and the Ngorongoro Craters, it's also worth considering other options like trekking in the Usambara Mountains or the Monduli region. The Usambara Mountain trek can be stretched into an adventurous week in this remote, scenic area. You'll trek from village to village, gaining wonderful views of the surrounding mountains and lush rainforests. If you want to add some culture to your trek, a guided tour of the Monduli region will add some time with the wonderful Maasai people, as well as volcanoes, wildlife, and endless views.
Biking tours in Tanzania
Biking tours in Tanzania are another way to see the country at a perfect pace. You can book either group or private tours, most of which are completely supported while you worry about enjoying the countryside.
Tanzania has a network of dirt roads, paved roads, and singletrack that make it perfect for a cycling tour to accommodate all types of adventure travelers. Booking a bike tour through the savanna is a much more intimate way to see Africa's safari wildlife while your guides will keep you safe. Other biking tours in Tanzania will take you along the coast of the Indian Ocean, through mountain villages aromatic with coffee roasters, and on circumnavigations of Mount Kilimanjaro.
Read More
Mt Kilimanjaro Tours
While Everest and Denali are best left to the most skilled mountaineers, Mt. Kilimanjaro tours are open to many more skill levels. The mountain reaches nearly 20,000 feet above sea level and does require a level of fitness, but most of your tour will be along well-traveled footpaths and supported if you don't want to carry your own gear.
There are several routes to the top of the mountain from nearly all sides of the base. Most routes take anywhere between six to eight days, offer dramatically different views from one another, and have different profiles for you to acclimatize to the altitude. Different routes also offer different accommodations, ranging from remote wilderness camping to stays in rustic huts. You can book a private tour up Mt. Kilimanjaro or join a group tour.
Mt Meru Tours
Overshadowed by Kilimanjaro both in altitude and popularity, Mt. Meru tours are often a wonderful alternative if you don't have a full week available for trekking. The summit of Mt. Meru is just shy of 15,000 feet and is the third-highest mountain in Africa. Some Kilimanjaro adventurers use this tour to get acclimated before Kili, but it's just as beautiful on its own.
Mt. Meru tours typically take three to four days to get to the summit and back. You'll pass jungle, dramatic cliffs, and stay in rustic huts during the journey. Keep an eye out for wildlife, including baboons, giraffes, and buffalos; the mountain lies in Arusha National Park, a haven for wildlife enthusiasts.
Ngorongoro Crater Tours
Ngorongoro Crater tours are often booked as part of a longer tour through the Serengeti and Ngorongoro Conservation Area. Ngorongoro Crater itself is part of a larger volcanic complex in the highlands of Tanzania and is the largest intact caldera in the world. It's often considered one of the seven natural wonders of Africa and is home to spectacular wildlife like rhinos, wildebeest, elephants, and leopards. There are over 500 species of birds alone here, including large bright flocks of flamingos in the crater's lakes.
Safari Tours in Tanzania
There's an abundance of safari tours in Tanzania. Nearly every corner of the country, in every environment, offers some sort of safari tour. If you're coming to Africa to see the "big five" safari animals, Tanzania is one of the best countries to fulfill this dream. Home to numerous conservation areas, private reserves, and national parks, Tanzania is full of wildlife. Some of the best safari tours in Tanzania are booked in Ngorongoro Conservation Area, Serengeti National Park, Tarangire National Park, and Ruaha National Park.
Tanzania scenery
Tanzania's scenery is incredibly diverse for a country so small. Tanzania is part of the East African Rift, a geologically active region that has left Tanzania full of volcanic craters, sheer cliffs, and towering mountains. The grassy savanna offers peaceful views for miles and miles, dotted with hundreds of different species of wildlife. Combine that with the ice sheets covering rugged Kilimanjaro, nearby jungle rainforest, and you have a country where you can enjoy drastically different environments in a week.
Best Tours in Tanzania
Read More
Destinations