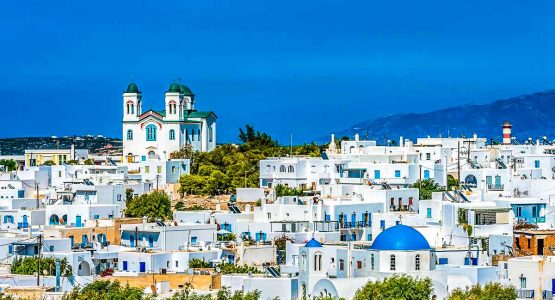 Greek Islands Multisport (Paros, Naxos, Santorini)
8 nights
View Photos
Highlights
Explore the prettiest Cycladic islands by bike, boat, kayak and on foot.
Explore the Cycladic Islands culture and everyday life of its people on this family-friendly tour.
Experience the charm of Santorini and other famous islands.
Discover the beauty of Greece by hiking, biking, sailing, and kayaking.
Enjoy the best of Greece, stunning views, charming villages, and incredible meals.
If you are looking for a family-friendly tour that takes in the best of Greek culture, beauty, and stunning islands, then this may be it. This tour explores the Cycladic Islands of Paros, Naxos and Santorini.
You will explore fishing villages with whitewashed flat-roofed houses, see pretty chapels, hike along rocky paths with views down to the deep blue sea and kayak in bays with powdery white sandy beaches.
This tour allows you to travel where few visitors do, as you'll be going by boat, bike, on foot, or sea kayak. This allows you to discover the Cycladic Islands best spots, tradition, culture and everyday life of its people.
Your tour will take you to Paros, Naxos, and Santorini. Paros is renowned for its superb sandy beaches, great beach bars and the lovely town of Naousa.
Naxos, the biggest of the Cycladic Islands, has some amazing inland villages and cultural sites like the impressive Portara and the kouros statues which you will see while hiking.
Last but not least, Santorini is the princess of the Greek islands where you choose hiking and paddling to experience the authentic and less touristy side of this unique, world-famous landscape!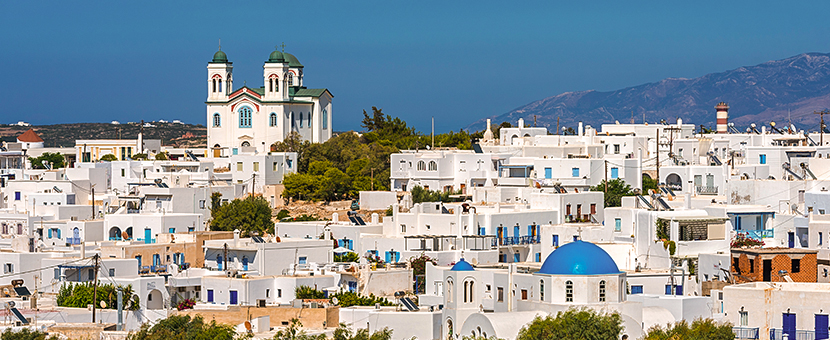 Day 1: Arrival in Paros
Your trip starts on the island of Paros. Guests arrive either by plane or by ferry, and depending on the season you can choose from three different boat itineraries from Athens. The boat ride from Athens lasts from 3 hours – 5 hours. Take a short transfer to your hotel in the picturesque seaside town of Naousa. You will meet your guide in the evening if you are on a guided trip.
Overnight Location: Paros
Distance: n/a
Meals: Dinner (guided mode only)
Day 2: Byzantine Trail Hike
Your day starts by exploring the pretty and traditional village of Lefkes. From Lefkes you will start your hike on the Byzantine Trail, along the way you will enjoy the scents and aromas of herbs and plants while also enjoying pretty views of olive trees and vineyards. Today is an easy hike and it ends at a beautiful beach where you can enjoy a swim.
Overnight Location: Paros
Distance: n/a
Meals: Breakfast (semi-guided mode)
Breakfast, Lunch, Dinner (guided mode)
Day 3: Cruise on a Traditional Fishing Boat
Greece is famous for the sea, and today you will explore the sea with a wonderful day full of fun and swimming on a traditional fishing boat. Depending on the weather you will either sail to the tiny islet of Antiparos or along the south coast of Paros. Expect a day full of swimming, cliff jumping, visiting caves and remote beaches. You won't go hungry, as you will enjoy freshly made Greek food and cold drinks. This is a day most guests say they will always remember!
Overnight Location: Paros
Distance: n/a
Meals: Breakfast (semi-guided mode)
Breakfast, Lunch, Dinner (guided mode)
Day 4: Transfer to Naxos
Today is a day to transfer to the pretty island of Naxos. After breakfast, take a short transfer from the hotel to catch the ferry from to Naxos. Once on Naxos, you will transfer and settle at your hotel, where you can then explore the pretty town of Naxos, which will be your base for the next 3 nights.
Overnight Location: Naxos
Distance: n/a
Meals: Breakfast (semi-guided mode)
Breakfast, Lunch, Dinner (guided mode)
Day 5: Hiking and Cultural Tour
Start with a transfer 20-minute transfer from Naxos to the Kouros statues. These larger-than-life statues of young men were abandoned incomplete by the ancient sculptors when they discovered faults in the marble. From the statues, you will then hike along a path to the pretty village of Ano Potamia. After a short stop at the village's spring, you will continue on and hike to Apano Kastro (Upper Castle), to enjoy a panoramic view of Naxos town, the port, and the surrounding villages. From Apano Kastro, continue your hike to Halki, where you will visit the Valindras distillery that produces Kitron. Kitron is the local drink of Naxos.
Overnight Location: Naxos
Distance: 8.5km, 4 hrs including stops
Meals: Breakfast (semi-guided mode)
Breakfast, Lunch, Dinner (guided mode)
Day 6: Naxos Cycling
Today is a wonderful bike ride through Naxian villages and countryside. The bike ride around Naxos is on streets and paths without traffic, cycling through typical Naxian villages, and small tracks lead you through farmland, with beautiful views over mountains and some of the best coastline in the Cyclades.
Cycling on little stony roads leads you to the beautiful beach of Mikri Vigla, with some of the finest white sand beach leading to the blue sea. Take a swim or enjoy a snack or drink. You will return by cycling along stretches of the sandy beach back to Naxos.
Overnight Location: Naxos
Distance: 4-5 hrs (altitude gain of 600m)
Meals: Breakfast (semi-guided mode)
Breakfast, Lunch, Dinner (guided mode)
Day 7: Hike the Caldera Trail on Santorini
Today you are moving to Santorini. Start the day with some swimming or strolling in the picturesque port of Naxos. Around mid-day, you will board the boat that will take you to the fairest island of the Cyclades, Santorini. The breathtaking view of Santorini from the boat will give you an idea of Santorini's spectacular beauty, it is a volcanic island after all. After you settle down in your hotel, depart for a walk that takes you from the town of Fira along the spectacular caldera to Oia.
Overnight Location: Santorini
Distance: 11km (4hrs with stops)
Meals: Breakfast (semi-guided mode)
Breakfast, Lunch, Dinner (guided mode)
Day 8: Sea Kayaking Santorini
After breakfast, you'll take a transfer to enjoy a morning of sea-kayaking, exploring the South coast of Santorini. You can expect spectacular rock formations, crystal waters, and beautiful beaches. Along the way, you will stop for snorkeling. After lunch, return to your hotel and have a free afternoon to relax or visit the archaeological museum.
Overnight Location: Santorini
Distance: n/a
Meals: Breakfast (semi-guided mode)
Breakfast, Lunch, Dinner (guided mode)
Day 9: End of tour
Your incredible Greek multi-sport tour ends today. You can arrange your transport to nearby islands and continue exploring or return to Athens.
Overnight Location: n/a
Distance: n/a
Meals: Breakfast
Prices for Greek Islands (Paros, Naxos, Santorini) Multisport Tour
Pricing for this hiking tour in the Greek Islands is based on the group size. This Greek Islands tour is always run as a custom tour for you and your group. Please contact us with your preferred starting date and group size so we can help you make incredible memories on this private group tour. This tour is typically run from April through November.
Prices for guided custom Greek Islands (Paros, Naxos, Santorini) Multisport Tour
Pricing is based on the number of guests on your trip and whether you want a guided or self-guided tour.
Guided Tour Pricing
All the prices are per person:
• Guided Groups of 2-3: $3,750 US
• Guided Groups of 4+: $2,850 US
Prices for self-guided custom Greek Islands (Paros, Naxos, Santorini) Multisport Tour
All the prices are per person:
• Self-guided Groups of 2-3: $1,790 USD
• Self-guided groups of 4+: $1,625 USD
Optional extras
You can upgrade to 4-star hotels for an additional cost.
Book Now
This tour is based on Hotels. The standard tour stays in 3-star hotels and Inns, though you can pay a premium to stay in more luxurious 4-star hotels. All of the accommodation is based on staying in double rooms.
Single Rooms and Solo Travelers
You can pay a supplement to have a private room in a hotel. Contact us for pricing.
Located on the beach, Kalypso Hotel is a pretty, traditional hotel in Naoussa Paros. Guests enjoy air conditioning, flat screen TV and a refrigerator in the room.
Built a few meters from the endless sandy beach of St. George in Naxos, this hotel has a swimming pool, jacuzzi and rooms are equipped with fridge, air conditioning, telephone and internet.
The Resort occupies a panoramic spot on the cliffs of Santorini. Built in a Cycladic style of architecture and it is ideal for relaxation. There is a pool, rooms with air conditioning and Wi-Fi.
Meals
8 breakfasts for semi-guided mode
8 breakfasts, 7 lunch boxes, 8 dinners for guided mode
Accommodations
Accommodations for 8 nights are included.
Transportation during the Tour
All ferry tickets (air seats) as per program starting in Paros and ending in Santorini are included. Also all local transfers for the operation of the program
Also Included
An e

xperienced guide (guided mode)
Local guides for hikes and bik

ing

in a guided mode
Activities: Hiking, Cruise, Biking, Sea Kayaking
Not included
Anything not mentioned above
Personal insurance
Personal expenses
Transfer to Paros at the start and transfers from Santorini at the end of the tour
Stayover tax (roughly 3€/room/day)
Optional Extras
Highspeed Ferry from Athens to Paros: $75 USD per Person
Flight from Athens to Paros: $175 USD per Person
Transfer from airport or port to Hotel in Naousa Paros: $85 USD per Person
Flight from Santorini to Athens: $175 per Person
Double room in Naousa Paros before or after: $100 USD per room
Frequently Asked Questions about Greek Islands Multisport (Paros, Naxos, Santorini)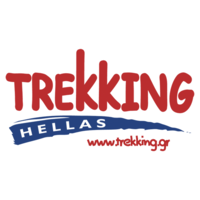 Trekking Hellas Group of Companies was founded in 1986, and is the largest and most distinguished adventure tour operator in Greece. They operate adventure tours all over Greece, and embrace and have implemented socially and environmentally responsible policies for the protection of nature and environmental awareness.
Is this tour for me?
This tour is a level 1 tour. It is suitable for families with older children. With the guided option you have the ability to alter the activities each day if you need the days a bit easier.
Get In Touch
SALE! Well, not yet.
Let me know when this trip goes on sale.
Notify me