Spend 8 days exploring the famous summits and gorges of Crete on this guided adventure
This guided hike on Crete is a popular tour, combining stunning scenery and Greek culture.  Crete is a legendary Greek Island, and a perfect place for a hiking tour.  Birthplace of Zeus and the cradle of Europe's earliest civilization, Crete is known as the "Great Island".
This tour explores the best hiking trails on Crete, which is a wonderful place to explore on foot, as few places in the world combine a perfect climate, rugged mountains and a beautiful sea.  On your guided trekking tour of Crete expect to find fabulous beaches and crystal-clear seas, while in the mountains there are dozens of peaks over 2,000 meters.  Enjoy a stunning scenic backdrop to life on the western side of Crete.
This Greek guided hiking tour starts in Chania, perhaps the most charming city of Crete. From there you head towards White Mountains (Lefka Ori), named after the shining bleached limestone in summer (or snow cover in winter). For the next week you will hike a network of ancient paths and shepherd trails through this enchanting island. Follow the southern coastline, climb to summits, and submerge to the depths of some of the most beautiful gorges on Crete, including the most famous one, Samaria. On a hot summer day, heading down to the mouth of a gorge is an ideal hike. Your walk is shaded from the sun's ferocity.
Throughout this tour, expect to enjoy famous Greek hospitality, stunning architecture, engaging history, wonderful food and drink and beautiful views.
Highlights of the Guided Hiking in the White Mountains of Crete
Visit the city of Chania, amongst the most charming towns on Crete.
Climb Mount Gigilos - a second highest ridge on Crete.
Cross the Samaria Gorge, the longest gorge in Europe.
Explore small picturesque villages.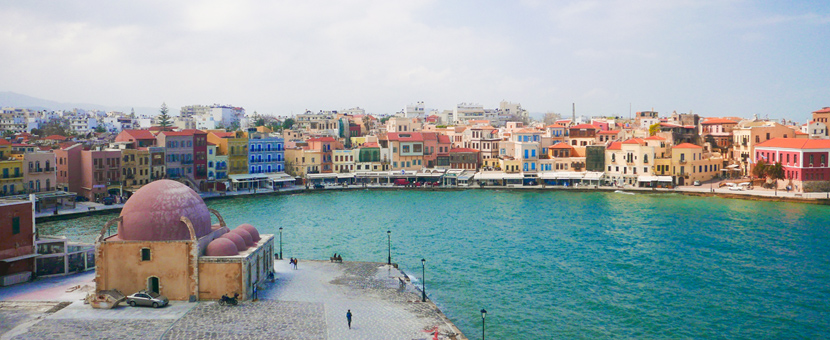 Guided Hiking in the White Mountains of Crete Itinerary
Day 1

Arrival in Chania

For many, the town of Chania is a highlight of their tour in Crete. Chania has a near perfect setting, with the White Mountains as a backdrop and a beautiful harbor and nearby beaches. Add in loads of history, a busy market, and great restaurants, and Chania is a great place to start this magnificent Cretan hiking tour. Today you will meet your guide in the afternoon at your hotel for an introductory talk and then enjoy a traditional Cretan dinner.
Overnight: Chania
Distance: None
Meals: Dinner
Day 2

Hike through the Agia Irini gorge

Today you will have a 90-minute transfer from Chania to the gorge of Agia Irini, where you will enter the White Mountains. Today's Agia Irini hike takes you through a narrow gorge, a truly unique landscape, with areas of humidity and shade sustaining a variety of plants. Partway through the hike you will come to gigantic ancient plane trees gracing a large clearing. End today's hike at Agia Irini village, from here you will transfer to the Omalos plateau. In the heart of Omalos, at an altitude of more than 1,000 metres, you will enjoy the evening breeze and the rural atmosphere, including the occasional jingling of a goat's bell.
Overnight: Omalos
Distance: 7km, 3.5 hours
Meals: Breakfast, Lunch & Dinner
Day 3

Hike to the summit of Mount Gigilos

Today you will climb Mt. Gingilos, the legendary peak overlooking Samaria, with its summit sitting at 2,080 metres above sea level. Expect a lot of uphill hiking today! The north face of Mount Gigilos, a near vertical slope of solid rock looks scary, but you will follow a path around the back that is a hike with only a little scrambling. Keep your eyes open for lammergeiers, the biggest birds in Europe. They come from Samaria gorge and glide past this cliff top so often at midday that it's not unusual to see one. Return to Omalos for another night in town.
Overnight: Omalos
Distance: 9 km, 6 hours
Meals: Breakfast, Lunch & Dinner
Day 4

Samaria Gorge

Today is another highlight on this Cretan hiking tour, combining a trip through a stunning gorge down to a fine pebble beach by the sea. Start today by exploring Samaria Gorge, the longest gorge in Europe, and a truly spectacular site. As you hike through Samaria Gorge, you will go through forests of scented pines, over trickling streams, and through the Iron Gates, the narrowest point where the rocks on either side are 600m high. You will then reach the resort of Agia Roumeli, where you will be based for the next two days. Agia Roumeli is on the sea, and there is a fine pebble beach.
Overnight: Agia Roumeli
Distance: 16 km, 6.5 hours
Meals: Breakfast, Lunch & Dinner
Day 5

Coastal Walk to Mamara and Loutro

Today will be a beautiful coastal walk. You will start early to enjoy walking in the cool of the morning. The path will hug the sea, and you will walk on sand and shingle. Along the way you will pass the pretty chapel of St. Pavlos (Paul), said to mark the place where Saint Paul landed on Crete. There is a freshwater spring coming out of the beach beside the chapel. There will be a break for some swimming, before continuing on to Marmara beach, where you can enjoy another swim and lunch on overlooking the pretty azure sea. After lunch, board a water taxi and transfer to Loutro
Overnight: Loutro
Distance: 11km, 4.5 hrs
Meals: Breakfast, Lunch & Dinner
Day 6

Free day or optional walk to Marmara and Aradena

Today is a great day to relax, and enjoy Greek culture by spending the day in the tiny fishing village of Loutro. This village is very special, as it is only accessible from the sea or via hiking trails. If you want to get out for a walk, you can hike to Marmara beach via Foinikas, and see the entrance of the Aradena gorge. The hike is about 2 hours each way, so you can either hike back or arrange for a water taxi to bring you back to Loutro.
Overnight: Loutro
Distance: 4.8km, 2.5 hours
Meals: Breakfast, Lunch & Dinner
Day 7

Coastal Hike to Sfakia

Today is another great day of walking on Crete. In the morning you will follow the coastal path to Chora Sfakion, with a break at Freshwater Beach for a swim. This 3-hour hike is a fine path, as it's built onto a steep rock face overlooking the deep blue sea. From Chora Sfakion you will have a 2-hour transfer to Chania city, where you will have a farewell dinner.
Overnight Location: Chania
Distance: 6.6 km, 3hrs
Meals: Breakfast, Lunch & Dinner
Day 8

Departure

Unfortunately, this wonderful Greek trekking tour of the White Mountains on the island of Crete finishes today. You'll enjoy a mighty Mediterranean breakfast and a delicious Greek coffee, before saying Goodbye. Enjoy a transfer to the port or airport, where you can make the journey back to Athens. Most guests choose the flight back. Many guests spend more time on Crete, exploring the rest of this pretty island.
Accommodation: None, departure day
Distance: None
Meals: Breakfast

Book Now
Dates and prices of Guided Hiking in the White Mountains of Crete
This guided tour in Greece is run as a private tour for your group only and the pricing depends on the size of your group.

Prices below are per person:
Guided Groups of 2: $2,075 USD per person
Guided Groups of 3: $1,650 USD per person
Guided Groups of 4: $1,495 USD per person
Book Now
Accommodation on Guided Hiking in the White Mountains of Crete Tour
The accommodations on this trekking tour of Crete's White Mountains are in hotels and aparthotels. All of the accommodation is based on staying in double rooms. In some cases, accommodation listed below may need to be substituted for other, comparable accommodations.
Single Rooms and Solo Travelers
You can pay a supplement of $225 USD to have a private room in a hotel while traveling with your group. In some cases, there may be other solo travelers, and if desired we can try to match you with participants of the same sex.
Hotels on Standard Tour
What's included in the Guided Hiking in the White Mountains of Crete Tour?
Meals
7 breakfasts, 6 lunches, 7 dinners
Accommodations
All accommodations are provided as listed (or similar) based on double occupancy
Transportation during the Tour
Trip includes return transfers from ports to hotels as well as all necessary transfers for the hikes.
Also Included
English speaking guide throughout the trip
Entrance fees at the Gorges of Agia Irini and Samaria
A bottle of water per day
Ferry ticket Loutro-Sfakia
Hotel taxes and service charges
Transport and handling of one reasonably sized suitcase and one carry-on per person
Not included
Domestic and/or international air fare
Medical expenses, travel or emergency evacuation insurance
Gratuities for leader/guide or driver
Alcoholic beverages and meals other than outlined in the itinerary
Transfer to and from the airport/port
Other items of a personal nature.
Optional Extras
The prices below are subject to change depending on availability and currency exchange rate:
Flight from Athens with luggage - $350 USD per person
Additional Night in Chania in a 3-star, Double Room before / after the tour: $125 USD
Frequently Asked Questions about Guided Hiking in the White Mountains of Crete
Trekking Hellas Group of Companies was founded in 1986, and is the largest and most distinguished adventure tour operator in Greece. They operate adventure tours all over Greece, and embrace and have implemented socially and environmentally responsible policies for the protection of nature and environmental awareness.
Learn More
Is this tour for me?
We rate this tour as a 3 / 5. There are some longer day hikes on this trekking tour of the White Mountains. The walking is on a mixture of dirt tracks and well – constructed stone mule paths. These trips are designed for active people who enjoy active days. Participants should have hiked similar distances in the past.
Ask a Question
Got any questions regarding the tour? Interested in promotions for groups or want to customize this tour to fit your needs? We are here to help you!
Ask a question