Hike this classic 7-day trek in the Alps taking you to the base of the Matterhorn
This self-guided or guided trek follows the Swiss portion of the classic Walkers Haute Route, which connects Chamonix to Zermatt. This trek is as classic a trek as you can get in the Alps.
The complete Haute Route connects the two most famous mountains in Europe: Chamonix and Zermatt. This route is a shortened version, and the starting point of this adventure is Martigny, Switzerland, just to the northeast of the Mont Blanc. Mont Blanc is the highest mountain in the Alps and the birthplace of mountaineering. You will enjoy outstanding views of the area's glaciers and rock spires.
Heading east, you will hike through breathtaking Swiss valleys and mountain passes towards Zermatt and the Matterhorn. The Matterhorn is known for its name – it gave it to several others around the globe – and for its shape. It is often said to be one of the most beautiful mountains in the world. You can see for yourself!
This self-guided hike in Switzerland can also be done as a guided tour, with most trekkers saying that completing the Haute Route was a highlight of their trekking in the Alps. The route combines excellent views of alpine peaks, glaciers, and valleys, comfortable and cozy accommodations, and tasty meals every day. It is a demanding trek, but the rewards easily outweigh the effort. Doing the Haute Route to Zermatt trek is an awesome way to spend your holiday!
Highlights of the Haute Route to Zermatt Highlights
Trek the highlights of the famous haute route to Zermatt.
Discover Zermatt, one of the mountaineering capitals of Europe.
Enjoy great Swiss food and unique views of the Alps in cozy mountain accommodations.
End this self-guided trek with a perfect view of the mythical Matterhorn.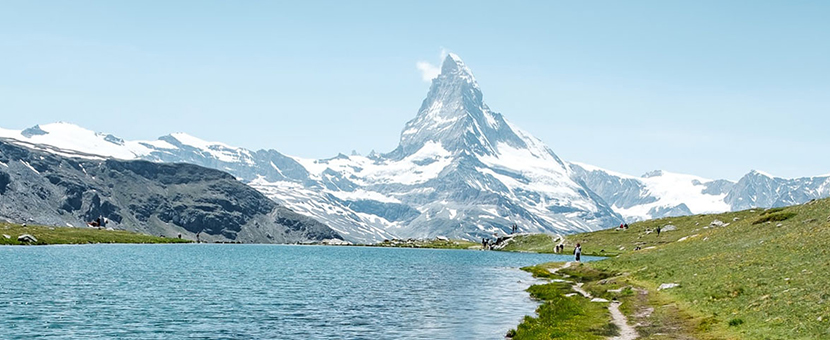 Haute Route Trek to Zermatt Itinerary
Day 1

Transfer to Fionnay and hike to Cabane de Louvie

The tour departs from the train station in Martigny at noon. Your transfer by bus will take you to Fionnay, the starting point of this trek. From there, the Haute Route starts, and the ascent is immediate. The landscape is immediately beautiful and gives a good indication of what this trek is all about. The Louvie Hut is a typical and beautiful Alpine hut located in a pristine natural setting. Enjoy excellent views of the Combins massif and keep your eyes open for marmots and ibex! Note that for this day luggage transfer is not available, so you'll need to pack your gear for the night and the next two days.
Overnight Location: Cabane de Louvie
Total distance: 2.5 hours of walking, 750m of ascent
Meals included: Dinner
Day 2

Trek to Cabane de Prafleuri Hut over Col de la Louvie and Col de Prafleuri

The second leg of this trek on the Walkers Haute route between Chamonix and Zermatt provides plenty of highlights and pastoral scenery. Hiking in a rocky landscape, you will get a closer look at the Rosablanche Glacier (3,336 m) and cross the Col de Louvie (2,921 m) and Col de Prafleuri (2,987 m). After crossing these mountain passes, descend to the Prafleuri Hut (2,624 m) to spend the night. This newer hut is comfortable and offers more opportunities to see wildlife. After a tasty meal, you can relax by playing one of their board games.

*Note that due to the remoteness of this hut, luggage transfer is not available until tomorrow.
Overnight Location: Prafleuri Hut
Total distance: 6 hours of walking, 970m of ascent, 560m of descent
Meals included: Breakfast,Dinner
Day 3

Trek to Arolla via Col des Roux and Col de Riedmatten

Get up early for this long and beautiful day trekking on the Haute Route to Zermatt which includes two very pretty mountain passes (known as Col's in French). Today you will hike up to the Col des Roux (2,804 m) and reach a balcony above Lake Dix. Take a moment to enjoy these fantastic views as you will later climb to the Col de Riedmatten (2,919 m), the high point of the day. From there, drop down to Arolla (2,067 m), a quaint little village with typical Swiss cottages on the picturesque Val d'Hérens.
Overnight Location: Guesthouse in Arolla
Total distance: 7 hours of walking, 750m of ascent and 1,320m of descent.
Meals included: Breakfast, Dinner
Day 4

Trek to Zinal via the Col de Torrent

Start the day by hopping on a bus to reach Les Haudères, where the Haute Route to Zermatt trek continues. From Villa (1,730 m), ascend through flower-laden meadows to the highest point of the day, the scenic Col de Torrent (2,918m). You will hike near the beautiful Lake Autannes and also Lake Moiry (2,250 m). Here, you have two options: continue through the Horn of Sorebois or catch a shuttle from the Moiry dam to your accommodation in Zinal (1,675 m), another pretty Swiss Village.
Overnight Location: Guesthouse in Zinal
Total distance: 5.5 hours of walking, 1,200m of ascent and 670m of descent
Meals included: Breakfast, Dinner
Day 5

Trek to Gruben via Col de la Forcletta

Today is a wonderful day walking on the Haute Route to Zermatt. You'll leave the pretty Val d'Anniviers and head for the ridge and Col of the Forcletta (2,894 m). The panorama from the col is stunning, with great views of the Turtmanntal pastures and Gruben valley (1,822 m), which hang at the foot of the glaciers covering parts of 4,000 m peaks. Descend into the small Swiss village of Gruben for the night.
Overnight Location: Guesthouse in Gruben with shared rooms
Total distance:7 hours of walking, 1,200m of ascent, 1,050m of descent
Meals included: Breakfast, Dinner
Day 6

Trek to Zermatt

This is the final day trekking on the Haute Route to Zermatt. You'll start todays hike by trekking past the Swiss chalets above Grüobu. Next you'll cross the Augstbord Pass (2,894 m), your last high pass on this self-guided trek to Zermatt. After descending from the col, reach the village of St. Niklaus by cable car. From there, hop on the train and you'll soon arrive in Zermatt by rail on a scenic ride.
Overnight Location: Hotel in Zermatt
Total distance: 5 hours of walking, 1,150m of ascent, 900m of descent
Meals included: Breakfast
Day 7

Zmutt to Zermatt

Today is the last day of the tour. Today you will hike to the pretty hamlet of Zmutt, a small village with almost perfect views of typical Swiss chalets with the Matterhorn prominent in the background. Return to Zermatt via a series of balcony trails.

Many guests stay on in Zermatt for a couple more days and hike the exceptional trails around Zermatt. Contact us to add additional nights onto your tour. Otherwise, once back in Zermatt your tour is complete.
Overnight Location: N/A
Total distance: 3.5 hours of walking, 320m of ascent, 400m of descent
Meals included: Breakfast

Book Now
Self-Guided Haute Route to Zermatt Trekking Tour
This self-guided Haute Route to Zermatt trekking tour is always run as a private tour for your group only and the price depends on your group size.

You can also book this tour as guided (please enquire about the pricing). Those looking to book this tour cheaper can also opt out of luggage transfers.

The prices below are per person:
Self-guided group of 2: $1,650 USD per person
Self-guided group of 3: $1,425 USD per person
Self-guided groups of 4-5: $1,275 USD per person
Self-guided groups of 6+: $1,150 USD per person
Book Now
Accommodation on Haute Route to Zermatt Highlights Tour
This route has a variety of accommodations, including mountain huts, guest house and hotels. Mountain huts traditionally offer "dormitory" and aren't reachable by car. Cabane de la Louvie (Day 1) has only a few double rooms available and Cabane de Prafleuri (Day 2) has none. In Grüben (Day 5), rooms are from 2 to 4 persons and you may have to share a room.
Single Rooms and Solo Travelers
You can pay a supplement of $295 USD to have a private room in hotels as a solo travelers. In mountain huts you will share a room. In some cases, there may be other solo travelers, and if desired we can try to match you with participants of the same sex.
Hotels on Standard Tour
The Cabane de la Louvie is a stunning mountain hut. There is no Wi-Fi or other services, but you will have stunning mountain views and might spot some wildlife.
The Prafleuri Hut offers comfortable dormitory accommodation with bathrooms and pay showers. The meals are plentiful and tasty. You can also spend the evening playing cards or board games from the collection they have in the common room.
You'll have a double or twin room in a hotel in the charming village of Arolla.
You'll have a double or twin room in a hotel in the charming village of Zinal.
You'll be in a shared room for 2 or 4 in a Guest house in the village of Gruben.
You'll have a private room in a 3-star in the pretty village of Zermatt.
What's included in the Haute Route to Zermatt Highlights Tour?
Meals
6 breakfasts, 5 dinners. Lunches are your own responsibility and can be ordered in each refuge or village. You can also pay a supplement and include lunches.
Accommodations
The accommodation included is as described in the itinerary. 2 nights in dormitories, 2 nights in guesthouses and 2 nights in hotels.
Transportation during the Tour
Luggage transport is included in this tour, however you won't have access to your luggage the evening of Day 1 in La Louvie or Day 2 in Prafleuri, as cars cannot reach these huts. You will need to take a small daypack for any gear you'll need for these first few days.
The transfer between Arolla and Les Haudères is also included.
Also Included
A roadbook for the route, as well as a map and booking vouchers for each group.
Emergency hotline that is staffed 24/7 should you have any issues.
Access to a mobile phone app that includes GPS guidance.
Not included
This trip has some expenses for transport you will need to pay, specifically:

Transfers by local bus: Swiss Postbuses Martigny-Fionnay (indicative price €20 EUR per person); Lake Moiry-Zinal (roughly €23 EUR per person)
Cable car between Jungu and St. Niklaus (indicative price €12 EUR per person)
Transfer by train St. Niklaus - Zermatt (indicative price €25 EUR per person)

Transportation to the starting point of the trek in Martigny and from Zermatt, where the trek ends
Cancellation insurance / interruption of stay / loss of luggage and assistance
For any booking within 30 days of departure there is a priority processing fee of

$50 USD

for the tour.
Contribution fees to the Compensation Fund of the Office of Consumer Protection, which are set at 0.1% of the value of services rendered, airfare and cost of the circuit.
Lunches (grocery store, mini-markets, or refuges for your picnics)
Evening meal of day 6 in Zermatt (around €30 EUR in a restaurant)
The hotel taxes in Zermatt, about 5CHF (Swiss francs) per room (about €4 EUR)
Any additional drinks and snacks
Shower fees in mountain huts
Optional Extras
Daily packed lunch (days 2-6): €80 EUR per person
Frequently Asked Questions about Haute Route to Zermatt Highlights
Allibert Trekking is a Tour Operator based in the French Alps, specializing in incredible trips for the active outdoor enthusiast. They cater to your specific wants to create an unforgettable adventure.
Allibert Trekking specializes in mountain sports adventures throughout the European Alps (France, Switzerland, Italy, and Austria). From the Dolomites to the Mediterranean coast, they create and organize hiking, mountaineering, ski touring, snowshoeing, and multi-sport trips throughout the Alps.
With 45 years of experience, Allibert offers both exceptional "ready-made" trip itineraries and customizable plans to make sure your experience is everything you want it to be.
Allibert places great importance on sustainable travel. Because of this, they focus on creating trips that make as little an impact as possible on the natural environment. Ethics, respect, and responsibility represent the cornerstones of their commitment to responsible tourism.
Learn More
Is this tour for me?
We rate this tour as a 4 / 5. You will spend around 6 hours a day (15 to 18 kilometers of distance) walking on the trail and will gain approximately 700 to 1,000 meters of elevation every day.
Local Guide
Ask a Question
Got any questions regarding the tour? Interested in promotions for groups or want to customize this tour to fit your needs? We are here to help you!
Ask a question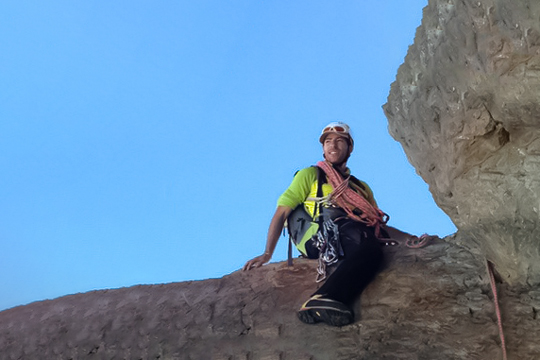 Originally from the Southern French Alps, Julien has been playing in the mountains since childhood. He loves backcountry skiing and mountaineering, long hikes, trail running, mountaineering, and rock climbing. Julien loves to share his passion for travelling and the mountains, and genuinely enjoys coming up with new ways to explore his favourite places in the Alps with visitors.
Q & A
Q:

What is your favourite trip you've taken and why?

A:

Bernese Oberland is one of the few places in the Alps that surprised me. The landscape and views are amazing. Hiking under the 1000m cliff wall of the famous Eiger Northface and along the U-style valley of Lauterbrunnen is a fantastic experience.

Q:

What is one experience anybody visiting your country should have?

A:

It's very hard to choose as there are so many things to see and do. But I would suggest visiting the quiet, wild southern Alps.

Q:

What is one local dish or drink that visitors absolutely have to try?

A:

The Savoyard fondue, which tastes even better than the original one from Switzerland!

Q:

What is the most challenging adventure you've ever taken on?

A:

Ski touring in the Armenian mountains.