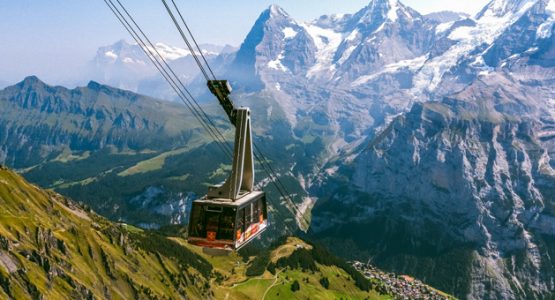 Adventure travelers who absolutely love walking and hiking holidays are going to want to book these Switzerland tours. This landlocked country, home of the Swiss Alps, is considered the European capital of climbing and mountaineering. Switzerland is also covered with long-distance trekking routes of varying skill levels. These routes take you through pristine alpine meadows, past waterfalls and emerald lakes, and drop you off in cozy chalets at night.
This is all backdropped by mountains covered in glaciers like the Eiger and the Matterhorn, the destination of many serious mountaineers. Resort towns alongside beautiful lakes make a great base for shorter day tours hiking and exploring Switzerland's culture and history. Read more about these Switzerland tours and start your adventure!
Read More
Self-Guided Tours in Switzerland
Many European countries are safe, but you'll feel exceptionally safe when participating in self-guided tours in Switzerland. And thankfully, you won't have to do all of the planning yourself. Many outstanding local tour companies can arrange a self-guided tour for you.
Arranging a self-guided tour in Switzerland is the best of both worlds. You can keep your costs down because you're not also paying for a guide to accompany you, and you can enjoy a little more privacy for the same reason. But you'll also have a lot of the legwork completed for you. These tour companies will take care of lodging arrangements, transportation, supply, and provide you with the best insider information that only a local guide could provide. Enjoy the best of Switzerland on your own, at a pace that's right for you.
Guided Tours in Switzerland
Some travelers may not be comfortable by themselves in a foreign country, and this is where a guided tour in Switzerland may be the perfect option. Even if you are comfortable traveling in a foreign land, being accompanied by a guide is the best way to see hidden attractions, meet local people, and learn about the country. Guided tours can be booked as a group, as a private tour, and custom tours are also available. Whether you're looking for a trekking holiday, a cycling tour, or a cultural tour, reliable guides are available wherever you may want to explore.
Switzerland Hiking Tours
Skilled guides are ready to plan either your self-guided or guided Switzerland hiking tour, an experience that'll leave you with memories and a higher level of physical fitness. Switzerland's mountainous terrain, dominated by the Alps, is crisscrossed by hiking trails for all ability levels.
Some of the most popular hiking tours in Switzerland start and end in Zermatt, an idyllic mountain town, the gateway to the infamous Matterhorn. One such scenic tour starts in Interlaken, an old alpine resort town straddling two gorgeous emerald lakes. Over a week, you'll hike through the Swiss Alps, staying in peaceful chalets along the way, and ending at Zermatt. If you want to bag both the Eiger and the Matterhorn, an even longer hiking tour from Grindelwald starts and ends on both mountains and is a worthwhile challenge.
You don't have to ascend the Matterhorn for memorable hiking tours in Switzerland. The Jungfrau region, which also encompasses the Eiger, is covered in tranquil farmland, free-roaming livestock, waterfalls, and lush forest. You'll stay in cozy inns during your week-long trek here, combining the best of hiking and luxury.
The Bernese Oberland route is an even more relaxing hiking tour of Switzerland, leading you past picturesque mountain lakes, through colorful meadows and alpine forests. This route also stops in charming mountain towns every night, where you can enjoy chalet-style accommodations while refueling on Switzerland's best food and drink.
Zermatt Tours
The opportunities on Zermatt tours make it a paradise for hiking excursions in Switzerland. The Matterhorn towers over this alpine town, beckoning everyone from beginning hikers to the most experienced mountaineers. Unlike Switzerland's other major trekking routes, you don't need a week to explore all of Zermatt, though you'll want to stay for a while once you arrive. And you don't need to ascend the Matterhorn to enjoy hiking in Zermatt.
One of the most popular hiking routes from Zermatt climbs Mount Gornergrat, a full-day tour of history, glaciers, and endless views. The Five Lakes Walk is slightly more difficult, but the reward includes a handful of completely unique mountain lakes. Some are situated in rocky crags, some are surrounded by peaceful meadows, and some are the perfect place for a cold dip. The Matterhorn is reflected in these lakes, a photographer's dream with the perfect light.
Switzerland Scenery
Switzerland's scenery is unlike anything else in Europe. The fairy-tale high-altitude rolling meadows, surrounded by the rocky peaks of the Swiss Alps, truly are something to behold. The northern half of Switzerland is more populated, where the Swiss Plateau offers perfect farming and agricultural opportunities. This region is fed by pristine lakes connected by beautiful rivers. The southern half of Switzerland is defined by the Swiss Alps, a jagged landscape popular with mountaineering and climbing, much less populated than the rest of the country. These mountains are largely covered by glaciers, resulting in numerous waterfalls and areas of biodiversity below them. Development in Switzerland has made transportation around the country relatively easy while maintaining an authentic mountain experience.
Book a tour and you could find yourself strolling through alpine pastures full of cattle, gazing up at some of Europe's tallest peaks, or sitting on the terrace of a chalet enjoying Swiss delicacies. It is genuinely the ideal mix of relaxation and adventure. A guided or self-guided tour in Switzerland is the way to make your alpine adventure dreams come true!
Best Tours in Switzerland
Read More
Destinations