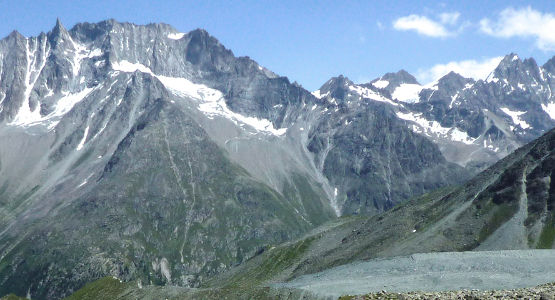 Switzerland is synonymous with mountains. It is unquestionably the perfect destination for all kinds of outdoor adventures. Book a tour in Switzerland to change all those amazing images of the Swiss Alps from imagination to reality. From rugged, snow-capped peaks, to alpine meadows full of wildflowers, to classic mountain chalets, Switzerland is an adventurer's playground. Book a guided or self-guided tour and let the adventures begin.
Read More
The Haute Route to Zermatt trek is an absolute Alpine classic
Spend a day at the base of the iconic Matterhorn
Discover unparalleled views of the Swiss Alps
7 days / 6 nights
Guided / Self-Guided
Mountain Hut, Guesthouse, Hotel
Trek the highlights of the famous Tour du Mont Blanc
Explore three alpine countries: France, Italy, and Switzerland
See stunning views of majestic peaks reflected in alpine lakes
7 days / 6 nights
Self-Guided
Hotels and Mountain huts
Savour the best of the Tour du Mont Blanc trek in the Alps
Explore the Alps in France, Italy, and Switzerland on this trek
Stay in cozy traditional Alpine huts and hotels
8 days / 7 nights
Self-Guided
Hotels
Book a tour and you could find yourself strolling through alpine pastures full of cows, gazing up at some of Europe's tallest peaks, or sitting on the terrace of a chalet enjoying fondue delicacies. It is truly the ideal mix of relaxation and adventure. A guided or self-guided tour in Switzerland is the way to make your alpine adventure dreams come true!
Read More