Explore the jewels of the Rockies at your own pace on this mountain adventure
There are many spectacular places to visit in the Rockies, and this self-drive itinerary features the incredible iconic parks that are symbolic of the Canadian mountains. The Heart of the Canadian Rockies Self-Drive Tour allows you the flexibility of enjoying the mountains your own way while ensuring you don't miss the greatest spots.
You'll spend 12 days hiking, paddling, rafting, riding, or cycling in the most spectacular landscapes imaginable. You'll have a few days to explore each of the famous national parks, including Banff, Jasper, Lake Louise, and Yoho. A scenic cruise on Maligne Lake is likely to be a highlight as you relax and take in the amazing mountain panorama. This exciting tour will show off the magnificent glacial lakes, snow-capped peaks, thundering waterfalls, and glittering glaciers that make the Rocky Mountains unforgettable. The Heart of the Canadian Rockies Self-Drive Tour promises to be a road trip you'll never forget.
Highlights of the Heart of the Canadian Rockies Self-Drive Tour
Visit the Rocky Mountain icons of Banff, Jasper, and Lake Louise, famous for their stunning blue glacial lakes.
Hike to waterfalls, rushing rivers, and rocky peaks as you explore Yoho National Park.
Watch for wildlife like elk, bighorn sheep, deer, moose, and bear as you hike and drive through the mountains.
Choose your own adventure on this self-drive holiday that gives you the flexibility to enjoy your favourite outdoor activities.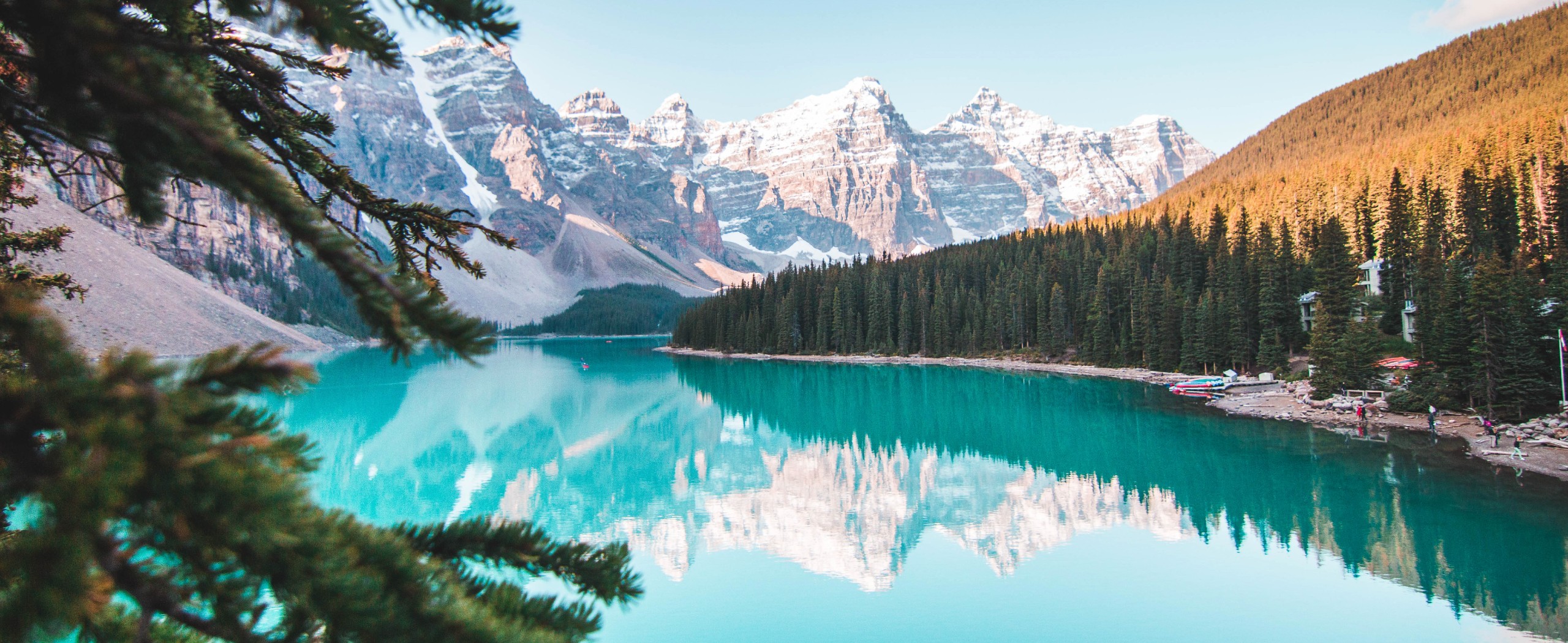 Heart of the Canadian Rockies Self-Drive Tour Itinerary
Day 1

Start Your Adventure from Calgary

When you arrive at the Calgary airport, you can collect your rental car and drive to your first hotel. Enjoy the evening at your leisure in Calgary.
Overnight Location: Hotel in Calgary
Distance: None
Meals: None
Day 2

Drive into The Rockies

This morning, you'll have some time to explore Calgary, home of the famous Calgary Stampede rodeo. Enjoy the views across the open plains while the distant mountains grow ever closer as you drive to Kananaskis Valley. Tonight, you'll spend the night in the foothills at a hotel in Kananaskis.
Overnight Location: Hotel in Kananaskis
Distance: 130km
Meals: None
Day 3

Explore Peter Lougheed Provincial Park

Head to Peter Lougheed Provincial Park and choose from one of the many hiking options that explore nature's quiet beauty. Kananaskis was historically settled on horseback and is the perfect place to live out your cowboy dreams on a trail ride. At the end of the day, you'll make the drive to Banff, where you'll be staying for the next few days.
Overnight Location: Hotel in Banff
Distance: 115km
Meals: None
Day 4

Discover the Beauty of Banff

On your first morning in Banff, you may want to wander the charming downtown streets of this resort town while you decide how you want to explore the oldest national park in the country. You have many hikes to choose from, or maybe you'd rather paddle the otherworldly blue waters of Moraine Lake. You can also choose to book an optional Banff and Wildlife tour in the afternoon.
Overnight Location: Hotel in Banff
Distance: None
Meals: None
Day 5

Second Day in Banff

There are so many incredible trails to explore in Banff that this tour includes a second day to hike the spectacular mountain park. If you haven't already had a chance, you may wish to visit the hot springs or enjoy a scenic gondola ride to take in the spectacular views from the summit of Sulphur Mountain.
Overnight Location: Hotel in Banff
Distance: None
Meals: None
Day 6

Lake Louise Stop en route to Golden

Although your destination today is Golden, you can stop for lunch at the world-renowned Lake Louise on your way. A lakeside picnic with a view of the spectacular blue water beneath the rocky peaks is the perfect way to spend a relaxing afternoon. Then, continue on a stunning stretch of Highway 1 as you drive deeper into the mountains.

Arrive in Golden, where you'll spend the next two nights. Check out the local eatery, Reposados, for tasty burritos and tacos.
Overnight Location: Hotel in Golden
Distance: 165km
Meals: None
Day 7

Explore Yoho National Park

Golden is surrounded by three impressive mountain ranges and has no shortage of outdoor adventures for you. Today, you'll visit Yoho National Park, where you can walk to Takakkaw Falls, an impressive cascade reaching 234 meters. The stunning peaks of the Kicking Horse Valley offer many awe-inspiring hiking opportunities. You can also book an optional (and highly recommended!) white-water rafting tour on the Kicking Horse River.

Grab a beer at the top-class Whitetooth Brewery, where you can sit outside and admire the Purcell Mountains behind you.
Overnight Location: Hotel in Golden
Distance: None
Meals: None
Day 8

Drive the Icefields Parkway

Today, you'll drive the 300-kilometre route on the Icefields Parkway, famous for its path past sprawling glaciers, waterfalls, lakes, and dramatic mountain passes. Watch out for wildlife—you never know what you'll see grazing in a roadside meadow or on a cliff. Take your time to enjoy the journey, stopping at the sign-posted lookouts like the Athabasca Glacier. You'll have the next three nights to enjoy Jasper, so there's no rush to arrive. Get a brew and gourmet pub food at the local Jasper Brewing Company.
Overnight Location: Hotel in Jasper
Distance: None
Meals: None
Day 9

Discover Jasper on Land and Water

Jasper is another home to one of the glacier-fed lakes that awe us with its vibrant blue hue, Maligne Lake. Explore the lakefront or take a hike into the meadows to view the magnificent wildflower display. Finish your day with a scenic cruise on Maligne Lake to fully appreciate the exquisite mountain landscape. Spoil yourself with a fancy dinner at Syrahs of Jasper.
Overnight Location: Hotel in Jasper
Distance: 300km
Meals: None
Day 10

Explore Jasper National Park

Jasper National Park is too beautiful and has too much to offer to spend only a single day here. So today, you have a second day to go hiking, paddling, or horseback riding in the park. You can take the SkyTram cable car to the Summit of the Whistlers, take an alpine hike, and even enjoy a meal while you admire the panoramic views. Treat yourself to some superb pizza from Jasper Pizza Place.
Overnight Location: Hotel in Jasper
Distance: None
Meals: None
Day 11

Hike or Paddle Iconic Lake Louise

Today, you'll return to the Icefields Parkway for another incredibly scenic drive to Lake Louise. Stop for a hike to see the spectacular Bow Glacier Falls, or challenge yourself with a scramble to Iceberg Lake, a hidden gem. When you arrive at stunning Lake Louise, you'll have time to go for a hike or rent a canoe and paddle on its enchanting blue waters.
Overnight Location: Hotel in Lake Louise
Distance: 300km
Meals: None
Day 12

Tour Concludes in Calgary

After spending the night at the mountain resort paradise of Lake Louise, you may have time to squeeze in a final hike before returning to Calgary. Return your car rental at the Calgary airport, where your tour officially comes to an end.
Overnight Location: None
Distance: 100km
Meals: None

Book Now
Heart of the Canadian Rockies Self-Drive Tour Price and Dates
This self-guided tour of the Canadian Rockies is run as private tour for your group only, and the price per person depends on how many people are in your group.

Prices below are per person:
Groups of 2+: $2,025 USD per person
Book Now
Accommodation on the Heart of the Canadian Rockies Self-Drive Tour
This tour is based on hotel accommodations. Hotels on this trip are 3-star standard accommodations and offer modern conveniences with welcoming, comfortable rooms. Each hotel is specially selected to be close to the trails and outdoor activities in the charming mountain towns on your route.
In some cases, the accommodation listed below may need to be substituted for other comparable accommodations.
Single Rooms and Solo Travellers
Rooms are double occupancy. Single rooms, including those for solo travellers, are by request.
Hotels on Standard Tour
Calgary is a metropolitan city with tons of restaurants and attractions to see, so you may not be spending much time in your room here!
Get a room in a comfortable 3-star standard hotel at the foothills of Kananaskis Country. Enjoy being surrounded by nature.
Revel in this iconic mountain town that has graced many magazine covers. Wander the charming streets and admire the peaks around you.
Make sure to walk on the pedestrian bridge hanging over the Kicking Horse River and get some beer and tacos from Whitetooth Brewery and Reposados.
Relax in a cozy 3-star standard hotel surrounded by immense mountains. Stroll the streets and take your pick of various top-notch restaurants and bars.
Stay in a comfortable 3-star standard hotel a short distance away from the postcard scenes of Lake Louise.
What's Included in the Heart of the Canadian Rockies Self-Drive Tour?
Meals
Meals are not included on this tour.
Accommodations
Accommodations for 11 nights are included. Accommodations before and after the tour in Calgary are not included but can be added as a supplement.
Transportation during the Tour
This is a self-drive tour. You'll be provided with a rental vehicle for the duration of the itinerary.
Also Included
Standard vehicle rental
Canadian taxes
24/7 access to helpline
Scenic cruise on Maligne Lake
Not included
Travel insurance, including car rental insurance
Flights to and from Calgary
Personal expenses
Optional activities
Meals, drinks, or snacks not previously mentioned
Entrance fees to National Parks
Gratuities for tour guides or other staff if desired
Vehicle insurance
Fuel
Optional Extras
Rafting on Kicking Horse River
Horseback riding in Kananaskis
Single occupancy upgrades
Additional nights before or after the tour
Canoe on Lake Louise
Optional activities or excursions
Frequently Asked Questions about Heart of the Canadian Rockies Self-Drive Tour
In the two decades since Toundra Voyages Inc. was founded in 1998, the company has become North America's go-to travel agency in customized independent and group tourism.
Tounda takes a flexible, responsive approach to developing adventure travel tours. By listening to the wants and wishes of travellers, they've been able to create memorable, affordable tours complemented by impeccable service.
Toundra's mission is to create and organize tailor-made travel. They select, adapt, and personalize travel experiences in North America for each and every guest, ensuring your adventure is one you'll never forget.
Meeting your expectations is just the beginning of what Toundra aims to accomplish. Exceeding them by providing exceptional experiences in beautiful North America is their standard, and their track record of knockout customer service and customized tour planning speaks for itself.
Learn More
Is this tour for me?
We rate this tour as a 2 / 5. Each day is completely flexible for you to choose which hikes or activities you'd like to do. You can tailor the difficulty level and duration of any activity to your liking.
Ask a Question
Got any questions regarding the tour? Interested in promotions for groups or want to customize this tour to fit your needs? We are here to help you!
Ask a question