Learn the basics of ice climbing no matter your experience level
Ever looked at a frozen waterfall and thought, "I want to climb that?" You're in the right place. The Ice Climbing Basics in the Canadian Rockies tour is a foundational introduction to the thrilling world of ice climbing. This course is suitable for total beginners and experienced climbers alike- anyone curious about strapping on the crampons and donning the axe is welcome!
This course teaches you not only the basics of ice climbing equipment, but also focuses on proper technique to help you climb efficiently. You'll build strong base skills to take you as far as you want to go in your ice climbing adventure. Since total beginners and climbers alike are welcome, you'll be able to learn from each other and enjoy the camaraderie of climbing as you revel in the stunning ice of the Canadian Rockies.
Highlights of the Ice Climbing Basics in the Canadian Rockies
Dip a toe into the world of ice climbing, discovering the proper technique for scaling frozen waterfalls.
Learn or practise ice climbing fundamentals, including top rope belaying, knots, and equipment use.
Swing your axe and dig your crampons into the pale blue ice of gorgeous Kananaskis, Banff, or Canmore.
Enjoy the camaraderie of climbing with no pressure to know your stuff before you show up.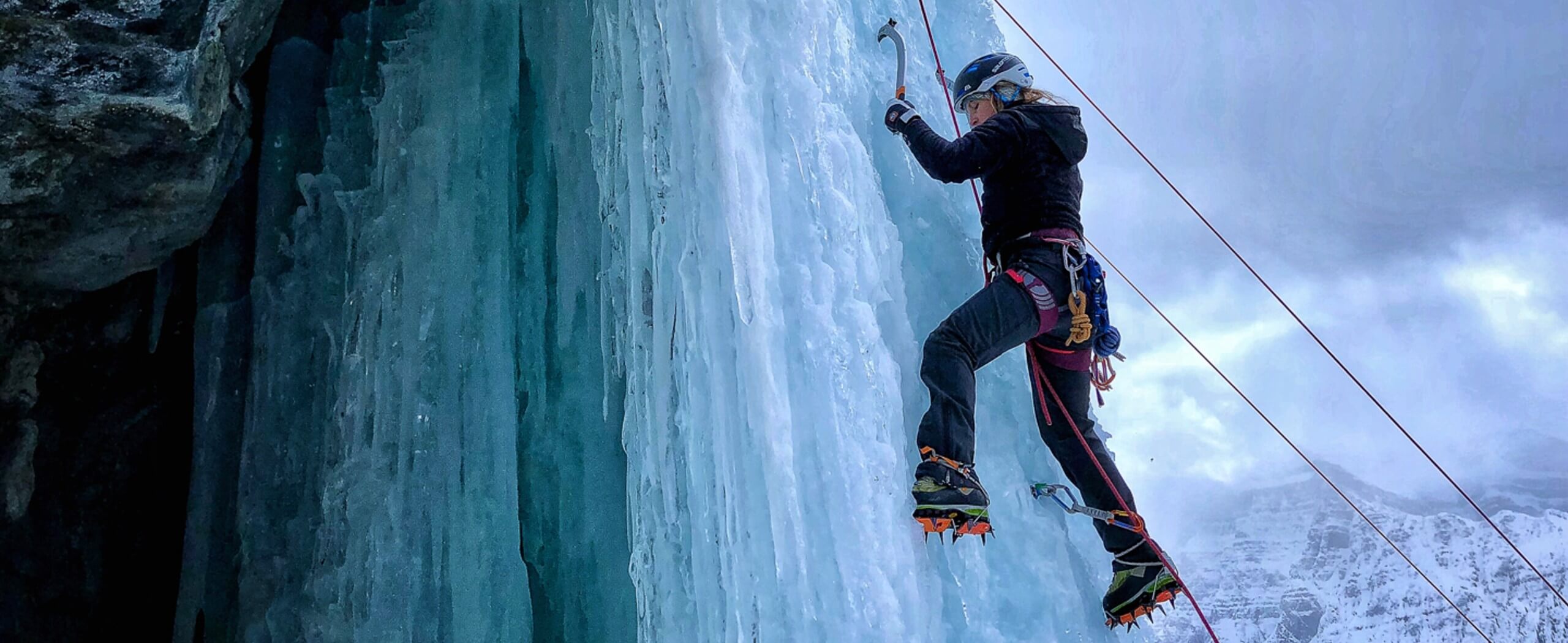 Ice Climbing Basics in the Canadian Rockies Itinerary
Day 1

Learning the Basics in Canmore

Your ice climbing course begins at the Yamnuska office in Canmore. You'll spend the day learning the basics of ice climbing safety, tying knots, practicing basic ice movement, and learning about top rope belay and communication.

To end the day, you'll complete a top rope climb in the Banff or Canmore area to warm up.
Overnight Location: Not included in tour price
Distance: None
Meals: None
Day 2

Getting on the Ice

Today, get on that ice in the Canmore, Banff, or Kananaskis area (depending on the conditions). You'll warm up, review the fundamentals, and spend lots and lots of time climbing with a coach on steeper climbs. You'll learn how to place and remove ice screws and learn the basics of anchor construction.

Today will pretty much be guaranteed to be one you'll remember forever. Don't be surprised just how far you can go with great technique and proper body positioning. Have fun!
Overnight Location: Not included in tour price
Distance: None
Meals: None
Day 3

Optional Additional Climbing Days

Are you hooked (pun intended)? You can book additional days to keep climbing. Try some classic Canadian multi-pitch routes like Louise Falls, Professor's Falls, and Cascade Falls. The student to guide ratio is kept very low on these days to facilitate learning. Please check 'Optional Extras' for the pricing.
Overnight Location: Not included in tour price
Distance: None
Meals: None

Book Now
Ice Climbing Basics in the Canadian Rockies Price and Dates
This guided skills training course is run as a fixed-departure tour where you'd be joining a group, however, custom private tours can be organized for those willing to travel with their group only (please contact us with your preferred date and the number of people in your group and we will create the itinerary just for you). Please note that due to very high demand and limited availability in campgrounds it is necessary to plan your trip a long time in advance.

Prices below are per person:
Accommodation on the Ice Climbing Basics in the Canadian Rockies Tour
There are no included accommodations on this tour. You will be responsible for choosing and booking your own accommodations, although we are happy to lend a hand. Travellers taking this course can enjoy a discounted rate at Clique Hotels & resorts.
Hotels on Standard Tour
Accommodation on this tour is not included. A variety of accommodation options exist in both Canmore, Calgary and Banff, including campsites, hostels, all levels of hotels as well as condo-style accommodation with kitchens or suites. We recommend that you book your own pre and post-trip accommodations well in advance as all levels of accommodations in the Bow Valley fill quickly.
What's Included in the Ice Climbing Basics in the Canadian Rockies Tour?
Logistics, Meals and Accommodation
This training course doesn't include any meals, transportation, or accommodation. If you need any help with booking your own accommodation, we are happy to assist you if needed. Travellers taking this course can enjoy a discounted rate at Clique Hotels & resorts. For meals, please pack your own high-energy meals and snacks for field days.
Included
Use of boots, crampons, axes, helmets, harnesses, and other specialized equipment
Certified and skilled instructors
Not included
Flights
Hotels
Meals, drinks, or snacks
Travel insurance
Optional excursions
Visas if required
Anything not mentioned as included
GST (5%)
Optional Extras
Additional climbing days: $275 USD per person per day
Frequently Asked Questions about Ice Climbing Basics in the Canadian Rockies
Located in Canmore, Alberta at the gates of Banff National Park, Yamnuska Mountain Adventures is one of Canada's premier providers of mountaineering, rock & ice climbing, backcountry skiing, hiking, and trekking experiences in the Canadian Rockies. For over 40 years, we have hosted thousands of clients from Canada and all over the world. Our brand is known for quality mountain experiences, safety, and well-organized itineraries. We have some of the best mountain guides and hiking guides in the industry. All Yamnuska Mountain Adventures climbing guides are certified through the Association of Canadian Mountain Guides.
Learn More
Is this tour for me?
We rate this tour as a 2/5. You don't need any prior experience to enjoy this course. While some basic athletic ability is recommended, proper technique cuts down on the amount of brute strength you'll use. You should be comfortable spending lots of time outdoors in cold weather.
Ask a Question
Got any questions regarding the tour? Interested in promotions for groups or want to customize this tour to fit your needs? We are here to help you!
Ask a question