Create your ideal experience riding to Venice on this self-guided tour
Enter Venice with the triumph of riding from Innsbruck, Austria. This 9-day bike tour is not one to miss! Follow well-marked bike paths through the Alps in southern Austria, into the Dolomites, and end up on the Adriatic Sea in Venice. If you're after variety, romance, and magnificent views every day on the itinerary, look no further than the Innsbruck to Venice Bike Tour.
By spending each night in a new town or city, you'll get a comprehensive experience of several regions spanning Austria and Italy. Foodies will be delighted with the variety of gastronomical delights along the way. Highlights (aside from the food) include riding past Drei Zinnen (Tre Cime) in the Dolomites, cycling along many emerald rivers, visiting museums and galleries as you please, and of course, ending the tour in "little Venice" (Treviso) and Venice itself. This tour gives insight into the Alp lifestyle and coastal Italian vibes—all from the unique perspective of your two wheels.
Highlights of the Innsbruck to Venice Bike Tour
Observe Drei Zinnen (or Tre Cime in Italian), an iconic view in the Dolomites from a unique perspective on your bike.
Follow several mighty and calm rivers throughout the Alps and into the flatter region of Veneto.
Appreciate each distinct region's local food, wine, and culture, including the homeland of prosecco.
Imagine you're in an Italian rom-com as you ride into the "floating city" and spend your last night roaming the streets of tangibly romantic Venice.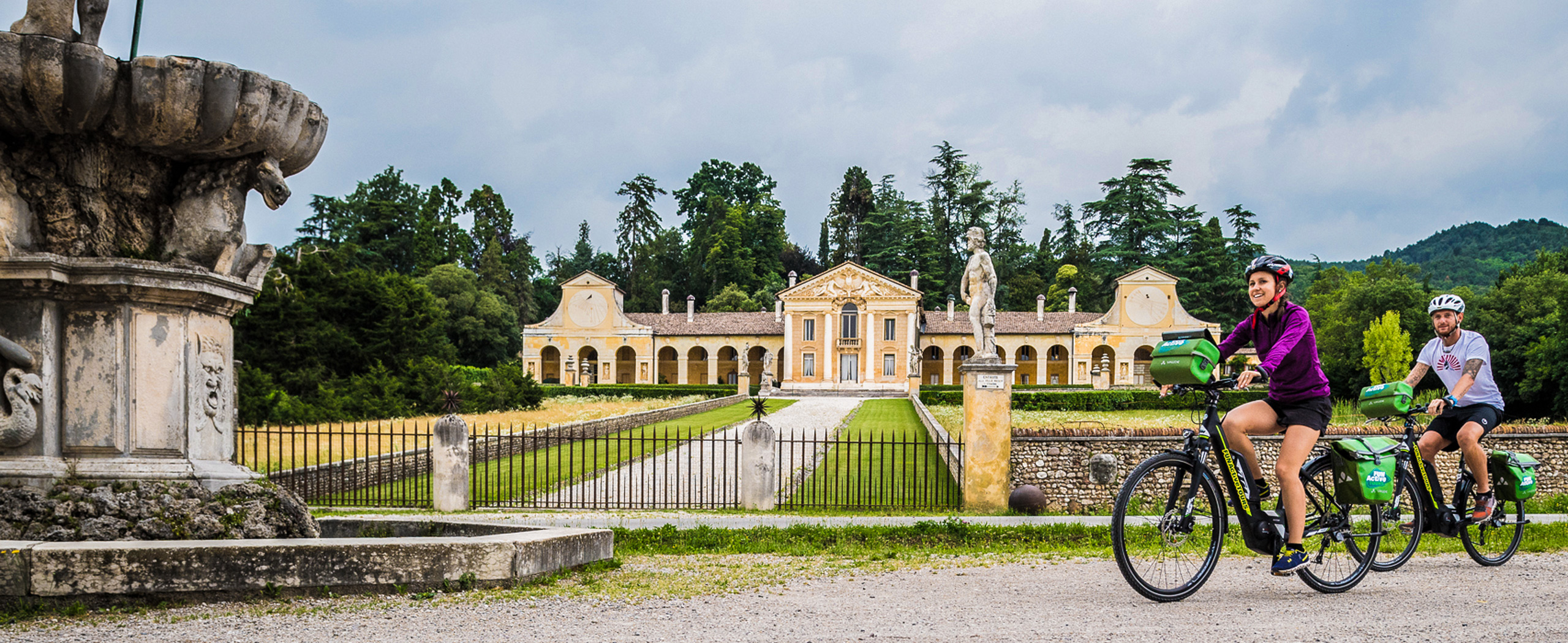 Innsbruck to Venice Bike Tour Itinerary
Day 1

Arrive in Innsbruck

Make your way to Innsbruck, Austria, to check in to your hotel. As the capital of Tyrol, Innsbruck has much to discover, strolling the streets with the Alps in the background.

Get a good night's sleep for a wonderful week of riding ahead.
Overnight Location: Hotel in Innsbruck
Distance: None
Meals: None
Day 2

Ride to Rio di Pusteria

For your first full day of the tour, you'll start with a transfer by bus or train to the peak of Brennero Pass, which will save you some breath. This marks the border between Austria and Italy, and from here, you will cruise through the mountains, passing many iconic Alps villages along the way. Cycle along an old railway track to reach Rio di Pusteria.
Overnight Location: Hotel in Rio di Pusteria
Distance: 5.5 hours, 55km (+ train or bus transfer)
Meals: Breakfast
Day 3

Cycle along the Rienz River

Enjoy breakfast accompanied by a fresh Italian espresso before heading out today. You'll ride along the Rienz River, an emerald beauty that snakes through South Tyrol. A couple of museums could entice you to break your ride up. One of the museums is in an old castle in Brunico—a sight to see in itself.

Keep pedalling along the river until you reach Villabassa or Dobbiaco for the night (depending on availability).
Overnight Location: Hotel in Villabassa or Dobbiaco
Distance: 5–6 hours, 50–55km
Meals: Breakfast
Day 4

Ride to Cortina d'Ampezzo in the Dolomites

Today's ride is shorter in distance but does include a bit of elevation gain. Your effort will be worth it for the postcard-worthy landscapes you'll encounter, including Drei Zinnen (Three Peaks), an iconic view in the Dolomites, followed shortly by a ride past Lake Dürrensee.

Push on through wild mountain scenes up and down the well-marked path until you reach Cortina d'Ampezzo, known as the pearl of the Dolomites.
Overnight Location: Hotel in Cortina d'Ampezzo
Distance: 3–4 hours, 30–35km
Meals: Breakfast
Day 5

Cycle to Longarone

After breakfast, start your ride with an easy descent with massive massif views the whole way. You'll still be on the old railway track, then you'll enter a valley to continue south. Connect with a modern cycling path to Langarone, a village that was completely rebuilt in 1963 after a landslide caused the dam to overflow and a flood destroyed the town.
Overnight Location: Hotel in Longarone
Distance: 5.5 hours, 55km
Meals: Breakfast
Day 6

Follow the Piave River to Conegliano

Set out for the day following along the calm Piave River. Take a right at the small village Ponte nelle Alpi (Bridge of the Alps) and continue past Lake Santa Croce in the Alpago region.

Conegliano awaits as your destination this evening, and treat yourself to a glass of prosecco—you're in its homeland!
Overnight Location: Hotel in Conegliano
Distance: 5.5 hours, 55km
Meals: Breakfast
Day 7

Ride to Trieste on the Adriatic Sea

Say ciao to the Alps today as you continue south in Italy, where the mountainous landscapes become flat. On the way to Treviso, where you'll spend the night, stop as you please to admire the magnificent Italian villas inspired by Venice.

Stroll throughout Treviso tonight, either on foot or in a boat on the plethora of canals.
Overnight Location: Hotel in Treviso
Distance: 5 hours, 50km
Meals: Breakfast
Day 8

Finish the Tour in Venice

Enjoy the final stretch on flat terrain alongside the Sile River as you approach one of the most famous cities worldwide, Venice. Make sure to arrive as early as possible to take in a canal tour of this undeniably romantic and serene city.

Indulge in a feast of Venetian food and wine to celebrate your week of riding from Austria to Italy.
Overnight Location: Hotel in Venice
Distance: 4.5 hours, 45km
Meals: Breakfast
Day 9

Departure

Your tour ends after breakfast and check-out. You can organize your own departure transfer, or perhaps you'll feel inclined to extend your stay in Venice.
Overnight Location: None
Distance: None
Meals: Breakfast

Book Now
Innsbruck to Venice Bike Tour Price and Dates
This self-guided tour in Austria and Italy is run as a custom tour for your group only and the price depends on the time of year in which you choose to travel and the number of people in a room.
The best time to travel to the Alps for biking is during the spring, summer, and early fall (May-September). This tour is available from May to October. Note that departures are not available from August 5 to 21, 2021.
Private Self-Guided Innsbruck to Venice Bike Tour
Have your own private tour with just your group! Prices below are per person.
Important note: the departures are available on Saturdays and Mondays only. In some cases, it's available to arrange the departures on different weekdays for groups of 5 and more (please enquire).

Low season (from May 2nd to June 18th and from September 12th to October 11th):
Price per person staying in a single room: $1,375 USD per person
Price per person staying in a double room (min 2 travellers): $1,095 USD per person
High season (from June 19th to September 11th):
Price per person staying in a single room: $1,495 USD per person
Price per person staying in a double room (min 2 travellers): $1,225 USD per person
Book Now
Accommodation on the Innsbruck to Venice Bike Tour
This tour is based in 3 and 4-star hotels. Tourist tax, if requested at the hotel, is not included and will have to be paid on the spot. This is normally no more than $25 USD per person.
In some cases, the accommodation listed below may need to be substituted for other comparable accommodations.
Single Rooms and Solo Travellers
Rooms are double occupancy. If you prefer a single room, the required supplement is included in the listed price.
Hotels on Standard Tour
The capital of Tyrol awaits. Innsbruck, Austria, sits at the foot of the Alps, so while you admire the cathedrals and Old Town, a stunning mountain view fills the background.
Enjoy a tranquil stay in this mountain village tucked in the Puster Valley. Cycle the cobblestone streets in the centre, or just enjoy the nature all around you.
Hotel in Villabassa/Dobbiaco
Both of these mountain villages will take your breath away. Amid the Puster Valley, you'll be surrounded by peaks and fields as far as you can see.
Hotel in Cortina d'Ampezzo
Known as the Pearl of the Dolomites, enjoy a night in this town in the centre of it all. Nearby attractions include the Drei Zinnen (Three Peaks) and other great massifs.
This modern town was completely rebuilt in 1963 after a landslide hit the dam above the town and caused a flood, washing everything away.
Relax in this stunning town with ancient architecture and peaks in every direction. Prosecco production is rampant in this region, so treat yourself to a glass!
An underrated beauty, Treviso consists of iconic canals, arched bridges, and stunning old buildings. Often called "the little Venice," this is a gateway to the real thing.
You already have an image in your head of this city: the city of canals, the floating city, La Serenissima. Cultural sights abound here, and foodies will have a heyday.
What's Included in the Innsbruck to Venice Bike Tour?
Meals
8 breakfasts are included.
Accommodations
Accommodation for 8 nights is included in the tour. Additional nights before or after the tour can be booked as a supplement.
Transportation during the Tour
While you cycle between hotels, transportation for your luggage is included. Transfers mentioned in the itinerary are included. Arrival and departure transfers are not included but can be requested at booking.
Also Included
Tour information in English
Well-planned routes
Detail route descriptions
Detailed maps
24-hour telephone assistance
Not included
Flights and public transportation
Guide services
Bike rental
Lunches, dinners, drinks, or other meals not previously mentioned
Travel insurance and tourism tax
Arrival and departure transfers
Anything not mentioned as included
Entrance fees of any kind
Tourist tax
Optional Extras
Extra nights in any accommodation
Bike rental:

Hybrid bike: $95 USD
Premium hybrid bike: $150 USD
E-bike: $195 USD
Frequently Asked Questions about Innsbruck to Venice Bike Tour
FunActive Tours operates adventure tours in the heart of the Italian Dolomites. Thanks to the ideal
location of FunActive headquarters right in the Dolomites and branch offices in Venice Mestre and
Trieste, FunActive Tours can offer excellent walking and cycling tours not only in the mountains, but
also towards Austria, Slovenia, and Istria.
FunActive offers efficient, high-quality service to clients from all over the world, making it one of the
best choices for those seeking an experienced local provider. Attention is given down to the smallest
details, and the tours are designed to suit travellers of many abilities according to how adventurous
they wish to be. FunActive can find you an incredible tour regardless of age, skill level, or time of
year. Come discover Italy and beyond!
Learn More
Is this tour for me?
We rate this tour as a 2/5. You should be physically fit and comfortable cycling 3–6 hours daily. The elevation gain is moderate, and you will have comfortable accommodation to recuperate. The bike path is well-maintained and you can rent an e-bike to make the route easier if you wish.
Ask a Question
Got any questions regarding the tour? Interested in promotions for groups or want to customize this tour to fit your needs? We are here to help you!
Ask a question