Enjoy a guided adventure tour of Ischia for the whole family
The exciting volcanic island of Ischia is the perfect place for a family vacation, and the Ischia for Families tour is a wonderful way to engage with all the island has to offer!
The Ischia Family Tour is kid and parent-friendly and sure to please both. Snorkel around the submerged remains of an underwater city and cruise around the island by boat, stopping in at private beaches and inlets to swim. Parents will love the romantic La Mortella Gardens, where the kids can learn about 1700 species of plants. Then, the Ischia Family Tour will take you high into the trees at a suspended ropes course, tackling obstacles and playing games together. Explore the incredible Aragon Castle to learn about the history of the island, or take a hike up the side of Mount Epomeo and marvel at the views before stopping to learn the art of pizza making from a local master. The Ischia Family Tour is the perfect mix of fun and exploration for the whole group to enjoy! The island awaits...
Highlights of the Ischia Family Tour
Cruise in a hydrofoil boat across the ocean from Naples to the volcanic island of Ischia.
Snorkel at the archaeological remains of a submerged city in the Bay of Cartaromana.
Run through ropes courses and play games suspended in the trees at the island's adventure park.
Learn how to make pizza together in an exclusive mountainside lodge.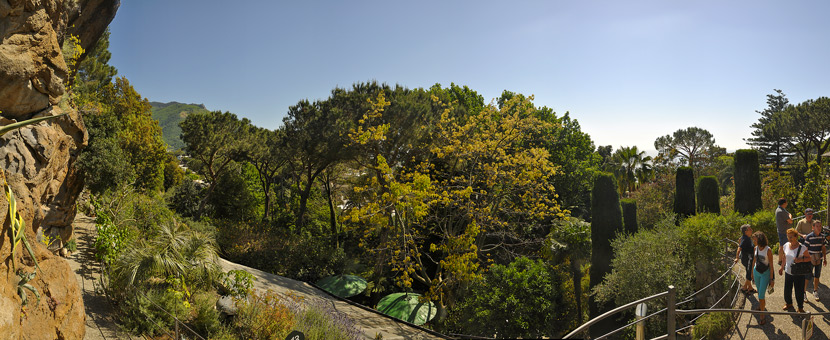 Ischia Family Tour Itinerary
Day 1

Arrival in Ischia

You've made it! You and your family will be privately transferred to the port in Naples, where you'll board a hydrofoil boat to Ischia. Enjoy the ocean and the views while you cruise! Then, you'll be taken to your hotel, where you can spend the evening relaxing and enjoying your first local Italian dinner.
Overnight Location: Hotel in Ischia
Meals: Dinner
Day 2

Snorkeling

Grab your swimsuits and get ready for a day in the ocean! Dive deep while you snorkel in the bay of Cartaromana, which holds the archaeological remains of an underwater city. You can learn a bit about the history of the site and the flora and fauna of the Mediterranean, get some sun, and watch the kids have a blast.
Overnight Location: Hotel in Ischia
Meals: Breakfast, Dinner
Day 3

La Mortella Gardens

Day 3 of your tour of Ischia is going to be stunning! You'll spend the day exploring the gardens of La Mortella. They feel like an exotic tropical rainforest, and they house countless unique plant and flower species. Parents can enjoy the romantic fountains and avenues while kids can spot butterflies and birds.
Overnight Location: Hotel in Ischia
Meals: Breakfast, Dinner
Day 4

Boating Tour

A holiday in Ischia without a boat tour would be simply incomplete. Today, feel free to rent your own boat and explore at your own pace. Stop in at coves and inlets for a swim, cruise by picturesque villages, or picnic on remote beaches. Whatever you choose to do, the ocean is sure to impress!
Overnight Location: Hotel in Ischia
Meals: Breakfast, Dinner
Day 5

Aragon Castle Tour

Any history buffs in the family? Today is all about learning about Ischia's past. You'll head over what was once the island's drawbridge to reach the volcanic island that holds the Aragon Castle. Your guide will show you the cathedral, Giotto's school, the Bourbon prison, the nunnery, and more. Views from the island are excellent- bring a camera today!
Overnight Location: Hotel in Ischia
Meals: Breakfast, Dinner
Day 6

Adventure Park

The whole family is going to love visiting Ischia Adventure Park. It's full of ropes courses, suspended games in the trees, Tibetan bridges, Tyrolean tunnels, and more. There are staff on hand to make sure you have fun and stay safe. Go burn some energy!

Optionally, you can spend the latter part of the day on a hike. You'll explore ancient craters and trek through lush vegetation. The endpoint is an exclusive lodge on Mount Epomeo, where you can take an authentic pizza making class with a local expert pizza master. Now that's a special dinner!
Overnight Location: Hotel in Ischia
Meals: Breakfast, Dinner
Day 7

Goodbye, Italy!

Today, your family tour of Ischia comes to a close. You'll ride the boat back to Naples, where a transfer to the airport is waiting for you. Safe travels home!
Overnight Location: None
Meals: Breakfast

Book Now
Ischia Family Tour Price and Dates
This guided family tour of Ischia is always run as a private tour for your group only, therefore the price depends on the season and whether you are staying in a double or triple room.

Prices below are per person, staying in a double or a triple room.
Departure on April 18th – July 10th or September 5th – October 20th:
Price per person sharing a double room: $1,450 USD
Price per person sharing a triple room: price currency="EUR" value="1283"]
Departure on July 11th – September 4th:
Price per person sharing a double room: $1,595 USD
Price per person sharing a triple room: $1,475 USD
Book Now
Accommodation on the Ischia Family Tour
This tour is based in a 3-star hotel. The hotel offers pleasant rooms with ensuite bathrooms and great locations. Rooms are double occupancy, and single travellers will pay a supplement.
In some cases, accommodation listed below may need to be substituted for other, comparable accommodations.
Single Rooms and Solo Travelers
You can pay a supplement of $150 USD to have a private room in a hotel. Contact us and we can try and match single travellers up where possible.
Hotels on Standard Tour
Hotel Ireos in Ischia ★★★
This beautiful hotel with stunning views of the expansive beaches is a wonderful choice to stay in Ischia Island.
What's Included in the Ischia Family Tour?
Meals
6 breakfasts and 6 dinners are included.
Accommodations
Accommodation for 6 nights is included.
Transportation during the Tour
This tour includes airport transfers, tickets for hydrofoil boats and luggage transfers.
Also Included
English-speaking guide
Island boat tour
Entrance fees to La Mortella Gardens and Aragon Castle
4 days of scooter rental
Spa entrance fee
Not included
Travel insurance
Travel to and from Naples
Lunches and dinners or drinks and snacks not previously mentioned
Tourist taxes
Personal equipment
Optional Extras
Hiking and pizza making excursion
Adventure park entrance fee
Any additional nights before or after tour
Tourist tax: up to $25 USD daily
Frequently Asked Questions about Ischia Family Tour
Platypus Tour is a boutique Italian tour operator, based on the island of Ischia and founded in 1999. Platypus is unique in that many of their guides focus on sharing the historical, scientific, cultural and adventurous side of Southern Italy, both on land and sea. Their motto is to "Learn while traveling", so join them on a tour in the Amalfi Coast, Campania, Puglia, Umbria, Marche, or Tuscany.
Learn More
Is this tour for me?
We rate this tour as a 1 / 5. Excursions are generally not very demanding or difficult, and the more physical activities are optional.
Ask a Question
Got any questions regarding the tour? Interested in promotions for groups or want to customize this tour to fit your needs? We are here to help you!
Ask a question