Hop from island to island in the unbelievable Dodecanese of Greece
Island Hopping in the Dodecanese tour is a unique 7 day hiking trip on 4 Greek Islands. Get the most out of the Dodecanese Islands with this idyllic island hopping tour. Indulge yourselves in cosmopolitan Rhodes, enjoy magnificent views and explore the more untouched and undeveloped islands of Tilos, Halki, and Alimia.
Your tour starts and ends on the cosmopolitan island of Rhodes. From here you'll embark on a voyage on the local ferry to the tiny island of Tilos. Visit remote "ghost" villages, monasteries, and medieval castles. Hike along the coastline, which boasts spectacular sea views. Enjoy great swims at wonderful secluded beaches. Your next destination is colourful and laidback Halki, the smallest inhabited island of the Dodecanese, listed by UNESCO as the island of Peace and Friendship. Having explored the trails of Halki and enjoyed amazing views of the surrounding islands, you set off to discover the uninhabited island of Alimia before heading back to Rhodes. Lose yourself in the Dodecanese on this expansive island hopping extravaganza!
Highlights of the Island Hopping in the Dodecanese
Experience some of the most beautiful islands of the Dodecanece, surrounded by turquoise waters.
Get away from the hotspots with an itinerary that focuses on hidden gems and quieter places.
Take four hikes as you island hop, exploring wonderful inland and coastal trails alike.
Go on an excursion to an uninhabited island for a taste of what truly wild Greece is like.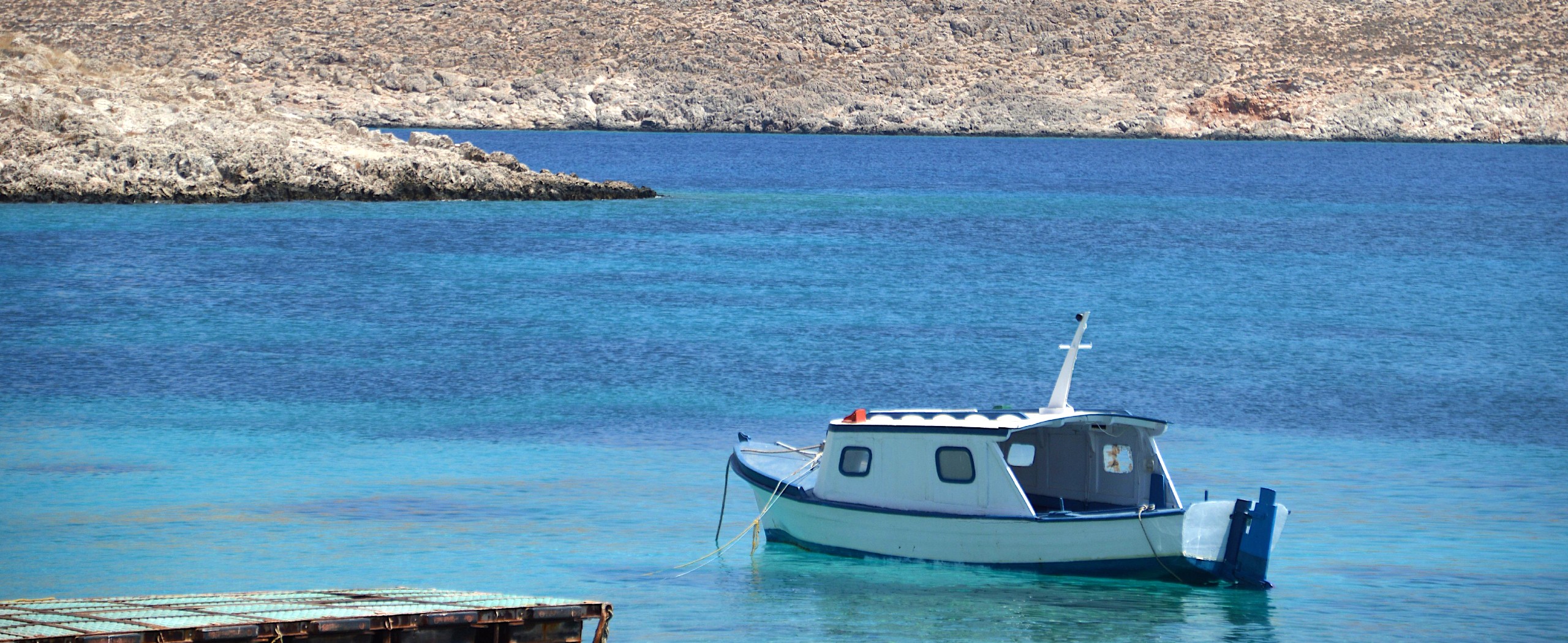 Island Hopping in the Dodecanese Itinerary
Day 1

Arrival in Rhodes

Day 1 of the tour sees your arrival in Rhodes and transfer to the port. After meeting your guide, embark on the boat to Tilos. Celebrate the beginning of your adventure by enjoying a delicious welcome dinner.
Overnight Location: Hotel in Tilos
Distance: None
Meals: Dinner
Day 2

Hike Livadia Lethra Beach to Mikro Chorio

Today combines all you have ever dreamed of when thinking about Greece. Start from the beautiful seaside village of Livadia and hike along the coastline to lovely beaches, including a red beach.

Thereafter, having reached Lethra Beach, a green tree-lined paradise, begin the ascent towards Mikro Chorio (meaning small village in Greek). Once a highly populated village, it is now deserted. Houses have been abandoned and they remain along with the narrow alleys, green courtyards, and its few present inhabitants: goats. During the summer months, a bar operates here from which customers can stroll around this unique "ghost" village. Picturesque as it may be, eventually you will return to Livadia.
Overnight Location: Hotel in Tilos
Distance: 3 hours, 7km
Meals: Breakfast, lunch
Day 3

Hike Livadia to Gera

Today we start our Island Hopping the Dodecanese tour from the village of Livadia, and again follow the coastline, walking along by the beach, towards the end of the gulf, to the main port of Tilos.

The trail was once built on the ridge of a mountain slope and connected the port with the now abandoned village of Gera. Here, only a few houses and some threshing floors remain, overlooking the Aegean Sea which stretches as far as the eye can see. We continue our walk, and start our climb up through a riverbed full of trees to reach the highest point of our hike. With great views of the nearby islands, we then descend again towards Livadia.
Overnight Location: Hotel in Tilos
Distance: 4 hours, 8.5km
Meals: Breakfast, lunch
Day 4

Hike AG. Panteleimonas to Megalo Chorio

This morning, head to Agios Panteleimonas, a monastery built in 1531 AD by a sailor who survived a shipwreck and had a vision of Saint Panteleimon in his dreams. As a result he decided to build the monastery to honour the saint who had saved him. And, as the myth goes, he discovered a natural spring at the spot where he decided to build the monastery. Nowadays, Agios Panteleimonas stands imposingly on top of a mountain slope, surrounded by maple trees, a juxtaposition to its harsh surroundings and a rare sight for an island. The trail starts on the outskirts of the monastery and leads to Agios Antonios – the second harbour of the island, offering fantastic views of the nearby island of Nisiros.

Arrive at Agios Antonios, and then ascend to Megalo Chorio (which means Big Village in Greek). Megalo Chorio is now the capital of Tilos. Built under the protection of a medieval castle, Megalo Chorio stands proudly overlooking Eristos, the biggest and most famous beach of the island. Take a boat to Halki in the afternoon and enjoy some sightseeing in the main town.
Overnight Location: Hotel in Halki
Distance: 3 hours, 7.5km
Meals: Breakfast, lunch
Day 5

Hike Nimporios to Pondamos Beach

Today starts from the capital of Halki, Nimporios, which is also the main village and port of the island. From here you'll gradually walk uphill through a fertile valley that leads up to the medieval castle of Chorio. The village of Chorio, in the west of Halki, was once the only settlement on the island. It is built around the hill upon which the fort stands in the traditional style of stone houses. The village of Chorio was slowly abandoned and today is deserted. The views from the castle are magnificent, and on a clear day, Rhodes, Nisiros, Karpathos, and Tilos are all visible, all surrounded by the endless blue of the Aegean sea.

On the way back, stop at Pondamos Beach for a refreshing swim and lunch at a seaside taverna.
Overnight Location: Hotel in Halki
Distance: 3 hours, 6.5km
Meals: Breakfast, lunch
Day 6

Hiking and Excursion to Alimia

Today you will explore a deserted island called Alimia. Set off from the port of Halki and sail to a wide bay where the main town once stood. This village was declared a protected settlement in 1978. Here, you'll hike among its untouched treasures. Hike along forgotten trails, as the island has been uninhabited since the Second World War. In Hellenistic times, Alimia was used as a point of anchorage and an observation point for the Rhodian fleet. At the time, a tower was constructed on the highest peak of the island, on its eastern side, and still survives to this day.

Once you arrive at the second significant bay of the island, you have the chance to swim in its crystal-clear blue waters and then enjoy a BBQ on the beach. In the early afternoon, sail back to Halki.
Overnight Location: Hotel in Halki
Distance: 2.5 hours, 6km
Meals: Breakfast, lunch, dinner
Day 7

Back to Rhodes and the Departure

Today, leave picturesque Halki and take the boat back to Rhodes. There's lots to do if you want to extend your stay! Otherwise, it's off to the airport.
Overnight Location: None
Distance: None
Meals: Breakfast

Book Now
Island Hopping in the Dodecanese Price and Dates
This guided island-hopping tour is always run as a private tour for your group only and the price depends on the size of your group.
Prices below are per person:
Guided group of 2-3: $1,595 USD per person
Guided group of 4-5: $1,775 USD per person
Guided group of 6+: $1,595 USD per person
Book Now
Accommodation on the Island Hopping in the Dodecanese Tour
This tour is based in hotels and holiday apartments. Hotels on this trip are 1 and 4-star and offer modern conveniences that can make this trip more pleasant. Hotels offer beach access and rooms are outfitted for your comfort.
In some cases, the accommodation listed below may need to be substituted for other comparable accommodations.
Single Rooms and Solo Travelers
Rooms are double occupancy. You can pay a supplement of to have a private room in a hotel where possible. Solo travellers may be required to pay a supplement.
Hotels on Standard Tour
These suites are perched atop a hill overlooking the beach. Enjoy a garden, free WiFi, and a lovely sun terrace for your lounging pleasure.
This imposing hotel is right on the water. Enjoy access to the beach, a nice breakfast, and high-speed internet while you stay here.
What's Included in the Island Hopping in the Dodecanese Tour?
Meals
6 breakfasts, 5 lunches, and 2 dinners are included.
Accommodations
Accommodations for 6 nights are included.
Transportation during the Tour
All necessary local transfers for the operation of the trip are included. Boat tickets to Tilos, Halki and Rhodes are also included.
Also Included
Not included
Gratuities for tour guides or other staff if desired
Flights
Visas if required
Travel insurance
Meals not previously mentioned
Anything not mentioned as included
Optional Extras
Additional nights before or after the tour
Single occupancy upgrades where available
Frequently Asked Questions about Island Hopping in the Dodecanese
Trekking Hellas Group of Companies was founded in 1986, and is the largest and most distinguished adventure tour operator in Greece. They operate adventure tours all over Greece, and embrace and have implemented socially and environmentally responsible policies for the protection of nature and environmental awareness.
Learn More
Is this tour for me?
We rate this tour as a 3/5. The trails are suitable for strong beginner hikers and better. Expect some rugged terrain. This tour is best suited to active travellers.
Ask a Question
Got any questions regarding the tour? Interested in promotions for groups or want to customize this tour to fit your needs? We are here to help you!
Ask a question