Spend 8 days cycling from Bari to Polignano on this fabulous self-guided bike tour
Enjoy this spectacular 8-day self-guided cycling tour in Southern Italy's Basilicata and Puglia regions on an adventure-packed route that connects three of Italy's UNESCO World Heritage Sites. Enjoy cycling daily through areas of immense historical importance, taking in the magical relics of Italy's past while experiencing them by bike in the present.
This immersive route, beginning in Bari and ending in Polignano, will introduce you to phenomenal natural landscapes, ancient wonders, and the robust flavours of Southern Italy's food and drink. You'll experience the revered UNESCO sites of Castel del Monte, Matera, and Alberobello, exploring them by bike and revelling in their wonders.
Cycle from Bari to Ruvo di Puglia, surrounded by dramatic expanses of almond trees, fine vineyards and age-old oak forests. Explore the Alta Murgia National Park, enjoying its collection of rich biodiversity, as you navigate its covert trails. Discover the Castellana Caves' karst stone rock formations, one of this region's most fascinating natural phenomena.
Overnight stays in Bari, Castel del Monte, Matera, Alberobello and more, will provide endless opportunities to experience the rich and authentic culture and traditions of the Basilicata and Puglia regions.
You'll leave this cycling adventure with a storehouse of magical memories and a firsthand understanding of Southern Italy's rich and captivating history and culture.
Highlights of the Cycling the best of Southern Italy
Discover the whimsical folklore of Puglia's capital city, Bari, as you pedal its animated streets.
Experience 3 famous UNESCO Heritage Sites, exploring Castel del Monte, Matera, and Alberobello.
Satisfy your tastebuds with the finest wines of these regions and indulge in the famous DOP bread of Altamura.
Be kissed by sun and sea, unwinding on the pristine beaches of Polignano a Mare after an exciting day on the bike.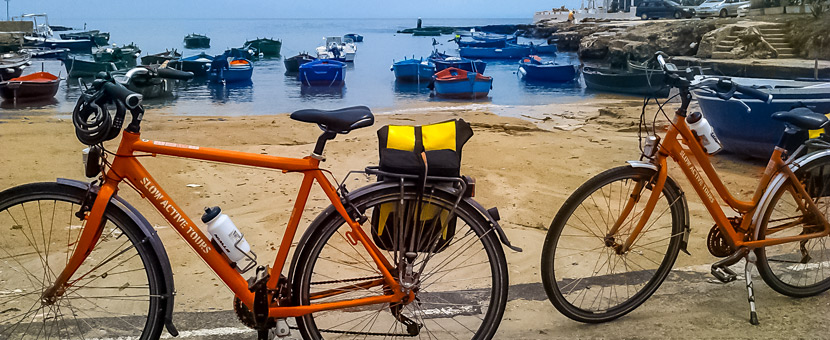 Cycling the best of Southern Italy Tour Itinerary
Day 1

Arrive

Welcome to Puglia's capital city, Bari! Set on the beautiful Adriatic Sea, this important port city is an excellent introduction to Puglian history and culture.

If your arrival time permits, set out on an adventure in "Bari Vecchia," the city's charming old town.
Picturesque piazzas and ancient palaces, rich in historical folklore, make the old town a perfect place to begin this adventure. From the ladies making orecchiette pasta in the streets to the spectacular chaos of the bustling fish market, Bari will welcome you into the very fabric of its culture and traditions, leaving you pleasantly charmed.

Make sure to visit the Basilica of San Nicola, one of the most remarkable sites in the city and a popular medieval pilgrimage destination.
Overnight Location: Hotel in Bari
Distance: None
Meals: None
Day 2

Cycle Olive Groves and Vineyards to Bitonto and Ruvo di Puglia

Leaving the bustle of the city behind, your route today is steeped in the natural beauty of the Puglia region. Pedalling along roads lined with centuries-old olive trees and stunning vineyards, you'll cycle to the lively town of Bitetto, home to a spectacular Romanesque Cathedral.

Continuing the route, you'll cycle to Ruvo di Puglia, an agricultural town brimming with history. Dominated first by the Romans, the city was later overtaken by the Normans, who enriched it with many significant monuments, including the elegant Ruvo Cathedral.
Overnight Location: Hotel in Ruvo di Puglia
Distance: 25 km
Meals: Breakfast
Day 3

Cycle the Alta Murgia National Park to Castel del Monte

Today's route will immerse you in the natural beauty of the Alta Murgia National Park. Cycle this mesmerizing landscape, taking in its rich biodiversity as you pedal its hidden trails.

Reaching Castel del Monte, prepare to experience your first UNESCO site of the tour. Castel del Monte is a spectacular example of medieval architecture, known worldwide for its intriguing octagonal shape. The 13th-century citadel and castle is a sight to behold. Built by Emperor Frederick II, the hilltop fortress overlooks the Murgia region and is revered for its mathematical precision.

Check into your accommodations, conveniently located near the fortress, and return for an in-depth exploration of the UNESCO site, discovering the ancient legends and mysteries that it beholds.
Overnight Location: Hotel in Castel del Monte
Distance: 30 km
Meals: Breakfast
Day 4

Visit San Magno and Cycle to Gravina

Today's route proceeds through extensive pastures that transform into outcropping rocks in an almost desert-like landscape.

Reaching the prehistoric church of San Magno, take some time to discover the fascinating tombs here, dating back to the bronze age.

Continue the road to Gravina, where you'll experience more of Puglia's authentic cultural, heritage and natural beauty.
Overnight Location: Hotel in Gravina
Distance: 50 km
Meals: Breakfast
Day 5

Delight in the Pan di Matera

Before departing Gravina, embark on a pleasant stroll between Piaggio and Fondovico, the two stunning districts of the city's historic heart.

Back on the route, you'll make your way from Gravina to Matera by way of Altamura. Famous for its bread, Altamura is the perfect place to stop for refreshments. The "pane di Altamura" (country-style sourdough) is not only a symbol of this city but is also an example of ancient culture and tradition, still very much alive and thriving here today.
Overnight Location: Hotel in Matera
Distance: 40 km
Meals: Breakfast
Day 6

UNESCO sites of Matera and Alberobello

Today you'll discover the second UNESCO site of the tour, Matera, designated in 1991. Spend your morning exploring the "city of rocks," uncovering the magic of the historical center and the surrounding extraordinary landscapes.

The Sassi district of Matera and the Park of the Rupestrian Churches is known as one of the most well-preserved examples of a rock-cut settlement in the whole of the Mediterranean region. The caves, dating back to the Paleolithic period, were once inhabited by local peasants and artisans. Explore the district complex of ancient dwellings, monasteries, and churches and come to know this fascinating UNESCO site from the inside out.

After a morning of exploring Matera, you'll be transferred to Gioia del Colle. Known for its high-quality dairy products, a cheesy lunch in Gioia del Colle is a must! Enjoy a wine tasting before heading towards Alberobello.

The route continues finally leads you to the land of Trulli huts, Alberobello—your final UNESCO site of the tour. Spend your evening exploring the rows of one-of-a-kind drystone huts and conical roofs. Discover the history behind these mysterious structures and learn about the architecture that makes this one of southern Italy's most famous towns.
Overnight Location: Hotel in Alberobello
Distance: 40 km
Meals: Breakfast, wine tasting
Day 7

Discover the Castellana Grotte

Although you've now experienced the three UNESCO sites of the tour, there are still more fascinating landscapes to discover!

Today you'll explore the largest karst stone caves in all of Italy at the Castellana Grotte. Carved of stalactites and stalagmites, the mystical caves run 3km underground and boast a depth of over 60m.

Made of karst stone rock, the fascinating caves run 3 km long underground and over 60m deep. Experience the evocative magic and power of this ancient site before setting out towards the seaside town of Polignano.

A dip at the famous beach of Lama Monachile is the perfect way to unwind after an exhilarating day on the bike. Spend your final evening of the tour exploring Polignano's coastal paradise, known for its pristine beaches and exceptional seafood.
Overnight Location: Hotel in Polignano
Distance: 35 km
Meals: Breakfast
Day 8

Depart Polignano

This morning following breakfast, your cycling adventure comes to an end. Check out of your accommodations and make your way to the airport to depart.
Overnight Location: None
Distance: None
Meals: Breakfast

Book Now
Cycling the best of Southern Italy Tour Price and Dates
This self-guided cycling tour of southern Italy is always run as a private tour for your group and the price depends on the time of year you visit.

Prices below are per person.

Low Season (January 5th - March 26th and October 26th - December 10th):
Price per person solo traveller: $1,325 USD
Price per person staying in a single room (group of 2+): $1,175 USD
Self-guided groups of 2+: $895 USD per person
Med Season (March 27th - April 7th, April 18th - June 24th, and September 5st - October 25th):
Price per person solo traveller: $1,450 USD
Price per person staying in a single room (group of 2+): $1,295 USD
Self-guided groups of 2+: $975 USD per person
High Season (April 8th - April 17th and June 25th - September 4th):
Price per person solo traveller: $1,695 USD
Price per person staying in a single room (group of 2+): $1,550 USD
Self-guided groups of 2+: $1,175 USD per person
Book Now
Accommodation on the Cycling the best of Southern Italy Tour
This tour is based in 4-star hotels, B&Bs, and a charming trulli stay in Alberobello. Accommodations are excellently located, offering modern amenities with pleasant rooms and ensuite bathrooms.
Rooms are double occupancy and single travellers will pay a supplement.
In some cases, the accommodation listed below may need to be substituted for other comparable accommodations.
Single Rooms and Solo Travelers
You can pay a supplement of $295 USD - $375 USD (depending on the season) to have a private room in a hotel.
Hotels on Standard Tour
Hotels, B&B's and trulli ★★★★
These charming accommodations offer private rooms with ensuite bathrooms, basic amenities, and a comfortable stay in an excellent location. Enjoy breakfast served daily.
What's Included in the Cycling the best of Southern Italy Tour?
Meals
7 breakfasts and one tasting are included in this tour.
Accommodations
Accommodations for 7 nights are included.
Transportation during the Tour
Scheduled private transfers on Day 2 and Day 6 are included, as well as the boat excursion from Polignano on Day 7. Luggage transportation from accommodations to accommodations is also included on this tour.
Also Included
Travel App (maps, tracks, route notes)
Welcome briefing and bike fitting
Phone assistance between 8am and 9pm
Tasting on day 6
Boat excursion on day 7
Not included
Bike rental (see 'Optional Extras' for the pricing)
Flights to and from Italy
Airport transfers
Visas if required
Travel insurance
Tourist taxes if applicable
Guide
Optional Extras
Bike rental:

Trek bike: $95 USD per person
All road bike: $150 USD per person
E-bike: $175 USD per person

Activities and excursions unless otherwise mentioned as included
Single room supplements
Solo traveller supplements
Any additional nights before or after the tour
Airport transfers (minimum 2 persons):

Bari Airport to Bari – $50 USD per person
Polignano to Bari Airport – $75 USD per person
Frequently Asked Questions about Cycling the best of Southern Italy
Slow Active Tours is a tour operator specializing in "slow pace" outdoor activities, which mainly concern cycling, trekking and snorkeling in beautiful Italy. Based in Puglia, the wonderful heel of Italy, Slow Active Tours was born from a long experience in responsible and sustainable tourism, combined with a love for culture and a strong passion for traditions, history and respect for nature.
Dynamic holidays "at a slow pace", because in this way it is possible to savor every moment of a great journey, full of adventure, hearty breakfasts, moments of peaceful well-being, food and wine tastings, fresh dips in the most beautiful seas of Italy, smiles and chat with the locals.
Each trip includes everything you need to make the experience comfortable and to be free to travel safely.
Learn More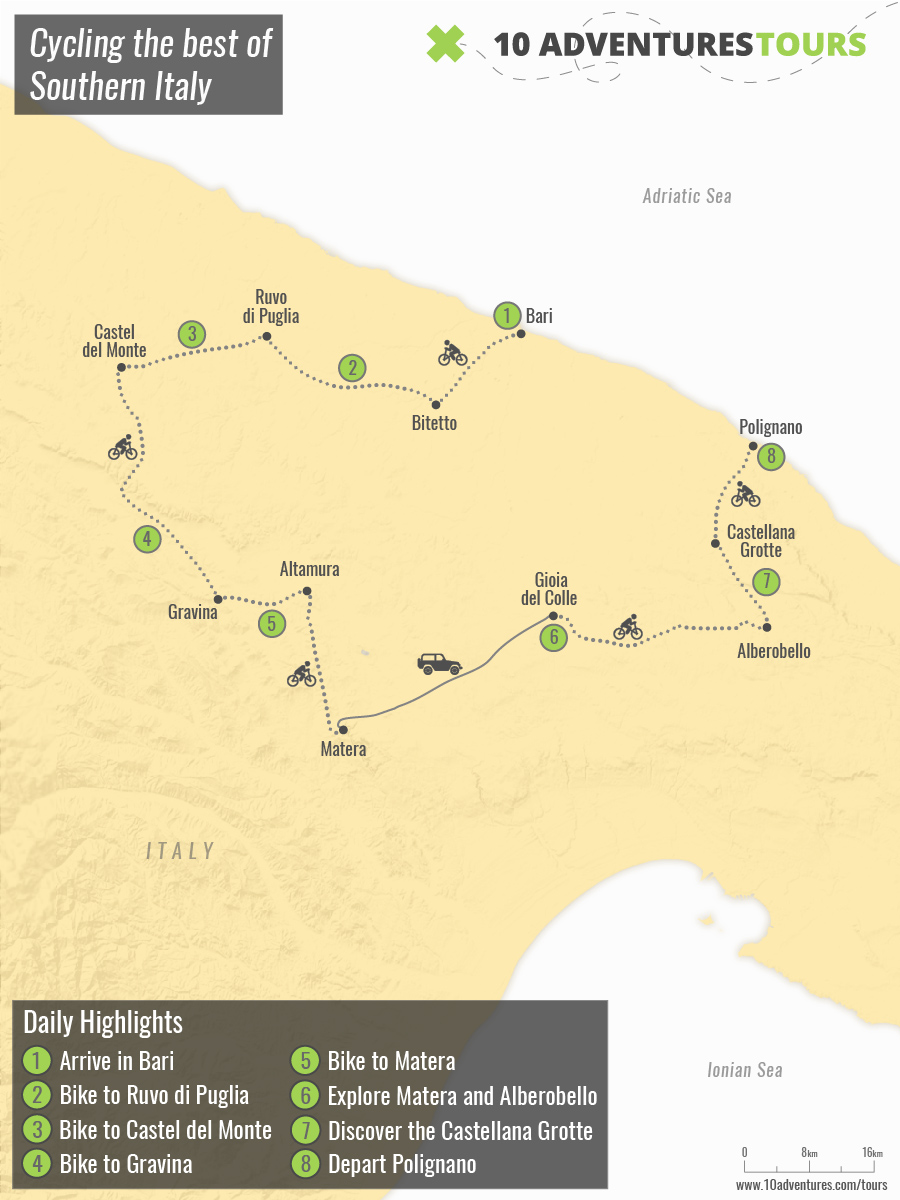 Is this tour for me?
We rate this tour a 2 / 5. The route is based mostly on flat winding roads. Daily distance covered ranges from 25 km-50 km. You should be comfortable riding a bike and used to cycling these distances. Breaks for rest and refreshments are frequent on the tour.
Ask a Question
Got any questions regarding the tour? Interested in promotions for groups or want to customize this tour to fit your needs? We are here to help you!
Ask a question