Travel from spiritual Laos to magical Cambodia on this 12-day adventure tour
Why choose between Laos and Cambodia when you can travel to both? The Laos to Cambodia Adventure Tour offers a glimpse into these amazing countries. Expect to be wowed by ancient archaeological sites and natural wonders alike as you explore towns, cities, and wilderness. Spend 12 memorable days immersed in Lao and Khmer cultures, with excursions like hiking deep into the jungle, kayaking a calm river, and exploring UNESCO World Heritage Sites included.
While you're not exploring the fascinating cultures through workshops, day trips, and city walks, you'll be sampling the cuisine, which is a massive part of the Laos to Cambodia Adventure Tour. Find your way through to the best street stalls with your local guide, who will also lead you on amazing day trips led by the guide's local knowledge. Rest assured, the Laos to Cambodia Adventure Tour will excite you, take you to places you've never seen before and leave you with unforgettable memories.
Highlights of the Laos to Cambodia Adventure Tour
Swim in the turquoise waters of Kuang Si Falls and the rivers in Phnom Kulen National Park.
Hike to unforgettable panoramic views overlooking the Laos jungle.
Observe daily life and traditions in the unique fishing villages of Tonle Sap Lake.
Devote an entire evening to sampling the gastronomic delights of Siem Reap's street food.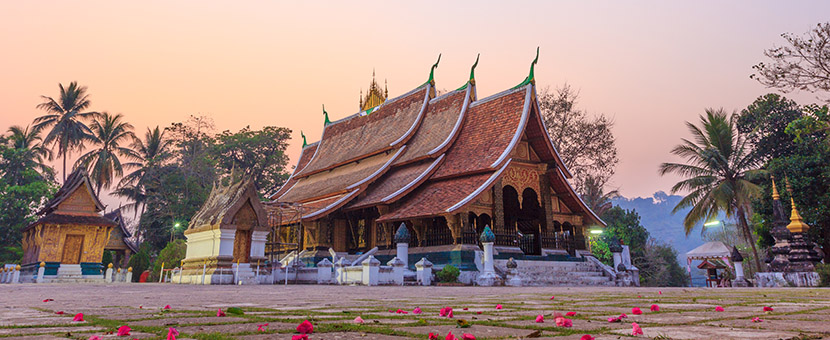 Laos to Cambodia Adventure Tour Itinerary
Day 1

Arrival in Luang Prabang

Welcome to Laos! Make your way through the airport and find your own way to your comfortable hotel in Luang Prabang. Settle in, then head to the lobby to meet everyone for a welcome dinner. Your guide will give you some information about the adventure ahead, then it's time to head to bed.
Overnight Location: Hotel in Luang Prabang
Distance: None
Meals: Dinner
Day 2

Luang Prabang and Hike to Kuang Sy Waterfalls

After breakfast, take a short ride to the trailhead for today's hike in the forest. The trail leads you through the local agricultural lands replete with rice paddies, vegetable gardens, and plantations. The terrain is relatively flat as you make your way to the stunning highpoint of the journey, the Kuang Si Waterfalls. This three-tiered cascading beauty is sure to impress and looks great on camera. Have a picnic among the hardwood trees around the turquoise pooling water, and go for a swim if you'd like before exiting the way you came.
Once back in Luang Prabang, you'll visit the ornate and gorgeous complex of temples at Vat Xieng Thong, known as the temple of the Royal City. After exploring the complex at your leisure, return to the hotel to relax for the night.
Overnight Location: Hotel in Luang Prabang
Distance: 12km, 1–2 hours
Meals: Breakfast, Lunch
Day 3

Kayak in Nam Ou River

The nearby Nam Ou River is calling to you this morning, so after breakfast, grab your kayaking gear and head out to the water. Paddle along the calm river, observing village life buzzing on the shores. Give the locals a wave, but be careful not to drop your paddle.
Continue downriver past some incredible rock and limestone formations, then pass by the Pak Ou Caves that house thousands of Buddha statues at the entrance. After about 3 hours of paddling, you'll dock on sandy shores and get a ride back to the hotel.
Overnight Location: Hotel in Luang Prabang
Distance: 11–15km, 3 hours
Meals: Breakfast, Lunch
Day 4

Walk to Nong Khiaw Viewpoint

Moving on from Luang Prabang after breakfast, you'll arrive in Nong Khiaw in the early afternoon. Enjoy a short but challenging walk to an absolutely breathtaking view overlooking the Nam Ou River and hilly green landscapes stretching to the horizon. Your efforts will be worth it for the panoramic vistas from the top.
Descend the trail (faster than ascending, for sure) and check in to the hotel. Enjoy some free time to explore, grab dinner, or just read a book before heading to bed.
Overnight Location: Hotel in Nong Khiaw
Distance: 4km, 2–3 hours, 430m of ascent, 430m of descent
Meals: Breakfast
Day 5

Boat Cruise to Muong Ngoi

After a leisurely breakfast, depart on a boat along the Nam Ou River in the direction of Muong Ngoi, a small village nestled between many peaks along the river banks. Once you've docked in the village, explore the area by foot, visiting the Tam Khang Cave, which was used to house civilians during the Indochina War.
Continue walking among rice paddies and rich vegetation to Ban Na Village to have lunch in a local restaurant. Return the way you came on foot, then enjoy another relaxing boat ride downriver to Nong Khiaw for the night.
Overnight Location: Hotel in Nong Khiaw
Distance: Flexible
Meals: Breakfast, Lunch, Dinner
Day 6

Explore the Temples of Luang Prabang

Set out this morning after breakfast on the journey from Nong Khiaw back to Luang Prabang. This afternoon you'll take in the spellbinding temples of this ancient capital of Luang Prabang Province, home to the opulent Royal Palace and the sacred Vat Mai temple, constructed at the end of the 18th century.
Unwind at your hotel in Luang Prabang this evening, enjoying a mouthwatering dinner of local specialties.
Overnight Location: Hotel in Luang Prabang
Distance: None
Meals: Breakfast
Day 7

Fly to Siem Reap, Cambodia

Gather with your group for your last breakfast in Laos and enjoy free time in the morning before packing your stuff and heading to the airport. You can opt to take an early morning walk to see the Tak Bath ceremony performed at the temple before bidding farewell to Laos and boarding the plane for Siem Reap, Cambodia.
Once you land, you'll be greeted by a local guide and taken to the hotel for a free evening to freshen up and explore on your own.
Overnight Location: Hotel in Siem Reap
Distance: None
Meals: Breakfast
Day 8

Visit Angkor Wat Archaeological Park

Indulge in your first tastes of Khmer cuisine for breakfast, then prepare for a full day exploring the UNESCO World Heritage Site of Angkor Wat. Your guide will have the route planned out, so no need to worry about getting lost in this enormous complex—it's the largest religious complex in the world, after all! Visit highlights like the Bayon Temple, the Elephant Terrace, the Royal Palace, and Angkor Wat, the iconic structure associated with Cambodia. While all the temples are remarkable, the view of Angkor Wat reflected in the lake in front of it is particularly sublime.
Head back to the hotel to rest your legs and scroll through the hundreds of pictures you took of today's excursion.
Overnight Location: Hotel in Siem Reap
Distance: 14km, 3 hours, 150m of ascent, 120m of descent
Meals: Breakfast, Lunch
Day 9

Half Day Hike to Jayavarman VII Siem Reap Street Food Tour

Start the day early for a wander through lesser-known temples. The temple complex once belonged to one of the ancient kings of the Khmer Empire, Jayavarman VII. Continue walking in the trees until reaching a remote village to share a picnic lunch.
Return to Siem Reap and digest well, because this afternoon involves a feast of street food sampling. This gastronomic tour will delight your taste buds with rich blends of Khmer spices and flavours. Finish the tour with an authentic dessert, then go back to the hotel satisfied and ready for bed.
Overnight Location: Hotel in Siem Reap
Distance: 12km, 3 hours, 30m of ascent, 27m of descent
Meals: Breakfast, Lunch, Dinner
Day 10

Hike in Phnom Kulen National Park

Rise for an early departure to Phnom Kulen National Park for a delightful jaunt through this divine sanctuary. A local ranger will lead you through the deep forest with majestic plateaus, and you'll even encounter some hidden temples. Enjoy a picnic lunch next to a beautiful river and jump in for a swim to cool off. Keep your eyes peeled for wildlife in the afternoon as over 40 species roam the area. For another refreshing dip and several photo opportunities, break at Phnom Kulen Falls before heading to Siem Reap for the night.
Note: Two distance options are available for today's hike. The route chosen will depend on your group.
Overnight Location: Hotel in Siem Reap
Distance: Option 1: 15km, 4 hours (excluding site visits) 250m of ascent, 215m of descent;
Option 2: 10 km, 3 hours (excluding site visits), 250 m of ascent, 215 m of descent
Meals: Breakfast, Lunch
Day 11

Boat Cruise to Prek Toal Floating Village

After your morning meal, the fantastic floating villages of Tonle Sap await. Get a ride to the pier, then hop on a boat headed for Prek Toal. Along the way, observe the lively floating villages where everything sits above the water, from markets to schools.
Docking at one of the piers, head into a traditional stilt house where some locals will prepare an authentic meal for your group. After this delicious meal, participate in a workshop to learn how to weave using the native water hyacinth plant. Pocket your new souvenir and begin the journey back to Siem Reap for your last night.
Note: no operation from mid-April to the end of June due to low water level.
Overnight Location: Hotel in Siem Reap
Distance: None
Meals: Breakfast, Lunch
Day 12

Farewell

Bid farewell to your Laos and Cambodia adventure crew over your last breakfast together. Check out at noon, and then organize your own transportation to the airport or the next part of your trip.
Overnight Location: None
Distance: None
Meals: Breakfast

Book Now
Laos to Cambodia Adventure Tour Price and Dates
This guided tour in Laos and Cambodia is run as a fixed-departure tour where you'd be joining a group, however, custom private tours can be organized for those willing to travel with their group only (please contact us with your preferred date and the number of people in your group and we will create the itinerary just for you).

Prices below are per person, sharing a double or a triple room and apply to a 3-star hotel package. Please note, that you can upgrade to 4-star hotels for an additional fee of $130 USD per person.
Accommodation on the Laos to Cambodia Adventure Tour
This tour is based in 2 and 3-star hotels. The hotels have modern amenities that make this trip more comfortable. Rooms are double occupancy, and single travellers will pay a supplement.
In some cases, the accommodation listed below may need to be substituted for other comparable accommodations.
Single Rooms and Solo Travelers
You can pay a supplement of $358 USD - $391 USD (depending on the hotel category chosen) to have a private room in a hotel while travelling with your group. Contact us and we can try and match single travellers up where possible.
Hotels on Standard Tour
Luang Say Inn in Luang Prabang ★★★
Feel the tranquil vibes as you walk through the hotel lined with lush tropical plants. Walk to nearby sights and return to an air-conditioned room.
Phaxang Resort in Nong Khiaw ★★
Nestled in the lush jungle next to the Nam Ou River, enjoy a unique stay in a clean, cozy bungalow. Fall asleep to the sounds of nature.
Pavillon Indochine in Siem Reap ★★★
Outfitted with a garden and a pool, this hotel offers an oasis from the buzzing city. The chic colonial architecture frames each clean and bright room.
What's included in the Laos to Cambodia Adventure Tour?
Meals
11 breakfasts, 7 lunches, and 3 dinners are included.
Accommodations
Accommodation for 11 nights is included.
Transportation during the Tour
Transport for you and your luggage is included throughout the tour. A support vehicle will be available on hiking and cycling days in case of an emergency.
Also Included
Entrance fees for applicable sites mentioned in the itinerary
English-speaking guide
Local rangers and guides during certain excursions
Boat rides mentioned in the itinerary
Kayak + lifejacket rental
Not included
Meals, snacks, or drinks not mentioned in the itinerary
Airport transfer at the end of the tour
International and airport taxes
Domestic flights
Visa fees upon arrival in Laos and Cambodia
Insurance
Anything not mentioned as "included"
Tips and personal expenses
Optional Extras
Extra night in Luang Prabang
Extra night in Siem Reap
Airport transfers
Upgrade to 4-star hotels
Frequently Asked Questions about Laos to Cambodia Adventure Tour
Easia Active is a subsidiary of Easia Travel, a boutique tour operator based in South-East Asia, and dedicated to sharing the best active adventures in Vietnam, Laos, Cambodia, Myanmar and Thailand. Easia Travel was founded in 2000 in Vietnam, with a vision to "Make Asia Easy for You!" by allowing guests to experience the best of Asia. Find great hiking, cycling and other active adventures in SE Asia with Easia Active.
Learn More
Is this tour for me?
We rate this tour as a 2 / 5. You should be comfortable hiking on modest terrain for up to 5 hours and kayaking for 3 hours.
Ask a Question
Got any questions regarding the tour? Interested in promotions for groups or want to customize this tour to fit your needs? We are here to help you!
Ask a question