Hike coastal Spain from Ponteceso to Finisterre on this 8-day self-guided adventure
The Lighthouse Way (Camino dos Faros) is a spectacular pilgrimage route along the coast of Spain that shows you the breathtaking cliffs, wild beaches, and iconic lighthouses that characterize this stunning region. This self-guided hiking tour is a perfect mix of natural beauty, fascinating history, and rich local culture.
Spend 6 days walking the over 150 km Lighthouse Way, or Camino dos Faros. You'll encounter well-known lighthouses such as Faro Vilán, Roncudo, and Nariga.
You'll also visit picturesque small towns and fishing villages, including Camelle, Cape Vilan, Cape Touriñán, Muxia, and Finisterre. Discover fascinating archaeological sites and learn more about the rich history of this region, which is sometimes referred to as Costa da Morte (the Coast of Death). The self-guided Lighthouse Way hiking tour is an adventure you won't soon forget, so book your tour today!
Highlights of the The Lighthouse Way Camino
Walk all 200 km of the Lighthouse Way trail (Camino dos Faros) from Ponteceso to Finisterre.
Explore the iconic lighthouses along Spain's Atlantic coast, including Faro Vilan and Finisterre lighthouse.
Learn about the rich history of the region, visiting archaeological sites such as Castro A Cibda and Dolmen de Dombate.
Enjoy the spectacular view from the peak of Monte Facho.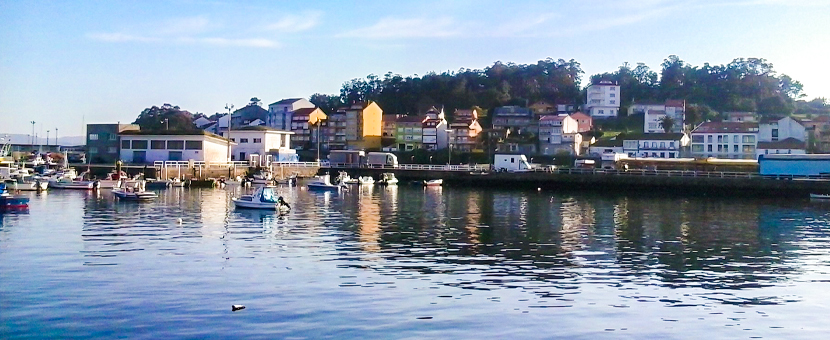 The Lighthouse Way Tour Itinerary
Day 1

Arrive in Ponteceso

Arrive in Ponteceso today, which is the starting point for your self-guided hiking tour on the Lighthouse Way.
Overnight Location: Hotel in Ponteceso
Distance: None
Meals: Dinner
Day 2

Start on the Camino dos Faros

Begin your walk on the Camino dos Faros in Ponteceso today, passing the archaeological sites of Castra A Cibda, which dates back to the 1st Century, and Dolmen de Dombate, an ancient megalithic monument. These are wonderful places to learn more about Galicia's historical heritage. The trail takes you through forests of pine and eucalyptus trees, where you can see many different species of birds. As you approach your destination in Laxe, you will be greeted with a breathtaking view of the large, white, sandy beach as it meets the brilliant blue sea. Spend the night here in Laxe.
Overnight Location: Hotel in Laxe
Distance: 25 km
Meals: Breakfast, Dinner
Day 3

Walk to Camelle and Arou

Today is the shortest day of the tour, as you walk 17 km from Laxe to Arou. Don't miss the spectacular panoramic views at the Estuary of Corme and Laxe. You'll also enjoy a stop in the small town of Camelle, where you can visit the MAN Museum, also called the Museo do Alemán (Museum of the German). MAN stands for Mar, Arte, Natureza (sea, art, nature), and the museum was created by German artist Manfred Gnädinger who moved to Camelle in the 1960s. End your day in the lovely town of Arou.
Overnight Location: Hotel in Arou
Distance: 17 km
Meals: Breakfast, Dinner
Day 4

Walk to Cape Vilan and Camariñas

Today's route takes you over one of the most iconic stages of the Lighthouse Way trail. Many local hikers consider the walk to the Faro Vilán lighthouse to be a favorite stretch of the trail. You'll also hear the story of the famous HMS Serpent, a British ship that ran aground here at Cape Vilan and sank in 1890. There is an English cemetery here, full of magical legends and stories, where the victims of the shipwreck were buried. Continue beyond Cape Vilan to Camariñas to spend the night.
Overnight Location: Hotel in Camariñas
Distance: 26 km
Meals: Breakfast, Dinner
Day 5

Walk to Muxia

This longest stage of the Camino dos Faros, from Camariñas to Muxia, is a rewarding 32 km that leads you to 11 different beaches, plus a variety of picturesque villages, watermills, and forests. The beautiful fishing village of Muxia has recovered well from the infamous Prestige oil spill in 2002 that severely damaged the local environment and economy. When you arrive in Muxia, head to the tourist office and ask them for the Muxiana, a certificate offered to pilgrims who arrive in Muxia along el Camino.
Overnight Location: Hotel in Muxía
Distance: 32 km
Meals: Breakfast, Dinner
Day 6

Walk to Cape Touriñán and Nemiña

Walk today from Muxia to Cape Touriñán, the westernmost point on the Spanish mainland. Many people think that Finisterre is the westernmost point, and this topic is a great way to get locals talking, if you're looking to engage them in conversation. Continue your walk to Nemiña, where you can take a refreshing swim at the beach to end your day.
Overnight Location: Hotel in Nemiña
Distance: 24 km
Meals: Breakfast, Dinner
Day 7

Walk to Finisterre

Finish your walk on the Lighthouse Way today as you walk from Nemiña to Finisterre. Also called Fisterra in the local Gallego dialect, this popular fishing port got its name from the Roman belief that this point was the end of the world. This last stage of the trail can feel very long, almost as if you are approaching the end of the world, but you will be inspired and encouraged along the way by the breathtaking view from the peak of Monte Facho (238 m / 781 ft). Reward your efforts and celebrate the end of an incredible tour by watching the sun set over the ocean from the Cape Finisterre Lighthouse.
Overnight Location: Hotel in Finisterre
Distance: 26 km
Meals: Breakfast
Day 8

Departure Day

Sadly, your Lighthouse Way hiking tour has come to an end. After breakfast, check out of your hotel and begin your travels from Finisterre. Have a pleasant journey!
Overnight Location: None
Distance: None
Meals: Breakfast

Book Now
The Lighthouse Way Tour Price and Dates
This self-guided walking tour along the Galicia coast is always run as a custom tour for your group only. The price always depends on the number of people sharing a room.
The best time to travel to Northern Spain for this walking adventure is spring and autumn, though the tour can be completed year-round. Summer is the most popular time, but it can be quite warm.
Prices of Custom Self-guided The Lighthouse Way Tour
Have your own private tour with just your group! Prices below are per person:
Price per person staying in single room: $950 USD
Price per person staying in double room: $695 USD
Price per person staying in triple room: $625 USD
Book Now
Accommodation on The Lighthouse Way Tour
This tour is based in hotels. Hotels on this trip are 2- and 3-star hotels and offer modern conveniences that can make this trip more pleasant. Rooms are double occupancy, and single travelers will pay a supplement.
In some cases, accommodation listed below may need to be substituted for other, comparable accommodations.
Single Rooms and Solo Travelers
You can pay a supplement of $275 USD to have a private room in a hotel. Contact us and we can try and match single travelers up, where possible.
Hotels on Standard Tour
What's included in The Lighthouse Way Tour?
Meals
7 breakfasts and 6 dinners are included.
Accommodations
Accommodations for 7 nights along the tour is included.
Transportation during the Tour
This tour includes luggage transfers only.
Also Included
24/7 phone assistance
Pilgrim passport
Walking notes and maps
Not included
Guide services
Insurance
Personal expenses
Transport
Optional Extras
Extra night in Ponteceso before the tour
Extra night in Finisterre after the tour
Dinners
Frequently Asked Questions about The Lighthouse Way Camino
Galiwonders is a specialist tour operator, focusing on pilgrimages along the Camino de Santiago in Spain and Portugal as well as the Via Francigena in Italy. They offer adaptable tours to suit a variety of client needs and focus on truly taking care of their guests.
The tour guides are local experts, living and working right along the Camino. They have visited each hotel and restaurant they recommend, ensuring each is up to standard.
Galiwonders offers constant contact with their guests, ensuring all concerns or questions are addressed immediately so you can relax and enjoy your trip.
Learn More
Is this tour for me?
We rate this tour as a 4 / 5, as there are several long days of walking, where you will be walking up to 32 km in a day. You should have experience walking over 25km a day.
Local Guide
Ask a Question
Got any questions regarding the tour? Interested in promotions for groups or want to customize this tour to fit your needs? We are here to help you!
Ask a question
SALE! Well, not yet.
Let me know when this trip goes on sale.
Notify me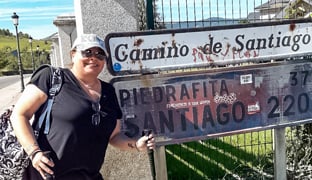 Margot
Santiago de Compostela, Spain
Margot is a new guide with Galiwonders, and loves sharing her pride in her home region of Galicia with visitors. She enjoys sharing the history, stories, legends, and unknown information with tourists to connect them deeply with the region they're in.
Q & A
Q:

What is your favourite trip to lead and why?

A:

Any trip around Galicia. Fortunately, I have had the chance to travel far and wide, I've visited many counties, many cities, all beautiful and with something special, but I guess the saying "the heart is where home is" is applicable to me.

Q:

What are guests most surprised about in visiting your country?

A:

Tourists usually have a preconceived idea of what Spain is like, and when they are here they are surprised to see that how they thought it was had no similarity to that notion. I find this is especially true with Galicia. The most common ide they have is that it's all Flamenco, bulls and polka dot dresses. That is just in Andalucia, and in Madrid, for tourists. Each region has its own unique traditions and folk culture.

Q:

What is one experience anybody visiting your country should do?

A:

El Camino de Santiago. It does not matter what religion you belong to. It is the sentiment, the relaxation, the feeling of wholeness one senses while on the Way. It's the goal of accomplishing a pilgrimage for whatever the reason one may have, reaching the end of the road where all roads meet. Along the way you make friends with people from all over the world, the group gets larger and larger, some speak Spanish, others French, others English, even Chinese. It's a wonderful multiracial group, and once you all reach Plaza do Obradoiro in Santiago de Compostela, you all embrace. Everyone's jumping and laughing with sore, bruised feet and sweaty clothes for having accomplished the challenge, feeling so good and wondering why the rest of the world does not embrace this experience.