Enjoy a 3-day guided hike to the home of Greek gods - Mt Olympus
Mt. Olympus, the name conjures up visions of beauty and history. Mount Olympus is a place of divine beauty, blessed by the ancient Greek gods and chosen by Zeus to host their home. It is also the highest mountain in Greece.
The iconic hike to the top of Mount Olympus is best done by fit and experienced hikers, and though much of the route is an easy path, there are parts of the route that require scrambling.
This guided trip to summit Mount Olympus draws travelers from around the world to this magical place, with only the mountain and two rustic mountain huts to provide shelter and food in an authentic, fun atmosphere. The surrounding countryside is also spectacular, with the natural landscape taking you from thickly forested slopes to steep rocky foggy and cloud-covered peaks. Mount Olympus National Park hosts more than 1500 plant species, as well as wolves, jackals, deer and some endangered bird and butterfly species.
It should be noted that due to the nature of this trip, the itinerary is subject to change at the discretion of the tour leader. Typically this is due to weather conditions, though group safety may impact the route. Mt. Olympus is a challenging walk with some scrambling, therefore the guides retain the decision on actually summiting the peak of Mytikas. It should be noted that Mytikas cannot be summited in case of snow.
Highlights of the Mt. Olympus Classic
Hike the highest summit in Greece – Mount Olympus.
Discover stunning Greek nature in Greece's first national park - Olympus National Park
Learn about Greek culture visiting 'the house of gods'.
Look for wild species of animals along the route.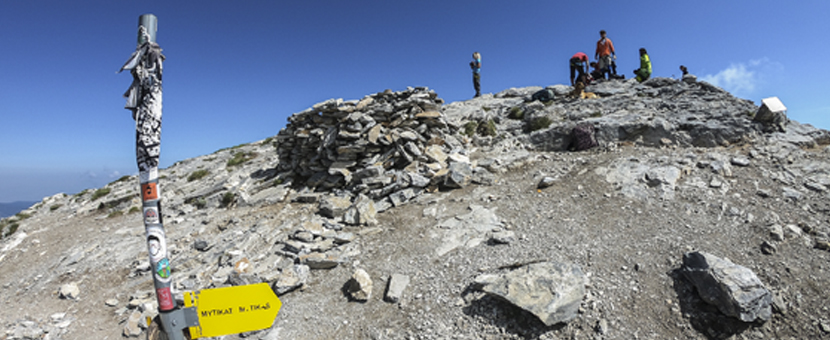 Mt. Olympus Classic Itinerary
Day 1

Walk to Spilios Agapitos Refuge

Meet your guide in the morning in Litochoro, a village in the foothills of Mount Olympus, about 1.5 hours from Thessaloniki airport. If you are coming by car or bus from Athens, the trip is about 6 hours, and it is recommended to arrive the night before. Start today with a transfer to Prionia, which is where the trek to the summit of Mount Olympus starts. The starting altitude is 1,100 meters, and you will be taking the most common path up Mount Olympus to the first refuge. This part of the tour is also part of the E4, a long-distance European hiking path. Today's hike is through a thick forest of pine, beech and fir trees. After roughly 3 hours of hiking your reach an altitude of 2,100m, and come to what is known as Refuge A (Spilios Agapitos Refuge). This shelter is located on a stone outcrop, with pleasant views. Believe it or not, there is even Wi-Fi here!
Overnight Location: Spilios Agapitos refuge
Distance: approx. 3 hours, 6,5 km, 1020 elevation gain
Meals: None Provided
Day 2

Summit Mount Olympus

Today is the big day, a good walk with a bit of scrambling to the summit of Mount Olympus. Expect to start early from the Spilios Agapitos Refuge, a zig-zagging path leads you under the main summits. As you ascend the trees disappear and you are hiking on a rock, with great views. Just before the Zonaria Fork (2,480m), your guide will need to decide which route to take, as there are two options for route today. The route choice depends on the trail conditions, weather forecast, and your fitness.

The first option is to hike up to Skala at 2,882 meters and then crossing a narrow ridge climb to the summit of Skolio at 2,911metres. This route requires the use of your hands.

If the group's fitness is good and the weather permits (and most importantly there is no snow), the group can ascend to the main summit of Mount Olympus, Mytikas (2,917metres). This route follows a narrow gully and involves about 1km of scrambling. This route up takes about 3 hours and covers 2.9km, 818m of elevation.

After reaching one or more of the summits, you will descend by the path you came up on. Then you will take a crossing pass that goes under the summit of Stefani – the throne of Zeus –  and down to the alpine plateau of Mouses (2,700m), the Kakkalos Refuge will accommodate the group.
Overnight Location: Kakkalos Refuge
Distance: 6-7 hours, 6.8 km, 852 m elevation gain and 268 m elevation loss.
Meals: None Provided
Day 3

Descend and return to Litochoro

After the challenging day yesterday, today is an easier day, as the route is mostly downhill. Don't think that today is all downhill, as you will climb Profitis Ilias, a small peak just above Kakkalos Refuge before heading down. This small peak has tremendous views of the summits of Mount Olympus.

After admiring Mount Olympus one last time, start your descent. After 2 hours you will reach the Hellenic rescue team shelter Petrostrouga, where you can relax and enjoy your lunch. After lunch begin the final descent into Gkorstia, where you can have your lunch and relax before your final descent to Gkortsia. From Gkortsia you will transfer to Litochoro.
Overnight Location: n/a
Distance: 5-6 hours of walking, 10 km, 1630 elevation loss.
Meals: None Provided

Book Now
Dates and prices of Mt. Olympus Classic hiking tour
This guided tour in Greece is run as a private tour for your group only and the pricing depends on the size of your group.

Prices below are per person:
Guided Groups of 2: $525 USD per person
Guided Groups of 3: $395 USD per person
Guided Groups of 4+: $325 USD per person
Book Now
Accommodation on Mt. Olympus Classic Tour
This tour is based in berths in shelters that bring together groups of mountaineers from across the globe in their cozy and homey atmosphere. In all mountain huts, there are communal rooms with bunk beds. You can also camp out of the mountain hut with your tent and use the mountain hut facilities. In some cases, the accommodation listed below may need to be substituted for other, comparable accommodations.
Single Rooms and Solo Travelers
Single rooms are not available on this trip due to all the accommodations along the trail having dormitory type of rooms. However, you can still travel solo if you don't mind sharing the room and facilities. Contact us with your preferred dates and we will inform you about the pricing.
Hotels on Standard Tour
Spilios Agapitos Refuge ★
Refuge A (Spilios Agapitos) is a magnificent stone building situated below Mount Olympus. The refuge is spacious and can handle up to 110 guests in shared dormitories. There is Wi-Fi, good meals and pretty views.
The Kakkalos refuge has a capacity of 17 people in dormitories. Equipped with a stunning view and known for good food.
What's included in the Mt. Olympus Classic Tour?
Meals
No meals are included in this guided tour of Mount Olympus. You will be able to purchase meals from the refuges each day.
Accommodations
Accommodation in dormitories in mountain huts (refuges) on Mt. Olympus.
Transportation during the Tour
Transfer Litochoro – Prionia & Gortsia – Litochoro is included.
Also Included
Accommodations as described
English speaking guide during the ascent of Mt. Olympus
VAT
Not included
Personal expenses.
Meals, Drinks and beverages.
Optional gratuities to the leader, guides and local staff.
Transport from Athens or other towns to/from Litochoro.
Frequently Asked Questions about Mt. Olympus Classic
Trekking Hellas Group of Companies was founded in 1986, and is the largest and most distinguished adventure tour operator in Greece. They operate adventure tours all over Greece, and embrace and have implemented socially and environmentally responsible policies for the protection of nature and environmental awareness.
Learn More
Is this tour for me?
We rate this tour as a 4 / 5. On this trip, you will be walking 5-6 hours per day. While most of the trail is just hiking, there are several sections that are scrambling, especially if your guide selects the gully route to Mytikas. You should have done similar trips like this before.
Ask a Question
Got any questions regarding the tour? Interested in promotions for groups or want to customize this tour to fit your needs? We are here to help you!
Ask a question