Pedal your way through Germany, Austria, and Italy over 8 magical days
On this epic tour through three countries, you'll ride 380km along a well-maintained path through some of the most iconic Alps scenery you can imagine. Starting in Germany, you'll spend two days exploring here before crossing into Austria for one night. In both these countries, your days will be filled with stunning sites from the green countryside, big cities, small towns, and the foothills of the Alps. After the fourth day, the tour remains in Italy. Ride among the impressive Dolomites and end in Lake Garda, one of Italy's most popular lakes.
While on this journey, you will follow an itinerary provided, but it's self-guided, so you can ride at your own pace and on your own schedule. Accommodation and breakfast are included and planned for you, and the rest of your meals and drinks are up to you. You'll be thankful for this since you'll be spoiled for choice in all three of these countries! For an efficient bike tour of Bavaria, a section of the Alps, and northeastern Italy, the Munich to Lake Garda Bike Tour hits the bullseye.
Highlights of the Munich to Lake Garda Bike Tour
Locate the best German taverns for a taste of traditional Bier.
Bike through the Dolomites, a UNESCO-protected area in the Alps in northern Italy.
Ride along mighty rivers, among green valleys, and amid vivid peaks, pretending you're in a music video for The Sound of Music.
Relax in Lake Garda with surreal views of colourful mountains with a turquoise lake in front.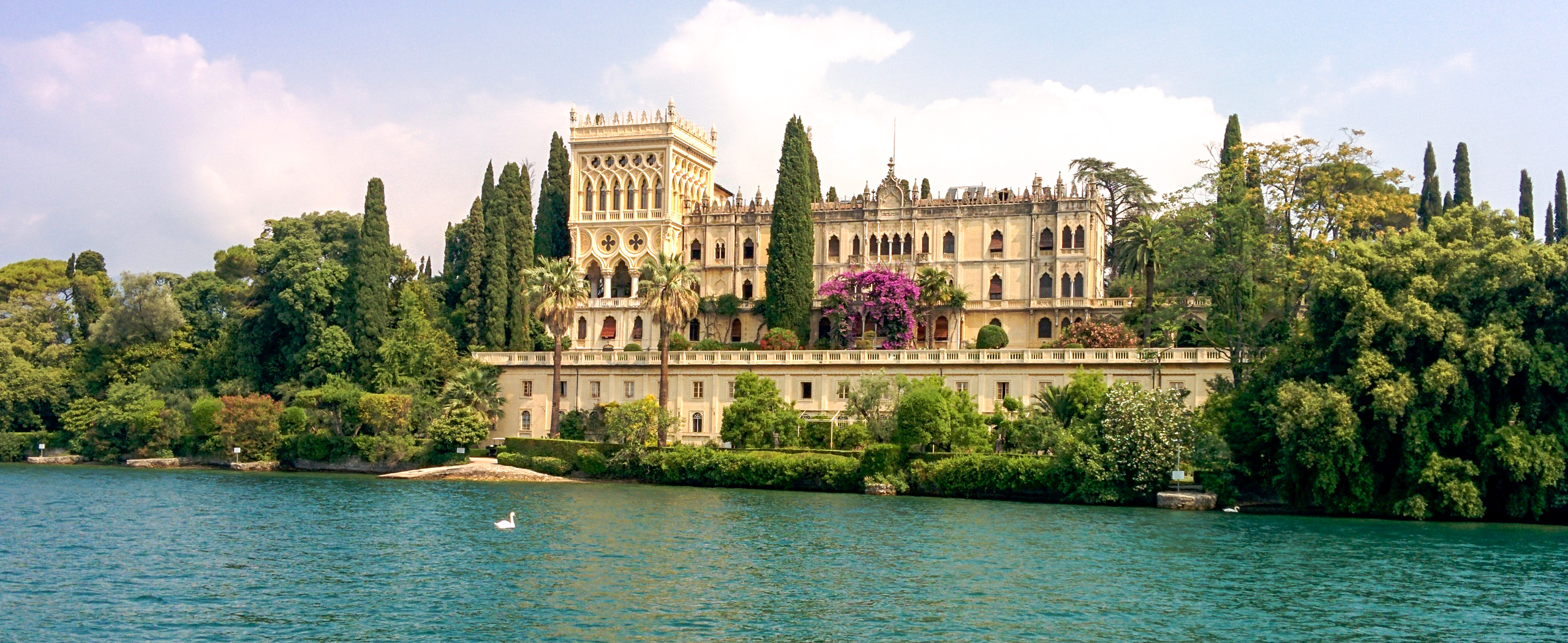 Munich to Lake Garda Bike Tour Itinerary
Day 1

Arrive in Munich

Make your way to Munich, Germany, and find your hotel to settle in. Depending on when you arrive, take some time to explore this wonderful city before getting a good night's sleep.
Overnight Location: Hotel in Munich
Distance: None
Meals: None
Day 2

Ride to Bad Tölz

Enjoy a hearty German breakfast before collecting your bike and heading off on the first ride of the tour. Today's route leads along the Isar River, past monasteries and many traditional Bavarian villages. You'll reach Bad Tölz with plenty of time to locate a tavern and taste some local brew.
Overnight Location: Hotel in Bad Tölz
Distance: 6 hours, 60km
Meals: Breakfast
Day 3

Long Ride to Maurach, Austria

Fill up on breakfast—you have a long day ahead, but it's filled with wonderful sights. Starting along a river, you will come upon Lake Sylvenstein and then continue riding through Karwendel Nature Park. Near here, you cross the border into Austria and pass by Lake Achen, a gorgeous mountain lake.

Arrive in Maurach, a breathtaking town nestled in a basin in the Alps. (Note: depending on availability, you might stay in Jenbach.)
Overnight Location: Hotel in Maurach (or Jenbach)
Distance: 7 hours, 70km
Meals: Breakfast
Day 4

Long Cycle to Bressanone, Italy

Make sure to eat a hearty breakfast because today's ride is a big one! Connect with the cycling path and pedal into Innsbruck, the capital of Tyrol province. You hop on a train or in a bus here, avoiding a cardio challenge climbing to Brennero Pass, which marks the border between Austria and Italy. Get back on your bike at the pass and descend to Bressanone, Italy, the oldest town in South Tyrol.
Overnight Location: Hotel in Bressanone
Distance: 9 hours, 90km + train or bus
Meals: Breakfast
Day 5

Train to Merano and Ride Back to Bolzano

After a good night's sleep, you'll feel ready to ride again, and don't worry—today's ride is much shorter. Continuing through the Eisacktal valley, views of undulating greenery and peaks will flank your trail.

The valley narrows as you near Bolzano, and you'll ride through fragrant orchards before reaching the city. Bolzano boasts several delightful cafes and sites, so take a wander before you head to bed.
Overnight Location: Hotel in Bolzano
Distance: 4 hours, 40km
Meals: Breakfast
Day 6

Long Ride to Trento

Wake up feeling refreshed and eager to hop on the bike. The scenery you'll encounter today is otherworldly, with the Dolomites behind you and many lakes and villages tucked away en route. You have two options to reach your destination: take an old railway track and stop at Lake Kalter and Caldaro village or continue on the wide and paved bike path in the Etsch Valley.

Further south, you'll leave South Tyrol and Trento. Arrive in Trento town in the evening and treat yourself to a glass of locally-made wine.
Overnight Location: Hotel in Trento
Distance: 6.5–7.5 hours, 65–70km
Meals: Breakfast
Day 7

Cycle to Lake Garda

It's your last full day, so get up early and indulge in a big breakfast. Leave for the spectacular Etsch Valley, an iconic vision of the Italian Alps with villages and towns sporadically visible. You'll get a short cardio challenge as you climb San Giovanni Pass, then cruise downhill to Lake Garda. This crown jewel will take your breath away. With the sparkling blue lake at the foreground of the Alps and the town built right on the shore, you'll have no trouble enjoying a night here.

Find a patio and relish in your last night of Italian food, wine, and hospitality.
Overnight Location: Hotel in Lake Garda
Distance: 4.5 hours, 45km
Meals: Breakfast
Day 8

Departure

Enjoy breakfast early, then receive a transfer to Munich if you have a flight booked from there. Otherwise, extend your stay after the tour ends (you can request an extension while booking if you like).
Overnight Location: None
Distance: None
Meals: Breakfast

Book Now
Munich to Lake Garda Bike Tour Price and Dates
This guided tour in Germany, Austria, and Italy is run as a custom tour for your group and the price depends on the number of people in your group.
The best time to travel to Germany, Austria, and Italy for biking is during the spring, summer, and early fall (May-September). Note that from September 16, 2021, to October 4, 2021, no departures from Munich are available, however, you can start in Bad Tölz with a train journey from Munich included in the tour price.
Private Self-Guided Munich to Lake Garda Bike Tour
Have your own private tour with just your group! Prices below are per person.
Important note: the departures for this tour are only available on Saturdays. In some cases, it's available to arrange the departures on different weekdays for groups of 5 and more (please enquire).

Low season (from May 1st to June 18thand from September 13th to October 4th):
Price per person staying in a single room: $1,425 USD per person
Price per person staying in a double room (min 2 travellers): $1,175 USD per person
High season (from June 19thto September 12th):
Price per person staying in a single room: $1,450 USD per person
Price per person staying in a double room (min 2 travellers): $1,175 USD per person
Book Now
Accommodation on the Munich to Lake Garda Bike Tour
This tour is based in 3 and 4-star hotels. Tourist tax, if requested at the hotel, is not included and will have to be paid on the spot. This is normally no more than $25 USD per person.
In some cases, the accommodation listed below may need to be substituted for other comparable accommodations.
Single Rooms and Solo Travellers
Rooms are double occupancy. If you prefer a single room in your group, the required supplements are included in the listed price.
Hotels on Standard Tour
Enjoy a stay in this well-loved German city with classic architecture and the mountains you'll explore in the distance. Taverns, restaurants, and activities abound.
Located in Bavaria, Bad Tölz will keep you entertained during your stay. Many great hikes await, or you can walk the city to browse shops, parks, fountains, and taverns.
Right next to a magical lake among mountains, you'll find Maurach. It's a charming town that becomes a popular ski destination in winter.
This stunning place is the oldest town in Tyrol. Nestled among the Dolomites and near a river confluence, you'll wonder if you stumbled into a postcard.
As the capital of South Tyrol, Bolzano acts as a unique hub of Austrian–Italian culture. Make sure to take a hike above the town for sweeping panoramic views.
Trento is an important cultural centre with several restored monuments, museums, and cathedrals. It's an outdoor recreation hub and chock-full of culture.
You will want to extend your stay as soon as you land in this gem. The town is built right on the lake with peaks imposing on the other side. The views will never disappoint.
What's Included in the Munich to Lake Garda Bike Tour?
Meals
7 breakfasts are included.
Accommodations
Accommodation for 7 nights is included in the tour. Additional nights before or after the tour can be booked as a supplement.
Transportation during the Tour
While you cycle between hotels, transportation for your luggage is included. Transfers mentioned in the itinerary are also included. Arrival transfers are not included, but you will receive a departure transfer from Lake Garda to Munich.
Also Included
Tour information in English
Well-planned routes
Detail route descriptions
Detailed maps
24-hour telephone assistance
Not included
Guide services
Arrival transfers
Lunches, dinners, drinks, or other meals not previously mentioned
Flights and public transportation
Travel insurance and tourism tax
Anything not mentioned as included
Visas if required
Tourist taxes
Optional Extras
Extra nights in any accommodation
Bike rental:

Hybrid bike: $125 USD
E-bike: $225 USD
Frequently Asked Questions about Munich to Lake Garda Bike Tour
FunActive Tours operates adventure tours in the heart of the Italian Dolomites. Thanks to the ideal
location of FunActive headquarters right in the Dolomites and branch offices in Venice Mestre and
Trieste, FunActive Tours can offer excellent walking and cycling tours not only in the mountains, but
also towards Austria, Slovenia, and Istria.
FunActive offers efficient, high-quality service to clients from all over the world, making it one of the
best choices for those seeking an experienced local provider. Attention is given down to the smallest
details, and the tours are designed to suit travellers of many abilities according to how adventurous
they wish to be. FunActive can find you an incredible tour regardless of age, skill level, or time of
year. Come discover Italy and beyond!
Learn More
Is this tour for me?
We rate this tour as a 3/5. You should be physically fit and comfortable cycling 3–9 hours daily. The elevation gain is minimal, but some days are long. You will have comfortable accommodation to recuperate. The bike path is well-maintained and you can rent an e-bike to make the route easier if you'd like.
Ask a Question
Got any questions regarding the tour? Interested in promotions for groups or want to customize this tour to fit your needs? We are here to help you!
Ask a question