Cycle through the ancient marvels of three Balkan countries on this 11-day tour
This 11-day cycling tour covers serious ground as you ride throughout North Macedonia, Greece, and Bulgaria. The Balkan peninsula encompasses a myriad of cultures and customs, and you'll observe three distinct countries on this itinerary—all while on two wheels!
The first portion of the itinerary will be spent exploring the natural beauty and UNESCO sites in North Macedonia. Visits to both Mavrovo and Galichica National Parks lead you on gorgeous cycling paths among vast green landscapes with rocky cliffs rising out of the ground. North Macedonia has several lakes, rivers, and springs that you'll visit along the way—many monasteries hug the hills near these bodies of waters, too.
When the tour brings you to Greece, the itinerary is packed with mythological and historical sites. You'll cycle to Mount Olympus, a bucket-list item for many travellers, as well as the grave of Alexander the Great's father, Philip II of Macedon. Spend three glorious days hugging the Aegean coastline. Stop as you please for delectable seafood snacks from local food stalls, or just cruise along feeling the sun and breeze on your skin.
Head into Bulgaria for the final days of the trip. Here you'll get to do some more technical riding on some steeper climbs and thrilling downhill tracks. Spend your last night in the resort town of Bansko and head to Sofia International Airport for your return flight.
Hit the highlights of the Balkans on two wheels on this tour. Experience North Macedonian hospitality among its stunning nature, indulge in the best Greek food you've ever had and cycle around ancient ruins and gorgeous coastline, and ride some gnarly track in Bulgaria. Cycling around the Balkans in 11 days could be one of the best decisions you've ever made!
Highlights of the North Macedonia, Greece and Bulgaria Cycling Tour
Explore UNESCO World Heritage towns and nature reserves in North Macedonia.
Cycle among the mountains that were home to mythological Greek gods at Mount Olympus, Heraclea, and Edessa in Greece.
Ride some gnarly terrain around Bansko, Bulgaria, with epic views of the Pirin Mountains.
Feel the Aegean Sea breeze as you ride along the Greek coastline, stopping to explore local fishing villages and monasteries.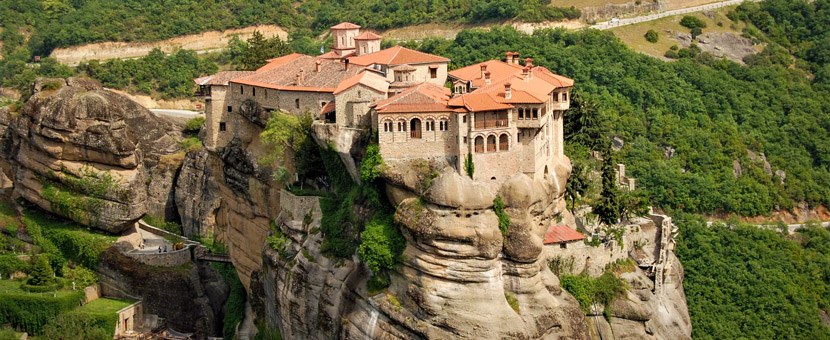 Cycling North Macedonia, Greece, Bulgaria Tour Itinerary
Day 1

Arrival in Skopje and Cycle in Mavrovo National Park

Welcome to North Macedonia! Your guide will meet you then bring you to Mavrovo National Park—your cycling adventure starts right away! Hop on your bike and cycle to St. John the Baptist Monastery, a short climb from the park's entrance. You'll get a quick rest in a transfer to your lunch spot in Debar. After digesting, you're back on your bike to cycle to Ohrid to spend the night. On the way, enjoy stops at different villages, including the "waterfall" village of Vevcani, built close to pristine natural springs.
Overnight Location: Hotel in Ohrid
Distance: 53 km
Meals: Dinner
Day 2

Bike Sightseeing Tour of Ohrid

After breakfast, your guide will take your group on a sightseeing tour of Ohrid by bike. Be prepared for some ascents and descents as this UNESCO-protected town is a bit hilly. While you ride, keep your eyes open for gorgeous views of Lake Ohrid. You'll visit some historical and religiously-significant spots like the fortress, the St. Sofia Church, and St. John Kaneo Church. You have free time in the afternoon to wander Ohrid at your leisure. Stroll along the lakeshore and stop for a nice glass of local wine. Get some rest for a big day ahead!
Overnight Location: Hotel in Ohrid
Distance: Flexible
Meals: Breakfast, Lunch, Dinner
Day 3

Bike Through Galichica National Park

Enjoy a hearty breakfast and fuel up for a big ride today. The first stop on the path is the St. Naum Monastery, an old stone structure with terracotta tiles built on Lake Ohrid's shore. Take a short boat road to get views from the water before hopping back on your bike to climb through Galichica National Park. Once you leave Lake Ohrid behind, you won't be far from the next beautiful body of water ahead: Lake Prespa. Enjoy a downhill descent towards the lake and take a private transfer to Bitola. You'll arrive in time for dinner and a stroll of this cute town before getting some sleep.
Overnight Location: Hotel in Bitola
Distance: 36 km
Meals: Breakfast, Lunch, Dinner
Day 4

Cycle Ancient Ruins in Greece

You'll head to Greece after breakfast today. First, you'll explore the ruins of Heraclea and the archeological site around them. Take a private transfer to Edessa, where you'll admire its famous waterfall and natural beauty. Mount your bikes once more for a relatively flat ride among the Greek countryside with Vergina as the final destination. This town houses the grave of Philip II of Macedon, Alexander the Great's father. Catch up with your crew over a delicious Greek dinner and spend the night in Vergina.
Overnight Location: Hotel in Vergina
Distance: 44 km
Meals: Breakfast, Lunch, Dinner
Day 5

Bike with the Greek Gods

Today is filled with mythological magic: you'll cycle around Mount Olympus, famous in Greek mythology for being home of Zeus and other Greek Gods. As you ascend these giant cliffs and rocks, you'll be rewarded with unparalleled views of the Aegean Sea. Imagine yourself eating with Zeus as you enjoy a picnic on Mount Olympus. Descend to the car and receive a transfer to Thessaloniki in the evening. Enjoy a well-earned dinner and rest in the hotel.
Overnight Location: Hotel in Thessaloniki
Distance: 53 km
Meals: Breakfast, Lunch, Dinner
Day 6

Tour Thessaloniki off the Bike

Your legs will have a rest today as you explore the gulf-side city of Thessaloniki on foot. A local guide will show you around and educate you on the history and nuances of this metropolis. Fun fact: Thessaloniki was the second largest and wealthiest city of the Byzantine Empire. Get your fill of Greek and Roman culture by exploring the museums and wandering the streets in the old centre. Get a good night's sleep, and prepare to be back on your bike tomorrow.
Overnight Location: Hotel in Thessaloniki
Distance: None
Meals: Breakfast, Lunch, Dinner
Day 7

Explore Fishing Towns on Aegean Coast

After breakfast, hop in the transfer to drive along part of the Greek coastline towards the Sithonia region. You'll be happy to get on your bike once you reach the fishing town of Nea Moudania. Cruise along the stunning rocky coastline next to the clear Aegean Sea, feeling the wind in your hair and the sun on your skin. End the cycling route today in Neos Marmaras, where you'll have free time to enjoy the beach or cycle around the peninsula as you please. Your group will stay in a hotel in Neos Marmaras tonight.
Overnight Location: Hotel in Neos Marmaras
Distance: 48 km
Meals: Breakfast, Lunch, Dinner
Day 8

Cycle Tour of Sithonia

Enjoy a hearty breakfast and head out on your bike for a full-day tour of the Sithonia Peninsula, a smaller peninsula jutting off the larger Chalkidiki Peninsula. Today's cycling route is comprised of off-road and some asphalt over hilly and rocky terrain—you'll be awestruck by the views the entire time. There will be plenty of opportunities to pause for beach breaks, and you may even end up finding a secluded cove for just your group! Ride back to Neos Marmaras for dinner and a well-earned rest.
Overnight Location: Hotel in Neos Marmaras
Distance: 36 km
Meals: Breakfast, Lunch, Dinner
Day 9

Cycle the Athos Peninsula

Fill up on breakfast before you head to Ouranopolis to explore the Athos peninsula by bike. This peninsula is religiously fascinating as it's a significant centre for Eastern Orthodox monasticism. The route takes you past several monastery complexes, and your guide can inform you about the area's ancient history—in some cases, women are forbidden to visit. After exploring Athos, you'll have lunch then receive transportation to the Bulgarian border then cycle to Bansko from there. Arrive in the evening to enjoy your first Bulgarian meal and settle into your hotel to rest.
Overnight Location: Hotel in Bansko
Distance: 46 km
Meals: Breakfast, Lunch, Dinner
Day 10

Bike Around Bansko

Wake up in Bulgaria and enjoy a nice breakfast before the day's adventure. Today you will explore the awesome recreation areas around Bansko, a popular ski resort in the winter with excellent hiking and biking opportunities in the summer. Do some technical riding today on some off-road single-tracks and downhill trails. You'll catch superb views of Pirin Mountain as you explore the area. Return for a final dinner with your group and take advantage of the hotel's spa centre and swimming pool for ultimate relaxation on your last night.
Overnight Location: Hotel in Bansko
Distance: 54 km
Meals: Breakfast, Lunch, Dinner
Day 11

Farewell

Sadly, your tour has come to an end. Have a final breakfast with your new friends, then pack up. You'll have transport to Sofia Airport according to your flight schedule.
Overnight Location: None
Distance: None
Meals: Breakfast

Book Now
North Macedonia, Greece and Bulgaria Cycling Tour Price and Dates
This guided tour in North Macedonia, Greece, and Bulgaria is always run as a custom tour for your group only and the price always depends on the number of people in your group.
The best time to travel to North Macedonia, Greece, and Bulgaria for cycling is from mid-April to September.
Private Guided North Macedonia, Greece, and Bulgaria Cycling Tour
Have your own private tour with just your group! Prices below are per person:
Guided Groups of 2-3: $4,325 USD
Guided Groups of 4-5: $2,950 USD
Guided Groups of 6+: $2,425 USD
Book Now
Accommodation on the North Macedonia, Greece and Bulgaria Cycling Tour
The hotels on this trip are 3- and 4-star. Rooms are double occupancy, and single travelers will pay a supplement.
In some cases, the accommodation listed below may need to be substituted for other comparable accommodations.
Single Rooms and Solo Travelers
You can pay a supplement of $350 USD to have a private room in a hotel while traveling with your group. Contact us and we can try and match single travelers up, where possible.
Hotels on Standard Tour
What's included in the North Macedonia, Greece and Bulgaria Cycling Tour?
Meals
All 10 breakfasts, 9 lunches, and 10 dinners are included.
Accommodations
All 10 nights are included in the tour.
Transportation during the Tour
Transport for you and your luggage is included throughout the tour, including the airport transfers. While riding, your luggage will be transported to the accommodations. In case of emergencies or technical difficulties, or if you need a break, an assistance vehicle will be available (but not permanently available to hop in whenever you want).
Also Included
English-speaking guide services
Map of North Macedonia, Ohrid, and Skopje
Not included
Flights
Insurance
All entrance fees at sites (average €2 per site)
Visas and vaccinations
Optional activities
Bike rental
Anything not mentioned as "Included"
Personal expenses
Optional Extras
Extra night in Skopje, North Macedonia
Extra night in Sofia, Bulgaria
Bike rental:

IDEAL Moovic 28" - $25 USD per day
IDEAL Cityrun 28" - $25 USD per day
X-Caliber 9 - Trek Bicycle - $25 USD per day
CUBE Analog black'n green - $25 USD per day
Frequently Asked Questions about North Macedonia, Greece and Bulgaria Cycling Tour
At Experience Balkan, it's all about providing exceptional service. Based in Ohrid, Macedonia, Experience Balkan are committed to providing travel services of the highest quality, and have earned the highest possible licensing as a result.
Experience Balkan was established in 2017 and has since fostered impressive diversity both within their team and in their offerings. They aim to narrow the gap between different people and promote harmony and collectivity through travel.
Experience Balkan offers hiking, trekking, mountain biking, snowshoeing, and ski touring adventures in the Balkan countries. Their greatest joy is providing new experiences to happy clients.
Learn More
Is this tour for me?
We rate this tour as a 3 / 5. You should be comfortable with cycling on moderately difficult terrain up to 60 km daily.
Local Guide
Ask a Question
Got any questions regarding the tour? Interested in promotions for groups or want to customize this tour to fit your needs? We are here to help you!
Ask a question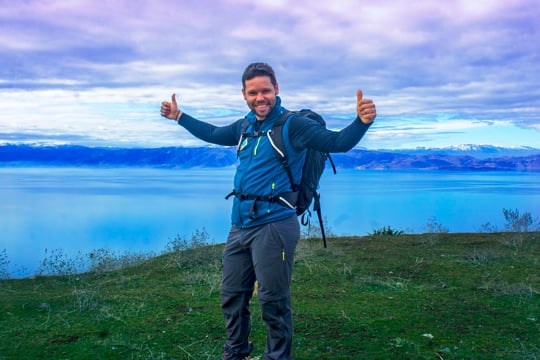 Dimitri
Ohrid, North Macedonia
Dimitri has been a certified mountain guide since 2010. He started out as a cultural and mountain guide and holds several different certifications. Dimitri loves meeting new people and seeing the look on their faces when they reach mountain peaks. Besides mountaineering, Dimitri loves to be on the water and enjoys sailing and paragliding over the local lakes.
Q & A
Q:

What is your #1 travel destination?

A:

I love the Dolomites in the Italian Alps. I really want to return!

Q:

What has been the most challenging adventure you've done?

A:

My most challenging adventure was climbing Cinque Torri (Five Towers) of Punta Fiames. Climbing the Three Peaks of Lavaredo was also extremely difficult. Both of these were in the Dolomites.

Q:

What do your guests like most about the trips you lead?

A:

Because some of our tours are multi-country, a lot of travellers love that they get to visit more than one country in a tour. Also, since Macedonia is a lesser-explored destination, they are surprised by the beautiful places they get to see.