Discover the treasures in Kosovo and North Macedonia on this 9-day hiking tour
If you're looking for a journey on roads less travelled, a hiking tour through Kosovo and North Macedonia will appeal to you. Situated on the Balkan Peninsula, these two young countries are home to several natural wonders, national parks, and reserves. The wild terrain contains excellent hiking trails leading through canyons and mountains that are popular for skiing in the winter.
You'll discover the hiking highlights of the fascinating countries of Kosovo and North Macedonia on this guided tour. Starting in Kosovo, you'll be acquainted with your guide and group in the village of Brod in the southern tip of the country. Over the next few days, your group explores the Zlipotok Mountain Range and Peskovi Peak for some incredible hiking routes and views. Get a taste of history with a visit to a medieval fortress sitting atop the town of Prizren. In each town, you'll have time to explore leisurely and enjoy traditional meals with your group.
The second half of the tour reveals the treasures of North Macedonia. Visit St. Nikola monastery perched at the top of Matka Canyon for gorgeous panoramas of the natural scenery. The panoramas don't stop there—hike among small villages on peaks and canyons for the remaining days. Local guides will lead many of the hikes, giving you plenty of opportunities to engage and learn about the nuanced history of the area. Your heart, mind, and camera will be filled!
This tour is rich in natural beauty and epic panoramic views. It offers a lesson in recent history that has shaped each country's culture, and an opportunity to visit some off-the-beaten-track countries. If the above appeals to you, a 9-day hiking tour in Kosovo and North Macedonia should do the trick!
Highlights of the Kosovo and North Macedonia Hiking Tour
Hike among Matka Canyon and explore one of the deepest underwater caves in Europe.
Get panoramic views of Skopje standing next to the Millennium Cross, one of the world's tallest religious cross structures.
Revel in the unexpected beauty of the natural landscapes that comprise Kosovo and North Macedonia.
Spend your evenings enjoying the balmy climate and Balkan hospitality in well-selected accommodation.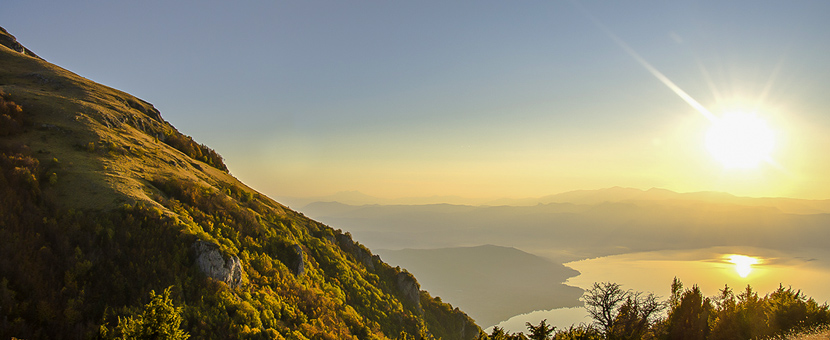 Kosovo and North Macedonia Hiking Tour Itinerary
Day 1

Arrival in Pristina

Welcome to Kosovo! Upon arrival at the Pristina Airport, your guide will meet you and bring you to Brod, a small village in southern Kosovo nestled among the Sharr Mountains. Your guide will prepare you for the week ahead with maps, a SIM card, and an overview of the tour. Depending on when you arrive, explore the narrow streets of Brod while admiring the surrounding mountains. Get some rest for an early start tomorrow.
Overnight Location: Hotel in Brod
Distance: None
Meals: Dinner
Day 2

Hike to Rudoka Peak

After breakfast, you'll receive a transfer to the nearby Arxhena Hotel to begin today's hike. The trail passes by a few water sources and springs and will lead up to a mountain ridge, opening up to panoramic views from Rudoka Peak. The landscape views reveal rocky plateaus and green mountains, with unique Balkan vegetation covering the grounds. It's not a forested area, so no tall trees impede the sights—you'll be able to spot streams and lakes with ease on a clear day. Return to the starting point on the same trail and be transferred to Prizren for the night.
Overnight Location: Hotel in Prizren
Distance: 12 km, 1,400m ascent
Meals: Breakfast, Lunch, Dinner
Day 3

Sightseeing in Prizren

Today, you'll get to know the heritage hotspot of Prizren very well. On a walking tour of the city, you'll visit several sights that take you on a journey through time from the Byzantine Ottoman era until present day Prizren. End the walking tour looking over the city from the viewpoint of the Prizren Fortress. After the cultural lesson in Prizren, you'll be transferred to Prevalla, a small mountain town sitting at 1,800 m / 5,906 ft, for the night to rest and prepare for a big hike tomorrow.
Overnight Location: Hotel in Prevalla
Distance: Flexible
Meals: Breakfast, Lunch, Dinner
Day 4

Hike to Peskovi Peak

Wake up to the crisp mountain air and enjoy breakfast with the group. Today's route leads hikers to the summit of Peskovi Peak at 2,651 m / 8,698 ft. The moderate climb will take roughly 2–3 hours, including breaks. Your local guide will explain the history of the area as you enjoy the mountain's astounding views. On a clear day, you can see the neighbouring North Macedonia where you'll spend the second half of this 9-day tour. Take your time walking around the summit before returning to meet your guide for a transfer to Brezovica.
Overnight Location: Mountain Hut in Brezovica
Distance: 5 hours, 850 m of ascent, 850 m of descent
Meals: Breakfast, Lunch, Dinner
Day 5

Summit Two Peaks in Sharr National Park

Spend the morning relaxing in the resort area of Brezovica, a prime recreating spot year-round with cat-skiing in the winter and hiking in the summer. You'll start the ascent towards Piribeg Peak, which is the fourth highest mountain in Kosovo at 2,524 m / 8,281 ft—the views of the surrounding mountains will take your breath away. Traverse over to Ligeni a Malit, the second peak on today's hike, then hike down to Brezovica for a bite to eat and a short break before being driven across the border into North Macedonia. Settle into your hotel in Skopje, North Macedonia's capital, and get a good night's sleep.
Overnight Location: Hotel in Skopje
Distance: 4-5 hours
Meals: Breakfast, Lunch, Dinner
Day 6

Hike Mount Vodno, Matka Canyon, Vrelo Cave

Get ready for a day of adventure to explore some religiously significant spots and hiking highlights in North Macedonia. After breakfast, receive transportation to the gondola at the base of Mount Vodno. Hike to the summit and admire the iconic Millennium Cross overlooking Skopje. Continue hiking the path towards Matka Canyon, breaking to have a peek at St. Nikola Monastery and incredible canyon views. The day of adventure continues walking down to Matka Lake for lunch, followed by a boat exploration and visit one of the deepest caves in Europe, Vrelo Cave. You'll be driven to Mavrovo for dinner and a well-earned sleep.
Overnight Location: Mountain Hut in Mavrovo
Distance: 4-5 hours
Meals: Breakfast, Lunch, Dinner
Day 7

Explore Mavrovo National Park

After a hearty breakfast in Mavrovo, the group will be driven to the trailhead for Carevec, a peak in Mavrovo National Park, sitting at 1,798 m / 5,899 ft. Hiking along trails and enjoying the scenery will eventually lead you to Galicnik village, a village where the residences are interspersed among the trees, clinging to the mountainside—there's a biblical atmosphere about this place. From the town, hike to the highest point nearby for a stunning view of Radika Canyon, a picturesque gorge of moss-covered cliffs, rivers, and trees. The hike continues through more small villages, and your guide will teach you about how locals use herbs in their traditions. You'll be transferred to the lakeside town of Ohrid for the night.
Overnight Location: Hotel in Ohrid
Distance: 1.5 hours village to village
Meals: Breakfast, Lunch, Dinner
Day 8

Sightseeing in Ohrid and Galichica National Park

Wake up in this stunning lakefront town and take a 2-hour city tour with a local guide. Learn about the rich tapestry of the area culminating from myriad civilizations settling here. Once you've completed the tour and asked your local guide all the questions, get a transfer to Velestovo village in Galichica National Park to start today's journey. Hike towards Elsani village through dry grasslands and Balkan shrubbery, and marvel at sweeping views of Lake Ohrid along the way. Take a quick break in Elsani overlooking the lake, then hop in the car for transfer to Skopje for your last night.
Overnight Location: Hotel in Skopje
Distance: Flexible
Meals: Breakfast, Lunch, Dinner
Day 9

Farewell

Enjoy breakfast with your group and recount your highlights and favourite memories of the last 9 days. Receive an transfer to Skopje Airport when you're packed and ready.
Overnight Location: None
Distance: None
Meals: Breakfast

Book Now
Kosovo and North Macedonia Hiking Tour Price and Dates
This guided tour in Kosovo and North Macedonia is always run as a custom tour for your group only and the price always depends on the number of people in your group.

Prices below are per person sharing a double or a triple room:
Guided Groups of 2-3: $2,650 USD
Guided Groups of 4-5: $1,750 USD
Guided Groups of 6+: $1,450 USD
Book Now
Accommodation on Kosovo and North Macedonia Hiking Tour
The hotels on this trip are 3- and 4-star. You will spend one night of the tour in a mountain hut in a National Park. Rooms are double occupancy, and single travelers will pay a supplement.
In some cases, the accommodation listed below may need to be substituted for other comparable accommodations.
Single Rooms and Solo Travelers
You can pay a supplement of $275 USD to have a private room in a hotel while traveling with your group. Contact us and we can try and match single travelers up, where possible.
Hotels on Standard Tour
What's included in the Kosovo and North Macedonia Hiking Tour?
Meals
All 8 breakfasts, 7 lunches, and 8 dinners are included.
Accommodations
Accommodation for all 8 nights is included in the tour.
Transportation during the Tour
Transport for you and your luggage is included throughout the tour in a private car or minibus (depending on number of travellers), including the airport transfers.
Also Included
English-speaking guide services
Map of North Macedonia, Ohrid, and Skopje
Not included
Flights
Insurance
All entrance fees at sites (average €2 per site)
Visas and vaccinations
Anything not mentioned as "Included"
Personal expenses
Optional Extras
Extra night in Pristina
Extra night in Skopje
Optional activities like cooking class and farm visits
Frequently Asked Questions about Kosovo and North Macedonia Hiking Tour
At Experience Balkan, it's all about providing exceptional service. Based in Ohrid, Macedonia, Experience Balkan are committed to providing travel services of the highest quality, and have earned the highest possible licensing as a result.
Experience Balkan was established in 2017 and has since fostered impressive diversity both within their team and in their offerings. They aim to narrow the gap between different people and promote harmony and collectivity through travel.
Experience Balkan offers hiking, trekking, mountain biking, snowshoeing, and ski touring adventures in the Balkan countries. Their greatest joy is providing new experiences to happy clients.
Learn More
Is this tour for me?
We rate this tour as a 4 / 5. You should be comfortable with hiking up to 5 hours daily with significant ascent and descent. This tour can be customized for those that prefer a less active tour.
Local Guide
Ask a Question
Got any questions regarding the tour? Interested in promotions for groups or want to customize this tour to fit your needs? We are here to help you!
Ask a question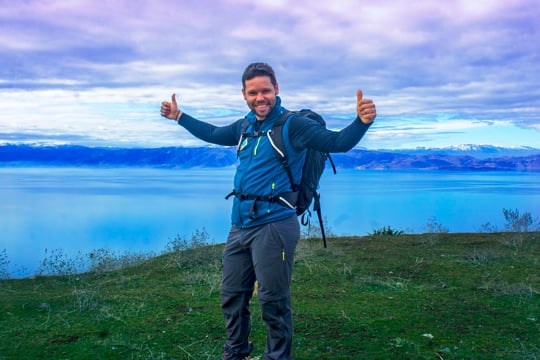 Dimitri
Ohrid, North Macedonia
Dimitri has been a certified mountain guide since 2010. He started out as a cultural and mountain guide and holds several different certifications. Dimitri loves meeting new people and seeing the look on their faces when they reach mountain peaks. Besides mountaineering, Dimitri loves to be on the water and enjoys sailing and paragliding over the local lakes.
Q & A
Q:

What is your #1 travel destination?

A:

I love the Dolomites in the Italian Alps. I really want to return!

Q:

What has been the most challenging adventure you've done?

A:

My most challenging adventure was climbing Cinque Torri (Five Towers) of Punta Fiames. Climbing the Three Peaks of Lavaredo was also extremely difficult. Both of these were in the Dolomites.

Q:

What do your guests like most about the trips you lead?

A:

Because some of our tours are multi-country, a lot of travellers love that they get to visit more than one country in a tour. Also, since Macedonia is a lesser-explored destination, they are surprised by the beautiful places they get to see.