Ride across Cambodia and explore Angkor Wat on this 9-day cycling tour
Picture yourself cycling alongside rice paddies on roads lined with palm trees as you pedal your way from Phnom Penh to Siem Reap, where you encounter the world's largest religious site, the iconic Angkor Wat. This 9-day cycle tour turns this image into reality!
Begin in Phnom Penh and explore the capital's cultural highlights for the first two days of the tour, including a walking tour and a sunset cruise on the Mekong River. On Day 2, you will meet a tour assistant to do a bicycle fitting and provide information to help you find your way to each destination.
Then on Day 3, you're off! During the tour, you will visit some fantastic temples and cultural monuments that uniquely blend French colonial influences with the ancient Khmer regime that once ruled the Kingdom of Cambodia. The mystical atmosphere is palpable in this country, and as you ride each day, you will encounter more evidence that Cambodia is truly a special place.
The last few days of the tour will be reserved for exploring Angkor Wat, an enormous religious site chock-full with temples built in the 12th century during the Khmer regime—one day is certainly not enough! You'll get your fill of Cambodian cuisine on this tour with a special gastronomic tour of Siem Reap on Day 6.
Cambodia's climate can make the rides moderately challenging, but rest assured that you will have comfortable accommodation each night to recuperate.
If you want to cycle across this magnificent Southeast Asian nation at your own pace, check out this self-guided adventure.
Highlights of the Phnom Penh to Angkor Wat Cycling Tour
Spend three days exploring Angkor Wat, the largest religious complex in the world, and discover its hidden temples deep within the Cambodian jungle.
Taste the gastronomic highlights of Khmer cuisine on a food tour around Siem Reap.
Pedal alongside rivers, rice fields, and local villages on dirt roads lined with palm trees, feeling the tropical sun on your skin.
Witness a magical sunset from the corner of Angkor Wat then hop in a tuk to return to your hotel.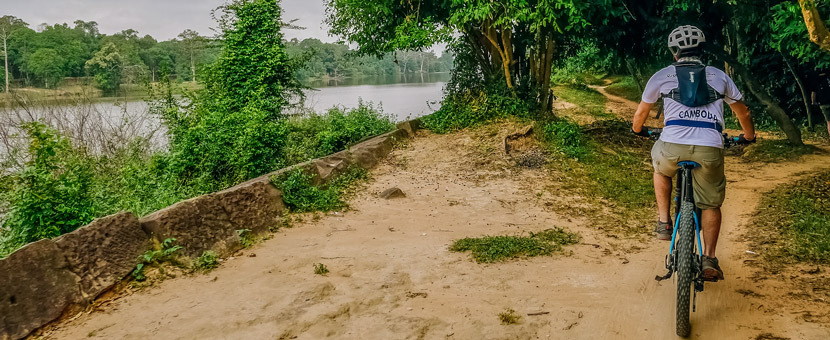 Cycling Phnom Penh to Angkor Wat Tour
Day 1

Arrival in Phnom Penh

Welcome to Cambodia! Your driver will meet you at the airport and accompany you to the hotel in Phnom Penh. Depending on what time you arrive, stroll around the markets and try some Cambodian street food. Get a good night's sleep for your big week of riding ahead.
Overnight Location: Hotel in Phnom Penh
Distance: None
Meals: None
Day 2

City Tour & Sunset Cruise on Mekong River

Get ready for your first full day in Phnom Penh. After breakfast, head out for a city tour, hitting the highlights of Cambodia's capital city. Immerse yourself in the palpable atmosphere that blends French influences with Angkor culture. Visit the National Museum, the Royal Palace, and Phnom Penh Central Market to browse for souvenirs. When you return to the hotel after the tour, a guide will meet you to set you up with your bike and make sure it fits you properly. In the evening, you'll be treated to a cruise down the massive Mekong River. Get a different perspective of the city from the water, pass by the floating villages, and admire sunset's magical colors over the city. Head back to the hotel to get some rest.
Overnight Location: Hotel in Phnom Penh
Distance: None
Meals: Breakfast
Day 3

Cycle Along the Mekong River

Start early, have breakfast, and prepare your bike for an awesome day of riding. First, you'll take a ferry across the Mekong River and start your cycling journey on the east bank. Break up the day with a workshop at a local weaving house to witness the traditional production of krama, Cambodian silk scarves. Continue on your bike alongside the Mekong River, passing through vibrant villages, admiring your surroundings at your own pace. Stop for a picnic lunch, then hop on a second ferry to cross the river again. Once you reach Kampong Cham, it's time to dismount and relax for the night. The cycling adventure is only just beginning!
Overnight Location: Hotel in Kampong Cham
Distance: 4 hours, 57 km, 31 m of ascent, 27 m of descent
Meals: Breakfast, Picnic Lunch
Day 4

Visit Sambor Prei Kuk Archaeological Site

Get an early start because you cover a significant distance today. Your destination will take you back in time as you cycle to Sambor Prei Kuk Archaeological Site, an enormous complex with temples dating back to the 6th century. As you ride along flat, dirt roads, the journey will bring you through local villages, terraced fields, and fruit plantations, all with the tropical climate enveloping you in its heat. Take breaks as you please for refreshments and picture taking. Explore the gigantic area of the archaeological site, then ride to your hotel in Kampong Thom.
Overnight Location: Hotel in Kampong Thom
Distance: 4–6 hours, 60–80 km, 150 of ascent
Meals: Breakfast, Lunch
Day 5

Ride to Beng Mealea Temple

After breakfast, hop on your bike to explore an ancient temple in the Cambodian jungle. Beng Mealea Temple was built by the same person who built Angkor Wat. Spend some time discovering the hidden gems among the forest and imagine what life was like in this area in the 12th century. Continue south from Beng Mealea towards Siem Reap. The rural route winds through villages and plantations as far as the horizon. Enjoy the breeze generated from bicycling down these country roads. Once you reach Siem Reap, a tour assistant will meet you to discuss the details of your Angor Wat excursion. You'll receive helpful documents and materials like maps, a device loaded with cycling trails, and some other general equipment.
Overnight Location: Hotel in Siem Reap
Distance: 4 hours, 65 km, 105 m of ascent, 67 m of descent
Meals: Breakfast, Lunch
Day 6

Explore Angkor Wat & Food Tour

Split up the day between a short self-guided tour of Angkor Wat in the morning and a gastronomic tour in the evening. Using the maps and materials you received yesterday, embark from your hotel to hit the highlights of the massive religious site of Angkor Wat, an iconic temple complex from the 12th century during the Khmer Empire. You will explore the area over two days, so there's no need to rush. Ride along the river to find the south gate and enter into the complex along its walls. Visit several famous monuments, including the Elephant Terrace, the Royal Palace, and the terraced temple of Baphuon. End this morning's tour at the world's largest religious monument, the magnificent Angkor Wat, then ride back to your hotel to freshen up for the evening excursion. Leave your bike behind and walk the route provided to taste the myriad delights of Cambodian cuisine. Stop at local houses, eateries, and market stalls, and finish by the river for a traditional dessert. Return to your hotel with a full heart and full stomach!
Overnight Location: Hotel in Siem Reap
Distance: 2 hours, 27 km, 30 m of ascent, 27 m of descent
Meals: Breakfast, Food during food tour
Day 7

Self-guided Angkor Wat tour

Today you will return to the Angkor Wat complex to explore hidden temples down small roads. Take your time in this mystical area as you ride around, viewing several structures from the 12th and 13th centuries. The ruins blend with jungle here, creating an ambiance of wonder. Move slowly to enjoy your time in this undeniably spiritual place thoroughly. After visiting the temples listed in your guide, ride back towards Siem Reap through the countryside and stop at Srah Srang to view an epic sunset. A tuk will meet you here to bring you to the hotel for the night.
Overnight Location: Hotel in Siem Reap
Distance: 3.5 hours, 38 km, 25 m of ascent, 6 m of descent
Meals: Breakfast
Day 8

Explore West Baray and the Secret Temples on your own

After two days of exploring Angkor Wat, you may wonder what more there is to see. Well, you will find out today! The suggested route will lead you off-road and into the countryside, passing through local villages and rice fields. Ride to West Baray, a humanmade water feature and the largest at Angkor—a picturesque stop, to say the least. Continue on the route mapped out for you to visit a series of smaller, hidden temples, less visited by tourists. Get your camera out for another gorgeous sunset, this time from Prasat Chrung, one of the four tower temples marking the corners of the Angkor Wat complex. Enjoy a tuk ride to return to the hotel.
Overnight Location: Hotel in Siem Reap
Distance: 4 hours, 43 km, 81 m of ascent, 60 m of descent
Meals: Breakfast
Day 9

Farewell

Enjoy your final breakfast in Siem Reap, then pack up and receive transportation to the Siem Reap Airport to check-in for your flight.
Overnight Location: None
Distance: None
Meals: Breakfast

Book Now
Cycling Phnom Penh to Angkor Wat Tour Price and Dates
This tour in Cambodia is always run as a custom tour for your group only and the price always depends on the number of people in your group, the season and whether you are choosing to stay in standard or deluxe hotels.

Please note, that the pries below might increase during the holiday periods, such as Christmas, New Year, Songkran festival (mid-April) and similar.

Prices below are per person sharing a double or a triple room:
From 10th of January to 30th of April (2022):
Guided Groups of 2: $1,395 USD per person
Guided Groups of 3: $1,195 USD per person
Guided Groups of 4: $1,050 USD per person
Guided Groups of 5: $1,095 USD per person
From 1st of May to 30th of September (2022):
Guided Groups of 2: $1,375 USD per person
Guided Groups of 3: $1,150 USD per person
Guided Groups of 4: $1,025 USD per person
Guided Groups of 5: $1,095 USD per person
Book Now
Accommodation on Cycling Phnom Penh to Angkor Wat Tour
Two options are available for this tour: standard and deluxe. The standard tour is based in 3- star hotels with modern amenities that make this trip more comfortable. The deluxe tour is based in 3-, 4-, and 5-star hotels with luxury amenities for superior comfort. Rooms are double occupancy, and single travelers will pay a supplement.
In some cases, the accommodation listed below may need to be substituted for other comparable accommodations.
Single Rooms and Solo Travelers
You can pay a supplement to have a private room in a hotel while traveling with your group. Single supplement price depends on the season and whether you are staying in standard or deluxe hotels. This supplement varies between $240 USD and $426 USD.
Hotels on Standard Tour
Hotels on Deluxe Tour
Sun and Moon Hotel in Phnom Penh
With its chic design, the Sun and Moon Hotel offers modern amenities. Enjoy a drink in one of its many lounge areas, like the rooftop terrace with incredible views.
LBN Asian in Kampong Cham
Enjoy sunrise over the Mekong River from the comfort of your impeccably clean and tastefully decorated room in the LBN Asian.
Sambor Village Hotel in Kampong Thom
Enter the oasis of the Sambor Village Hotel. Have a villa-like experience with airy rooms amid lush garden and a cool pool for a dip on hot days.
Borei Angkor Resort and Spa Hotel in Siem Reap
You will feel like royalty in this hotel. The spacious, luxury rooms open up to a grand courtyard with a huge pool—you may want to stay forever.
What's included in the Cycling Phnom Penh to Angkor Wat Tour?
Meals
8 breakfasts, 3 lunches, and 2 dinners during the food and boat tours are included.
Accommodations
Accommodation for 8 nights is included in the tour.
Transportation during the Tour
Transport for your luggage is included throughout the tour. And support vehicle will be available on cycling days in case of an emergency. You'll also receive a transfer to and from the airports in Phnom Penh and Siem Reap.
Also Included
Bicycle + helmet on days 3–8
Entrance and sightseeing fees
Boat rental for sunset cruise
Local English-speaking guides as mentioned in tour
Assistant in Siem Reap available from 7:00 am to 8:00 pm
Documents and materials for self-guided tour of Angkor Wat
Not included
Meals and drinks not mentioned in itinerary
Flights
Insurance
Visa fees upon arrival in Cambodia
Anything not mentioned as "Included"
Tips and personal expenses
Optional Extras
Extra night in Phnom Penh
Extra night in Siem Reap
Upgrading hotels
Frequently Asked Questions about Phnom Penh to Angkor Wat Cycling Tour
Easia Active is a subsidiary of Easia Travel, a boutique tour operator based in South-East Asia, and dedicated to sharing the best active adventures in Vietnam, Laos, Cambodia, Myanmar and Thailand. Easia Travel was founded in 2000 in Vietnam, with a vision to "Make Asia Easy for You!" by allowing guests to experience the best of Asia. Find great hiking, cycling and other active adventures in SE Asia with Easia Active.
Learn More
Is this tour for me?
We rate this tour as a 3 / 5. You should be comfortable riding a bicycle for up to 6 hours daily. On some days there is an option for a longer bike ride if you'd prefer.
Ask a Question
Got any questions regarding the tour? Interested in promotions for groups or want to customize this tour to fit your needs? We are here to help you!
Ask a question