Trek through the stunning Pindus Mountains in Northern Greece
Trekking the Pindus Mountains Horseshoe trek in Northern Greece will challenge your expectations for this beautiful country. Yes,,it has incredible history, great scenery, friendly locals and delicious food. However, the stunning beaches on this famous Pindus Horseshoe trail are replaced by craggy mountains, mountain breezes and great hiking.
Zagori
This region, known locally as Epirus, boasts some of the most scenic mountains in Greece. The famous Vikos Aoos National Park, known as Zagori, is the ideal location for nature lovers. The Zagori is especially pretty, with many authentic, stone villages and magnificent views of the Pindus Mountains, a hiker's paradise.
Zagori is an area of great natural beauty, with striking geology and two national parks, one including the river Aoos and the Vikos Gorge, the other around Valia Kalda, to the east of the imposing snow-capped Mt Tymfi. The 46 or so villages of Zagori were interconnected by mountain roads and traditional arched stone bridges until modern roads were opened in the 1950s. The stone arched bridges were built by benefactions from expatriate merchants in the 18th century and replaced older wooden bridges.
Astraka
The stunning peaks of Mount Gamila and Astraka offer demanding hiking amongst wildflowers. Gamila and Astraka are only 2 of 8 peaks that make up the massif of Tymfi Mountain, Astrak being the highest at 2,436 m (7,992 ft). Astraka Towers are vertical rock formations resembling a huge wall of rocky towers looming over the Mikro Papigo village.
Vikos Gorge
Vikos Gorge, listed as the deepest gorge in the world, in proportion to its width, by the Guinness Book of Records, renowned for its natural beauty and crystal river pools is an unforgettable experience. Here you'll find walls of up to 1 km in height, amidst a variety of ecosystems.
The gorge begins 600m after Monodendri village and constitutes a true natural monument. Its overall length exceeds 30km. Its depth varies. In Monodendri it reaches 600m and is at its narrowest point and in Vikos village it reaches 1,200m (more than 1,300m in its east part and approximately 1,100m in its west part). In its deeper part the gorge reaches approximately 2,200m width.
Due to its geological isolation and the absence of human presence, Vikos Gorge includes many rare plant and flower species. There have also been recorded more than 110 bird species, 19 serpent and amphibian species, as well as many rare butterfly species.
Throughout the Pindus Mountains Horseshoe trek, expect to enjoy famous Greek hospitality, stunning architecture, engaging history, wonderful food and drink and beautiful views.
Highlights of the Pindus Mountains Horseshoe Trek
Explore the pretty Vikos Aoos National Park
Hike the stunning peaks of Mount Gamila and Astraka
Marvel at Vikos Gorge - the deepest gorge in the world
Stay in authentic, stone villages of Zagori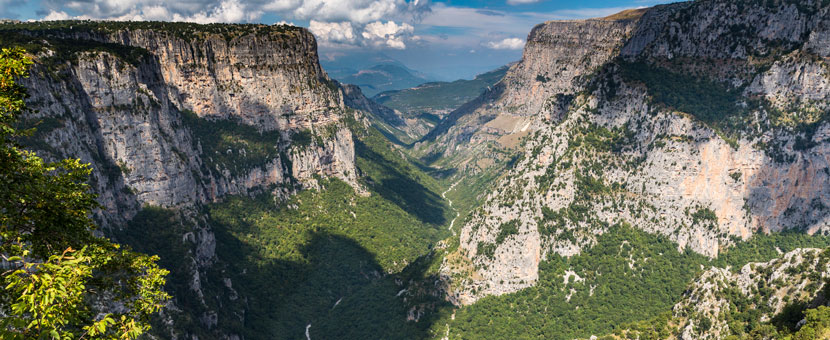 Itinerary of the Pindus Mountains Horseshoe Trek
Day 1

Arrival in Ioannina & travel to Vitsa village

Today you'll be met at the Ioannina airport and transfered to Vitsa, one of the largest villages of central Zagori, on a mountain slope near Vikos Gorge. You will rest in a traditional guesthouse and enjoy exploring the village.
Overnight: Vitsa Village
Distance: None
Meals: Dinner
Day 2

Vista - Koukouli / Kipi - Monodendri

Today involves a wonderful hike taking in villages and a quick look at the stunning Vikos Gorge. You will start by heading downhill from Vitsa on the Vitsa Steps and into the heart of the Vikos Gorge. From here you will cross beautiful arched bridges and start heading uphill towards Koukouli. The village square in Koukouli is a great place for a refreshment!! You will then continue walking towards the village of Kipi, where you will have another break and see more beautiful bridges! From Kipi you will walk through dense forest towards Dilofo, a protected village due to the local architecture. Finally you will continue towards Vitsa and then walk past the village and towards Monodendri, a charming village that retains much of the traditional stone-build architecture.
Overnight: Monodendri
Distance: 6-7 hours of hiking
Meals: Breakfast, Lunch & Dinner
Day 3

Vikos Gorge hike

Today you will get a chance to cross Vikos Gorge, a spectacular site, and the deepest canyon in the world. From Monodendri you will hike downhill, where you will meet the small river that flows through the gorge. Continue hiking next to the stream and walk right into the heart of the National Park. Vikos-Aoos National Park is full of wildlife, and you may spot birds of prey, wild boars and occasionally even bears find refuge in the park! Your walk will end at Vikos village after a short ascent, around 40 minutes.
Overnight: Vikos or Aristi
Distance: 6-7 hours of hiking
Meals: Breakfast, Lunch & Dinner
Day 4

Papingo hike / Astraka

Starting at Vikos Village, the walk today heads towards the charming village of Mikro Papingo. You'll start today's hike by walking down to Voidomatis Springs, which are beautiful, but don't flow as strongly in late summer. After a short rest, you'll continue hiking along the north-west face of the Vikos Gorge in the direction of the Mikro Papingo village. The views get more impressive as you gain elevation. The walk continues through the forest and under the impressive towers of Astraka. Soon, you will reach Mikro Papingo, one of the most beautiful and well-preserved villages in Zagori. Today is a shorter day to give you free time to explore the nearby natural rock pools of Rogovos, near the village of Mikro Papingo.
Overnight: Mikro Papingo
Distance: 4 hours of hiking
Meals: breakfast, lunch, dinner
Day 5

Astraka / Drakolimni

Today you will hike the high plateaus of Mt. Tymfi, reaching an alpine lake at 2,050m. You will start in Mikro Papingo village and walk through beautiful and tranquil alpine scenery towards Astraka's mountain refuge. On the way up, you will pass numerous water springs. After a short stop at the refuge, you will continue another 1 1/2 hours to the "Drakolimni", an alpine lake at 2050m. The scenery is magnificent, with incredible views over Pindus mountain range. You will hike back to the refuge where you will spend the night.
Overnight: Astraka Refuge
Distance: 6 hours of hiking
Meals: Breakfast, Lunch & Dinner
Day 6

Astraka Refuge to Tsepelovo

Today is a big day, as you are crossing the Tymfi mountain range. It is a long but beautiful walk, as you are in the mountains, away from villages all day. Starting from the refuge, hike downhill, reaching the plains below. Under the impressive cliffs of Astraka, continue towards a small water reservoir, known locally as Loutsa Robozi. This reservoir is used by shepherds to water animals during summer months. The walk brings us at the beginning of Megas Lakos, an impressive canyon. Continue on the hike as you cross a water spring, and then back into civilization in Tsepelovo village, a village with a stunning location and views.
Overnight: Tsepelovo village
Distance: 8 hours of hiking
Meals: Breakfast, Lunch & Dinner
Day 7

Tsepelovo to Elati

Today is the last day of walking, and another big day as you walk from Tsepelovo to Kapesovo via the pretty Beloi Viewpoint. You start by walking from Tsepelovo towards Vradeto, the highest village in Zagori. This walk goes on pretty cobblestone paths and has stunning views of the Vikos gorge. You will eventually reach Beloi Viewpoint, a natural balcony overlooking the Vikos Gorge.  You will then walk towards the Vradeto village for a short stop and hike down the impressive Vradeto Steps, an old and historic path which takes you down to Kapesovo village. You will get a transfer from Kapesovo to Elati, where you will spend the night.
Overnight: Elati
Distance: 7 hours of hiking
Meals: Breakfast, Lunch & Dinner
Day 8

Departure

Unfortunately, this wonderful Greek trekking tour of the Pindus Horseshoe finishes today. Enjoy breakfast before saying goodbye. Enjoy a transfer back to the airport, where you can make the journey back to Athens.
Accommodation: None, departure day
Distance: None
Meals: Breakfast

Book Now
Dates and prices of the Pindus Mountains Horseshoe Trek
This tour in Greece is run as a private tour for your group only and can be booked as guided or self-guided. The pricing depends on whether you need a guide or not, and on the size of your group.

Prices below are per person:
Prices of guided Pindus Mountains Horseshoe Trail trek
Guided Groups of 2-3: $1,950 USD per person
Guided Groups of 4-5: $1,325 USD per person
Prices of self-guided Pindus Mountains Horseshoe Trail trek
Self-Guided Groups of 2-3: $1,150 USD per person
Self-Guided Groups of 4+: $950 USD per person
Book Now
Accommodation on the Pindus Mountains Horseshoe Trek
This Greek hiking tour provides accommodation in double rooms on B/B basis in guesthouses (6 nights) and in berth while in a mountain refuge (1 nights). The hotels listed below are subject to availability and may change. For groups with an odd number of guests, you can choose a triple room and receive a discount on the tour price.
Single Rooms and Solo Travelers
You can pay a supplement of $325 USD to have a private room in hotels while traveling with your group. Single travelers can book private tours too, however, the cost is typically 2x the per-person cost for groups of 2-3. Contact us and we can try and match single travelers up, where possible.
Hotels on Standard Tour
En Chora Vezitsa is situated in Vitsa Village and offers 10 spacious rooms with free parking and traditional breakfast prepared with local products included. The hotel's terraces feature beautiful views of Vikos Gorge.
This inn in Monodendri is very popular, with guests noting the traditional breakfast, great location and clean premises. Some rooms come with a balcony and stunning views over the countryside.
Zissis Hotel is located in the picturesque village of Aristi, in the Zagori area of Epirus. It features a stone-paved yard with views of Vikos Aoos National Park and the surrounding mountains.
Overlooking Mount Tymfis and Vikos Gorge, stone-built Dias Guesthouse is located in Mikro Papigo and features rooms with fireplace and free Wi-Fi.
Mountain Refuge, Astraka Refuge
Spend the night on the mountain at the Astraka Refuge, where you'll enjoy a warm meal and share a dormitory-style room.
Located in Tsepelovo Village in the Zagori region, the traditionally built Kadi is made of stone. It offers accommodation with Tymfi Mountain views.
The 4-star Guesthouse Driofillo is centrally situated in Elati. It features romantic rooms with fireplace and satellite LCD TV, and offers traditional regional cuisine. Wi-Fi is free throughout.
What's included in the Pindus Mountains Horseshoe Trek?
Meals
7 breakfasts, 6 lunches, 7 dinners are included.
Accommodations
Accommodations are included for the duration of the tour.
Transportation during the Tour
This tour includes return transfers from airport to hotels as well as all necessary transfers for the hikes.
Also Included
English speaking guide throughout the trip (if booked on a guided tour only)
Hotel taxes and service charges
Transfer from Ioannina to Monodendri and from Tsepelovo to Ioannina
Luggage transfers (both for guided and self-guided mode)
Not included
Domestic and/or international air fare
Medical expenses, travel or emergency evacuation insurance
Gratuities for leader/guide or driver
Alcoholic beverages and meals other than outlined in itinerary
Transfer to and from the airport/port
Other items of a personal nature.
Optional Extras
Prices below are subject to availability and might change depending on the season, currency exchange rate and availability:
Flight from Athens with luggage -

$350 USD

per person
Additional night in Ioannina Town in a 3-star, double room before / after tour -

$125 USD

per room
Frequently Asked Questions about Pindus Mountains Horseshoe Trek
Trekking Hellas Group of Companies was founded in 1986, and is the largest and most distinguished adventure tour operator in Greece. They operate adventure tours all over Greece, and embrace and have implemented socially and environmentally responsible policies for the protection of nature and environmental awareness.
Learn More
Is this tour for me?
We rate this tour as a 3 / 5. There are some longer day hikes on this trekking tour of Pindus Horseshoe. The walking is on a mixture of dirt tracks and well-constructed stone paths. These trips are designed for active people who enjoy active days. Participants should have hiked similar distances in the past.
Ask a Question
Got any questions regarding the tour? Interested in promotions for groups or want to customize this tour to fit your needs? We are here to help you!
Ask a question