Enjoy 6 days based in Lecce exploring Puglia's coastal landscapes
The Italian region of Puglia is yours to discover on this 6-day cycling tour. Forming the heel of Italy's "boot," Puglia lies tucked between the Adriatic and the Ionian Sea in southern Italy and boasts over 800 km of stunning coastline.
With 4-star accommodations in Lecce as your base, you'll set out with an expert guide cycling to the surrounding coastal areas. Discover the cities of Otranto and Gallipoli and the charming small village of Acaya.
Discover the splendour of the historic Baroque city of Lecce, wandering its narrow streets, elegant piazzas, and ornate churches, discovering why it's sometimes called the "Florence of the south." Beyond being a city of historical importance, Lecce is also an agriculture center of the region, producing local olive oil and wine, making it an ideal location to enjoy many a meal on the tour.
Explore the ancient island-like city of Gallipoli, its old town accessible only via an 18th-century bridge. Marvel at a Byzantine fresco contained within a castle in Acaya, learning about this fortified village and its fascinating history. Visit Santa Maria in Cerrate, where you'll be swept back in time by an encounter with a medieval abbey.
Enjoy cycling the roads lined with olive trees, rolling pastures, and crystalline sea as you discover the best of Puglia's coasts by bike.
Highlights of the Puglia Coast Cycling Tour
Discover the southern Salento Peninsula, setting out daily from Lecce to the surrounding coastal paradises.
Cycle to the beautiful coastal towns of Otranto, Gallipoli, and many more along the way.
Enjoy unique culinary experiences, indulging in the street food of Salento and visiting a wine cellar in Nardò.
Visit nature reserves, natural parks, medieval abbeys, and fascinating underground oil mills.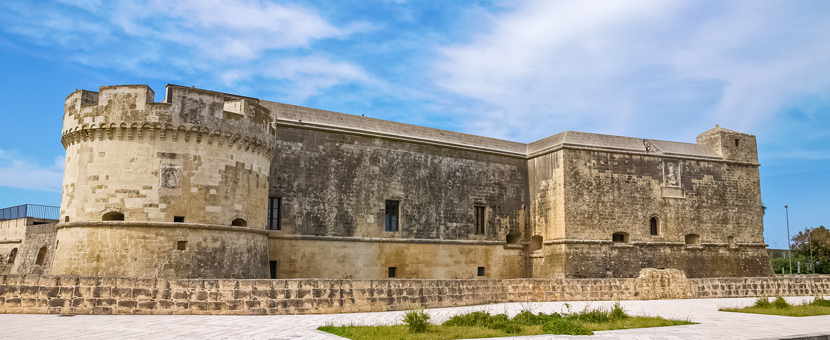 Puglia Coast Cycling Tour Itinerary
Day 1

Arrive

Welcome to the land of sun, sea and wind—Salento! Arriving in Puglia's Baroque capital, Lecce, you'll be greeted by a unique and elegant city that will be your base for the next six days.

This afternoon, you'll meet your local guide and receive your bike. After the bike fitting, enjoy a wonderful dinner accompanied by your guide in beautiful Lecce and prepare to be wowed by the rich flavours of food and drink in Puglia!
Overnight Location: Hotel in Lecce
Distance: None
Meals: Dinner
Day 2

Cycle Gallipoli and the West Coast of Puglia

Your first day of adventure commences with a mesmerizing ride to the ancient city of Gallipoli. Cycling inland, you'll discover the beautiful towns of Copertino and Nardò along the way. A visit to a fine wine cellar and a tasting await you in Nardò.

From Nardò, the route continues towards the Porto Selvaggio Reserve. The reserve will take you along the west coast up to the spectacular city of Gallipoli.

Enjoy a gallery of the Baroque style on full display in the streets of Gallipoli. Whitewashed buildings and painted gold on precious wood are reminiscent of the Rococo style. Explore the myriad of churches and their hidden magnificent interiors.

Discover the underground oil mills here tucked covertly under palaces around the city, and learn about the legendary "green gold" found within them.

A private transfer will take you back to Lecce after you've had your fill of history and art in Gallipoli.
Overnight Location: Hotel in Lecce
Distance: 50 km
Meals: Breakfast, wine tasting
Day 3

Le Cesine Nature Reserve and the Village of Acaya

Departing Lecce this morning, you'll pedal along the "Fondone", a stretch of road leading to Le Cesine nature reserve. Cycle the park's paths, lined with olive trees and towering reeds, until you reach the sea. Stop for a refreshing dip in the pristine waters before returning to the route heading for Acaya.

With less than a thousand inhabitants, the small settlement of Acaya is full of historical and architectural importance. The fortified village (one of the few remaining in Italy) is home to the majestic Castle Acaya, constructed in 1535 and considered a pinnacle of Renaissance-era defensive architecture. The castle houses a Byzantine fresco, still a point of modern study today.

Returning to Lecce by bike, you'll stop off to enjoy some of the delectable street food available in the area. The traditional Rustico Leccese (tomato and mozzarella pastry) comes highly recommended!
Overnight Location: Hotel in Lecce
Distance: 40 km
Meals: Breakfast, local produce tasting
Day 4

Masseria Giammatteo, Santa Maria in Cerrate and Rauccio Natural Park

Following the Via Vecchia Frigole this morning, you'll cycle to your first stop at Lu Furnu in Masseria Giammateo. This robust agricultural center presents an excellent opportunity to indulge the palate with its numerous baked specialties, like the delectable "pittule"!

Back on the bike, you'll continue towards Santa Maria in Cerrate, a medieval abbey and former Byzantine Monastery surrounded by olive groves and sprawling fields.

A scenic stretch of road will then take you inside the Rauccio Natural Park, the same routes once travelled by pilgrims making their way to Otranto and Leuca.

A stop at the sea is a must before returning to Lecce for the evening!
Overnight Location: Hotel in Lecce
Distance: 45 km
Meals: Breakfast, baked goods tasting
Day 5

Cycle Otranto and the East Coast

With your sights set on the beautiful town of Otranto, you'll set out on your final day of cycling in Puglia. Scenic coastal roads will take you through some of the Salento Peninsula highlights, including Roca Vecchia and its cave of poetry, the beaches of San Foca, and the Alimini lakes.

Arriving in Otranto, you'll enjoy a visit to the city's enchanting historic center, taking in the spectacular Norman cathedral.

A final stretch of road will take you towards Blue Lake, where you'll enjoy the view of a mesmerizing emerald pond set against bright red soil.

Enjoy your final dinner on tour tonight and soak up your closing moments in beautiful Lecce.
Overnight Location: Hotel in Lecce
Distance: 55 km
Meals: Breakfast, dinner
Day 6

Depart Lecce

If time permits, enjoy brunch this morning at the historic Bar Alvino before departing.

Check out of your accommodations and head to the airport to depart.
Overnight Location: None
Distance: None
Meals: Breakfast

Book Now
Puglia Coast Cycling Tour Price and Dates
This partially-guided cycling tour of Puglia is always run as a private tour for your group and the price depends on the time of year you visit.

Prices below are per person.

Low Season (January 4th - March 27th and November 1st - December 19th):
Groups of 2-4: $950 USD per person
Groups of 5-12: $795 USD per person
Mid Season (April 6th - June 27th and September 6th - October 31st):
Groups of 2-4: $995 USD per person
Groups of 5-12: $825 USD per person
High Season (March 28th - April 5th, June 28th - September 5th and December 20th - January 6th):
Groups of 2-4: $1,050 USD per person
Groups of 5-12: $875 USD per person
Book Now
Accommodation on the Puglia Coast Cycling Tour
This tour is based in a 4-star B&B in Lecce. The B&B is excellently located, tastefully decorated, and offers modern amenities to make your stay a pleasant one. Enjoy private rooms and an ensuite bathroom during your stay.
Rooms are double occupancy and single travellers will pay a supplement.
In some cases, the accommodation listed below may need to be substituted for other comparable accommodations.
Single Rooms and Solo Travelers
You can pay a supplement of $195 USD - $250 USD (depending on the time of year) to have a private room in a hotel.
Superior Hotels
Palazzo dei Dondoli in Lecce ★★★★
Enjoy this charming historic B&B located in a converted manor house right next to the historic center of Lecce, surrounded by a myriad of shops and restaurants. Enjoy modern amenities and breakfast served daily, as well as private rooms with ensuite bathrooms.
What's Included in the Puglia Coast Cycling Tour?
Meals
5 breakfasts and 2 dinners are included. 3 tastings are included as well: 1 wine tasting, 1 local produce tasting and 1 baking goods tasting.
Accommodations
Accommodations for 5 nights are included.
Transportation during the Tour
Scheduled private transfers on Day 2 and Day 5 are included.
Also Included
Travel App (maps, tracks, route notes)
Welcome briefing and bike fitting
Local English-speaking guide during excursions and included dinners
Phone assistance between 8 am and 9 pm
Wine cellar visit and tasting on Day 2
Masseria visit and tasting on Day 3
Baked goods tasting on Day 4
Not included
Bike Rental
Flights to and from Italy
Airport transfers
Visas if required
Travel insurance
Tourist taxes if applicable
Optional Extras
Activities and excursions unless otherwise mentioned as included
Single room supplements
Solo traveller supplements
Any additional nights before or after the tour
Frequently Asked Questions about Puglia Coast Cycling Tour
Slow Active Tours is a tour operator specializing in "slow pace" outdoor activities, which mainly concern cycling, trekking and snorkeling in beautiful Italy. Based in Puglia, the wonderful heel of Italy, Slow Active Tours was born from a long experience in responsible and sustainable tourism, combined with a love for culture and a strong passion for traditions, history and respect for nature.
Dynamic holidays "at a slow pace", because in this way it is possible to savor every moment of a great journey, full of adventure, hearty breakfasts, moments of peaceful well-being, food and wine tastings, fresh dips in the most beautiful seas of Italy, smiles and chat with the locals.
Each trip includes everything you need to make the experience comfortable and to be free to travel safely.
Learn More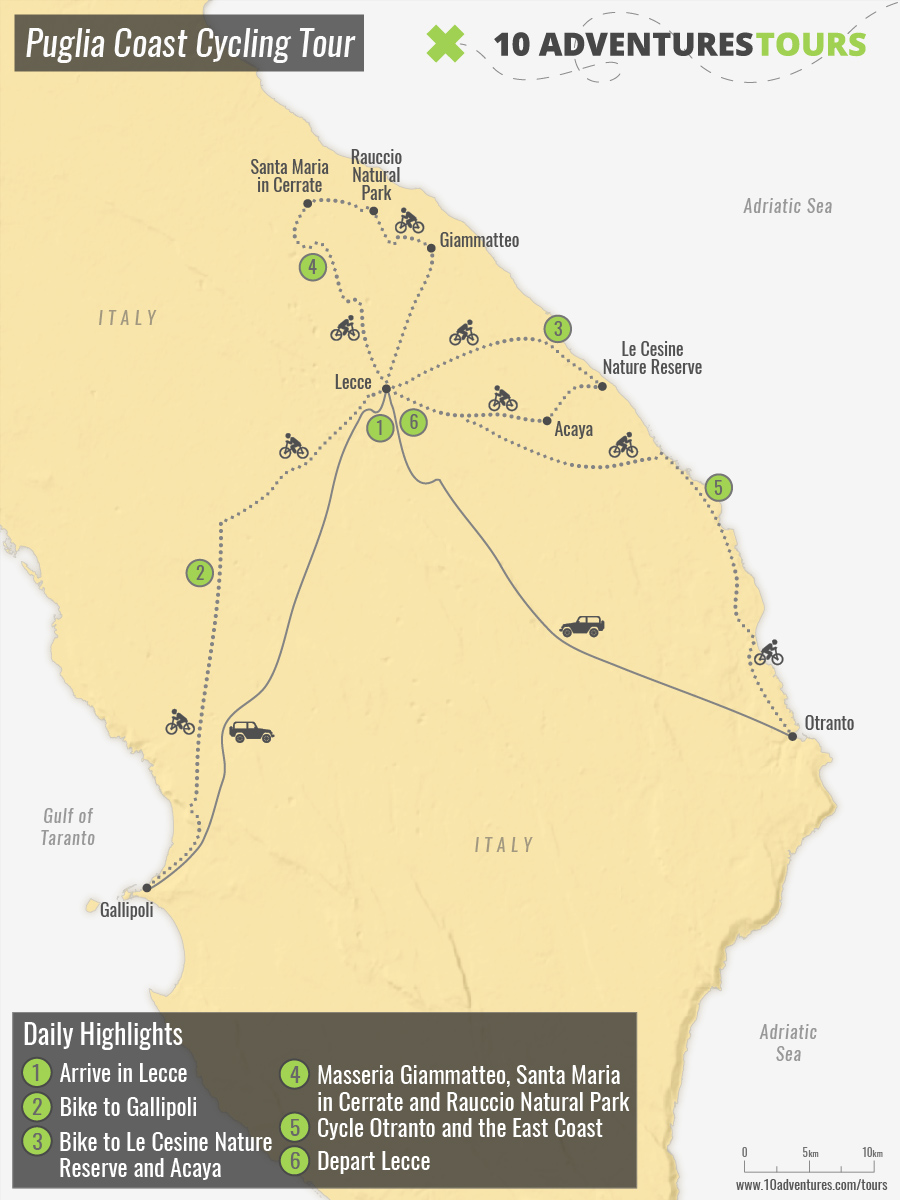 Is this tour for me?
We rate this tour a 3 / 5. The route is based mostly on flat winding roads. Daily covered distances range from 40 km-55 km. You should be comfortable riding a bike and used to cycling these distances. Breaks for rest and refreshments are frequent on the tour.
Ask a Question
Got any questions regarding the tour? Interested in promotions for groups or want to customize this tour to fit your needs? We are here to help you!
Ask a question