Walk from Otranto to Matera on this spectacular 9-day self-guided tour
Experience the natural beauty and flavours of Southern Italy on this 9-day immersive walking tour in the Puglia and Basilicata regions. Experience the rhythms of Italy in style, staying in deluxe 4-star accommodations and enjoying a generous collection of hand-selected authentic activities and excursions.
Exploring the enchanting towns of Italy's heel on foot, you'll experience the beauty of the land and marvel at the hidden details along the way. Setting out from Otranto, the easternmost point in Italy, you'll experience a guided walk throughout the ancient village. Start by visiting the Cathedral of Otranto, revelling in the fascinating combination of history, religion, myth, and legend. Then, making your way through the spectacular towns of Lecce, Ostuni, Montalbano, Locorotondo and Basilicata's Matera, you'll come to know Southern Italy in all of its glory.
Discover the finest cheeses of Puglia on a visit to "the master cheesemaker," learning about artisanal cheese production and, of course, delighting in its collection of masterfully crafted cheese. Get lost in the magical old town of Lecce, marvelling at its churches and historic palaces while taking in the Baroque detail. Unwind after an exciting day on foot with a pampering afternoon of Wine Therapy, enjoying wine-based beauty treatments while sipping on the region's finest wine.
Enjoy Southern Italy at your own pace and experience the magic of the land on this deluxe adventure in Puglia and Basilicata!
Highlights of the Puglia and Matera Deluxe Foodie Walking Tour
Walk from the easternmost point in Italy, Otranto, through Baroque villages, natural parks, and UNESCO World Heritage sites.
Experience a local craft course, wine and specialties tastings, and an authentic cooking class.
Enjoy exceptionally charming accommodations at overnight stays in Lecce, Ostuni, Matera, Locorotondo, and more.
Experience breathtaking scenery as you walk through Matera's Sassi District and the centuries-old olive groves of Ostuni.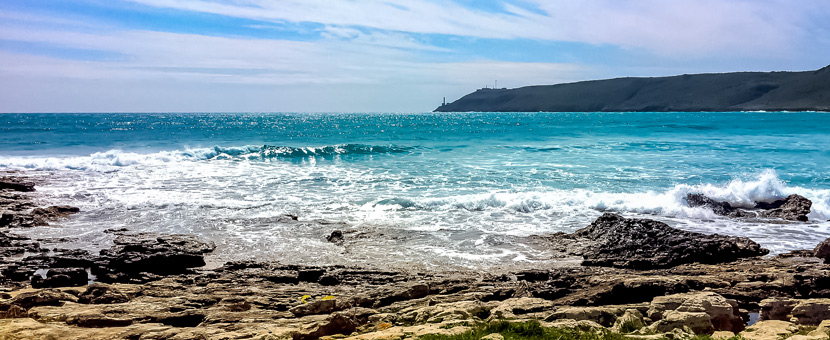 Puglia and Matera Deluxe Foodie Walking Tour Itinerary
Day 1

Arrive in Otranto

Welcome to the beautiful historic village of Otranto!

After settling into your accommodations, you'll be introduced to this charming village on a guided walk through its well-preserved old town. Crossing Porta Alfonsina (gate of the old town), you'll be whisked into the timeless realm of the historic city center, contained by walls and ramparts overlooking the sparkling Adriatic Sea.

Exploring the winding alleys of the town, you'll reach the Cathedral of Otranto, where you'll marvel at one of the largest floor mosaics in all of Italy.

Enjoy your first dinner in Otranto this evening, where you'll become pleasantly acquainted with the rich flavours of Puglia.
Overnight Location: Hotel in Otranto
Distance: None
Meals: Dinner
Day 2

Discover Puglia's Artisanal Cheese and Walk the Coast

This morning, take advantage of your location on the easternmost point of Italy by enjoying a spectacular sunrise over the crystalline waters of the Adriatic Sea before breakfast.

Your first stop today is a guided walk and tasting with "The Master Cheese Maker." Here, you'll learn about the stages of artisanal cheese production and enjoy the fruits of their labour with a sumptuous tasting of local cheeses.

With a satisfied palate, you'll continue walking on the coast, South of Otranto, still accompanied by your local guide. Admire the spectacular coast, and its bays masterfully etched into the cliffs as you walk among pristine beaches, historical landmarks and the Bay of Orte before returning to Otranto.
Overnight Location: Hotel in Otranto
Distance: 14 km
Meals: Breakfast, cheese tasting
Day 3

Botanical Gardens and Papier-Mâché Workshop in Lecce

This morning upon setting out from Otranto, you'll commence your first day of self-guided walking as you make your way through the Idro Valley to Le Constantine Foundation in the territory of Uggiano La Chiesa. An oasis awaits you, full of olive tree groves and Mediterranean scrub.
A visit to the Cutura Botanical Garden is next, where you'll admire its 11 spectacular gardens boasting thousands of succulents and tropical plants as well as diverse wildlife.
Continuing the trail, you'll reach Lecce, where you'll meet a local guide to accompany you on your exploration of this Baroque town. Admire the intricate details of its ornate churches and ancient palaces, learning about the rich history of this town from your local expert guide.
You'll have the opportunity to draw on the rich influence of Lecce's Baroque architecture before enjoying a papier-mâché workshop where you'll follow in the steps of the historic artisans of Lecce, recreating some of its landmarks.
Overnight Location: Hotel in Lecce
Distance: 13 km
Meals: Breakfast
Day 4

Walk Among the Millenary Olive Trees of Ostuni

Departing Lecce, you'll walk to the beautiful hilltop town of Ostuni. Here you'll be greeted by the sprawling plain of centuries-old olive trees and welcomed onto the Masseria Brancati, an organic farm practicing sustainable agriculture.

A walk among ancient olive trees would not be complete without a tasting of the superb olive oil produced here.

From the Masseria, you'll walk along the uphill paths to the "White City" of Ostuni. Enjoy a delectable lunch at one of the restaurants in Ostuni's old town and enjoy an afternoon perusing its beautiful streets and alleys while taking in spectacular views of the Sea.
Overnight Location: Hotel in Ostuni
Distance: 6 km
Meals: Breakfast, olive oil tasting
Day 5

Walk the Natural Park Dune Costiere and Unwind with Wine Therapy

This morning your route will take you to the Natural Park Dune Costiere. Along the way, you'll visit the rocky shrine of San Biagio (the patron saint of Ostuni), from where you'll find spectacular views of the plain of olive trees that stretch to the sea.

Up next, a tasting of local products in a charming Masseria awaits you before one final stretch to another Masseria where you'll experience a tranquil afternoon of Wine Therapy. This includes wine-based beauty treatments to rejuvenate and detoxify the mind and body.

Tonight, you'll stay in the beautiful town of Montalbano.
Overnight Location: Hotel in Montalbano
Distance: 14 km
Meals: Breakfast, wine tasting
Day 6

Explore the Itria Valley and Cook in Locorotondo

This morning after breakfast a transfer will take you to Cisternino. A walking tour of Puglia would be incomplete without experiencing the beauty of the Itria Valley.

Walking from Cisternino to Locorotondo, you'll follow the traces of the ancient Apulian Aqueduct, constructed over the course of thirty years beginning in 1906.

Reaching Locorotondo, you'll embark on an authentic culinary experience, cooking and then enjoying a traditional Puglian meal. Buon appetito!
Overnight Location: Hotel in Locorotondo
Distance: 15 km
Meals: Breakfast, cooking class and dinner
Day 7

Walk Martina Franca and Trullo Experience in Alberobello

Walking from Martina Franca, you'll make your way towards the land of the Trulli, Alberobello. Rows of one-of-a-kind drystone huts with conical roofs line the charming streets of Alberobello, and they are yours to discover.

Designated as a UNESCO site since 1996, Alberobello is a place of architectural wonder and historical importance in Puglia. Enjoy a traditional aperitif inside one of the trulli shops before returning to Locortondo by private transfer.
Overnight Location: Hotel in Locorotondo
Distance: 18 km
Meals: Breakfast, aperitivo
Day 8

Walk in the Park of Rock Churches of Matera

Today's path takes you through the Natural Park Chiese Rupestri (Rock Churches) of Matera. Beginning your walk near the valley of the Gravina Stream, you'll arrive at the confluence with the Jesce River, which divides the Murgia Timone from the Murgecchia. Explore the fascinating churches and caves that are carved into the rock as you make your way to the world-famous Sassi District of Matera.

Crossing the suspension bridge that connects Murgia to the city, you'll reach the ancient village of Sassi. Home to frescoes and mystical cave churches, this district earns that title of one of Europe's most unique landscapes. The caves date back to the Paleolithic period and were once home to local peasants and artisans.

Enjoy an evening in one of the oldest cities in the world, Matera, where the first human settlements in Italy were. Stroll its alleys, immersing yourself in the unparalleled cultural heritage of the old town before dining at one of its many restaurants.
Overnight Location: Hotel in Matera
Distance: 8 km
Meals: Breakfast
Day 9

Depart

Before departing, if time permits, enjoy some additional time exploring beautiful Matera.
A transfer will then take you to the airport to depart as you say addio to the land you've come to love!
Overnight Location: None
Distance: None
Meals: Breakfast

Book Now
Puglia and Matera Deluxe Foodie Walking Tour Price and Dates
This self-guided walking tour is always run as a private tour for your group and the price depends on the time of year you visit.

Prices below are per person.

Low Season (January 5th - March 26th and October 26th - December 16th):
Groups of 2+: $2,175 USD per person
Mid Season (April 6th - June 24th and August 31st - October 25th):
Groups of 2+: $2,425 USD per person
High Season (March 27th - April 5th, June 25th - July 25th and December 17th - January 4th):
Groups of 2+: $2,575 USD per person
Book Now
Accommodation on the Puglia and Matera Deluxe Foodie Walking Tour
This tour is based in 4-star hotels and B&Bs. Accommodations are excellently located, offering modern amenities with pleasant rooms and ensuite bathrooms.
Rooms are double occupancy and single travellers will pay a supplement.
In some cases, the accommodation listed below may need to be substituted for other, comparable accommodations.
Single Rooms and Solo Travelers
You can pay a supplement of $450 USD to have a private room in a hotel.
Superior hotels
What's Included in the Puglia and Matera Deluxe Foodie Walking Tour?
Meals
8 breakfasts and 2 dinners are included. Few various tastings are included as well: cheese tasting, olive oil tasting, wine tasting and therapy and cooking class.
Accommodations
Accommodations for 8 nights are included.
Transportation during the Tour
Transfers to and from the airport are included on this tour (choice of Bari Airport or Brindisi Airport). Scheduled private transfers mentioned in the itinerary are included on this tour. Luggage transportation from accommodations to accommodations is included on this tour.
Also Included
Travel app (maps, tracks, route notes)
Welcome briefing with dinner on Day 1
Excursions and attractions:

Guided walking excursion on Day 2
Dairy visit and local cheese tasting on Day 2
Tasting and papier-mâché workshop on Day 3
Olive oil tasting and guided visit on Day 4
Local products tasting on Day 5
Cooking class with dinner on Day 7
Apperitivos in a trullo on Day 7

Hotel tourist taxes
Phone assistance from 8 am to 9 pm daily
Not included
Flights to and from Italy
Visas if required
Travel insurance
Any meals and drinks not listed in the itinerary
Optional Extras
Activities and excursions unless otherwise mentioned as included
Single room supplements
Solo traveller supplements
Any additional nights before or after the tour
Frequently Asked Questions about Puglia and Matera Deluxe Foodie Walking Tour
Slow Active Tours is a tour operator specializing in "slow pace" outdoor activities, which mainly concern cycling, trekking and snorkeling in beautiful Italy. Based in Puglia, the wonderful heel of Italy, Slow Active Tours was born from a long experience in responsible and sustainable tourism, combined with a love for culture and a strong passion for traditions, history and respect for nature.
Dynamic holidays "at a slow pace", because in this way it is possible to savor every moment of a great journey, full of adventure, hearty breakfasts, moments of peaceful well-being, food and wine tastings, fresh dips in the most beautiful seas of Italy, smiles and chat with the locals.
Each trip includes everything you need to make the experience comfortable and to be free to travel safely.
Learn More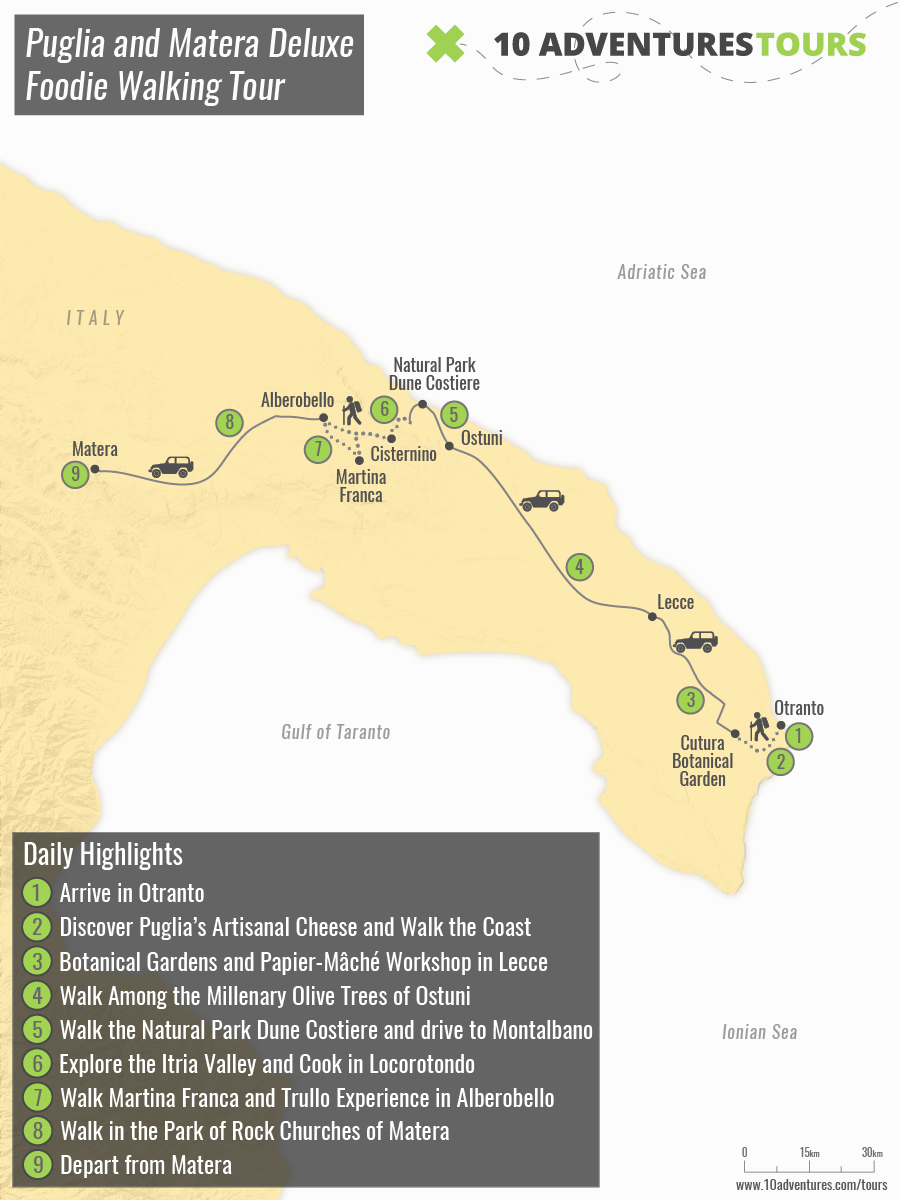 Is this tour for me?
We rate this tour as a 2 / 5. There is a fair amount of walking involved in the tour, but most of it is not particularly strenuous. Daily distances range from 6 km to 18 km and the paths are mostly flat with low traffic.
Ask a Question
Got any questions regarding the tour? Interested in promotions for groups or want to customize this tour to fit your needs? We are here to help you!
Ask a question