Highlights Of The Cycling In The Rhodope Mountains Tour
Experience the highlights of Bulgaria's Rhodope mountain region by bike
Cycle between the large and spectacular lakes of the Rhodope reservoir system.
Visit and stay in quaint, historic villages for an authentic experience of Bulgarian life and culture.
Ride your bike through the tunnel-like Buynovo canyon and the steep, dramatic Trigrad gorge.
Explore the mysterious and legendary Devil's Throat cave and Yagodina cave.
A bike tour in Bulgaria? Oh Yes! The Rhodope mountain region in the Bulgarian countryside is the perfect place for those looking for tranquil but active getaway. The Cycling Tour in the Rhodope Mountains lets you explore this magical region by road bike.
From rugged mountains featuring dramatic gorges and caves to green, forested valleys, the changing landscape of this region will leave you enthralled. The enchanting lakes of the reservoir system will leave you feeling as peaceful as the glistening waters. In addition to fantastic nature, the endearing culture and fascinating history of the Rhodopes will make this adventure tour in Bulgaria live on in your memory for years to come.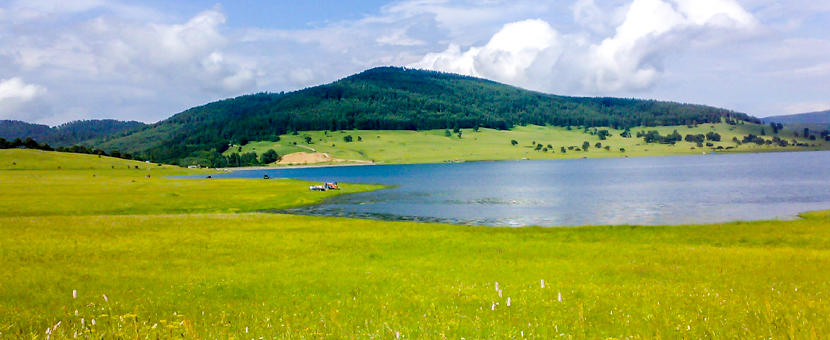 Cycling Tour in The Rhodope Mountains Itinerary
Day 1

Transfer to Velingrad

Welcome to Bulgaria! Arrive at the Sofia Airport where your guide will meet you. Travel deep into the Rhodope mountains to Velingrad, a lovely town known as the spa capital of the Balkans. Check into your hotel where you'll receive a short tour briefing before enjoying dinner and a comfortable night.
Overnight Location: Hotel St George, Velingrad
Distance: N/A
Meals: Dinner
Day 2

Bike to Batak

Your first cycling day will be an easy route to help you warm up and adjust to your surroundings. Ride through the western Rhodope mountains surrounded by old pine forests until you reach one of Bulgaria's largest dams which forms the Batak reservoir. This vast, beautiful lake is surrounded by rugged peaks and vibrant green ridges. Stop here to enjoy a picnic lunch in this scenic location. Then hop back on your bike to cycle around the coastline to the nearby town of Batak. This historic town is a symbol of the historic struggle for Bulgarian freedom from the Ottoman empire. Eat dinner and spend the night in this lovely town in a family-owned hotel.
Overnight Location: Hotel Herbar, Batak
Distance: 28 km
Meals: Breakfast, Picnic Lunch, Dinner
Day 3

Ride to Beglika Lake

Today's scenic ride begins from your Batak hotel after breakfast. From forests of centuries-old pines and beeches to broad meadows to sparkling mountain lakes, your route today leads you through some of the most beautiful landscapes of the Rhodope mountain region. Stop for a picnic lunch along the way. You'll come to Beglika Lake (1,550 m / 5,085 ft) during the afternoon with time to enjoy the area. This lake is part of the extensive reservoir system in this area, and is widely considered to be the most impressive and picturesque. You'll be served a traditional dinner here and spend the night in a forest cottage that's typically used by local hunters.
Overnight Location: The Hunters House near Beglika Lake (1,550 m / 5,085 ft)
Distance: 28 km
Meals: Breakfast, Picnic Lunch, Dinner
Day 4

Cycle to Dospat Lake, Dospat, and Borino

Your route today is longer but rewards you with incredible scenery at every turn. You'll continue to explore the great Rhodope reservoir system, including a visit to Dospat Lake. Dospat Lake is the largest of the lakes in the system and the views are absolutely breathtaking. Head to the town of Dospat, not far from the lake shore, to eat lunch at a local restaurant (not included). Dospat is home to the Pomatsi, a unique community of Bulgarians who converted to Islam during the time of Ottoman rule. After lunch, continue cycling through a lovely valley to the central Rhodope village of Borino. Check in to your hotel in Borino for dinner and a good night's rest.
Overnight Location: Hotel Daisy, Borino
Distance: 42 km
Meals: Breakfast, Lunch, Dinner
Day 5

Bike through Buynovo Canyon and Trigrad Gorge to Trigra

The landscape around you changes today as you explore a breathtaking series of gorges and canyons. Start the day with a downhill ride through the rocky valley to reach the opening of the Buynovo canyon. Ride through this canyon that is just 15 m wide and 8 km long. The road feels as though it is being squeezed between the vertical rocks on each side, which meet above you and block the sky. After riding through what feels like a tunnel, you'll reach the popular Yagodina Cave. Stop here for a picnic lunch and to visit the cave. After lunch, continue riding to reach the impressive and famous Trigrad gorge. Here you can also visit the incredible cave known as the Devil's Throat, a mysterious and dramatic cave that has given rise to a number of myths and legends. Spend the night in a hotel in the local Trigrad village.
Overnight Location: Hotel Arkan Han in Trigrad
Distance: 32 km
Meals: Breakfast, Picnic Lunch, Dinner
Day 6

Cycle along the Vacha River from Trigrad to Devin

Today's downhill ride is the easiest day of the tour. As you leave Trigrad, follow the Vacha River through the forest, passing through a series of fascinating villages that are seemingly untouched by the passing of time. Stop along the way for a picnic lunch, then continue cycling past a striking landmark rock formation known as the Elephant. End the day with dinner and a hotel stay in the town of Devin.
Overnight Location: Hotel Persenk in Devin
Distance: 27 km
Meals: Breakfast, Picnic Lunch, Dinner
Day 7

Ride past Batashki Snejnik Peak to Batak

Begin the day with an uphill climb to reach the higher areas of the mountains. Once you have gained elevation, the road levels somewhat to wind among the Rhodope mountain ridges, eventually reaching an altitude of 1,700 m (5,577 ft). Pause for a picnic lunch, then continue riding to pass Batashki Snejnik (2,082 m / 6,831 ft), one of the tallest peaks in the massif. Descend into a village to end your tour and leave your bike. Return to the historic town of Batak and the familiar hotel you stayed in previously to celebrate the end of your tour with a traditional dinner.
Overnight Location: Hotel Herbar in Batak
Distance: 41 km
Meals: Breakfast, Picnic Lunch, Dinner
Day 8

Transfer to Sofia, Sofia City Tour, Departure

After breakfast, transfer to the capital city of Sofia for a short tour of the city before returning to the Sofia Airport for your departure.
Overnight Location: None
Distance: None
Meals: Breakfast
Cycling Tour in the Rhodope Mountains Prices and Dates
Pricing for this guided cycling tour to Rhodope Mountains in Bulgaria depends on the size of your group.
The best time to travel to Rhodope Mountains for this cycling tour is from 15th of June to 10th of October.
Private Guided Cycling Tour in the Rhodope Mountains
Have your own private tour with just your group! Prices below are per person:
Guided Groups of 2-3: €1,150 EUR per person
Guided Groups of 4-5: €715 EUR per person
Guided Groups of 6+: €575 EUR per person
Book Now
Accommodation on the Cycling Tour in the Rhodope Mountains
This tour is based in Hotels except for one night in forest cottage. The hotels on this tour are mainly family-run and you will be accommodated in double room, unless you will choose to pay a supplement and have a single room.
In some cases, accommodation listed below may need to be substituted for other, comparable accommodations.
Single Rooms and Solo Travelers
You can pay a supplement of €85 EUR to have a private room in a hotel. Contact us and we can try and match single travelers up, where possible.
Hotel St George in Velingrad
This lovely family-run small hotel in Velingrad is a great balance of good amenities, convenience and coziness.
This stylish hotel in Batak has everything you might need for a relaxing night: comfortable rooms, good amenities and beautiful views!
The Hunters House near Beglika Lake
Surround yourself with beautiful forests near the Beglika Lake.
This convenient family-run hotel has everything you need to make your stay in Borino great – from restaurant to wi-fi and more!
Stay in family-run hotel and surround yourself with authentic décor, beautiful fireplace and lovely views of the surrounding mountains.
Immerse in the relaxing atmosphere in this stylish and beautiful spa, located in Devin, a small spa town in Bulgarian mountains.
This stylish hotel in Batak has everything you might need for a relaxing night: comfortable rooms, good amenities and beautiful views!
What's included in the Cycling Tour in the Rhodope Mountains?
Meals
7 breakfasts, 6 lunches, 7 dinners are included.
Accommodations
Accommodations for 7 nights along the tour. Accommodations before and after the tour in Sofia are not included.
Transportation during the Tour
Transportation for you, your luggage and your bike during the tour is included. Airport transfers to and from the Sofia airport are also included.
Also Included
English-speaking licensed cycling guide during the tour
Bike Rental
Biking equipment
Vehicle support (except first half of day 7)
Not included
Flights to and from Sofia
Beverages during dinners
Tickets to museums and historical monuments
Tips and personal expenses
Travel insurance
Breakfast on day 1, lunch on day 1
Anything not stated in inclusions
Optional Extras
Additional night in Sofia before or after the tour
Frequently Asked Questions about Cycling Tour in the Rhodope Mountains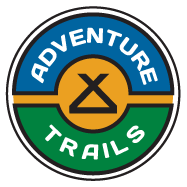 Adventure Trails is a local Bulgarian tour company dedicated to sharing the best of Bulgaria's outdoors and culture. Bringing together professional guides and incredible routes, they love sharing what makes Bulgaria such an incredible place to visit.
Is this tour for me?
We rate this tour as a 3 / 5. You will need to bike for up to 42 km per day without rest days. You should have some prior cycling experience and have completed similar distances without difficulty.
Get In Touch
SALE! Well, not yet.
Let me know when this trip goes on sale.
Notify me