Enjoy the thrill of this 4-day fully supported bike tour on Alberta's Icefields Parkway
The road bike ride from Jasper to Banff is one of the world's best bike rides. Joining this fully-supported tour means you don't have to drag a heavy, pannier-filled bike along this trip. Instead, you have a support van full of great snacks, clean clothes and spare parts in case you have a mechanical breakdown.
This is an experience to last a lifetime, and biking along the Icefields Parkway is perhaps the best way to explore this incredibly wild part of the world. Beginning in Jasper, you will cycle through valleys, past mountains, beside lakes, and view stunning waterfalls. Along the way, the support van and driver will show you special overlooks, viewpoints and other highlights along this incredible ride. You'll also have great snacks and meals, with regular stops where you can recover some strength and eagerly share the excitement of the beautiful country you have just ridden through.
While each day is spectacular, the ride to Lake Louise on Day 3 is especially rewarding, and typically the group takes an evening trip to Moraine Lake and Lake Louise for spectacular views as the sunsets. It really doesn't get any better. Except it does, the last day ride into Banff has stupendous views along Vermillion Lakes, and is a triumphant end to an epic adventure. If you are in reasonable fitness and like riding a bike, you can probably do this trip!
Highlights of the Road Bike Jasper to Banff
Cycle the Icefields Parkway, one of the most scenic roadways in the world, as it passes through two of Canada's most famed National Parks: Jasper and Banff.
Experience the world class mountains towns of Banff and Jasper, and all the beauty that surrounds them
Spot wildlife along the bike route. Depending on the time of year, you may see elk, bighorn sheep, and bears among other types of wildlife
Ride through Bow Pass - a challenging ride but with one of the most scenic rewards; a stunning view of Peyto Lake far below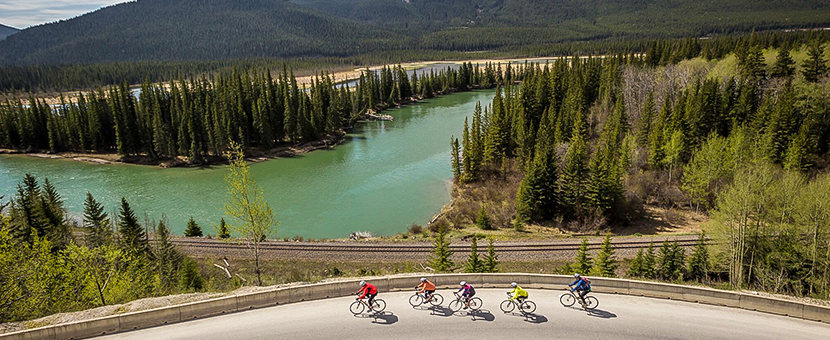 Road Bike Jasper to Banff Itinerary
Day 1

Transfer to Jasper from Edmonton/Jasper to Sunwapta Falls

If you are flying in for this great trip, arrive the night before. Early the next day you will be picked up at your Edmonton Airport hotel for your transfer to Jasper, Alberta. Other guests will meet in Jasper. Once in Jasper you will start with a route briefing and safety reminder, then you will ride out along the Icefields Parkway from Jasper to Sunwapta Falls. You will get a rest and time to view Athabasca Falls, a spectacular and popular attraction. The day ends with a 3-course meal at Sunwapta Falls Hotel.
Overnight: Sunwapta Falls
Distance: 56km
Meals: Dinner
Day 2

Sunwapta Falls to Saskatchewan River Crossing

Today is the longest day on the bike, as you will cycle nearly 100 Km. Fortunately your day starts with a big breakfast at Sunwapta Falls Hotel. From there you will cycle past Tangle Falls and stop for lunch beneath Columbia Icefields before heading through Sunwapta Pass and the Weeping Wall. After a few more rolling hills you will be enjoying a cold drink and another great meal under Mt Wilson at the Crossing Resort.
Overnight: The Crossing Resort
Distance: 98km
Meals: Breakfast, Lunch, Dinner
Day 3

Bow Pass to Lake Louise

Today is a spectacular bike ride, so eat a hearty breakfast and start early. The day begins with a climb but soon levels out with sweeping views of mountains, glacial lakes, and wildlife. Before lunch you will conquer the final challenge of the trip - Bow Pass, which gives way to unparalleled views of Peyto Lake and the valley you just rode through. After a well-deserved lunch at the stunning Bow Lake, you will roll your way down to Lake Louise and the lovely Mountaineer Lodge. If time allows, the group will make a trip up to Moraine Lake and/or Lake Louise after dinner, enjoying the stunning alpenglow on these spectacular lakes.
Overnight: Mountaineer Lodge
Distance: 85km
Meals: Breakfast, Lunch, Dinner
Day 4

Lake Louise to Banff or Canmore

The final bike ride to Banff (or Canmore) is a breeze compared to the last few days. You'll be riding along the historic Bow Valley Parkway, a fine road with pretty views. No big hills await today, and you will pedal along rolling hills and flats, where you have abundant opportunity to take in the surrounding views. After a break under Castle Mountain, you will ride into the world-renowned town off Banff, going past the stunning Vermilion Lakes. Many of the group will end their journey here, though you can also extend an extra 25 km on a dedicated bike path to the lovely town of Canmore. The support van will continue on to Calgary and Edmonton Airports.
Overnight: n/a
Distance: 50-70km
Meals: Breakfast, Lunch

Book Now
Price of the Guided Bike Ride Jasper to Banff
Pricing for this guided cycling tour form Jasper to Banff includes accommodations, meals, support vehicle and more!
Private Guided Bike Tours in the Canadian Rockies
Private, guided tours can be arranged. Please contact us with dates and group information.
Join a Group Cycling Tour from Jasper to Banff
Make friends while you cycle the Icefields Parkway.
Accommodation on Road Bike Jasper to Banff tour
This tour is based in Hotels. You'll be staying in a different hotel day by day.
Hotels on this trip are 2 and 3-star hotels and offer modern conveniences that can make this trip more pleasant. Rooms may have fireplaces or access to amenities such as hot tubs, steam rooms, or private decks to lounge on. Rooms are double occupancy, and single travellers will pay a supplement.
Single Rooms and Solo Travelers
You can pay a supplement of $350 USD to have a private room in hotels as a solo traveler. In some cases, there may be other solo travellers, and if desired we can try to match you with participants of the same sex.
Hotels on Standard Tour
Sunwapta Falls Rocky Mountain Lodge ★★
Sunwapta Falls Lodge is set in a glorious location. This rustic Lodge provides cabin style rooms, most include a fireplace as well as a minifridge, tea and coffee services, and TV but no phone service. Enjoy nature in the Canadian Rockies.
Serving customers for 70 years, the Crossing Resort is a laid back, seasonal resort providing a comfortable night in the wilderness. Rooms come with Wi-Fi, satellite TV and minifridges, as well as tea and coffeemakers; some have mountain views and whirlpools. The patio at the pub is a great place to enjoy the sunset after an epic day riding the Icefields Parkway.
Mountaineer Lodge in Lake Louise ★★
Centrally located in Lake Louise, the Mountaineer Lodge is a pleasant base in Lake Louise Village. You'll find modern rooms as well as amenities such as Wi-Fi, a hot tub, a steam room, guest laundry.
What's included on Road Bike Jasper to Banff tour?
Meals
3 breakfasts, 3 lunches, 3 dinners, snacks along the route each day.
Accommodations
Accommodations for 3-nights along the tour. Accommodations before the tour in Jasper and after the tour in Banff or Canmore are not included.
Transfers to Jasper and from Banff
Transport for you, your luggage and your bike to Jasper from Edmonton on day 1 and return transport to from Banff to Edmonton via Calgary (and drop-offs for Calgary International Airport) on day 4.
Van Support
Customized bicycle support van support along each days ride, national park fees and driver. You'll meet-up for regular stops for snacks each day.
USB Disk
Get great memories as your driver will take action shots of you and the group along the tour. You'll be provided with a USB disk on the last day.
Not included
Flights to get to Edmonton or out of Calgary
Bike rental
Transfers from Edmonton Airport to a local Edmonton hotel
Accommodations before the tour in Edmonton or Jasper or after the tour in Banff or Canmore
Breakfast on Day 1, lunch on day 1 and 4
Tour Guide Gratuity. It's optional but appreciated and customary in Canada for good service
Any additional non rider activities
Alcoholic drinks not included in evening meals
GST (+5% of tour price)
Optional Extras
Rent a Road bike for the tour: $195 USD (Felt VR30 model road bike, carbon fork, aluminum frame, hydraulic disk brakes
Frequently Asked Questions about Road Bike Jasper to Banff
Ride the Icefields Parkway as it winds through valley's and over high passes surrounded by glaciers, mountains, lakes, wildlife and waterfalls. This bike journey is all Mountain Madness Tours does, and they do a great job. Experience bike rides in Jasper and Banff at the right pace, from the seat of your bike, giving you a great balance of riding, sightseeing and relaxing.
Learn More
Is this tour for me?
We rate this tour as a 3 / 5. For many guests this is the longest bike ride they've ever done. Should you get tired you can ride in the van for parts of the tour, such as up and over high mountain passes.
Ask a Question
Got any questions regarding the tour? Interested in promotions for groups or want to customize this tour to fit your needs? We are here to help you!
Ask a question