A granite paradise awaits you on this unforgettable rock climbing tour of Zillertal, Austria
Whether your preference is bouldering, single-pitch, multi-pitch, or Alpine-style traditional climbing, the Zillertal area in Austria offers you a world-class granite environment for rock climbing. Book a tour with professional guides and coaches who will lead you to the best routes for your ability and help you to learn new skills and meet your climbing goals.
You will be blown away by the breathtaking beauty of this Alpine valley and the quality granite climbing routes that surround you. There's a reason that Zillertal is considered to be among the best climbing areas in Europe. Come discover it for yourself!
Highlights of the Rock Climbing Highlights in Austria
Explore any of 18 different bouldering areas, offering hundreds of boulder problems in a lush forest environment.
Enjoy great quality single-pitch routes up to 30 m long, or choose multi-pitch routes up to 10 pitches long.
Learn from the best as professional guides and coaches offer you individual attention and help you find the best routes, all so that you can gain confidence and meet your rock climbing goals.
Surround yourself with natural beauty in a lush Alpine valley, full of streams and wildflowers, against a backdrop of rugged, snow-capped peaks.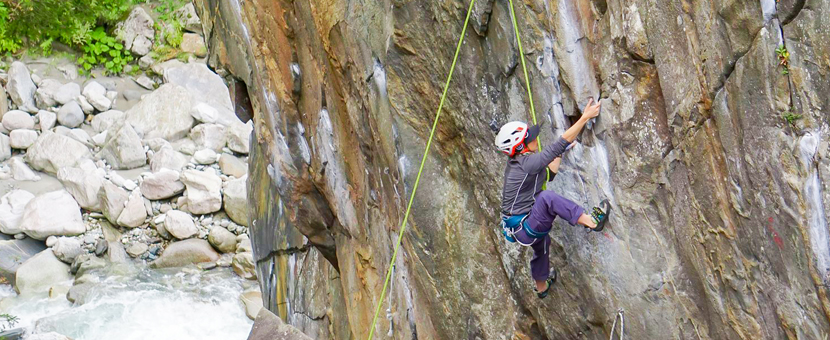 Rock Climbing Highlights in Austria Itinerary
Day 1

Arrival

Welcome! You will be picked up from the airport once the whole group has arrived. Gather for dinner together and get to know each other, including your ability level and goals for the week to come.
Day 2

Warm-up

Get an introduction to the local crags and try some warm-up routes. It is also important to review good safety practices and procedures when belaying, top-roping, and leading.
Day 3-6

Climbing

Climbing, climbing, and more climbing! Work on new skills with your coach and gain confidence in your climbing technique. Depending on your abilities and goals, you may work on top-roping, lead climbing, advanced belaying, controlling falls dynamically, redpointing, flash, or onsight methods. The important thing is that everyone is having fun and making progress toward their goals.
Day 7

Pre-departure Day

Wrap up a great week by finishing the projects you have worked on. Lock in new skills with extra practice and coaching. End the week on a fun note with a farewell dinner and party!
Day 8

Goodbye!

Time to say goodbye! You will be dropped off at the airport in time for your flight home.

* Note: Everyone needs rest days but these are not specifically planned into the schedule. Please listen to your body and choose rest days when you need them.

Book Now
Prices for Rock Climbing Highlights of Europe: Zillertal, Austria
The dates for this group camp are fixed. Recommended time to rock climb in Austria is June through September.
Prices for Private Guided Rock Climbing Workshop in Zillertal
Although this tour is mainly operated as a fixed-departure tour with group, private guided climbing tours can be arranged too. Please contact us with dates and group size for more information.
Dates and prices to join a group on guided Rock Climbing Workshop in Zillertal
Make new climbing friends on this group climbing camp. Prices below are per person:
Accommodation on Rock Climbing Highlights in Austria Tour
This is a climber's trip, so the focus is on climbing and the climbing lifestyle.
Accommodations are in climbing hostels or campsites, and these are included in the price. The amenities are basic but adequate and you'll enjoy staying in the fun, relaxed atmosphere of the climbing community.
Hotels on Standard Tour
Camping and climbing hostels ★
Accommodations are in climbing hostels and campsites. The amenities are basic but adequate and you'll enjoy staying in the fun, relaxed atmosphere of the climbing community.
What's included in the Rock Climbing Highlights in Austria Tour?
Accommodations
Accommodations for 7 nights along the tour in climbing hostels and camps.
Transportation during the Tour
Transportation from Munich International Airport to Zillertal where the workshop begins and to Innsbruck Airport at the end of the workshop are included, as well as transportation between crags during the week.
Also Included
Coach/Guide
Safety equipment such as quick draws, ropes, harness, helmet
Not included
Food and drinks
Flights to and from
Personal equipment including climbing shoes, sleeping bag, headlamp, and backpack
Climbing insurance
Optional Extras
Evening meals can be added at a cost of 15 Euros each. Meals include two dishes and wine.
Frequently Asked Questions about Rock Climbing Highlights in Austria
Rockbusters specializes in rock climbing holidays in Europe. Whether you want to spend the summer touring some of the best climbing in Europe, or are looking for a spring climbing holiday in Spain, Rockbusters offers great value climbing holidays that focus on holidays that combine great climbing with the climbers lifestyle. Climbing is the focus on Rockbusters trips.
Learn More
Is this tour for me?
We rate this tour as a 2 / 5. Climbers should have some climbing experience.
Ask a Question
Got any questions regarding the tour? Interested in promotions for groups or want to customize this tour to fit your needs? We are here to help you!
Ask a question