Climb the unique sandstone towers that make climbing in the Czech Republic famous.
Join this guided climbing tour and experience a week of a climbers' lifestyle! Stay in a climbers' hostel or camp and enjoy day after day of fun climbing.
Climbing in the Czech Republic is a great way to explore the country. Labske Udoli is one of the premier rock climbing destinations in Europe, and it's easy to see why. The soft sandstone towers present a unique and exhilarating challenge for rock climbers. The area is known for breathtaking vistas and it is increasingly popular with outdoor adventure seekers from around the world.
In Labske Udoli's special environment, professional rock climbing coaches will help you choose climbing routes that are perfectly suited to your abilities and goals, teaching you the skills you need to succeed. Soak in the atmosphere and long climbing tradition of the Labske Udoli area as you join the ranks of climbers who have taken on this unique rock climbing challenge.
Highlights of the Rock Climbing in Czech Republic
Discover why Labske Udoli in Czech Republic, known as Bohemian Switzerland, has become a popular outdoor adventure destination.
Test your skills in this unique environment where sandstone towers can reach up to 30 m high.
Receive personalized coaching from professional rock-climbing coaches.
Camp in a beautiful environment and enjoy stunning views both on and off the rock.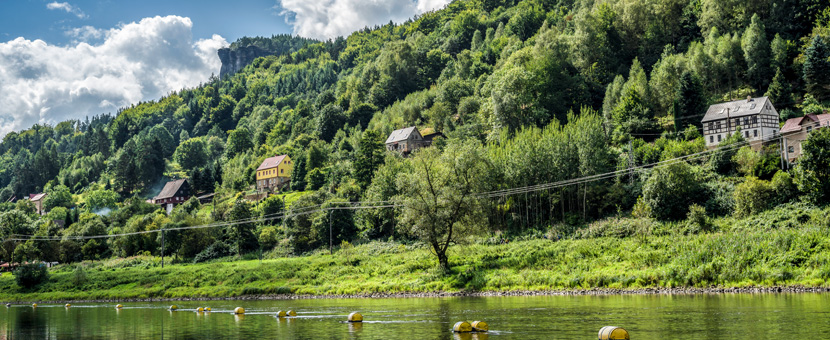 Rock Climbing in Czech Republic Itinerary
Day 1

Arrival

Welcome! You will be picked up from the airport once the whole group has arrived. Begin the week by gathering for dinner to get to know one another and share your climbing abilities and goals for the week.
Day 2

Warm-up

First day of climbing! Review safety and basic skills such as belaying, top-roping, and leading. Get up on the rock for some warm-up routes.
Day 3-6

Climbing

Learn the skills you need to complete your goals. Coaching is personalized to your needs and abilities. Some examples of skills might be top-roping, lead climbing, advanced belaying, controlling falls, redpointing, flash, and onsight methods. The important thing is that everyone is having fun and making progress toward their goals.
Day 7

Pre-departure

Wrap up a great week of climbing by finishing the projects you have worked on. Lock in your new skills with some extra practice. End the day with a farewell dinner and party.
Day 8

Goodbye!

Goodbye until next time! You will be dropped off at the airport in time for your flight home.

Note: Everyone needs rest days but maybe not all at the same time. Rest days are not scheduled into the itinerary, but please listen to your body and rest as needed.

Book Now
Prices for Highlights of Europe: Czech Republic rock climbing tour
This guided climbing tour is part of a series of summer climbing weeks taking place at some of the best climbing locations in Europe. Recommended months - May, June, July, August and September.
Prices for Private Guided Rock Climbing Tour in Czech Republic
Although this tour is mainly operated as a fixed-departure tour with group, private guided climbing tours can be arranged too. Please contact us with dates and group size for more information.
Dates and prices to join a group on guided Rock Climbing Tour in Czech Republic
Make new climbing friends on this group tour. Prices below are per person:
Accommodation on Rock Climbing in Czech Republic
This is a climber's trip, so the focus is on climbing and the climbing lifestyle.
Accommodations are in climbing hostels or campsites, and these are included in the price. The amenities are basic but adequate and you'll enjoy staying in the fun, relaxed atmosphere of the climbing community.
Hotels on Standard Tour
Camping and climbing hostels ★
Accommodations are in climbing hostels and campsites. The amenities are basic but adequate and you'll enjoy staying in the fun, relaxed atmosphere of the climbing community.
What's included in the Rock Climbing in Czech Republic Tour?
Accommodations
Accommodations for 7 nights along the tour in climbing hostels and camps.
Transportation during the Tour
Transportation to and from Ruzyne International Airport is included, as well as transportation between crags during the week.
Also Included
Coach/Guide
Safety equipment such as quick draws, ropes, harness, helmet
Not included
Food and drinks
Flights to and from Ruzyne International Airport
Personal equipment including climbing shoes, sleeping bag, headlamp, and backpack
Climbing insurance
Optional Extras
Evening meals can be added at a cost of $25 USD each. Meals include two dishes and wine.
Frequently Asked Questions about Rock Climbing in Czech Republic
Rockbusters specializes in rock climbing holidays in Europe. Whether you want to spend the summer touring some of the best climbing in Europe, or are looking for a spring climbing holiday in Spain, Rockbusters offers great value climbing holidays that focus on holidays that combine great climbing with the climbers lifestyle. Climbing is the focus on Rockbusters trips.
Learn More
Is this tour for me?
We rate this tour as a 2 / 5. This is a trip that can cater to almost any level of climbers, though not complete beginners. Climbers should have some climbing experience.
Ask a Question
Got any questions regarding the tour? Interested in promotions for groups or want to customize this tour to fit your needs? We are here to help you!
Ask a question