Find your perfect climb in the huge and varied Gorges du Tarn
Join this guided climbing tour and experience a week of a climbing and climbing lifestyle!  This tour is for climbers, and you will stay in a climbers hostel or campsite and focus on great climbing in one of the most impressive natural features in France: The Gorges du Tarn.
Rock climbers of all abilities and experience levels will find something to satisfy and challenge them in the quality limestone of Gorges du Tarn, France. This area is famous for offering over 400 bolted routes, with the potential for many more to come, with an excellent spacing that gives the climbing a special feel. Here among the varied grades and lengths, your coaches will easily find a route that matches your skills and helps you achieve your goals for the week.
If you are looking for a week of world-class rock climbing, excellent coaching, beautiful weather, and time spent with like-minded rock climbers and outdoor adventure seekers, then look no further.
Highlights of the Rock Climbing in the Gorges du Tarn
Enjoy exploring the stunning Gorges du Tarn, a popular destination for all types of outdoor adventures
Test your stamina on some of the longest rock climbing routes to be found anywhere in Europe.
Find the perfect routes to match your skills and abilities with the help of experienced coaches and guides.
Surround yourself with like-minded adventure seekers in the unique culture of the French Pyrenees.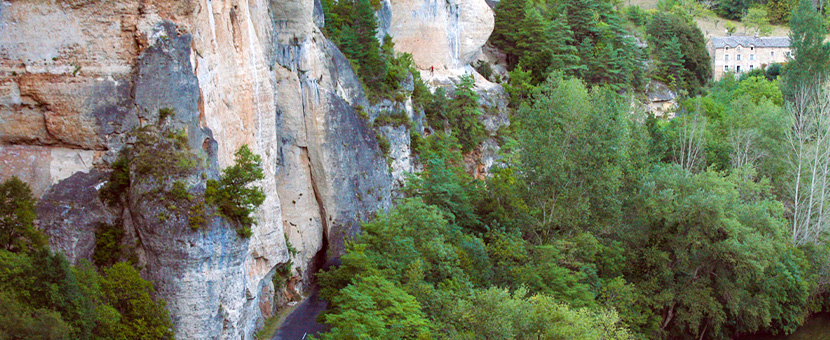 Rock Climbing in the Gorges du Tarn Itinerary
Day 1

Arrival

Welcome! You will be picked up from the airport once the whole group has arrived. Gather for dinner together and get to know each other, including your ability level and goals for the week to come.
Day 2

Warm-up

Today is the first day of your guided climbing camp in France.  Get an introduction to the local crags and try some warm-up routes. It is also important to review good safety practices and procedures when belaying, top-roping, and leading.
Day 3-6

Climbing

Climbing, climbing, and more climbing! Work on new skills with your coach and gain confidence in your climbing technique. Depending on your abilities and goals, you may work on top-roping, lead climbing, advanced belaying, controlling falls dynamically, redpointing, flash, or onsight methods. The important thing is that everyone is having fun and making progress toward their goals.
Day 7

Pre-departure Day

Wrap up a great week by finishing the projects you have worked on. Lock in new skills with extra practice and coaching. End the week on a fun note with a farewell dinner and party!
Day 8

Goodbye!

Time to say goodbye! You will be dropped off at the airport in time for your flight home.

* Note: Everyone needs rest days but these are not specifically planned into the schedule. Please listen to your body and choose rest days when you need them.

Book Now
Prices for Climbing Tour in France's Gorges du Tarn
This guided climbing tour is part of a series of summer climbing weeks taking place at some of the best climbing locations in Europe. Pricing for this guided climbing tour in France's Gorges du Tarn is on a per person basis.
Prices for Private Guided Climbing Tour in France's Gorges du Tarn
Although this tour is mainly operated as a fixed-departure tour with group, private guided climbing tours can be arranged too. Please contact us with dates and group size for more information.
Dates and prices to join a group on guided Climbing Tour in France's Gorges du Tarn
Prices below are per person:
Book Now
Accommodation on Rock Climbing in the Gorges du Tarn Tour
This is a climbers trip, so the focus is on climbing and the climbing lifestyle.
Accommodations are in climbing hostels or campsites, and this is included in the price. The amenities are basic but adequate and you'll enjoy staying in the fun, relaxed atmosphere of the climbing community.
Hotels on Standard Tour
Camping and climbing hostels ★
Accommodations are in climbing hostels and campsites. The amenities are basic but adequate and you'll enjoy staying in the fun, relaxed atmosphere of the climbing community.
What's included in the Rock Climbing in the Gorges du Tarn Tour?
Accommodations
Accommodations for 7 nights along the tour in climbing hostels or campgrounds.
Transportation during the Tour
Transportation to and from Montpelliere Airport and Gorges du Tarn, where the workshop begins, are included, as well as transportation between crags during the week.
Also Included
Coach/Guide
Safety equipment such as quick draws, ropes, harness, helmet
Not included
Food and drinks
Flights to and from France
Personal equipment including climbing shoes, sleeping bag, headlamp, and backpack
Climbing insurance
Frequently Asked Questions about Rock Climbing in the Gorges du Tarn
Rockbusters specializes in rock climbing holidays in Europe. Whether you want to spend the summer touring some of the best climbing in Europe, or are looking for a spring climbing holiday in Spain, Rockbusters offers great value climbing holidays that focus on holidays that combine great climbing with the climbers lifestyle. Climbing is the focus on Rockbusters trips.
Learn More
Is this tour for me?
We rate this tour as a 2 / 5.  This is a trip that can cater to almost any level of climbers, with more challenging climbing possible each day.  Climbers should have some climbing experience, this is not a tour for complete beginners.
Ask a Question
Got any questions regarding the tour? Interested in promotions for groups or want to customize this tour to fit your needs? We are here to help you!
Ask a question