Explore the incredible Rocky Mountains on a scenic self-drive tour of BC and Alberta
This trip is an incredible self-guided exploration of the world-renowned Canadian Rocky Mountains. You'll love the flexibility of this 11-day fly-and-drive-style road trip. Follow your route to all the must-see mountain spots, but the main goal is to show you the exceptional, hidden gems that are off the beaten track.
Enjoy the drive along some of the country's most spectacular roads, and you can decide how to spend your time at your destination, depending on your fitness level. Whether you want to relax in the hot springs at Radium or Banff, go rafting on Kicking Horse River, or take an epic hike in Waterton, there is something for everyone in Canada's mountain playground. You're sure to fall in love with the Rockies during this epic road trip from Calgary and will likely be planning your trip back before you leave!
Highlights of the Rocky Mountain Self-Drive Tour
See the highlights and explore the quieter parks of the incredible Canadian Rocky Mountains.
Drive through spectacular scenery, including Mount Robson, Crowsnest Pass, and the Icefield Parkway, to name a few.
Look for iconic Canadian wildlife such as bison, deer, moose, bighorn sheep, and more!
Let your route guide you to the most beautiful spots, and you can choose how you want to explore them.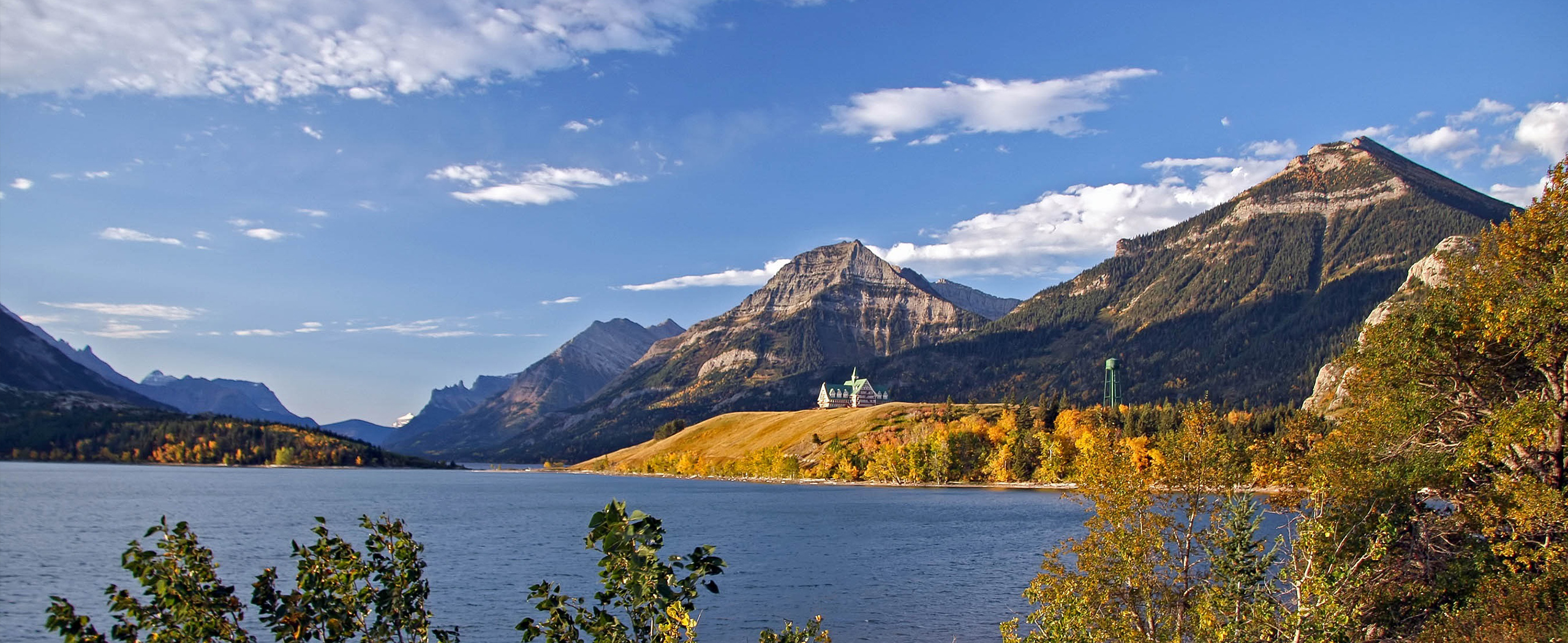 Rocky Mountain Self-Drive Tour Itinerary
Day 1

Welcome to Calgary

When you arrive in Calgary, you can collect your rental car from the airport. The day is yours to explore at your leisure.
Overnight Location: Hotel in Calgary
Distance: None
Meals: None
Day 2

Discover Waterton National Park

Your tour begins with a drive south to Waterton, which is just above the US border. Waterton National Park was given a combined UNESCO designation with Montana's Glacier National Park. Spend the day exploring the lakes, waterfalls, and many hiking trails of this gorgeous park. Keep an eye out for wildlife and local bison during your hikes!
Overnight Location: Hotel in Waterton
Distance: 271km
Meals: None
Day 3

Scenic Drive to Radium

Head north and admire the incredible mountain scenery as you drive on the Crowsnest Pass, through the Frank Slide, and Fernie. You'll follow the mighty Columbia and Kootenay Rivers to Radium Hot Springs. You may want to finish your day with a relaxing visit to the hot springs.
Overnight Location: Hotel in Radium Hot Springs
Distance: 392km
Meals: None
Day 4

Hike in Mount Revelstoke National Park

Today, you'll travel through impressive glittering glaciers and meadows in the sky on your way to Revelstoke. Spend the day exploring the beautiful alpine meadows, forests, and many trails in Mount Revelstoke National Park.
Overnight Location: Hotel in Revelstoke
Distance: 252km
Meals: None
Day 5

Drive Through the Mountains to Kamloops

You have another awe-inspiring drive ahead of you as you drive to Kamloops. Salmon Arm on Shuswap Lake is a great place to stop and explore on your way. In the afternoon, you could take an optional excursion to the BC Wildlife Zoological Reserve to visit local animals being rehabilitated.
Overnight Location: Hotel in Kamloops
Distance: 212km
Meals: None
Day 6

Visit Wells Gray Provincial Park

You have a long drive today, so it would be a great idea to make a stop at Wells Gray Provincial Park. Whether you are going for a hike or just stopping for a picnic, be sure to visit the incredible waterfalls before leaving. Continue your drive past Mount Robson and on to Jasper.
Overnight Location: Hotel in Jasper
Distance: 441km
Meals: None
Day 7

Explore Iconic Jasper

Today is sure to be a highlight of your trip as you explore Jasper and witness the spectacular idyllic sight of Maligne Lake and its stunning mountain backdrop. Finish the day by taking an optional guided canoe tour in the evening.
Overnight Location: Hotel in Jasper
Distance: None
Meals: None
Day 8

Icefield Parkway and Lake Louise

Take the famed Icefield Parkway towards Banff. The drive today is full of incredible places to discover. Take a hike to see the alpine lakes, glaciers, emerald forests, and waterfalls along your route. Stop at Lake Louise to experience another classic Canadian scene as you view its serene turquoise waters.

There is an optional 2-night heli-glamping excursion you can book to spend some time at an isolated alpine lake.
Overnight Location: Hotel in Golden
Distance: 310km
Meals: None
Day 9

Waterfalls and White Water

Today will be dedicated to Yoho National Park. There is plenty to see and do, including visiting spectacular Takakkaw Falls, Emerald Lake, and Kicking Horse River. You can book an optional white-water rafting tour on Kicking Horse River for a fun afternoon adventure.
Overnight Location: Hotel in Golden
Distance: None
Meals: None
Day 10

Mountain Towns to Kananaskis

Leave Golden in the morning and begin your drive to Kananaskis. On the way, you can stop in Banff to visit the hot springs and experience the charm of this popular spot. Or, if you're looking for a quieter spot, visit the mountain town of Canmore. Enjoy the beautiful scenery away from the main tourist track in Kananaskis.
Overnight Location: Hotel in Kananaskis
Distance: 181km
Meals: None
Day 11

Return to Calgary

Say goodbye to the mountains as you drive towards the prairies to drop your car off at the Calgary airport. Your tour officially ends here, and you can begin your journey home or start the next leg of your travels.
Overnight Location: None
Distance: 86km
Meals: None

Book Now
Rocky Mountain Self-Drive Tour Price and Dates
This self-guided tour to the Canadian Rockies is run as private tour for your group only.

Prices below are per person:
Groups of 2+: $1,375 USD per person
Book Now
Accommodation on the Rocky Mountain Self-Drive Tour
This tour is based on hotel accommodations. Hotels on this trip are 3-star standard accommodations and offer comfortable rooms with modern conveniences. The hotels will be in specially selected towns along your route to give you easy access to nearby attractions.
In some cases, the accommodation listed below may need to be substituted for other comparable accommodations.
Single Rooms and Solo Travellers
Rooms are double occupancy. Single rooms, including those for solo travellers, are by request.
Hotels on Standard Tour
Calgary is a metropolitan city with tons of restaurants and attractions to see, so you may not be spending much time in your room here!
Enjoy a tranquil night in Waterton National Park. Fall asleep and wake up to nature's sounds at the foot of several beautiful hiking trails.
Hotel in Radium Hot Springs
Not your average highway town, Radium Hot Springs has one of the cutest cafes to have breakfast, the Big Horn Cafe. Enjoy soaking and relaxing in the hot springs facility.
If there was ever a town for hipster ski bums, Revelstoke is it. With a downtown full of boutique shops, cafes, and bars, you'll never be bored here.
Kamloops is the gateway to the Okanagan, which means lakes and wine abound. Stroll the adorable downtown core for some great grub and beer.
Relax in a cozy 3-star standard hotel surrounded by immense mountains. Stroll the streets and take your pick of various top-notch restaurants and bars.
Make sure to walk on the pedestrian bridge hanging over the Kicking Horse River and get some beer and tacos from Whitetooth Brewery and Reposados.
Get a room in a comfortable 3-star standard hotel at the foothills of Kananaskis Country. Enjoy being surrounded by nature.
What's Included in the Rocky Mountain Self-Drive Tour?
Meals
Meals are not included on this tour.
Accommodations
Accommodations for 11 nights are included. Accommodations before and after the tour in Calgary are not included but can be added as a supplement.
Transportation during the Tour
This is a self-drive tour. You will pick-up and drop-off your rental vehicle at the Calgary Airport.
Also Included
Standard vehicle rental
Canadian taxes
24/7 access to helpline
Not included
Travel insurance
Flights to and from Calgary
Personal expenses
Optional activities
Meals, drinks, or snacks not previously mentioned
Entrance fees to National Parks
Gratuities for tour guides or other staff if desired
Vehicle insurance
Fuel
Optional Extras
Additional nights before or after the tour
Single occupancy upgrades
Optional activities or excursions:

Hot springs entry, Radium Hot Springs Day 3
Entry to BC Wildlife Zoological Reserve Day 5
Guided canoe tour in Jasper Day 7
Heli-glamping for 2 nights Day 8 and 9
Rafting on Kicking Horse River Day 9
Frequently Asked Questions about Rocky Mountain Self-Drive Tour
In the two decades since Toundra Voyages Inc. was founded in 1998, the company has become North America's go-to travel agency in customized independent and group tourism.
Tounda takes a flexible, responsive approach to developing adventure travel tours. By listening to the wants and wishes of travellers, they've been able to create memorable, affordable tours complemented by impeccable service.
Toundra's mission is to create and organize tailor-made travel. They select, adapt, and personalize travel experiences in North America for each and every guest, ensuring your adventure is one you'll never forget.
Meeting your expectations is just the beginning of what Toundra aims to accomplish. Exceeding them by providing exceptional experiences in beautiful North America is their standard, and their track record of knockout customer service and customized tour planning speaks for itself.
Learn More
Is this tour for me?
We rate this tour as a 1 / 5. This tour has an easy rating as you choose the hikes and activities you want to participate in and can customize the length and difficulty.
Ask a Question
Got any questions regarding the tour? Interested in promotions for groups or want to customize this tour to fit your needs? We are here to help you!
Ask a question