Spend 6 unforgettable days discovering Italy's famous mountain rage
Trekking in the Dolomites
This 7-day self-guided Dolomites Hut to Hut Hiking Tour has some of the most incredible scenery in the Alps. New wonders await you around every turn, as the landscape along this stunning tour of the Dolomites is so varied (and beautiful).
With wild alpine meadows, jaw-dropping ridges, iridescent high-altitude lakes, and lush, green forests, the Dolomites is the ultimate hiking destination. This beautiful region boasts an impressive diversity of terrain, with a multitude of well-maintained hiking routes to suit walkers of all ages, ability and fitness levels. Wherever you go, you can be sure of a warm welcome from the friendly mountain residents, and a hiking trip here is the perfect chance to learn more about local cultures, the Dolomites' unique cuisine, and the delicate ecosystems of the region. Combining culture, history, food and glorious landscapes, this self-guided Dolomites Hut to Hut Hiking Tour is the best way to experience the region.
Visit Tre Cime di Lavaredo
Gaze on famous peaks, such as the three pinnacles of Tre Cime. These three iconic peaks stand proudly, overlooking a stark, bare valley, in a landscape that looks as though it comes from another world. Their craggy, raw, rugged faces create an incredible sight in the heart of the Dolomites, and it's no wonder that they are so often considered the most popular peaks in the region. These three rocky towers are a popular spot for rock climbers, offering some really challenging routes for experienced mountaineers.
The region around Tre Cime di Lavaredo is steeped in history, and once formed a key battleground on the frontier between Austria and Italy during the First World War. The war left scars here, and you're likely to pass tunnels, trenches and other fortifications during your hike. Many of these can be explored on foot, using the Via Ferrata, and they offer a fascinating insight into this region's dark past.
Relax near the Stunning Lago di Braies
to the quiet shores of alpine lakes such as Lago di Braies, this tour truly offers you the best of the Dolomites in just 7 days. In fact, the Lago di Braies is frequently touted as Italy's prettiest lake, and it's not hard to see why! Its deep blue-green waters are the perfect mirror for the surrounding peaks, covered with a light dusting of snow, and the green, forested hills that rise up from the waters complement the picture perfectly.
The Lago di Braies covers 76 acres and sits at an altitude of almost 5000ft above sea level. It's the site of a number of strange and wonderful local legends and is reputed to be the ancient gateway to the lost kingdom of Fanes, a popular motif in South Tyrolean fairy stories. In another legend, the lake was the secret hiding place of several tons of Nazi gold, apparently sunk in the deep waters at the end of the war. Whatever the truth, one thing is certain – this lake is certainly one of the most beautiful you'll ever see and a real highlight of any trip to the Dolomites. Indeed, you'll be amazed at the diversity of the landscape as it continually impresses you on each day of this 7-day self-guided trekking tour.
It is not only the landscape that is diverse! Along the way, you will also encounter the unique blend of Italian and German cultures that can only be found in the Tyrolean region of the Alps. Stay primarily in mountain huts, where warm hospitality and delicious local food perfectly complete your overall experience. Your Dolomite trekking adventure will be 7 days that you remember forever.
Hut to Hut Hiking
Hut to hut hiking allows you to experience all the joys of a multi-day backpacking trip, without the stress! Instead of carrying your tent and cooking equipment with you, all you need to do is hike to your next destination, where you'll be met with a warm meal and shelter for the night.
Hut to hut hiking is a great way to immerse yourself in the landscape of any region, allowing you to avoid taking your car or public transport, and offering the opportunity to get right out in the wilderness. It's a great option for those who don't want to take a lot of heavy camping gear, or who aren't experienced backpackers, as you can be sure that you'll have a place to stay each night.
The rifugios of the Dolomites are well-equipped to take hikers, and although the accommodation is often basic, it's a wonderful way to get back to basic and away from the stresses of day-to-day life. Traveling this way will allow you to take on longer, more strenuous hiking routes without worrying about accommodation or food – you can simply relax and enjoy the trail knowing you'll have a warm bed at the end of the day!
Highlights of this hut to hut tour
Explore the stunning Tre Cime on this wonderful Italian trekking tour.
Spend a night on the shores of the stunning Lago di Braies, with perfect views of Croda del Becco.
Enjoy stunning scenery on this self-guided trek through the many diverse landscapes of the Dolomites.
Experience authentic Tyrolean culture and hospitality as you trek between mountain huts in the heart of the Dolomites.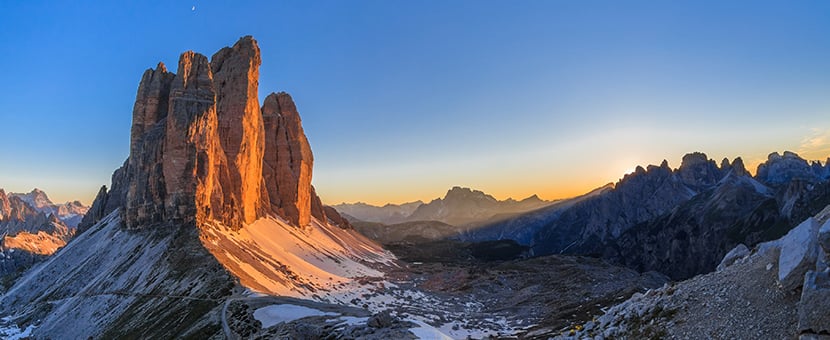 Hut to Hut Trekking in the Dolomites Itinerary
Day 1

Arrive in Bressanone

Make your way to Bressanone (Brixen) , Italy. At the hotel check in, you will receive your travel pack, which contains all the information needed for this incredible tour.
Overnight Location: 3-Star hotel in Bressanone
Distance: None
Meals: None
Day 2

Trek to Tre Cime di Lavaredo

A taxi picks you up at your hotel at 9:00 AM to take you to Val Camp di Dentro, where your self-guided trekking adventure begins. The trail allows you to warm up with an easy, pleasant walk to the Dreischusterhütte Hut.

Soon after, you will be introduced to the true heart of the Dolomite mountains as you trek to the renowned Tre Cime di Lavaredo, a stunning peak in the Dolomites.  You will also see the legendary Torre di Toblin, a popular World-War-I-era via ferrata route. You can leave your backpack at the Locatelli Hut while you explore this amazing area.

Your home for the night is the historic Locatelli Hut, one of the oldest huts in the Dolomites. It was built in 1883, renovated more recently, and boasts the perfect location for your Tre Cime adventures, including an optional guided tour on a via ferrata. If you'd like to take one of these climbing tours, either on Paterno or Torre di Toblin, be sure to book this in advance.
Overnight Location: Locatelli Hut
Distance: 12 km / 4 hours hiking. 950 m elevation gain, 100 m elevation loss
Meals: Breakfast, Dinner
Day 3

Hike to Prato Piazza Hut

Leaving the Locatelli Hut behind you, pause for one final glimpse of the breathtaking north faces of Tre Cime. Your trek continues along an easy path westward, leading down through the Val Ribon. Trek to the valley bottom, then follow the trail uphill again to the Strudelkopfsattel Pass (2,200 m / 7,218 ft) in the shadow of Monte Specie. Finish the day with a peaceful hike through lovely Dolomite pastures in the Pratopiazza Valley until you reach the Prato Piazza Hut.
Overnight Location: Prato Piazza Hut
Distance: 16 km / 6 hours hiking. 800 m elevation gain, 1,200 m elevation loss
Meals: Breakfast, Dinner
Day 4

Hike to Lago di Braies

It's another highlight on your self-guided trekking tour today.  Hike across the picturesque Prato Piazza meadow, then continue toward the mountain called Croda Rossa in Italian (3,146 m / 10,322 ft), or Hohe Gaisl in German. This exciting trail involves trekking along a trail equipped with chains, so if you are uncomfortable with this or you're prone to vertigo consider bypassing this route via the trail that leads to Ponticello. After this, another lovely path takes you through beautiful alpine pastures to reach the Cavallo Pass (2,287 m / 7,503 ft). From the pass, hike down to the stunning Lago di Braies (Lake Braies), and spend the night in an absolutely magical location.
Overnight Location: Hotel Lago di Braies
Distance: 12 km / 5.5 hours hiking. 500 m elevation gain, 1,000 m elevation loss
Meals: Breakfast, Dinner
Day 5

Hike to Malga Ra Stua

Today's hike takes you along the opposite side of Lago di Braies and then the western side of the majestic mountain Croda del Becco, or Seekofel in German. When you reach the Forcella di Riciogogn (2,331 m / 7,648 ft), you will enter an "alpine desert". Continue through this unique environment and plan to stop to rest and eat lunch at a small, traditional mountain hut called Biella. After lunch, follow the trail as it descends into the valley, past the beautiful Gran de Foses Lake. At the bottom of the valley, you'll find your charming accommodations for the night: the Malga Ra Stua mountain hut.
Overnight Location: Malga Ra Stua Hut
Distance: 14 km / 6 hours hiking. 1,000 m elevation gain, 800 m elevation loss
Meals: Breakfast, Dinner
Day 6

Hike to Fanes Hut

Today's trek follows a historic trail that was built during the first World War by the Austrians.  Hike toward the Fodara Vedla Hut, then continue on to Pederu and Alta Via Dolomiti #1. Finish the day strong as you trek through the Fanes Valley to arrive at the renowned open pastures of Fanes. Here, you'll spend the night in the Üćia de Fanes mountain hut, and enjoy their traditional hospitality and delectable local cuisine.
Overnight Location: Fanes Hut
Distance: 11 km / 4 hours hiking. 850 m elevation gain, 500 m elevation loss
Meals:Breakfast, Dinner
Day 7

Hike to Gardenaccia Hut then to La Villa

End your tour with an extraordinary day of hiking! Cross the Fanes high plateau (altipiano) and imagine how it looked thousands of years ago when this tableland was an island surrounded by a lagoon. Keep your eyes open for fossils from this era as you are exploring the area.

After the Medesc Pass, the trail turns to downhill toward Alta Badia. Initially, the trail has a very steep grade, but it becomes gentler as it meanders through the forest. Soon you arrive in La Villa (named Stern in German) where you can find a transfer to take you back to Bolzano.
Overnight Location: N/A
Distance: 16.5km /  8 hours hiking.  200m elevation gain,  850m elevation loss
Meals: Breakfast

Book Now
Prices for the Dolomites Hut to Hut Hiking Tour
Pricing for this self-guided Dolomites trekking Tour, staying in hotels and mountain huts, depends on the number of guests in your group.
Prices for Self-Guided Dolomites Hut to Hut Hiking Tour
Enjoy a private, self-guided tour for just your group, prices below are per person:
Self-guided group of 2: $1,775 USD per person
Self-guided groups of 3: $1,575 USD per person
Self-guided groups of 4: $1,295 USD per person
Self-guided groups of 5: $1,225 USD per person
Self-guided groups of 6: $1,175 USD per person
Self-guided groups of 7+: on request
Prices for Private Guided Dolomites Hut to Hut Hiking Tour
Private, guided tours can be arranged. Please contact us with dates and group information.
Book Now
Accommodation on the 7-day Dolomites Hut to Hut Hiking Tour
Accommodations on this self-guided Dolomites Hut to Hut Hiking Tour are primarily in mountain huts and occasionally hotels. Mountain huts typically offer dormitory style rooms. You will stay in the best and smallest rooms available, but expect to share rooms with several people. Facilities such as showers and toilets are also shared and are typically outside of the room.
Single Rooms and Solo Travelers
You can pay a supplement of $275 USD to have a private room in hotels as a solo travelers. In mountain huts you will share a room. In some cases, there may be other solo travelers, and if desired we can try to match you with participants of the same sex.
Hotels on Standard Tour
What's included in the Hut to Hut Trekking in the Dolomites Tour?
Meals
6 breakfasts and 5 dinners. Dinner in Bressanone on day 1 is not included. Lunches can be purchased at your own expense from grocery stores or mountain huts to be eaten along the trail.
Accommodations
Accommodations for 6 nights included as described in the itinerary.
Baggage Transfers
Your bags will be transported between accommodations by vehicle, so that while hiking you need only carry what you need during the day. Note that this service is not available on day 2 as the Locatelli Hut cannot be reached by car.
Also Included
The Roadbook, which outlines the route, as well as maps and reservation vouchers. One Roadbook is provided for each 4-person group.
Access to a mobile app that includes GPS guidance
24/7 Emergency Hotline
Not included
Transportation to Bressanone to start the trip and from Bolzano at the end of the trip.
Showers at mountain huts that charge extra for this.
Drinks, tips, and other personal expenses
Travel insurance for trip cancellation or interruption, lost or stolen baggage, or other assistance.
Tickets to any attractions
Public transportation and chairlifts during the tour.
Optional Via Ferrata climb up "Paterno" or "Torre di Toblin" (day 2): price per person €95+ EUR (depending on how many people are in the group) includes English-speaking guide and technical gear.
Shuttle bus to Bolzano (day 7): €6-10 EUR
Optional extras
Daily packed lunch (days 3-7): €90 EUR per person
Via Ferrata climb (day 2): Climb up "Paterno" or "Torre di Toblin" including English-speaking guide and technical gear. Price per person:

Group of 2: $250 USD per person
Group of 3: $175 USD per person
Group of 4: $150 USD per person
Frequently Asked Questions about Dolomites Hut to Hut Hiking Tour
Allibert Trekking is a Tour Operator based in the French Alps, specializing in incredible trips for the active outdoor enthusiast. They cater to your specific wants to create an unforgettable adventure.
Allibert Trekking specializes in mountain sports adventures throughout the European Alps (France, Switzerland, Italy, and Austria). From the Dolomites to the Mediterranean coast, they create and organize hiking, mountaineering, ski touring, snowshoeing, and multi-sport trips throughout the Alps.
With 45 years of experience, Allibert offers both exceptional "ready-made" trip itineraries and customizable plans to make sure your experience is everything you want it to be.
Allibert places great importance on sustainable travel. Because of this, they focus on creating trips that make as little an impact as possible on the natural environment. Ethics, respect, and responsibility represent the cornerstones of their commitment to responsible tourism.
Learn More
Is Trekking in the Dolomites for me?
We rate this tour as a 4 / 5.  Be prepared to hike about 6-7 hours each day, covering about 15-18km along mountain trails. Expect 700-1,000 m of elevation gain or loss each day.
Local Guide
Ask a Question
Got any questions regarding the tour? Interested in promotions for groups or want to customize this tour to fit your needs? We are here to help you!
Ask a question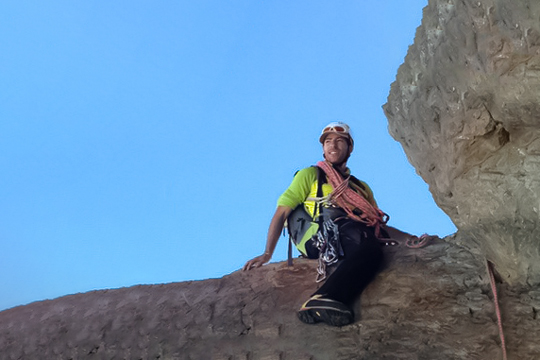 Originally from the Southern French Alps, Julien has been playing in the mountains since childhood. He loves backcountry skiing and mountaineering, long hikes, trail running, mountaineering, and rock climbing. Julien loves to share his passion for travelling and the mountains, and genuinely enjoys coming up with new ways to explore his favourite places in the Alps with visitors.
Q & A
Q:

What is your favourite trip you've taken and why?

A:

Bernese Oberland is one of the few places in the Alps that surprised me. The landscape and views are amazing. Hiking under the 1000m cliff wall of the famous Eiger Northface and along the U-style valley of Lauterbrunnen is a fantastic experience.

Q:

What is one experience anybody visiting your country should have?

A:

It's very hard to choose as there are so many things to see and do. But I would suggest visiting the quiet, wild southern Alps.

Q:

What is one local dish or drink that visitors absolutely have to try?

A:

The Savoyard fondue, which tastes even better than the original one from Switzerland!

Q:

What is the most challenging adventure you've ever taken on?

A:

Ski touring in the Armenian mountains.