A week of rock climbing in Rodellar, Spain with professional climber Klemen Bečan.
Rodellar, Spain is a rock climber's paradise. The area has something to offer climbers of any ability level and preferred style, but intermediate to advanced climbers will especially enjoy pushing their limits on the orange walls of limestone. This makes it the perfect place for you to join up with professional climbing coaching, include Klemen Bečan, to up your game with a week of individual coaching. This week will focus on redpoint and onsight skills, and offers you the opportunity to be filmed and analyze the video with coaches for maximum skill development.
Because this small town is surrounded by premier climbing opportunities and not much else, you'll enjoy Rodellar's climbing-focused culture. Stay in climbing hostels and camps, immersed in like-minded community. You won't want to miss this incredible week!
Highlights of the Spanish Climbing Camp with Klemen Bečan
Receive personalized, individual coaching from professional rock climbing coaches including Klemen Bečan.
Analyze video footage of your climbs for maximum improvement and skill development.
Soak in the climate and culture of Rodellar, a small town built around excellent rock climbing.
Enjoy the community of other climbers both on and off the rock.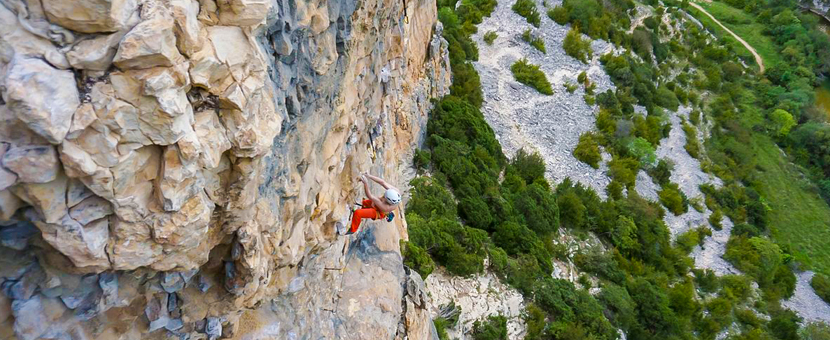 Spanish Climbing Camp with Klemen Bečan Itinerary
Day 1
Welcome to Spain! You'll be picked up at the airport once the whole group has arrived. Gather as a group for dinner to get to know one another and share climbing abilities, strengths, weaknesses and goals for the week to come.
Day 2
Start off the week by trying some warm up routes that allow you to get a feel for the rock. Your guide will introduce you to the local climbing style and review safety essentials such as belaying, leading, and top-roping.
Day 3-6
Climbing, climbing, and more climbing! Work toward your goals, be it gaining confidence or improving technique on specific skills. Redpointing, onsight, and flash methods will all be included. There will be time and space to work on projects with personal coaching from Klemen Bečan and other professional coaches. You will also have the opportunity to film your climb and analyze the video with coaches to learn as much as possible.
Day 7
The last day of climbing gives you a chance to wrap up what you have been learning, finish your projects, and lock in your new skills with additional practice. End the week with dinner and a farewell party.
Day 8
Time to say goodbye, at least for now. You'll be dropped off at the airport in time to catch your flight home.
*Note: Listen to your body and take rest days as needed throughout the week. Everyone needs rest but not at the same time, so these days, while encouraged, are not built into the itinerary.
Book Now
Prices and dates for Rodeller Climbing Camp with Klemen Bečan
Pricing for this guided climbing camp is on a per person basis. Recommended time to rock climb in Rodeller is from autumn through spring.
Prices for Private Guided Climbing Camp in Rodellar with Klemen Bečan
Although this tour is mainly operated as a fixed-departure tour with group, private guided climbing tours can be arranged too. Please contact us with dates and group size for more information.
Dates and prices to join a group on guided Climbing Camp in Rodellar with Klemen Bečan
Make new climbing buddies on this group climbing camp. Prices below are per person:
Book Now
Accommodation on Spanish Climbing Camp with Klemen Bečan Tour
This is a climber's trip, so the focus is on climbing and the climbing lifestyle.
Hotels on Standard Tour
Camping and climbing hostels ★
Accommodations are in climbing hostels and campsites. The amenities are basic but adequate and you'll enjoy staying in the fun, relaxed atmosphere of the climbing community.
What's included in the Spanish Climbing Camp with Klemen Bečan Tour?
Accommodations
Accommodations for 7 nights along the tour in climbing hostels and camps.
Transportation during the Tour
Transportation to and from Barcelona International Airport is included, as well as transportation between crags during the week.
Also Included
Coach/Guide
Safety equipment such as quick draws, ropes, harness, helmet
Not included
Food and drinks
Flights to and from Barcelona
Personal equipment including climbing shoes, sleeping bag, headlamp, and backpack</span
Climbing insurance
Optional Extras
Evening meals can be added at a cost of €15 EUR each. Meals include two dishes and wine.
Frequently Asked Questions about Spanish Climbing Camp with Klemen Bečan
Rockbusters specializes in rock climbing holidays in Europe. Whether you want to spend the summer touring some of the best climbing in Europe, or are looking for a spring climbing holiday in Spain, Rockbusters offers great value climbing holidays that focus on holidays that combine great climbing with the climbers lifestyle. Climbing is the focus on Rockbusters trips.
Learn More
Is this tour for me?
We rate this tour as a 4 / 5. Intermediate to advanced climbers should be confident leading around f6b level.
Ask a Question
Got any questions regarding the tour? Interested in promotions for groups or want to customize this tour to fit your needs? We are here to help you!
Ask a question