Explore the Galapagos Islands on this multi-sport guided tour
Explore the captivating beauty of the Galapagos Islands through this amazing Galapagos travel experience! Join this Galapagos Islands Tour and explore this stunning natural landscape on foot, water and kayak. Island hop to find the best of the Galapagos Islands and some of the most unique species of Ecuador's Wildlife. The Galapagos Islands tour is socially responsible and helps to provide aid to the local communities in the area. Book this tour to explore one of the most protected ecosystems on the planet.
Join this tour in Quito, the capital of Ecuador, before flying to Galapagos Island. Take a speedboat to Isabela Island, where you explore one of the most stunning archipelagos on the Pacific coast. Look out for the dolphins and whales and snorkel through the labyrinths of lava tunnels! And that's not all!
Then it's on to one of the most active volcanoes in the region - Sierra Negra! Brush off the volcanic ashes from your hair and jump into a kayak to Tintoteras! Swim in the same waters as white-tipped reef sharks, Galapagos Penguins, marine turtles, and sea lions. Then take the opportunity to discover the important preservation work at the Charles Darwin Station.
Don't miss the opportunity of this wonderful Galapagos Islands guided tour that will provide you with an adventure of a lifetime! Book now.
Highlights of the The Best of Galapagos Adventure
Hike to the stunning Sierra Negra Volcano, one of the best viewpoints in the Galapagos Islands
Explore some of the most incredible wildlife on earth by snorkeling with sea turtles, rays, penguins and sea lions
Kayak to Tintoreras Islet and marvel at the turquoise, crystalline waters and wildlife that call it home.
Explore the amazing Ecuadorian culture, food, drink while you island hop and see different, local communities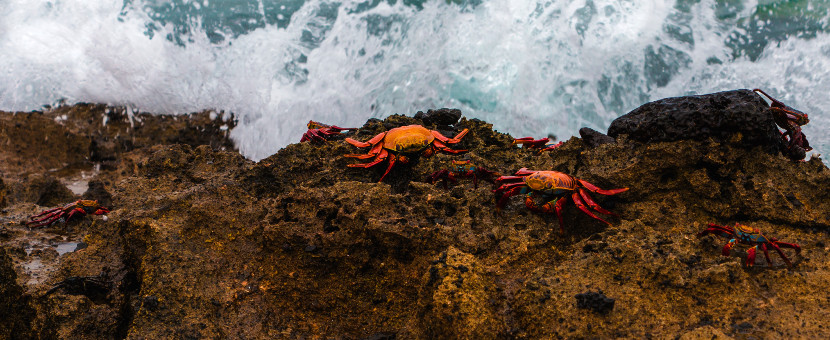 The Best of Galapagos Adventure Itinerary
Day 1

Meet in Quito

Meet your head guide and the group at 6PM.

Your guided Galapagos Islands tour begins in Quito! The largest and best-maintained colonial city of America - declared a UNESCO World Heritage Site in 1978. The city is viewed as the Cultural Capital of South America and is situated on the equator in a valley in the lower regions of the Pichincha Volcano. Depending on your arrival time, you can either explore the city and the old town of Quito or get a guided day tour. At night, one of our head guides will meet you at the reception for a briefing at 6 PM. You will be briefed about the adventure tour and will be able to ask questions regarding it. This day will also help you to acclimate to the new location.
Accommodation: Hotel in Quito
Meals: none
Day 2

Journey from Galapagos – Isabela Island

Today you begin your epic journey to the remote Galapagos. Get up early for a morning flight to the island of Baltra. Then, travel to Puerto Ayora, the biggest town in the Galapagos Islands. After that, enjoy a 2-hr boat crossing to the biggest island in the Galapagos archipelago, Isabela Island. During the island crossing, watch out for some dolphins and whales (July to October). Once in Puerto Villamil, check-in at our ocean-front hotel and unwind from an incredible journey to get here.
Accommodation: Hotel in Puerto Villamil
Meals: Breakfast
Day 3

Snorkel at Lava Tunnels

Your guided tour of the Galapagos goes underwater today, with incredible snorkeling in underwater lava formations. Snorkel through this labyrinth of lava arches in pristine, clear water. You'll get the chance to spot wildlife, such as sea turtles, eagle rays, sea lions, sharks, and more. If you're lucky, you will see the curious Galapagos penguins playing around.

After the trip, you can enjoy some optional activities such as snorkeling at "Concha de Perla", taking surfing lessons, biking or just relaxing on the exotic white-sand beaches of Isabela Island. We highly recommend you take some time to visit the giant tortoise breeding center located within walking distance from the hotel.
Accommodation: Cormorant House or similar
Meals: Breakfast, Lunch
Day 4

Hike Sierra Negra – Kayak and Snorkel in Tintoreras

Drive from Puerto Villamil and hike into a young forest ecosystem. The goal of this 9.6km hike is the rim of Sierra Negra Crater - an active volcano that last erupted in June 2018. From the rim of Sierra Negra, enjoy outstanding views and explore the stunning massive, lava-filled crater. If we will have enough energy, we can continue our hike to Volcan Chico, which adds 6.5km of hiking.

In the afternoon, a highlight of this Galapagos Tour is the 2-hour kayak to the spectacular Tintoreras Islet for a snorkeling adventure. The beautifully clear waters here are inhabited by white-tipped reef sharks, Galapagos Penguins, marine turtles, and sea lions. A nearby beach is one of the few sites where marine iguanas can reproduce successfully.
Accommodation: Hotel in Puerto Villamil
Meals: Breakfast, Lunch
Day 5

Charles Darwin Station

Our Galapagos travel adventure departs Isabela to head to Santa Cruz Island to visit the Charles Darwin Research Station. During our island crossing, we will be on the lookout for dolphins and whales (July to October).

Once we arrive on Santa Cruz, we will check-in at the hotel and then visit the Research Station to learn more about the history and natural history of the Galapagos. In the afternoon, head to the 'El Chato' reserve in the highlands of Santa Cruz, home to the famous Galapagos tortoises. You will have the opportunity to trek through El Chato's beautiful landscape with these lumbering giants. It is a great and unforgettable experience. You will also be able to spot highland wildlife such as pintail ducks, egrets, flycatchers, finches, and frigate birds.
Accommodation: Hotel in Puerto Ayora
Meals: Breakfast
Day 6

Flight back to Quito

Our guided Galapagos Islands tour is nearing the end. After the final breakfast on the Galapagos Islands and the last photos taken of the sea lions, transfer to Baltra's airport in time to catch the flight back to Quito.
Accommodation: Hotel in Quito
Meals: Breakfast
Day 7

Quito - Departure

The trip ends, though many guests stay on to explore Quito and other amazing parts of Ecuador.
Accommodation: None
Meals: Breakfast

Book Now
Galapagos Guided Tour
Pricing for this guided Galapagos tour depends on the number of guests and whether you want a private tour for your group or to join a group tour. The prices below are per person sharing a double or a triple room.
Prices for Private Guided Galapagos Tour:
Guided group of 2: $2,165 USD per person
Guided groups of 4: $2,115 USD per person
Guided groups of 6+: $2,065 USD per person
Dates and Prices to Join a Group Tour:
Book Now
Accommodation on The Best of Galapagos Adventure Tour
This tour provides 4-star Hotel accommodation which allows the travelers to comfortably rest and recharge in-between the adventures. While Adventure Journeys does the best to book the hotels listed, in some instances that won't be possible.
Single Rooms and Solo Travelers
You can pay a supplement of $823 USD to have a private room as a solo travelers. In some cases, there may be other solo travelers, and we can match you with participants of the same sex.
Hotels on Standard Tour
What's included in The Best of Galapagos Adventure Tour?
Meals
6 breakfasts, 2 lunches, 0 dinners. Budget $180 USD for meals not included.
Guiding
Fully licensed, certified English-speaking adventure leader and local guides on all days.
Travel
Travel once in the Galapagos Islands is included. This includes comfortable land and sea transportation.
Also Included
Accommodation based on double occupancy: First Class hotel in Quito, 4-star hotels in Galapagos.
Activities: Snorkeling in the Lava Tunnels, Trekking to the top of Sierra Negra active volcano, snorkeling, and kayaking in Tintoreras, visit the Charles Darwin Research Station, hiking in Santa Cruz highlands.
Gear: Snorkeling mask and fins, life vest
Not Included
Airfare Quito - Galapagos - Quito round trip (Estimated Budget

$520 USD

)
International flights to Quito
Airport transfer in Quito
Travel insurance (mandatory)
Meals not described in the itinerary - estimated budget $180 USD
INGALA transit card: $20 USD per person, cash only (subject to change)
Galapagos National Park fee: $100 USD per person, cash only (subject to change)
$10 USD pier-use fee at Puerto Villamil
Optional Snorkeling gear (mask and fins) outside existing trips: $8 USD per day per person
Optional Wetsuit rental: $10 USD/day
Tips for guides and drivers - estimated budget $120 USD
Optional Extras
Extra night in Quito - $120 USD (per person)
Airport transfer - $65 USD (one-way, per taxi, up to 2 persons)
Optional day tours from Quito
Quito City Tour + Equator Line - $75 USD
Cotopaxi Volcano Day tour - $95 USD
Quilotoa Crater Lake Day tour - $99 USD
Mindo Cloud Forest Day tour - $95 USD
Otavalo Market Day tour - $85 USD
Papallacta Hotsprings Day tour - $85 USD
Quito city biking tour - $55 USD
Frequently Asked Questions about The Best of Galapagos Adventure
Adventure Journeys is a Quito-based boutique tour operator, creating tailor-made adventure experiences to connect their guests with all that Ecuador offers. They strive to personalize each trip to offer the most incredible experience possible with upscale delivery.
Run by locals with a love for their country, Adventure Journeys aims to highlight the beauty, environmental significance, and cultural diversity of Ecuador. They create each experience with the word "life" in mind, knowing that their adventures have the power to change their client's lives, give them new perspectives, and add purpose to their journeys.
From the Ecuadorian mainland to the Galapagos Islands, Adventure Journeys has client happiness at the core of their mission.

Learn More
Is this tour for me?
We rate this tour as a 1 / 5. You must enjoy spending time in the water, as you will spend time on boats, kayaks and snorkeling.
Local Guide
Ask a Question
Got any questions regarding the tour? Interested in promotions for groups or want to customize this tour to fit your needs? We are here to help you!
Ask a question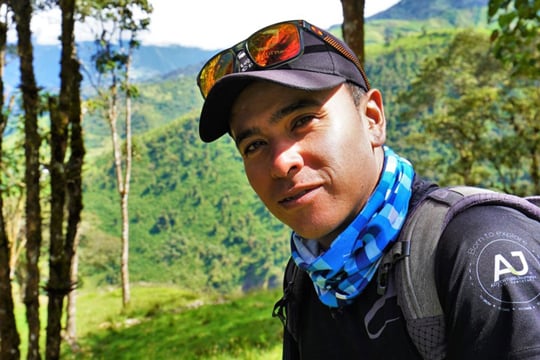 Paul is a certified guide with Adventure Journeys. He coordinates and leads most tours, and with 14 years of experience, he is confident in his ability to show the best of Ecuador. Paul loves having the chance to share his homeland with visitors and encouraging them to try things that they can only do in Ecuador. Paul loves Volcano Avenue more than any other place he guides in and never gets tired of sharing it with new people.
Q & A
Q:

What is one thing that any visitor to Ecuador should do?

A:

Visit Cotopaxi, the highest active volcano in the country. Also, Banos de Agua Santa is a great town with the iconic Swing to the End of the World.

Q:

What has been your most unforgettable moment while guiding?

A:

Once with a group, we were trekking in the mountains when an Andean condor flew right over us. It was amazing. It was so close that we were able to get some incredible photos. I will never forget it.

Q:

What is one local dish or drink that visitors absolutely have to try?

A:

They have to try the potato soup (locro) because it's a traditional dish that comes with a great story. I can't spoil the story, but it's a must.