Discover the beautiful heart of Puglia on this 6-day self-guided cycling tour
Get to know one of southern Italy's most prized towns, Alberobello, as you make yourself at home here for five spectacular nights. The Cycling Adventure in Alberobello will immerse you in Puglia's rich traditions and culture and invite you to explore the villages and natural landscapes that form the "green heart" of Puglia.
Setting out from your base in Alberobello, you'll cycle to the nearby towns of Noci, Martina Franca, Locorotondo and Castellana Grotte over six mesmerizing days. The landscapes are rich and colourful, boasting thick oak forest, cultivated vineyards, and century-old olive groves.
Get lost in the local myths and legends of Alberobello, discovering the history behind its world-famous Trulli as you pedal. Spend an afternoon exploring the Baroque town of Martina Franca, revelling in its rich and elegant architecture and navigating its quaint narrow streets and stately piazzas. Indulge in local specialties during satisfying gastronomic experiences in Noci and Locorotondo. Relax in the waves of the Mediterranean Sea, unwinding after an accomplished day on the bike.
Puglia's green heart is yours to discover on this exceptional cycling tour in southern Italy.
Highlights of the Cycling Adventure in Alberobello
Enjoy the charming town of Alberobello as your base for cycling the surrounding landscapes and villages.
Experience the Baroque Martina Franca and its gastronomic wonders.
Stand in awe of the magical caves of Castellana, exploring its deep caverns and admiring its fascinating beauty.
Unwind after rides in the refreshing waters of the Mediterranean Sea following an exhilarating day on the bike.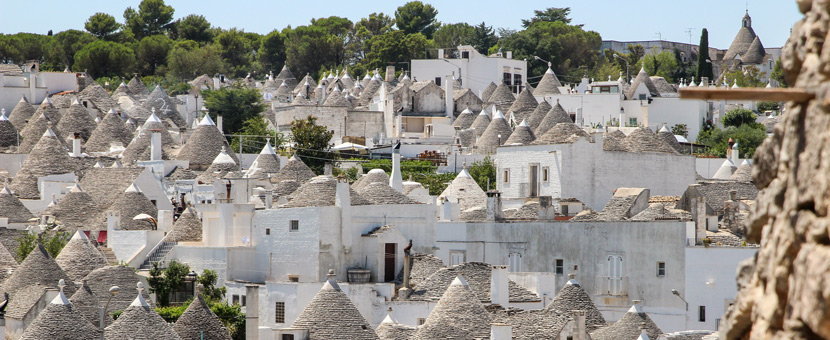 Cycling Adventure in Alberobello Itinerary
Day 1

Arrive in Alberobello

Welcome to your home base for the tour, the beautiful land of Trulli, Aberobello! Thousands of 1-room drystone huts with conical roofs unfold in delicate rows along Alberobello's streets. Originally constructed as temporary field shelters and storehouses, the Trulli are now home to local residents, accommodations, and many boutique-style shops.

Settle into your accommodations before setting out on a walk to acquaint yourself with the ancient architecture and famous UNESCO-designated Trulli huts that make Alberobello one of southern Italy's most famous towns.

Discover the lively atmosphere of the Rione Monti district, enjoying its many shops and restaurants. The quieter and less-travelled streets of the Aia Piccola district are also a perfect place to explore.

Enjoy your first meal in Alberobello, delighting in locally produced meat, cheese and of course, vino!
Overnight Location: Hotel in Alberobello
Distance: None
Meals: Tasting of local produce
Day 2

Cycle to the "Best Sandwich in Italy"

This morning following breakfast, a welcome meeting and bike fitting will take place before you set out on the road.

Your introduction on bike to Alberobello begins with an excursion through the town followed by a pleasant ride on gentle hills among colourful vineyards, olive groves, and forests of oak.

Bound for the well-preserved historic center of the beautiful town of Noci, you'll come to know why this area is called the "green heart" of Puglia.

In Noci, a gastronomic adventure awaits! Seek out the coolest grocery in Puglia, Marino, and treat yourself to the "Divine Sandwich"—some say it's the best sandwich in Italy!

Returning to Alberobello via the hills of Barsento, be sure to catch a glance of the rural church of Santa Maria Barsento built in the 6th century.
Overnight Location: Hotel in Alberobello
Distance: 35 km
Meals: Breakfast
Day 3

Cycle Mount San Martino to Martina Franca

Today you'll enjoy a pleasant flat route until you reach a short ascent up Mount San Martino leading you to the old Baroque town of Martina Franca.

Discover the town's narrow streets, weaving together a stunning collection of picturesque piazzas. Martina Franca is brimming with unique artistic expression and is the perfect place to spend an afternoon exploring. Indulging in local specialties, like the "Capocollo" (cured pork) and the "Bocconotto" (shortbread with cream), is a must!
Overnight Location: Hotel in Alberobello
Distance: 30 km
Meals: Breakfast
Day 4

Ride to the Finest Wines of Locorotondo and Alberobello

Setting out from Alberobello this morning, you'll ride a few kilometres to reach Locorotondo. The picturesque town overlooks the heart of the Itria Valley and is home to breathtaking vineyards and a charming old town.

The "Locorotondo Doc" is a famous high-quality white wine produced here. Enjoy a glass with lunch at one of Locorotondo's delightful small restaurants serving authentic local cuisine. Returning to Alberobello, you'll have the opportunity to enjoy a wine tasting at one of the local wineries.

To end this spectacular day, why not enjoy a sunset over the Trulli from one of the many panoramic terraces in town.
Overnight Location: Hotel in Alberobello
Distance: 25 km
Meals: Breakfast, wine tasting
Day 5

The Castellana Caves

Your final day of cycling is an exciting one! The Castellana Caves are one of the most remarkable natural phenomena of this region. Made of karst stone rock, the formations, comprised of stalactites and stalagmites, run 3 kilometres long and over 60 metres deep.

After exploring the magical caves, enjoy lunch at one of the delectable local restaurants in the vicinity of the caves.

There is an option to extend your ride today by following a path to beautiful Monopoli. Here you can bathe in the welcoming waters of the Mediterranean Sea, refreshing yourself before returning to Alberobello.

Soak up your last moments in Alberobello with a visit to the Trullo Sovrano, Alberobello's only 2-story trullo. The museum offers a glance into traditional trullo life and allows you to explore a recreated bakery, bedroom, and kitchen.
Overnight Location: Hotel in Alberobello
Distance: 30 km
Meals: Breakfast
Day 6

Departure

Following breakfast this morning, it's time to say arrivederci to the town you've come to love so much over the last six days. Check out of your accommodations and head to the airport to depart.
Overnight Location: None
Distance: None
Meals: Breakfast

Book Now
Cycling Adventure in Alberobello Price and Dates
This self-guided cycling tour in Puglia is run as a custom tour for your group and the price depends on the number of participants and the time of year you choose to visit.
The best time to travel to Puglia for this tour is early summer (June) and early fall (September) when the weather is warm.
Private Self-Guided Cycling Adventure in Alberobello
Have your own private tour with just your group! Prices below are per person:

Low Season (February 5th – March 26th and October 26th – December 16th):
Self-guided solo traveller: $750 USD
Self-guided Groups of 2+: $625 USD per person
Med Season (April 6th – June 24th and September 1st – October 25th):
Self-guided solo traveller: $875 USD
Self-guided Groups of 2+: $750 USD per person
High Season (March 27th – April 5th, June 25th – August 31stth and December 17th – January 4th):
Self-guided solo traveller: $995 USD
Self-guided Groups of 2+: $875 USD per person
Book Now
Accommodation on the Cycling Adventure in Alberobello
This tour is based in 4-star hotels and charming trulli. Accommodations are excellently located, offering modern amenities with pleasant rooms and ensuite bathrooms.
In some cases, the accommodation listed below may need to be substituted for other comparable accommodations.
Single Rooms and Solo Travellers
You can pay a supplement of $195 USD - $295 USD (depending on the season) to have a private room in a hotel.
Hotels on Standard Tour
Hotel or Trulli in Alberobello ★★★★
This hotel offers modern amenities and a superior experience in an excellent location. The Trulli offers a unique local experience in one of the traditional structures of this area.
What's included in the Cycling Adventure in Alberobello?
Meals
5 breakfasts are included, as well as 1 local produce tasting and 1 wine tasting.
Accommodations
Accommodations for 5 nights are included.
Transportation during the Tour
Personal and luggage transportation is included throughout the tour.
Also Included
Travel app (maps, tracks, route notes)
Welcome briefing and bike fitting
Phone assistance between 8 am and 9 pm
Local products tasting in trullo shop on Day 1
Wine tasting and visit on Day 4
Not included
Flights to and from Italy
Visas if required
Travel insurance
Tourist taxes if applicable
Activities and excursions unless otherwise mentioned as included
Optional Extras
Single room supplements
Solo traveller supplements
Any additional nights before or after the tour
Airport transfers:

Bari / Brindisi Airport – Alberobello: $95 USD per person (min 2 pax)
Alberobello - Bari / Brindisi Airport: $95 USD per person (min 2 pax)

Bike rental

Trek (mountain) bike: $75 USD per person
All road bike: $125 USD per person
E-bike: $195 USD per person
Frequently Asked Questions about Cycling Adventure in Alberobello
Slow Active Tours is a tour operator specializing in "slow pace" outdoor activities, which mainly concern cycling, trekking and snorkeling in beautiful Italy. Based in Puglia, the wonderful heel of Italy, Slow Active Tours was born from a long experience in responsible and sustainable tourism, combined with a love for culture and a strong passion for traditions, history and respect for nature.
Dynamic holidays "at a slow pace", because in this way it is possible to savor every moment of a great journey, full of adventure, hearty breakfasts, moments of peaceful well-being, food and wine tastings, fresh dips in the most beautiful seas of Italy, smiles and chat with the locals.
Each trip includes everything you need to make the experience comfortable and to be free to travel safely.
Learn More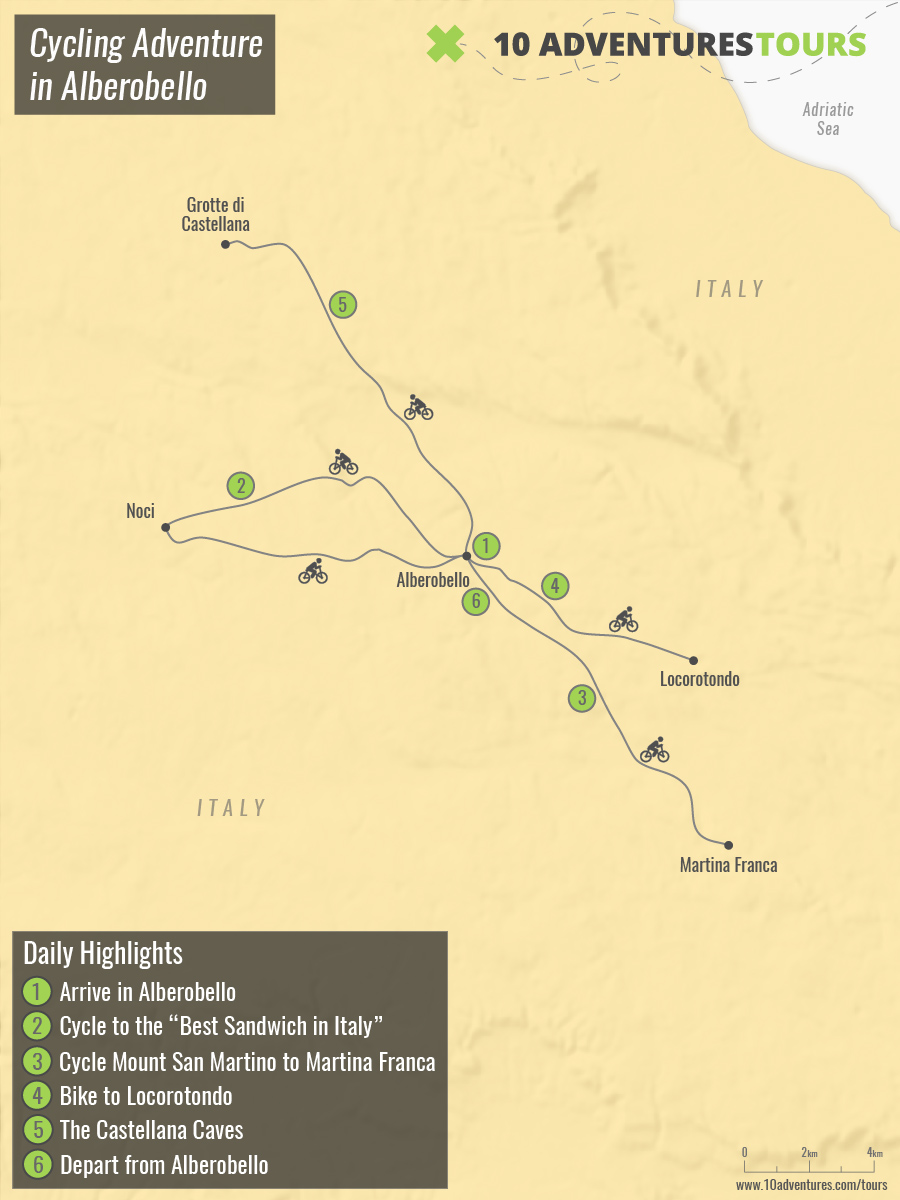 Is this tour for me?
We rate this tour as a 2/5. The route is based mostly on flat, winding roads. Daily distance covered ranges from 35 to 50 kilometres. You should be comfortable riding a bike and used to cycling these distances. Breaks for rest and refreshments are frequent on the tour. You can rent an e-bike if you'd prefer an easier trip.
Ask a Question
Got any questions regarding the tour? Interested in promotions for groups or want to customize this tour to fit your needs? We are here to help you!
Ask a question
SALE! Well, not yet.
Let me know when this trip goes on sale.
Notify me