Explore the thrilling mountain bike trails of the Ecuadorian Andes over 8 exciting days
The incredible guided Ultimate Ecuador Mountain Biking Expedition takes you high into the volcanic Andes of Ecuador, so you can ride the region's most beautiful, challenging trails and enjoy the spectacular scenery! This 8-day adventure takes you on a new thrilling trail each day as you explore beautiful Ecuador.
You'll be amazed by the incredible wildlife, stunning views, and fascinating local culture as you travel through the mountain villages of Ecuador. Conquer mountain biking trails in Pululahua Reserve, Cotopaxi National Park, Chimborazo Wildlife Reserve, and of course, the famous Mami Rumi trail. This tour provides cozy accommodations with fabulous atmosphere for you to relax in after you've had the time of your life riding on these exhilarating trails.
Book the Ultimate Ecuador Mountain Biking Expedition for an experience in the saddle like no other!
Highlights of the Ultimate Ecuador Mountain Biking Expedition
Discover the lush green valleys and snowy volcanic peaks of Ecuador's Andes mountain range.
Fuel your bike rides and tempt your tastebuds with traditional dishes and fresh local cuisine.
Bike on trails at the bases of two of Ecuador's tallest volcanos including Chimborazo and Cotopaxi.
Immerse yourself in the local culture by staying in charming colonial hotels that are steeped in history.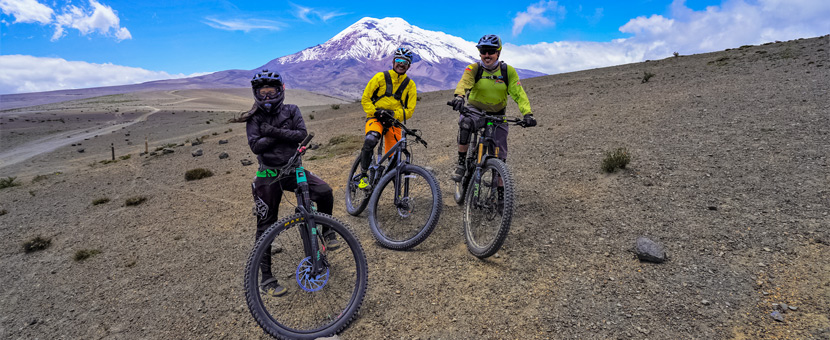 Ultimate Ecuador Mountain Biking Expedition Itinerary
Day 1

Welcome Meeting in Quito

Today you can explore the city of Quito at your leisure before you attend your welcome briefing at 6:00 pm in your hotel's lobby. This meeting will introduce you to your guide and the rest of your group. You'll also be able to ask any questions you might have as you hear about the adventure you're about to embark on!
Overnight Location: Hotel in Quito (2,850m / 9,350')
Distance: None
Meals: None
Day 2

Cycle the Frog's Trail

Leave the city behind as your ride starts on the dirt road northwest of Quito. You'll soon see how the Frog's Trail got its name, as you'll see the many different species of frogs who live along the path. Let the constant ribbits be your soundtrack!

You'll continue to bike the dirt path through farms with amazing mountain views. Finally, you'll ride to Pucara, where you can visit the Equator monument before turning in for the night.
Overnight Location: Private Villa in Pucara (3,785m / 12,417')
Distance: 2-3 hours, about 14.1 km, average 646m elevation gain
Meals: Breakfast, lunch, dinner
Day 3

Ride the Infiernillo Trail

Your day starts early this morning as you ride into the Pululahua Geobotanical Reserve. This lush forest is teeming with incredibly diverse wildlife- keep one eye beside the trail in case you pass some local animals.

You'll ride through the gorgeous green forest on a single track into the scenic river valley. Here you'll meet your driver who will take you to tonight's accommodations.
Overnight Location: Hotel in Otavalo (2,532m / 8,307')
Distance: 4-5 hours, about 37 km
Meals: Breakfast, lunch, dinner
Day 4

Take on the El Chota Trail

It's a scenic drive past the impressive Ibarra and Imbabura Volcanos to get to today's trail. The El Chota trail is rocky, so you'll love the exciting twists, turns, and narrow passes on the bumpy terrain.

After your adrenaline-fueled ride, a car will meet you and take you back to the hacienda. This is your last night in Otavalo, so make sure you visit the incredible indigenous Otavalo Market, which is the largest of its kind.
Overnight Location: Hotel in Otavalo (2,532m / 8,307')
Distance: 2-3 hours, about 31.2 km, average 1,122m elevation gain
Meals: Breakfast, lunch, dinner
Day 5

Ride the Volcanic Cotopaxi Trail

Today is another early morning as you drive down the spectacular Route of Volcanoes to Cotopaxi National Park. Cotopaxi is the highest active volcano on the planet, and this beautiful volcano will be today's playground!

You'll be taking a sandy single track over the foothills surrounded by volcanic rock formations. You'll have a picnic lunch with a view of some ancient Incan ruins. After lunch, the group can decide if you want to continue biking for a few more hours.
Overnight Location: Hotel in Riobamba (2,700m / 8,858')
Distance: 2-3 hours, about 30 km, average 300 m elevation gain
Meals: Breakfast, lunch, dinner
Day 6

Hike and Bike on Chimborazo

Your destination today is the Chimborazo Wildlife Reserve, which is on the tallest volcano in Ecuador. Start off with a hike between the first and second basecamps which climbs 2000 meters in elevation to an incredible altitude of 5000 meters above sea level!

Now that you're warmed up. it's time to get on your bike and ride the Hieleros Trail. This sandy, rocky path leads into the Polylepis Forest towards Guaranda.

After a day of enjoying the contrast between the snowy peaks and the bright blue sky, you'll be driven to your hotel for the evening.
Overnight Location: Hotel in Guaranda (2,668m / 8,753')
Distance: 2-3 hours, about 30 km, average 300m elevation gain
Meals: Breakfast, lunch, dinner
Day 7

Ride the Mama Rumi Trail

Your last ride of this adventure is sure to be the highlight of your trip, as the Mama Rumi trail is known as one of the best mountain biking trails in South America.

You'll get your adrenaline pumping as you descend from the switchbacks of the Andes all the way down to the coastal banana plantations. Enjoy every second! After your wild ride, you'll be driven back to Quito for your farewell dinner.


Overnight Location: Hotel in Quito (2,850m / 9,350')
Distance: 2-3 hours, about 23 km, average 2,106m elevation gain
Meals: Breakfast, lunch, dinner
Day 8

Tour Ends in Quito

It's time to check out after breakfast. Catch your flight home or continue to your next destination!
Overnight Location: None
Distance: None
Meals: Breakfast

Book Now
Ultimate Ecuador Mountain Biking Expedition Price and Dates
This guided cycling tour in Ecuador is run either as a group tour or a private tour. The prices below are per person sharing a double or a triple room:
Private tour: $2,280 USD per person -

Now $2,095 USD per person

Dates and Prices to Join a Group Tour:

Day of Week

Price per Person *

* Single Supplement may apply
Accommodation on the Ultimate Ecuador Mountain Biking Expedition
This tour is based in 3 and 4-star hotels and haciendas, which are colonial homes that have been converted into lodges. The hotels offer comfortable rooms. Rooms are double occupancy and single travellers will pay a supplement.
In some cases, the accommodation listed below may need to be substituted for other comparable accommodations.
Single Rooms and Solo Travelers
You can pay a supplement to have a private room in a hotel (please inquire for the pricing). We can try and match single travellers up where possible.
Hotels on Standard Tour
Hotel Dann Carlton in Quito ★★★★
This Quito hotel has lovely welcoming rooms, but you'll want to spend all your time at the indoor pool, fully equipped gym, or the charming garden.
Enjoy sharing a private home with just your group. Situated in a tiny village with beautiful views, this is the perfect spot to unwind.
Hacienda Pinsaqui, Otavalo ★★★
You'll love the historical atmosphere and lovely gardens of this charming hacienda. Immerse yourself in Ecuadorian mountain culture during your stay here.
La Andaluza Hacienda in Riobamba ★★★★
Step back in time when you visit this gorgeous historic hacienda. You'll love admiring all the antiques inside and exploring the exquisite gardens.
El Angel Hotel in Guaranda ★★★
This hacienda-style lodge maintains its colonial charm while offering cozy comfortable rooms.
Hotel Dann Carlton in Quito ★★★★
This Quito hotel has lovely welcoming rooms, but you'll want to spend all your time at the indoor pool, fully equipped gym, or the charming garden.
What's Included in the Ultimate Ecuador Mountain Biking Expedition?
Meals
7 breakfasts, 6 lunches, 6 dinners, snacks, and water are included.
Accommodations
Accommodations for 7 nights are included. Accommodations before and after the tour in Quito are not included.
Transportation during the Tour
Transport for you, your luggage, and your bike throughout the tour as outlined in the itinerary are included. Airport transfers before and after the tour are not included.
Also Included
Experienced English-speaking guide
Bike rental includes Trek Top Fuel ex, 2020 full suspension mountain bike, certified helmets and gloves
Reusable water bottle
All fees to reserves and museums
Support vehicle during bike rides
Not included
Travel insurance
Flights to and from Ecuador
Meals, drinks, or snacks not previously mentioned
Tourist taxes if applicable
Visas if required
Personal equipment
Fees not mentioned as 'included'
Gratuities for tour guides, drivers, servers, or hotel staff
Optional Extras
Guided city tour of Quito on day 1
Frequently Asked Questions about Ultimate Ecuador Mountain Biking Expedition
The creation of Activexpedition is to inspire adventure travelers to explore our world from a different perspective. At Activexpedition they prioritize eco-friendly activities in every destination they go, as well as support local people and traditions through sustainability efforts.
Activexpedition's mission is to deliver educational experiences of a lifetime with stellar service and provide human powered holidays that go beyond typical adventure travel.
Learn More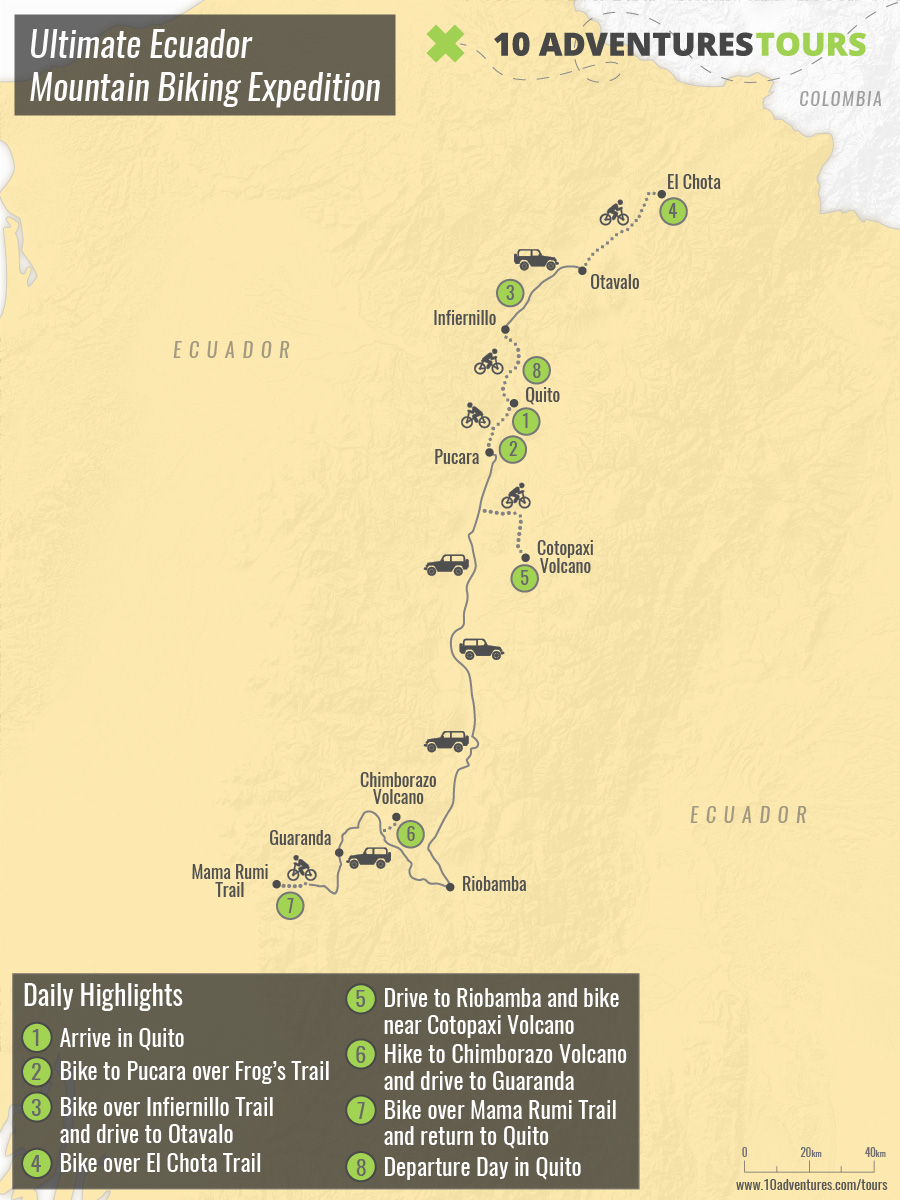 Is this tour for me?
We rate this tour as a 5/5. The trails included on this tour are challenging and technical, and they require riders with experience in navigating mountain bike terrain. This tour earns the maximum difficulty rating as it also includes time spent at high altitudes, which can significantly impact how challenging the activity can feel. Experienced, fit mountain bikers will be able to get the most out of this tour. The guides are also happy to accommodate even more advanced riders on longer, more challenging trails if desired.
Local Guide
Ask a Question
Got any questions regarding the tour? Interested in promotions for groups or want to customize this tour to fit your needs? We are here to help you!
Ask a question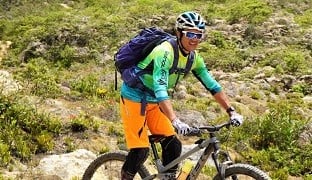 Cesar Romero
Quito, Ecuador
Q&A
Q: What is the best part of guiding tourists in your country?
A: Very difficult question, but Mountain Biking along the Andes is my favourite part of my country.
Q: What are guests most surprised about when visiting Ecuador?
A: The people, how friendly we are, the biodiversity that Ecuador has. Here you can have breakfast on the coast then have lunch in the mountains and finally have dinner in the Amazon basin.
Q: What is one experience anybody visiting your country should do?
Galapagos is the main highlight, but all of the visitors have to do the mainland multisport because this is an active tour where we mix with local gastronomy and the most important thing we share with local people.
Q: What is your most unforgettable moment when guiding?
A: When your guests don't tell you anything, but you can see how excited they are in their faces.
Q: What is one local dish or drink that tourists must try on a visit to your country and why?
A: I love our local food, well the first dish fritada with tortillas that is fried pork with potato patties then empanadas.
Q: Where would you want to go on holiday?
A: Utah to ride the Whole Enchilada!
Q: What is the most challenging adventure you've ever done?
A: When I finished high school, I took my bike and rode it through Ecuador for 1 year, and I climbed almost all of our snowcap mountains along the way.
Q: What do your guests say is best about the trips you lead?
A: The diversity of our country and how the people are. They say also that the activities that we have are the best option to learn about our country.