Discover the culture, communities, and wildlife on this road trip on the spectacular west coast
The Vancouver Island and Sunshine Coast Self-Drive is a 16-day self-drive discovery of the beautiful natural places along the west coast of Canada. Go at your own pace, and enjoy the freedom to hike, paddle, and explore as you please.
This wonderful itinerary begins in Vancouver, but you'll soon leave the busy city behind as you travel north. Enjoy the unique communities as you drive along the Sunshine Coast. You'll spend three days communing with nature at a wilderness lodge in Desolation Sound before you cross the Strait of Georgia to the Gulf Islands. You'll continue enjoying nature and looking for wildlife on your visit to Quadra and Vancouver Islands. No trip to the west coast could be complete without seeing the spectacular Tofino beaches and rainforest, or the picturesque city of Victoria. This tour offers you a beautiful overview of the coastal regions of British Columbia and a chance to embrace its relaxed lifestyle.
Highlights of the Vancouver Island and Sunshine Coast Self-Drive
Visit the charming fishing villages and artistic communities along the gorgeous Sunshine Coast.
Walk along the endless beaches, rainforest paths, and beneath ancient trees as you explore Vancouver Island.
Watch for whales and other marine wildlife gazing at the beautiful view of the mountains beyond the water.
Immerse yourself in nature and the Klahoose culture during your stay at a waterfront wilderness lodge in Desolation Sound.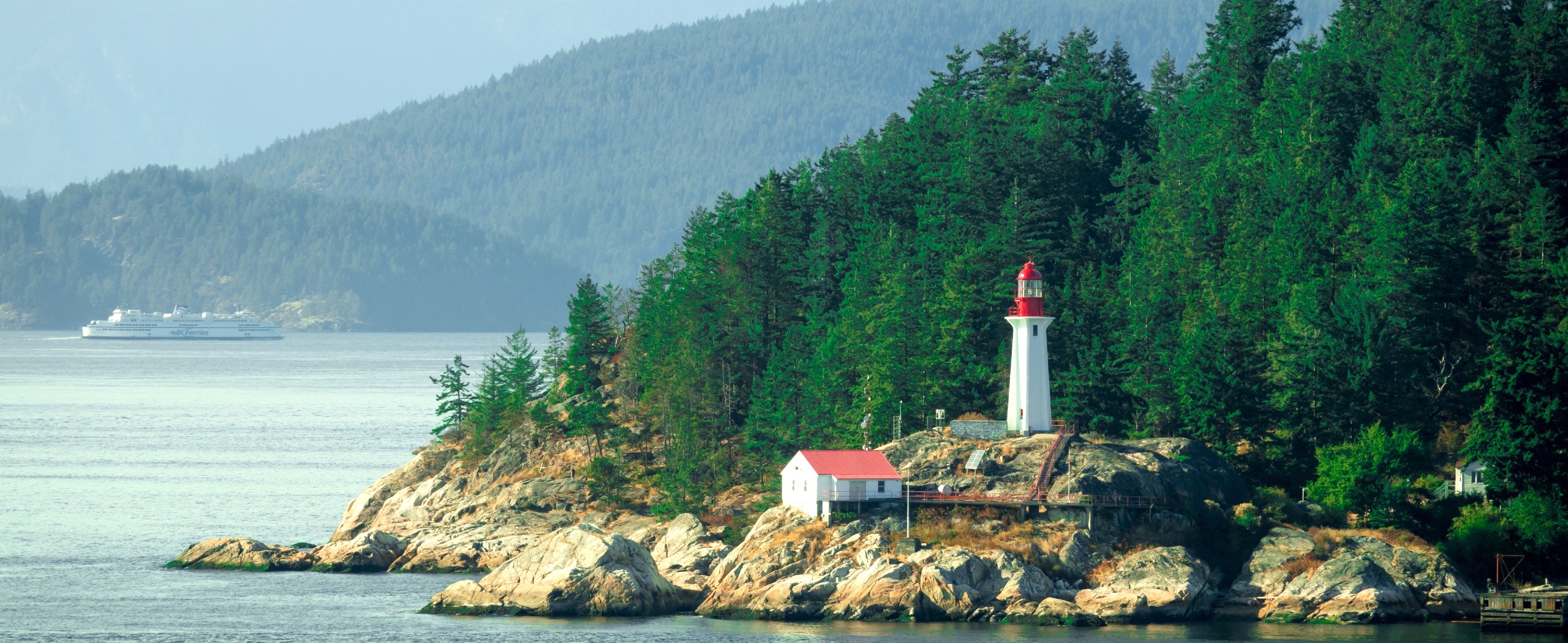 Vancouver Island and Sunshine Coast Self-Drive Itinerary
Day 1

Tour Begins in Vancouver

Pick up your rental vehicle from the airport when you arrive in Vancouver. Get settled in your hotel and explore the city. Take a stroll through Gastown and visit one of the many lively downtown restaurants.
Overnight Location: Hotel in Vancouver
Distance: None
Meals: None
Day 2

Enjoy Vancouver

Spend today exploring Vancouver. Take a walk or bike ride along the seawall in Stanley Park, or visit the beautiful beach at English Bay. Take a walk downtown to see the shops on Robson Street. Visit Granville Island to wander the markets or False Creek to see the Olympic Village from the 2010 Winter Games. To go off the beaten track, check out Commercial Drive and Main Street to see Vancouver like the locals do. However you spend today, you're sure to be caught off guard by the beautiful water and mountain views.
Overnight Location: Hotel in Vancouver
Distance: None
Meals: None
Day 3

Travel to the Sunshine Coast

This morning, you'll leave for the Sunshine Coast. Take the ferry from Horseshoe Bay to Langdale, and check in to your hotel in Gibsons. Spend the afternoon exploring the picturesque town, where you'll find beautiful ocean views and charming restaurants and shops. Since you took a ferry, you'll feel like you're on an island, but in fact, you're still connected to the mainland!
Overnight Location: Hotel in Gibsons
Distance: 46km
Meals: None
Day 4

Explore the Coastal Communities

Today, you can take your time and explore all the little points of interest as you drive up the coast along the Georgia Strait. There are many artistic communities with art galleries to visit, as well as artisanal shops, where you can sample the local handmade delicacies. Robert's Creek, Sechelt, Halfmoon Bay, and Secret Cove are all wonderful places you may want to explore. When you arrive at Egmont, you'll be treated to beautiful views of Vancouver Island.
Overnight Location: Hotel in Egmont
Distance: 81km
Meals: None
Day 5

Enjoy the Outdoors in Egmont

Along with its magnificent views, Egmont offers many ways to spend an enjoyable day. You can take a sea kayaking trip or visit the rainforests for a peaceful hike. You can also visit one of the cultural centres to learn about the First Nations communities of the Sunshine Coast.
Overnight Location: Hotel in Egmont
Distance: None
Meals: None
Day 6

Ferry to Saltery Bay and Journey to Lund

To reach the north coast, you'll need to take the ferry to Saltery Bay. Spend some time in Powell River to indulge at one of their micro-breweries or world-class restaurants. You can also take a water taxi across to Savary Island to visit its gorgeous sandy beach with water so warm you'll think you're in the tropics. Tonight, you'll stay in the quiet seaside village of Lund.
Overnight Location: Hotel in Lund
Distance: 83km
Meals: None
Day 7

Take a Boat to Your Lodge in the Wilderness

Today, you'll embark on an adventure to Desolation Sound. A boat will take you to your wilderness lodge, where you'll be welcomed with a traditional Klahoose Aboriginal greeting. You'll immediately feel at peace as you disconnect from the world at this luxury eco-resort.
Overnight Location: Wilderness Lodge in Desolation Sound
Distance: None
Meals: Dinner
Day 8

Desolation Sound and Klahoose Adventures

Enjoy a quiet breakfast before embarking on your boat tour of the sound and Klahoose along the Great Bear Rainforest (available May to August). If you're visiting between August and October, you may choose to go looking for grizzly bears instead. This excursion takes you to the Toba Inlet, where a guide will take you to platforms on the river to watch for grizzlies in their natural habitat.
Overnight Location: Wilderness Lodge in Desolation Sound
Distance: None
Meals: Breakfast, lunch, dinner
Day 9

Choose Your Own Adventure in Klahoose

Today is a free day for you to explore however you choose. You could take another bear watching trip or book a helicopter or boat trip from the lodge. You'll find the atmosphere at the lodge so tranquil that you may wish to sit outside and simply enjoy the fresh air and views.
Overnight Location: Wilderness Lodge in Desolation Sound
Distance: None
Meals: Breakfast, lunch, dinner
Day 10

Ferry Travel to Quathiaski Cove

In the morning, the boat will return you to Lund, where you'll begin your day of ferry travel. First, you'll take the ferry to Campbell River on Vancouver Island, and then you'll take a smaller ferry to Quadra Island. The journey will be scenic as the ferries travel across the strait, and you may get lucky and see a whale or two along the way.
Overnight Location: Hotel in Quadra Island
Distance: 131km
Meals: Breakfast
Day 11

Spend the Day Exploring Quadra Island

Quadra Island is a beautiful natural paradise, and you'll have the whole day to discover its secrets. Visit the beach or take a stroll to admire the views of the islands and mountains across the water. You can also book one of the optional tours and take a sea kayak or zodiac excursion to look for bears, sea lions, seals, whales, and bald eagles.
Overnight Location: Hotel in Quadra Island
Distance: None
Meals: None
Day 12

Travel to the Island's West Coast

In the morning, you'll return to Vancouver Island and start your drive to the famous Pacific Rim. As you drive across the island, stop at Cathedral Grove and take a walk in the forest of ancient Douglas Fir trees that tower above you. When you arrive at the coast, you'll be awed by beautiful, rugged beaches that stretch endlessly before you.
Overnight Location: Hotel in Ucluelet or Tofino
Distance: 276km
Meals: None
Day 13

Beach and Rainforest Walks in Tofino

While watching the powerful waves crash onto the beaches this morning, you'll understand why Tofino is such a popular spot to surf. After a walk along the ocean, you can head inland and hike on one of the many paths through the rainforest. You can also take one of the optional excursions on a zodiac tour to look for marine wildlife, including whales, seals, and eagles.
Overnight Location: Hotel in Ucluelet or Tofino
Distance: None
Meals: None
Day 14

Spend the Day in Beautiful Victoria

Take a final beach walk before you begin your drive down the island to Victoria. Explore the shops downtown and take a walk on the boardwalk at Fisherman's Wharf. Visit Fisgard Street, where you'll find the oldest Chinatown in Canada. Make sure to stroll along the water in the evening to see the twinkling lights of the waterfront government buildings.
Overnight Location: Hotel in Victoria
Distance: 292km
Meals: None
Day 15

Ferry to Vancouver

Take a final look at the Olympic Mountains from Victoria before taking the ferry back to the mainland. You have the rest of the day in Vancouver to visit anywhere you may have missed at the beginning of the tour.
Overnight Location: Hotel in Vancouver
Distance: 115km
Meals: None
Day 16

Tour Concludes

Today, your tour comes to a close. You can return your rental vehicle to the airport and begin your travels home. You can also opt to extend your stay in Vancouver if you want to spend more time in the city or visit the Rocky Mountains.
Overnight Location: None
Distance: 276km
Meals: None

Book Now
Vancouver Island and Sunshine Coast Self-Drive Price and Dates
This partially-guided tour to the Canada is run as private tour for your group only, and the price per person depends on how many people are in your group.

Prices below are per person:
Groups of 2+: $5,025 USD per person
Book Now
Accommodation on the Vancouver Island and Sunshine Coast Self-Drive
This tour is based on hotels and lodges. Hotels on this trip are 3- and 4-star standard accommodations that are near to local sights and amenities. During your stay in Klahoose, you'll stay in a luxury eco-lodge in the wilderness.
In some cases, the accommodation listed below may need to be substituted for other comparable accommodations.
Single Rooms and Solo Travellers
Rooms are double occupancy. Single rooms, including those for solo travellers, are by request and may incur an additional fee.
Hotels on Standard Tour
Welcome to Vancouver! Settle in and sleep off any jetlag at your comfortable hotel.
This coastal community will charm your socks off. Stroll the downtown core and stop into the Olive Oil Co. to sample hundreds of infused oils and vinegars.
The small waterfront village welcomes you for a night. Visit the Skookumchuck Bakery and Café for tasty pastries and coffee.
This small harbour town is the beginning of Highway 101. It's charming and full of tree-hugging British Columbians. Visit Nancy's Bakery for the best cinnamon buns you've ever had.
Klahoose Wilderness Lodge in Desolation Sound ★★★★
Immerse yourself in nature while you stay at this tranquil eco-lodge. The hotel offers amazing views, warm welcomes, and insight into Klahoose culture.
This magical island is home to a tight-knit community of artists, locals, and people from all over who have settled into natural tranquility. Respect this gorgeous place while you're here.
Hotel in Ucluelet or Tofino
You'll feel like you've stepped into a mystical land when you see the sandy beaches at the edge of the forest. These popular surf towns keep their cool and haven't been over-developed.
Victoria draws visitors year-round for its pleasant climate, undeniably kind and laid-back people, and charming downtown core. Check out the Inner Harbour, Cook Street Village, and Dallas Road.
Welcome to Vancouver! Settle in and sleep off any jetlag at your comfortable hotel.
What's Included in the Vancouver Island and Sunshine Coast Self-Drive?
Meals
3 breakfasts, 2 lunches, and 3 dinners are included during your stay at the Klahoose Wilderness Resort. Other meals are not included in this tour.
Accommodations
Accommodations for 15 nights are included. Accommodations before and after the tour in Vancouver are not included but can be added as a supplement.
Transportation during the Tour
This is a self-drive tour, and you'll be provided with a rental vehicle for the duration of the itinerary.
Also Included
Standard vehicle rental Category B
24/7 access to helpline
Canadian taxes
All ferries on the Sunshine Coast and Vancouver Island
Boat transfers between wilderness resort and Lund
Meals and on-site activities at the resort
Not included
Flights to and from Vancouver
Meals, drinks, or snacks not previously mentioned
Travel insurance
Personal expenses
Admissions or entrance fees to attractions
Optional activities
Entrance fees to parks
Gratuities for tour guides or other staff if desired
Vehicle insurance
Fuel
Optional Extras
Additional nights before or after the tour
Single occupancy upgrades
Optional activities or excursions:

Sea kayak excursion in Egmont
Helicopter tours in Desolation Soundi
Sea kayak excursion on Quadra Island
Wildlife zodiac tour on Quadra Island
Wildlife and whale watching tour in Tofino
Frequently Asked Questions about Vancouver Island and Sunshine Coast Self-Drive
In the two decades since Toundra Voyages Inc. was founded in 1998, the company has become North America's go-to travel agency in customized independent and group tourism.
Tounda takes a flexible, responsive approach to developing adventure travel tours. By listening to the wants and wishes of travellers, they've been able to create memorable, affordable tours complemented by impeccable service.
Toundra's mission is to create and organize tailor-made travel. They select, adapt, and personalize travel experiences in North America for each and every guest, ensuring your adventure is one you'll never forget.
Meeting your expectations is just the beginning of what Toundra aims to accomplish. Exceeding them by providing exceptional experiences in beautiful North America is their standard, and their track record of knockout customer service and customized tour planning speaks for itself.
Learn More
Is this tour for me?
We rate this tour as a 1/5. This tour has a flexible itinerary that allows you to choose the hikes and activities so that you can tailor them to your fitness level.
Ask a Question
Got any questions regarding the tour? Interested in promotions for groups or want to customize this tour to fit your needs? We are here to help you!
Ask a question