Go on exciting wildlife viewing expeditions as you explore magical Vancouver Island
Spend twelve incredible days wildlife watching during this self-drive adventure on Vancouver Island. This tour is for the animal and nature lover who wants to enjoy pristine environments and observe their favourite animals in their natural habitats.
The Vancouver Island Wildlife Self-Drive Tour provides a flexible itinerary with enough free time to choose how you want to explore this natural paradise. Everything from hiking in the rainforest to sea kayaking, surfing, or watching the sunset from the beach is on the menu. In between your personal adventures are incredible opportunities to get up close to the legendary mammals of the island. You'll take different excursions to watch for whales, seals, eagles, dolphins, and the great grizzly bear, just to name a few! You won't believe your eyes as you drive from one breathtaking spot to the next during this self-drive tour of beautiful Vancouver Island.
Highlights of the Vancouver Island Wildlife Self-Drive Tour
See majestic Canadian wildlife in their natural habitats during viewing excursions by boat.
Enjoy plenty of free time to enjoy your favourite outdoor activities in the mountains, forests, and waters of the island.
Visit Vancouver, the enthralling city where the mountains meet the sky, and the charming historic city of Victoria.
Stay in Tofino or Ucluelet so you can enjoy the spectacular beach and hiking trails that lead through the temperate rainforests of Pacific Rim National Park.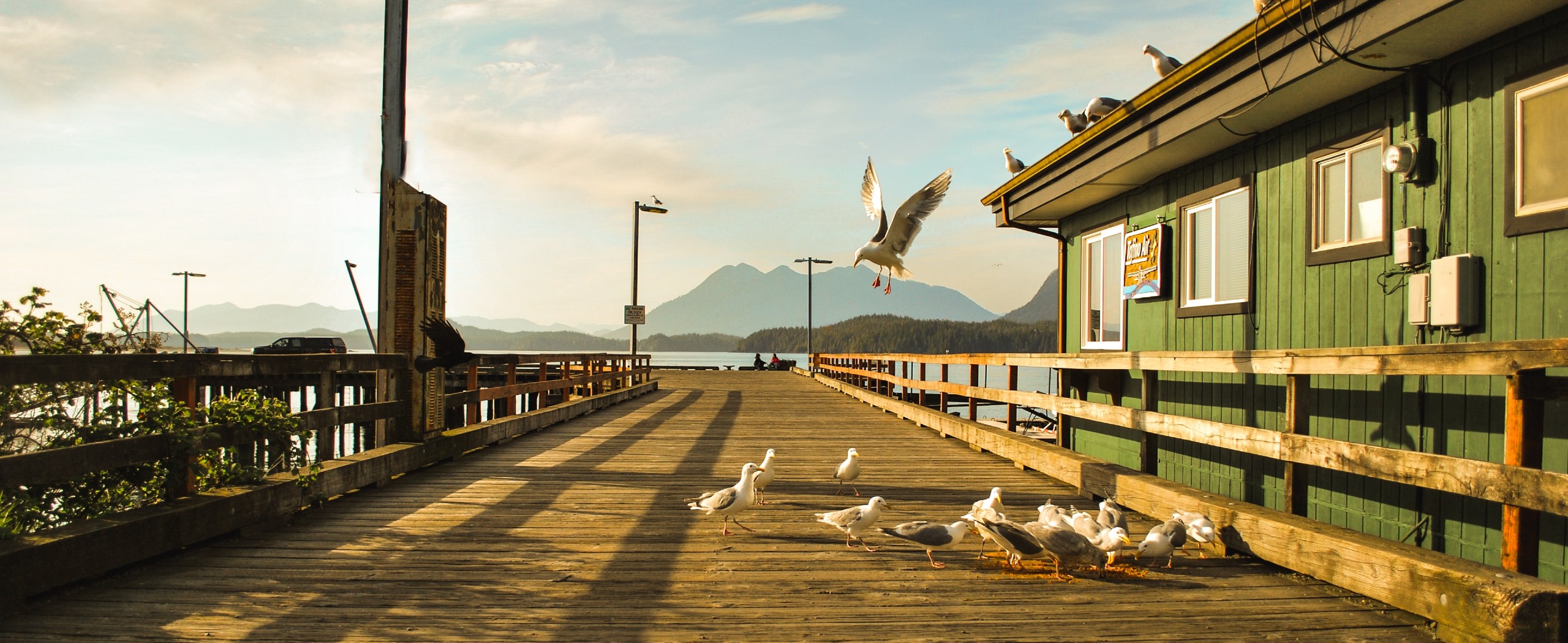 Vancouver Island Wildlife Self-Drive Tour Itinerary
Day 1

Arrive in Vancouver

When you arrive in Vancouver, you can pick up your rental vehicle at the airport and drive to your hotel. Tonight, you can explore at your leisure. Choose from iconic spots to stroll like historic Gastown or around the sea wall in Stanley Park.
Overnight Location: Hotel in Vancouver
Distance: None
Meals: None
Day 2

Scenic Ferry to Vancouver Island

You have the morning to explore Vancouver—get in line for brunch at some of the city's best spots like Chickpea or Jam Café. Drive to Horseshoe Bay to take the ferry across to Vancouver Island. The trip is about an hour and a half, and the scenery is breathtaking. You may see some of the marine life that lives in the Strait. Tonight, you'll spend the night in Nanaimo, the birthplace of the legendary Nanaimo bar. You'll probably want to try a few locally made varieties before you leave.
Overnight Location: Hotel in Nanaimo
Distance: None
Meals: None
Day 3

Cross Island Road Trip to Tofino

This morning, you'll drive to Horn Lake Provincial Park, where you'll explore the caves on your own or book a guided cave tour. The next stop on your way to Tofino is Cathedral Grove for a walk through the ancient forest of towering Douglas fir trees. End the day by watching the spectacular sunset over the ocean in Tofino.
Overnight Location: Hotel in Ucluelet or Tofino
Distance: 200km
Meals: None
Day 4

Whale Watching and the Pacific Rim

In the morning, you can familiarize yourself with Pacific Rim National Park with a free walking tour. You'll love hiking in the lush rainforest and along the spectacular stretches of rugged beach with views of the mighty Pacific Ocean. In the afternoon, you'll board a zodiac for a whale watching tour of Clayoquot Bay. Keep your eyes out for sea lions, seals, sea otters, and eagles during the tour.
Overnight Location: Hotel in Ucluelet or Tofino
Distance: None
Meals: None
Day 5

Search the Shores for Black Bear

Begin your day with a beach walk or visit the Botanical Garden of Tofino to see the rainforest flowers and plants they have on display. In the afternoon, you have another exciting zodiac tour, but this time you'll patrol the shores in search of black bears. You'll love being able to see the bears in their natural environment from the safety of your boat!
Overnight Location: Hotel in Ucluelet or Tofino
Distance: None
Meals: None
Day 6

Waterfall Walk and Campbell River

Take a final walk through the fishing village of Ucluelet before you begin your drive up-island to Campbell River. Go for a quick hike in Elk Falls Provincial Park to visit the beautiful waterfalls and stretch your legs.
Overnight Location: Hotel in Campbell River
Distance: 200km
Meals: None
Day 7

Whales and Grizzly Bear Expedition

Today, you'll take an epic seven-hour boat tour in search of the great grizzly bear. Your guide will teach you all about the bears and the other animals you might see on your adventure. Humpback whales, orcas, Pacific white dolphins, and sea lions are all known to make an appearance in this area, so keep your camera ready!
Overnight Location: Hotel in Campbell River
Distance: None
Meals: None
Day 8

Journey Further North to Telegraph Cove

As you continue your drive north on the island, you'll take some scenic coastal roads that offer impressive views across the water to the mainland. You'll spend the next two nights in peaceful Telegraph Cove.
Overnight Location: Hotel in Telegraph Cove
Distance: 200km
Meals: None
Day 9

Wildlife Watching Boat Trip

This morning, you'll embark on another early morning boat ride to observe the incredible coastal wildlife on the Knight Inlet Strait. From this remote location, you'll look for Grizzlies as they hunt for berries, and you can observe the salmon run if you're visiting at the end of August. You'll also watch for eagles, dolphins, seals, and black bears as they look for food in the inlet.
Overnight Location: Hotel in Telegraph Cove
Distance: None
Meals: None
Day 10

Visit Beautiful Victoria

Enjoy the quiet drive to the southern tip of Vancouver Island and its lovely capital city, Victoria. You can spend the afternoon wandering Fisherman's Wharf or visiting the iconic Empress Hotel. You can book an optional seaplane tour to see the city from the air and for amazing views of the Juan de Fuca Strait and the Olympic Mountains.
Overnight Location: Hotel in Victoria
Distance: 460km
Meals: None
Day 11

Ferry to Vancouver

This morning, you'll take the ferry back to the mainland. Watch the peaceful Gulf Islands go by as you cross the Georgia Strait—you may even be lucky enough to spot a whale during the trip! When you reach Vancouver, you can take a free city tour that visits popular sights such as Stanley Park and Granville Island. You can also choose to book an optional cruise of the Vancouver Harbour.
Overnight Location: Hotel in Vancouver
Distance: 110km
Meals: None
Day 12

Tour Concludes

Today, your tour officially ends when you drop off your rental vehicle at the Vancouver International Airport.
Overnight Location: None
Distance: None
Meals: None

Book Now
Vancouver Island Wildlife Self-Drive Tour Price and Dates
This partially-guided tour on the West Coast is run as private tour for your group only, and the price per person depends on how many people are in your group.

Prices below are per person:
Groups of 2+: $2,695 USD per person
Book Now
Accommodation on the Vancouver Island Wildlife Self-Drive Tour
This tour is based on hotel accommodations. Hotels on this trip are 3-star standard hotels that offer comfortable rooms in fantastic locations along your route.
In some cases, the accommodation listed below may need to be substituted for other comparable accommodations.
Single Rooms and Solo Travellers
Rooms are double occupancy. Single rooms, including those for solo travellers, are by request and may incur an additional fee.
Hotels on Standard Tour
Welcome to Vancouver! Settle in and sleep off any jetlag at your comfortable hotel.
Enjoy this ever-growing urban centre on Vancouver Island. The charming downtown core has several yummy restaurants and wonderful thrift stores.
Hotel in Ucluelet or Tofino
You'll feel like you've stepped into a mystical land when you see the sandy beaches at the edge of the forest. These popular surf towns keep their cool and haven't been over-developed.
This mid-island adorable town has rustic charm written all over it. Make sure to try some local salmon after a full day of exploring the surrounding nature.
Tucked away in the wilderness where the forest meets the ocean, you'll spend two magical evenings in the tranquility of Telegraph Cove.
Victoria draws visitors year-round for its pleasant climate, undeniably kind and laid-back people, and charming downtown core. Check out the Inner Harbour, Cook Street Village, and Dallas Road.
Welcome to Vancouver! Settle in and sleep off any jetlag at your comfortable hotel.
What's Included in the Vancouver Island Wildlife Self-Drive Tour?
Meals
Meals are not included in this tour.
Accommodations
Accommodations for 11 nights are included. Accommodations before and after the tour in Vancouver are not included but can be added as a supplement.
Transportation during the Tour
This is a self-drive tour, and you'll be provided with a rental vehicle for the duration of the itinerary.
Also Included
Standard vehicle rental, Category B
24/7 access to helpline
Canadian taxes
Clayoquot Bay whale watching zodiac tour from Tofino
Black bear watching zodiac tour with naturalist from Tofino
Bear watching covered boat tour from Campbell River
Grizzly bear expedition from Telegraph Cove (Available August 15 to October 15)
Roundtrip Vancouver Island ferry
Not included
Flights to and from Vancouver
Meals, drinks, or snacks not previously mentioned
Travel insurance
Personal expenses
Optional activities
Entrance fees to national parks
Gratuities for tour guides or other staff if desired
Vehicle insurance
Fuel
Optional Extras
Additional nights before or after the tour
Single occupancy upgrades
Optional activities or excursions

Zodiac wildlife watching tour in Campbell River
Seaplane tour of Victoria and the Juan de Fuca Strait
Vancouver harbour cruise
Frequently Asked Questions about Vancouver Island Wildlife Self-Drive Tour
In the two decades since Toundra Voyages Inc. was founded in 1998, the company has become North America's go-to travel agency in customized independent and group tourism.
Tounda takes a flexible, responsive approach to developing adventure travel tours. By listening to the wants and wishes of travellers, they've been able to create memorable, affordable tours complemented by impeccable service.
Toundra's mission is to create and organize tailor-made travel. They select, adapt, and personalize travel experiences in North America for each and every guest, ensuring your adventure is one you'll never forget.
Meeting your expectations is just the beginning of what Toundra aims to accomplish. Exceeding them by providing exceptional experiences in beautiful North America is their standard, and their track record of knockout customer service and customized tour planning speaks for itself.
Learn More
Is this tour for me?
We rate this tour as a 1 / 5. This tour has a flexible itinerary, so you can choose how you want to explore the great outdoors. Note that many of the excursions are on boats, and participants should be comfortable spending up to 7 hours on the water.
Ask a Question
Got any questions regarding the tour? Interested in promotions for groups or want to customize this tour to fit your needs? We are here to help you!
Ask a question