Enjoy an easy cycling route from Austria to the Adriatic Sea
This 8-day journey is perfect for those looking to experience the Alps by bike without much of a challenge. You'll still have to be relatively fit, but the routes are well-paved, and you can ride at your own pace on this self-guided tour. This tour begins in Austria and quickly crosses into the Italian Alps for the remainder. Visit a new town each night, each with a unique version of the Alp culture coloured by influence from Slovenia, Austria, and Italy.
This tour's scenery is undeniably mind-blowing, with views looking like postcards or scenes from The Sound of Music. Feel free to yodel from the mountaintops when you take a break from riding! You'll have a rest day in Grado, then ride to Trieste along a stunning coastal route. From the mountains to the sea, the Villach to Trieste Bike Tour will be a trip to remember!
Highlights of the Villach to Trieste Bike Tour
Indulge in the diverse gastronomy offered in this unique part of the world.
Sip on infinite espresso to refuel as you pedal through northeastern Italy.
Expect unparalleled views of the Alps riding in remote, unspoiled areas.
Kick your shoes off and jump in the Adriatic Sea as soon as you arrive in Trieste.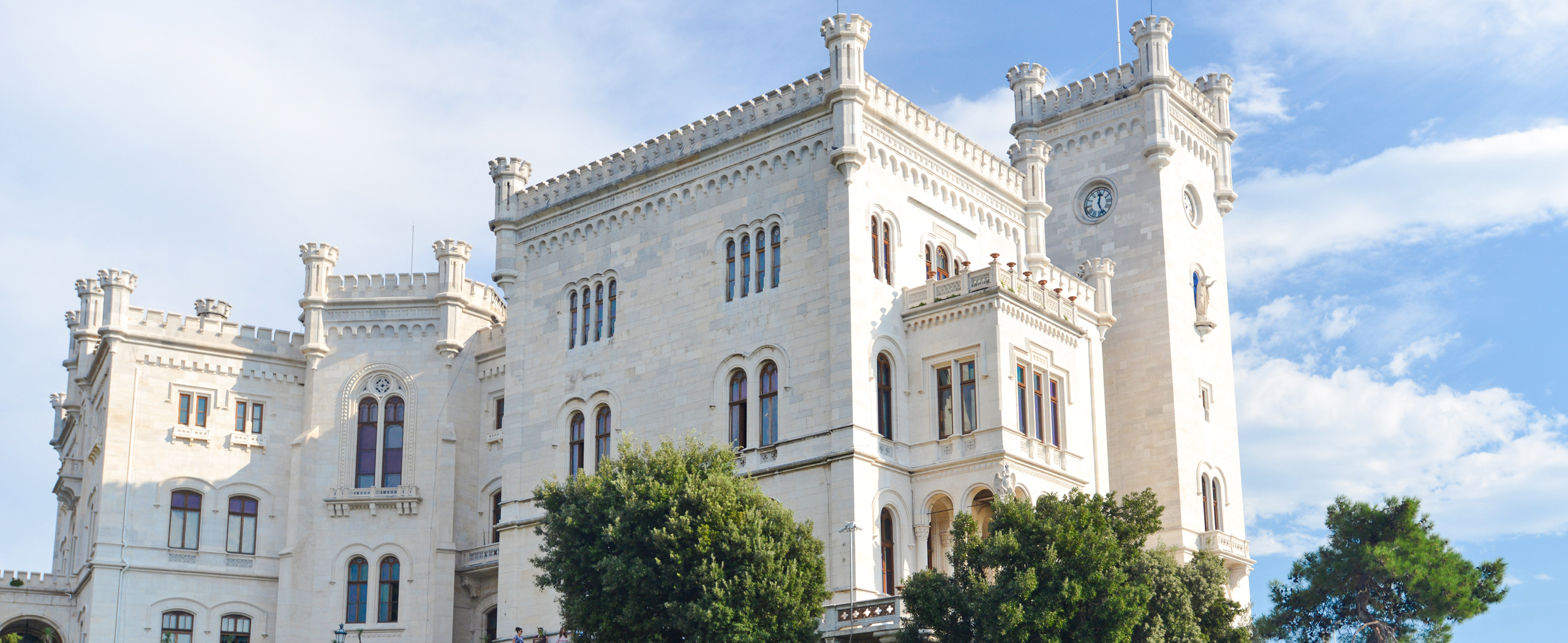 Villach to Trieste Bike Tour Itinerary
Day 1

Arrive in Villach

You'll start the tour in Villach, Austria, a lovely city situated in Carinthia province, with countryside and lakes all around the area. Depending on when you arrive, take a couple of hours to wander the streets and admire the Renaissance-era buildings.
Overnight Location: Hotel in Villach
Distance: None
Meals: None
Day 2

Ride to Tarvisio/Camporosso

Take some time to explore this morning if you didn't get a chance yesterday because you'll cross into Italy this afternoon. Following a lush river, you head into the Alps and hit the border.

Find your hotel in a tucked-away mountain town in either Tarvisio or Camporosso (depending on availability).
Overnight Location: Hotel in Tarvisio/Camporosso
Distance: 4 hours, 40km
Meals: Breakfast
Day 3

Cycle the Julian Alps

Aftereating breakfast washed down with lots of Italian espresso, you'll pedal through the idyllic Alps scenery of green mountains and picturesque villages. Continue riding through the Kanaltal Valley in northeast Italy and end up in one of three towns for the night, depending on availability: Moggio Udinese, Tolmezzo, or Venzone.
Overnight Location: Hotel in Moggio Udinese, Tolmezzo, or Venzone
Distance: 5.5 hours, 55km
Meals: Breakfast
Day 4

Ride to Udine

Today, your ride takes you to a gorgeous city much larger than the ones you've stayed in already. After a pleasant breakfast, hop on your bike and ride through valleys and peaks, stopping wherever you please for espresso fuel. Before arriving in Udine, a stop at a local vineyard is a must! You'll soon see grapevines come into view on your ride—take your pick and have a sample.

Arrive in Udine and treat yourself to another glass of wine in the piazza.
Overnight Location: Hotel in Udine
Distance: 6 hours, 60km
Meals: Breakfast
Day 5

Head to Grado on the Adriatic Coast

Pick a sunny spot in the piazza for your morning coffee, then take an hour or so to walk the streets of Udine to admire its Renaissance and Gothic architecture before you leave. As you cycle away from the Alps, the land flattens, and you'll begin riding along marshlands and canals.

When the Adriatic Sea appears on the horizon, you'll know you're close to your destination, the quaint fishing village of Grado. If you have the energy, hit the beach or explore this cool town built on a lagoon. And, of course, indulge in an Italian feast.
Overnight Location: Hotel in Grado
Distance: 5.5 hours, 55km
Meals: Breakfast
Day 6

Go to the Sea or Aquileia

You're spoiled for choice today! Opt to relax on the sandy beaches of the Adriatic, choosing a beach chair and not moving an inch if you don't want to.

If adventure is more your flavour today, explore the Roman-built Aquileia, sometimes called "second Rome." Whether you're working on your tan or exploring ancient churches, today will be wonderful.
Overnight Location: Hotel in Grado
Distance: Flexible
Meals: Breakfast
Day 7

Grado to Trieste

The final day of cycling awaits! Head out across rough karst landscapes nestled next to the stunning coastline. Stop in at Miramare Palace before making your entrance in Trieste. This old port city is the perfect place to wrap up the tour, enjoying a dinner of local fare (including plenty of local wine).

If you're keener to celebrate than ride today, you can take a train from Monfalcone to Trieste to shorten the journey.
Overnight Location: Hotel in Grado
Distance: 4 hours, 40km + train or 7 hours, 70km
Meals: Breakfast
Day 8

Departure

After breakfast and check-out, you'll find your own transportation to the airport or your next destination. Ciao!
Overnight Location: None
Distance: None
Meals: Breakfast

Book Now
Villach to Trieste Bike Tour Price and Dates
This self-guided tour in Austria and Italy is run as a custom tour for your group and the price depends on the time of year in which you choose to travel and the number of people in a room.
The best time to travel to Austria and Italy for biking is during the spring, summer, and early fall (May-September).
The departures from Villach are not available from September 6th to 11th, however it is possible to depart from Spittal an der Drau with an alternative route on the first two days of the tour.
Private Self-Guided Villach to Trieste Bike Tour
Have your own private tour with just your group! Prices below are per person.
Important note: The departures are available on Tuesday, Saturday and Sunday only. it's possible to arrange the departures on different weekdays for groups of 5 and more (please enquire).

Low season (from April 23rd to June 17th and from September 11th to October 1st):
Price per person staying in a single room: $995 USD per person
Price per person staying in a double room (min 2 travellers): $750 USD per person
High season (from June 18thto September 10th):
Price per person staying in a single room: $995 USD per person
Price per person staying in a double room (min 2 travellers): $795 USD per person
Book Now
Accommodation on the Villach to Trieste Bike Tour
This tour is based in 3-star hotels. Tourist tax, if requested at the hotel, is not included and will have to be paid on the spot. This is normally no more than $25 USD per person.
In some cases, the accommodation listed below may need to be substituted for other comparable accommodations.
Single Rooms and Solo Travellers
Rooms are double occupancy. Solo travellers may be required to pay a supplement. If you'd prefer a single room in a group, the required supplement is included in the listed price.
Hotels on Standard Tour
Stroll the streets of the seventh-largest city in Austria and absorb the almost-eastern European vibes. Settle into your hotel for a good night's sleep.
Hotel in Tarvisio/Camporosso
This small mountain village, with small homes perched on the hillside, will take your breath away. In Tarvisio, don't miss the Fusine Lakes at sunset.
Hotel in Moggio Udinese/Tolmezzo/Venzone
Put your feet up in a superb hotel in a small Italian village tucked away in the Alps. Wake up surrounded by the Alps and breathe the fresh mountain air.
Sense a unique ambiance in this city that blends Italian, Austrian, and Slovene cultures. Take a tour of the piazza and sample all kinds of gourmet offerings.
Grado, an old fishing town built on a lagoon, consists of canals, delectable restaurants, impressive architecture, and a sandy beach.
This seaport town is full of classic images of Italy with its canals, bridges, and boats lining the docks. It's a romantic town that has inspired many famous Italian writers.
What's Included in the Villach to Trieste Bike Tour?
Meals
7 breakfasts are included.
Accommodations
Accommodation for 7 nights is included in the tour. Accommodations before and after the tour are not included but can be added as a supplement.
Transportation during the Tour
While you cycle between hotels, transportation for your luggage is included. Airport transfers are not included.
Also Included
Tour information in English
Well-planned routes
Detail route descriptions
Detailed maps
24-hour telephone assistance
Not included
Arrival and departure transfers
Guide services
Lunches, dinners, drinks, or other meals not previously mentioned
Flights and public transportation
Travel insurance and tourism tax
Anything not mentioned as included
Visas if required
Entrance fees of any kind
Optional Extras
Extra nights in any accommodation
Bike rental:

Hybrid bike: $75 USD
Premium hybrid bike: $125 USD
E-Bike: $175 USD
Frequently Asked Questions about Villach to Trieste Bike Tour
FunActive Tours operates adventure tours in the heart of the Italian Dolomites. Thanks to the ideal
location of FunActive headquarters right in the Dolomites and branch offices in Venice Mestre and
Trieste, FunActive Tours can offer excellent walking and cycling tours not only in the mountains, but
also towards Austria, Slovenia, and Istria.
FunActive offers efficient, high-quality service to clients from all over the world, making it one of the
best choices for those seeking an experienced local provider. Attention is given down to the smallest
details, and the tours are designed to suit travellers of many abilities according to how adventurous
they wish to be. FunActive can find you an incredible tour regardless of age, skill level, or time of
year. Come discover Italy and beyond!
Learn More
Is this tour for me?
We rate this tour as a 3/5. You should be physically fit and comfortable cycling up 4–6 hours daily. The elevation gain is moderate, but you will have comfortable accommodation to recuperate and you can rent an e-bike to make the route easier if you prefer.
Ask a Question
Got any questions regarding the tour? Interested in promotions for groups or want to customize this tour to fit your needs? We are here to help you!
Ask a question